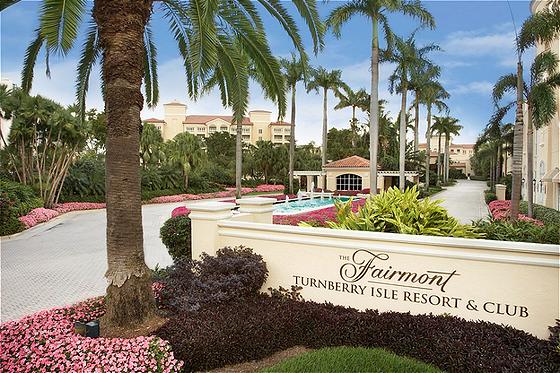 It's all in the wrist.
It's 9 a.m. on a Saturday morning and I've joined my two oldest friends — since we were fin first grade — at a golf clinic at the Fairmont Turnberry Isle Resort and Club in Miami. I'm not a golfer — I never have golfed, in fact, though my two friends, Sue Tober and Elise Carlton, do. Christina Trammell, the resort's director of golf is very patient. I'm pleased I can even hit the ball! One person in the clinic has just finished up two full days of lessons with Christina.
I'm awful but I'm enjoying myself. The weather is perfect — blue sky, sunshine, not too hot. And the area is beautiful — the resort is landscaped with all kinds of exotic flora (orchids!) and fauna (even a 100-year-old Banyan tree!
We chose Turnberry Isle for a quick moms' getaway because Miami is easy (and inexpensive) to get to and the resort, which just finished a $150 million renovation, and the surrounding area offered all we wanted — two golf courses, huge new spa. pools and beach a quick shuttle ride away as well as world-class shopping across the street at the Aventura Mall (280 stores and restaurants! www.aventuramall.com) There's even a bird sanctuary on one of the golf courses.
The 392-room resort was originally built by developer Donald Soffer as a private club but it is now emerging as a resort that works both for families. Kids will love the new Laguna Pool, the only one like it at a South Florida resort with a 180-foot waterslide and 800 foot lazy river. There is also a toddler wading pool as well as a separate "quiet" pool area for adults who don't want to hear squealing kids . Moms, of course, will love the Willow Stream spa. (You've got to ask about the special BFF (Best Friends Forever) nights with mini treatments, cocktails and more.)
This is North Miami, about halfway between Miami Beach and Fort Lauderdale.
While my two friends go off to play 18 holes of golf, Executive Chef Hubert Des Maris gives me a tour of the new herb and tropical fruit tree garden. There are some 60 different herbs here used in the restaurants. "We pick oregano twice a day," he says. There's rosemary, thyme, tarragon, cilantro, tamarind, lemon grass. He points out the bananas, the squash, the sugar apples…. Some of the gardeners brought cuttings from their own homes to start the garden, said Des Maris, who is soon leaving to oversee cooking in Fairmont's Africa hotels. I'm inspired to expand my own vegetable garden next summer.
No wonder last night's dinner at the resort's Bourbon Steak was so much fun. We started with some of their "signature" cocktails and moved on to the tenderest steak I've ever eaten. The restaurant is overseen by Michael Mina, who won kudos for StripSteak in Las Vegas. There's plenty of comfort food too. How about truffled mac and cheese, lobster pot pie or herbed fries? Yum. We end with a selection of beignets with chocolate sauce. Did I mention that we've made a pact that this is a no-diet weekend?
Incidentally, should you want an adult dinner — or time for golf or tennis, there is a well-equipped kids' club.
We've only been here a day and already I wish we had more time — there's so much to see and do in Miami (www.miamiandbeaches.com) with or without kids. Meanwhile, a little pool time is in order.