By Reggie Yemma
The centerpiece of Fisherman's Wharf in Monterey Bay, CA is the massive Monterey Bay Aquarium (www.montereybayaquarium.org ). An incredible structure which includes some of the largest fish tanks in the world and some of the most elusive creatures in our oceans, the Aquarium is immediately welcoming to the first-time visitor – one of the friendly volunteer staff members was right there to answer the number one question he receives from patrons: Where is the bathroom?? The gentleman was also very helpful in giving us a quick run-down on the must-see exhibits at the Aquarium, including the newest addition which is an adorable11-week-old sea otter named "Kit."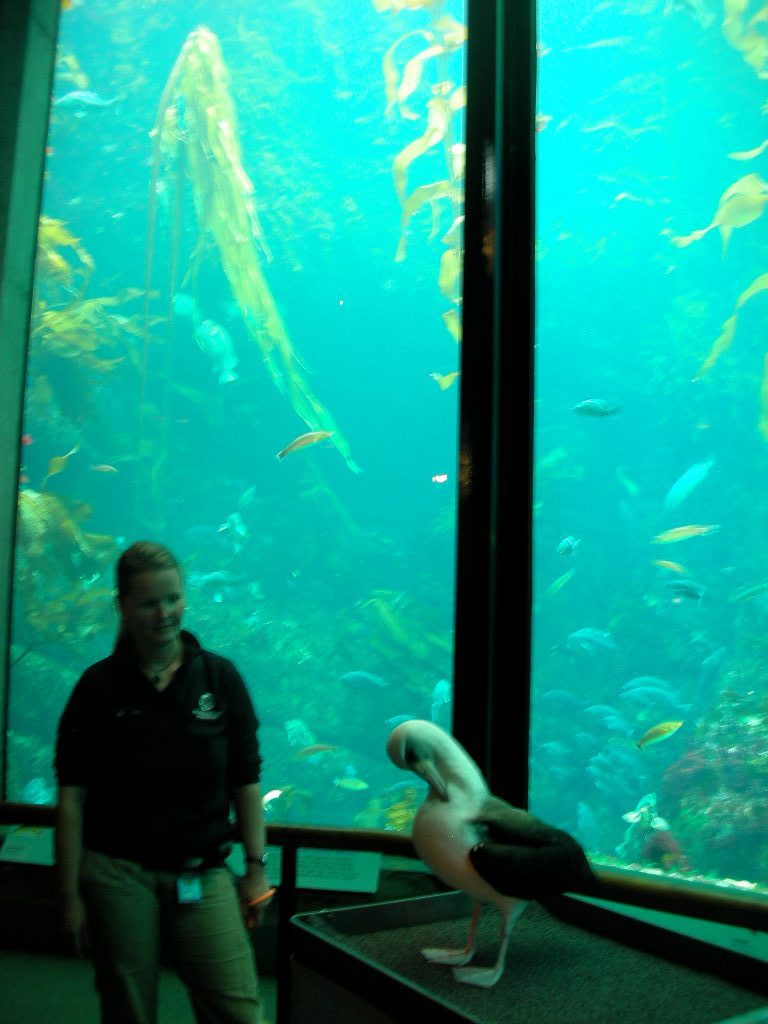 We thought we would kick things off by watching one of the shows the Aquarium offers. The show, "Jellies," taught us a lot of fun facts about the invertebrate, which has no bones, brain, or heart. Heck, we weren't even aware that jellyfish was no longer an accepted term! (most jellies are not fish at all).We saw some fascinating images of different sized and shaped jellies from all over the world, including box jellies – the most dangerous in the ocean, comb jellies, and moon jellies and sea nettles (two that we are likely to see locally).
Next up was the much anticipated visit to Kit the sea otter pup. She was rescued in Morro Bay as a stranded animal, and has been rehabilitating at the Monterey Bay Aquarium since January 5th, when she was five weeks old. We were very fortunate, because the day we visited the Aquarium was her debut to the public—she was happily swimming around with her new surrogate mom, "Mae," another Monterey Bay sea otter. There was a throng of enthralled children, so overwhelmed by the cuteness of the sea otters they didn't know what to do. We quickly became part of this crowd, and had to pull ourselves away to see the rest of the exhibits. We got a chance to feel a piece of sea otter fur, and learned that a sea otter usually has one million hairs per square inch of fur—no wonder they can live in such cold waters! We promised ourselves we'd come back for one more visit before we left that afternoon.
Another great exhibit was "Sandy Shores," a walkthrough scene in which numerous shorebirds and other creatures scamper among mini sand dunes which are elevated in to eye-level giving the sense you have entered their world. As the sand descends into a mock-shoreline, leopard sharks and bat rays swim around in plain view. This exhibit's above-water perspective stood in stark contrast to others such as the Outer Bay exhibit which gives the humbling sense that one is underwater amongst the sharks, barracuda and other giant fishes. It was also refreshing to step outside onto the Aquarium's expansive dock overlooking the enormous Monterey Bay itself. The Aquarium makes it very obvious that the two worlds that one sees inside the building and what is outside in the wild Bay are connected. School groups of children seemed to be making that connection all around us.
Probably the most crowded and exotic part of the Aquarium we went to was the "Secret Lives of Seahorses" exhibit. Upon entering, an otherworldly feeling is given by colorful surroundings and enchanting music. We began to wonder along tanks of small seahorses that we never knew existed our in our large oceans and seas. The most striking creature was the "leafy sea dragon," a cousin of the seahorse. The sea dragons, resembling from a distance a small bunch of drifting seaweed, swam happily around its tank as enthralled onlookers took in their beautiful stripes and elegant appendages. We also saw tanks full of potbellied seahorses (the males puff their bellies out for mating purposes, making them look impregnated), pipehorses, and pacific seahorses (significant larger, can grow up to a foot tall, than the typically small creature). As we watched the seahorses dance through the water, at times wrapping their tails around anchored pieces of kelp in their tanks and shimmying up and down the green plant, we learned many fun facts about seahorses, such as the fact that in the sea horse world, males, rather than females, are the sex that becomes impregnated and gives birth to their offspring—very cool!
After the seahorse experience, we headed over to the giant kelp forest on the other side of the aquarium, and watched the giant plants – which grow four or more inches every day – sway in their tank with a good amount of fishes, eels, and sharks swimming in their shade. In front of the tank, there were two aquarium employees giving a presentation with their special guest Makana, the Laysan albatross. The albatross stood there, stoically, as the hosts educated the onlookers about the dangers of plastics in the ocean to its dwelling animals. A plastic container filled with ocean debris (made up entirely of plastic) was held up, and described as all of the contents found in one baby albatross's stomach, a baby albatross that unfortunately did not survive. It was a very effective presentation to the crowd of children quite interested in the big bird. We went down and met Makana and reflected how we can do out part to help the creatures out there, struggling with such vast amounts of pollution.
The Monterey Bay Aquarium emanates an ongoing theme of conservation and environmental awareness. It's a very important role they have, educating the visiting public on the amazing beauty and mystery of the vast bodies of water on our planet, ranging from the deep oceans to the local mudflats and marshes of Northern California, and thus ultimately promoting our concerted effort to protect these places. Seafood watch cards are distributed to visitors; a helpful reminder for what seafood eating habits around our country is safe to sea creatures, and what are not.
Before we left the aquarium we had to give one more visit to Kit the otter pup. We watched her roll around in the tank, swimming happily from side to side. From strawberry anemones, to leopard sharks, to curlews, to leafy sea dragons, we had a great time meeting our planet's fascinating water dwellers at the Monterey Bay Aquarium.