By Eileen Ogintz
MADIKWE GAME RESERVE, SOUTH AFRICA — Jack Frater thinks his older sister really missed out.
His mom offered a trip to each of her three children on their 13th birthdays to the Sanctuary Makanyane Safari Lodge in the huge Madikwe Game Preserve of South Africa.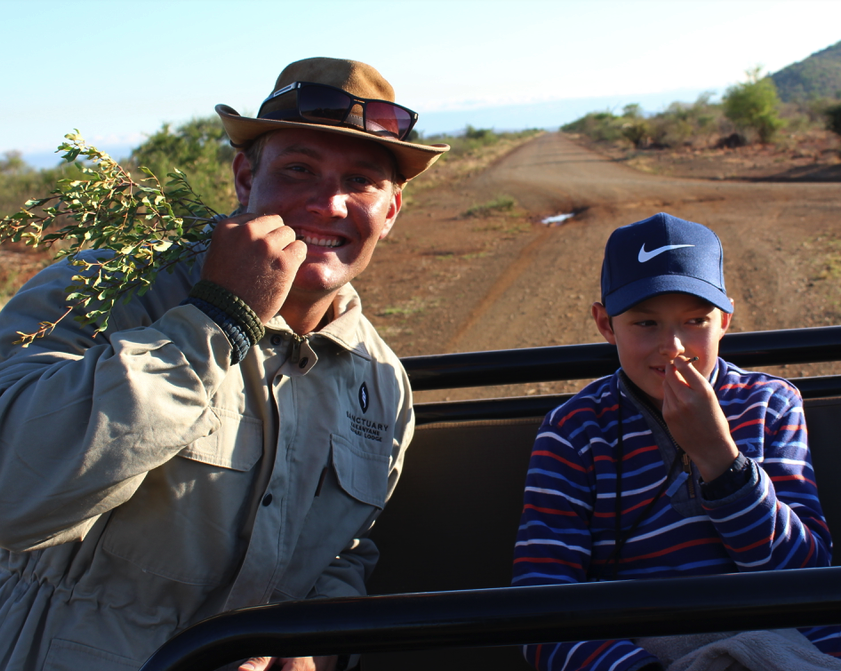 Jack turned 13 a few weeks ago. "I didn't think I'd reach heaven so young," was what he told his mom when he saw their huge room with its glass wall facing the river where elephants swim.
His middle sister opted for the One & Only Cape Town instead.
And after Jack's first game drive, seeing lions—including a male, female and two young cubs, elephants playing in the river, mama and baby elephants, mama and baby zebras, new born impalas, blue wildebeest, steenbok and all varieties of birds big and small, he was convinced his sister made the wrong call. "The lions are the best," he declared. "Because they are lions."
This eight room luxe lodge isn't typically a place for kids. In fact, those under 12 aren't permitted. An exception was made when Michelle Obama brought her daughters here in 2011.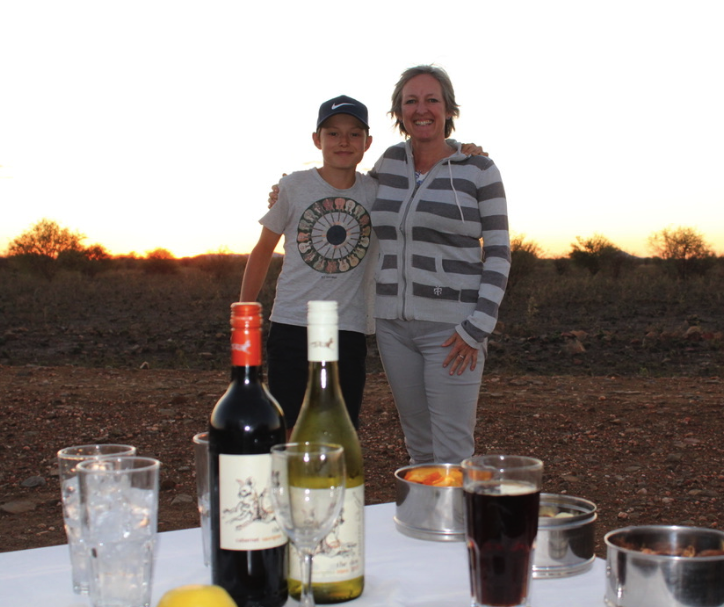 But Jo Frater has a special reason for choosing this place. Jack's dad died suddenly when Jack was an infant and his sisters two and three. He had loved this place, Jo Frater explained. James Frater had known the owners here, helping them when they opened to develop the wine list, Jo Frater explained. "He worked in finance and this was the only place where he switched off."
That's why two years after he died, she scattered his ashes here and why she wanted her children to experience a place that was so special to their dad. As for her middle daughter who at the moment prefers cities, "I wasn't going to force her," she said.
Maybe in the future.
As for Jack, he liked the gourmet dinner–duck breast! And he didn't mind too much getting up at 5 a.m. to go see the animals in the morning.
As for Jack, he liked the gourmet dinner–duck breast! And all the hot chocolate he wanted.
And then, there were the lions—two lionesses and two cubs walking right by our vehicle, seeming to look straight at us but not paying us the slightest mind.
They had more important things on their mind. The lions had just polished off a Wildebeet—we watched as one of the lionesses finished eating—it reminding me of getting the last bits out of a lobster. And now they were thirsty, in a bit of a food coma and strolling to a nearby watering hole.
It was just before sunset and we couldn't believe our luck. We'd already seen two White Rhinos, giraffes, zebra, elephants, cheetah, crocodiles and umpteen birds during our two game drives.
Now we watched as the lions got their fill of water—kind of like our dog at his water bowl. "This is the best soul food you can get," declared Jo Frater. "You have to be in the moment."
"It never gets old," agreed our Ranger Guide Reuben Grimsell. "You might see the same animals but they are always doing something different."
Jack had seen lions before –in Kruger National Park—but had never seen them eating.
This time, we not only watched as they finished their meal an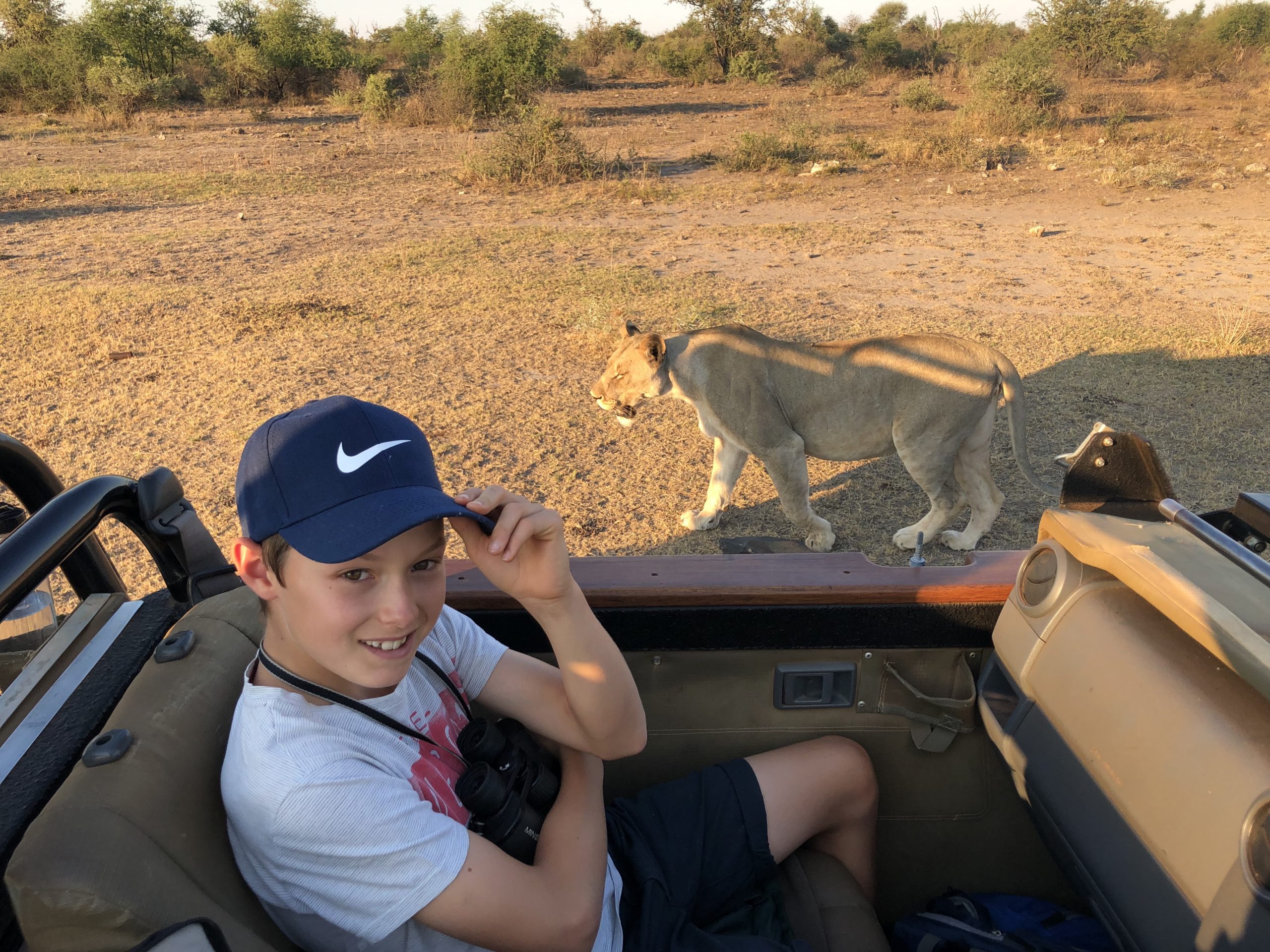 d walked by us not even six feet from our vehicle, but then returned to watch first black backed jackals and then spotted hyena munch on the lions' leftovers, vying for what little was left.
"We're watching the entire story," Jo Frater said, adding she had never before had witnessed such a site.
"The right place at the right time," agreed Grimsell. "It's very rare to see this."
What would Jack tell his friends about the bush? "It's exciting," he said. "You never know what you are going to see!"
Yes, you have to get up very early. Yes, it can get boring looking for the animals while off-roading (bumpy but slow!)
The animals may be sleeping when you find them.
But then there is a one-for the –memory books afternoon, complete with a dung-spitting contest between Grimsell and Jack while the rest of us took pictures as the sun was setting.
A day Jack, his mom hopes, he will remember always and a new connection to the dad he never knew.