By Eileen Ogintz
ABOARD THE CELEBRITY APEX, Aegean Sea — Teta Fragedaki had an idea for a new business.
She wanted to be home more once her daughter was born so she suggested to her husband she start offering cooking classes during the season in Mykonos.
"My husband thought I was crazy," said Fragedaki 10 years later as we sat in her expansive kitchen. "I did it anyway," she said, and when she had a lot of reservations, she told her husband.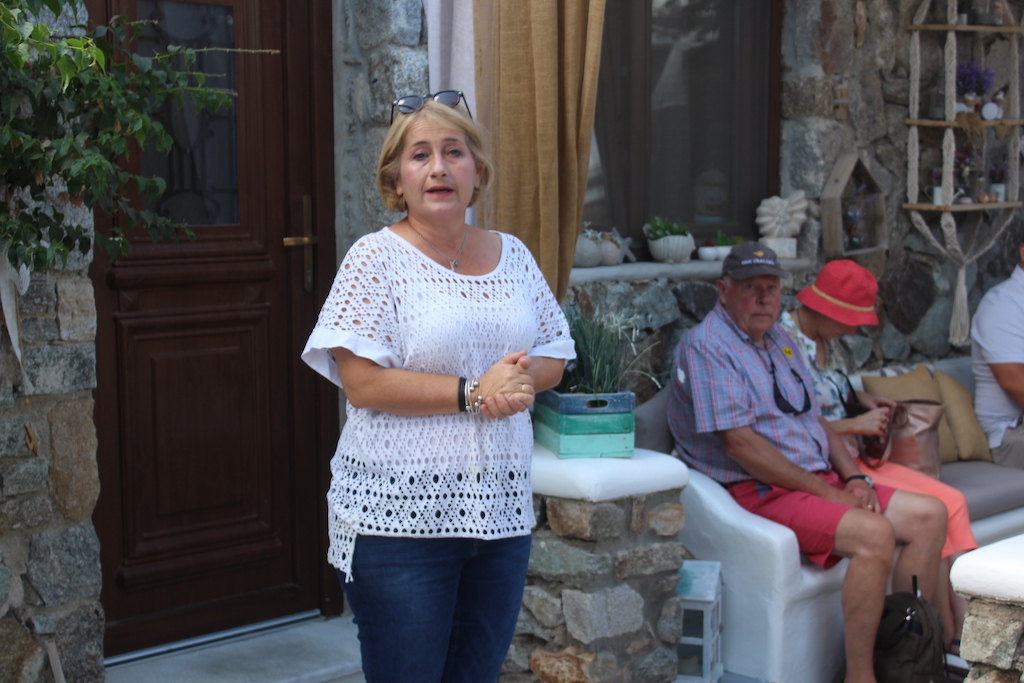 "I told you it was a great idea," he replied. Now she hosts groups from cruise ships like ours the Celebrity Apex as well as visitors staying on the island and families (www.mykonianspiti.com). Because of the pandemic, Celebrity has said that on the island of Mykonos, guests who want to go ashore must participate in a shore excursion and this proved an excellent choice.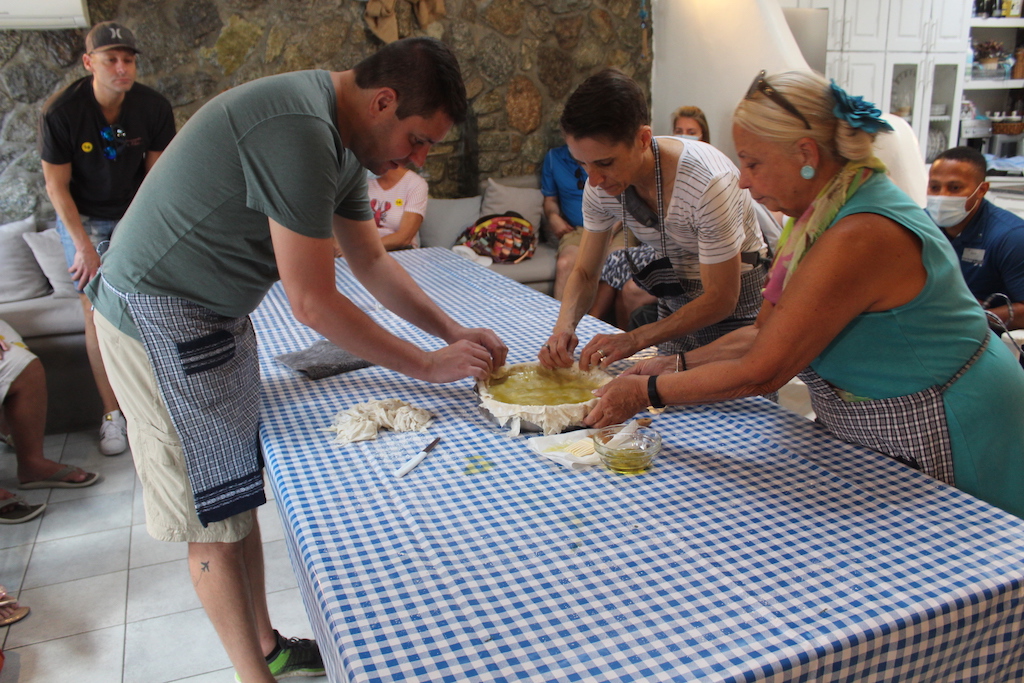 In all of the ports—we are also going to Rhodes, Santorini and Dubrovnik, many of the most popular shore excursions were sold out or close to sold out before the cruise even began, said Patrick Gomez, the senior destination manager on board. Because of the Pandemic, he explained, the groups are smaller, perhaps 25-30 people rather than 40 but "people have come all the way here and they want to see everything," he explained. These tours aren't inexpensive, (ours was $189 while some, including the private tour we enjoyed in Athens before boarding the ship can be significantly more, though others are under $100).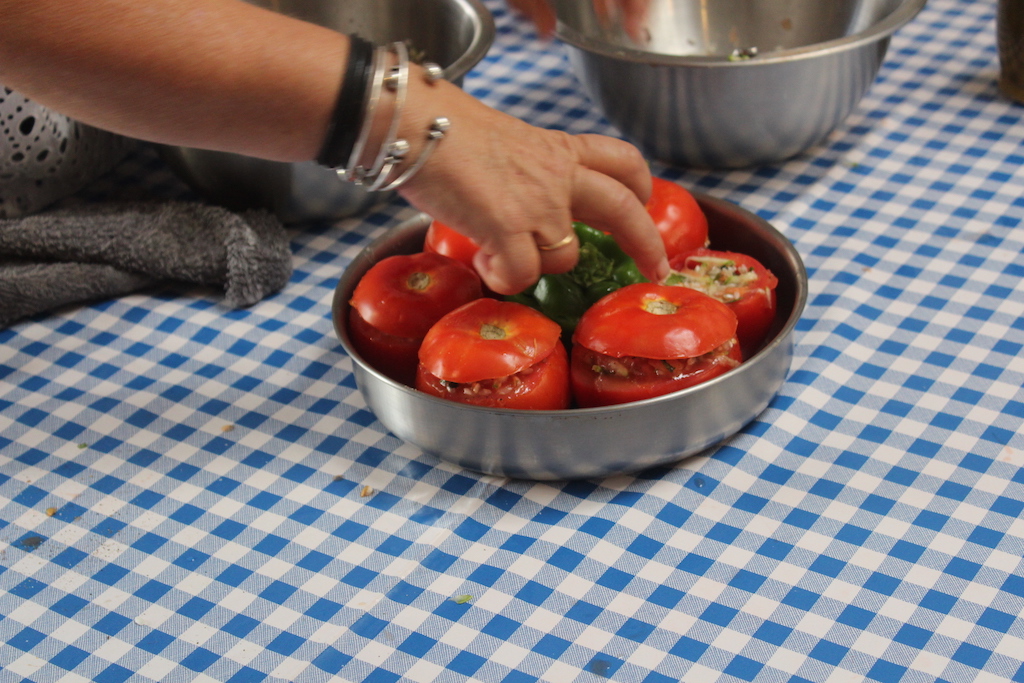 Fragedaki is an engaging teacher as she instructs us on how to make spinach pie, tzatziki (a cucumber yogurt sauce), and stuffed tomatoes and peppers. This is more demonstration than cooking class with Fragedaki asking for three or four volunteers for each dish — pressing layers of phyllo dough in a pan and brushing with olive oil; squeezing water out of spinach; grating cucumbers, and mixing the Tzatziki with yoghurt, cucumber, garlic, olive oil, salt and vinegar.
When we first arrived, as is customary in Greece, we were offered a drink of a sour cherry wine and something sweet — "so your life will be sweet," she explained — a soft Greek sweet called Loukoumi with mint and a lot of sugar and gelatin.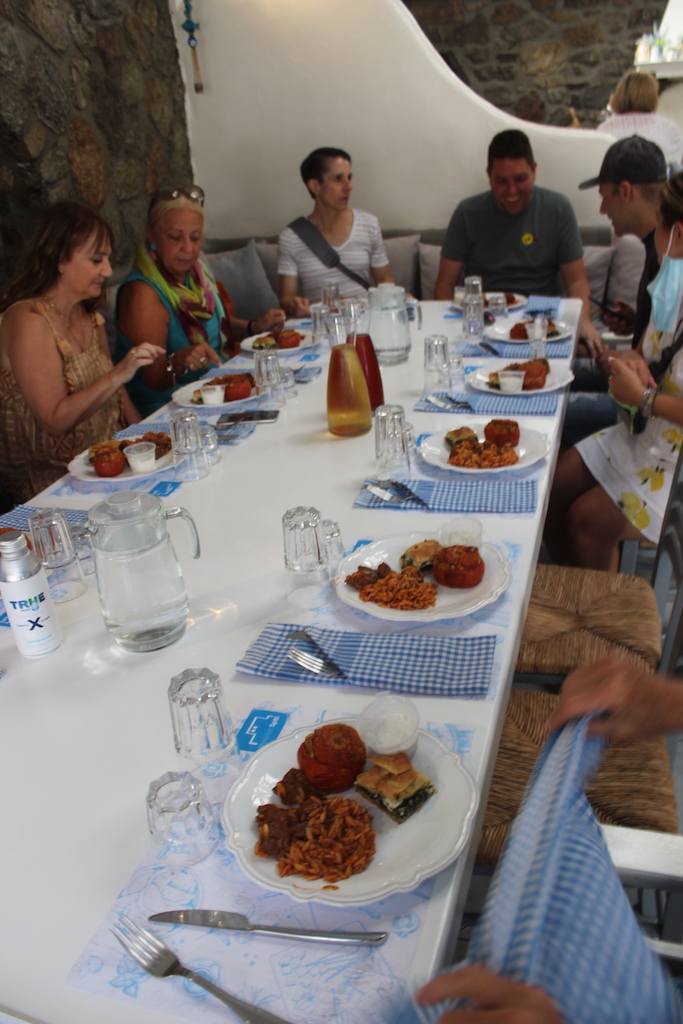 Mykonos, she tells us, is the island of billionaires and millionaires with far more helicopters than taxis. "This is the only place in Greece where no one is poor," she says.
The house and outdoor garden are charming with stone walls, bougainvillea growing up trellises, and large tables where Fragedaki's two assistants bring the needed ingredients—and whisk away the used dishes.
We taste a local cheese and Louza ham with a liquor called Raki — 60 percent alcohol made from the skin of the grapes. "We use it for everything," she jokes – rub on your head or belly if you have an ache; drink to relieve congestion, even clean your hands with it.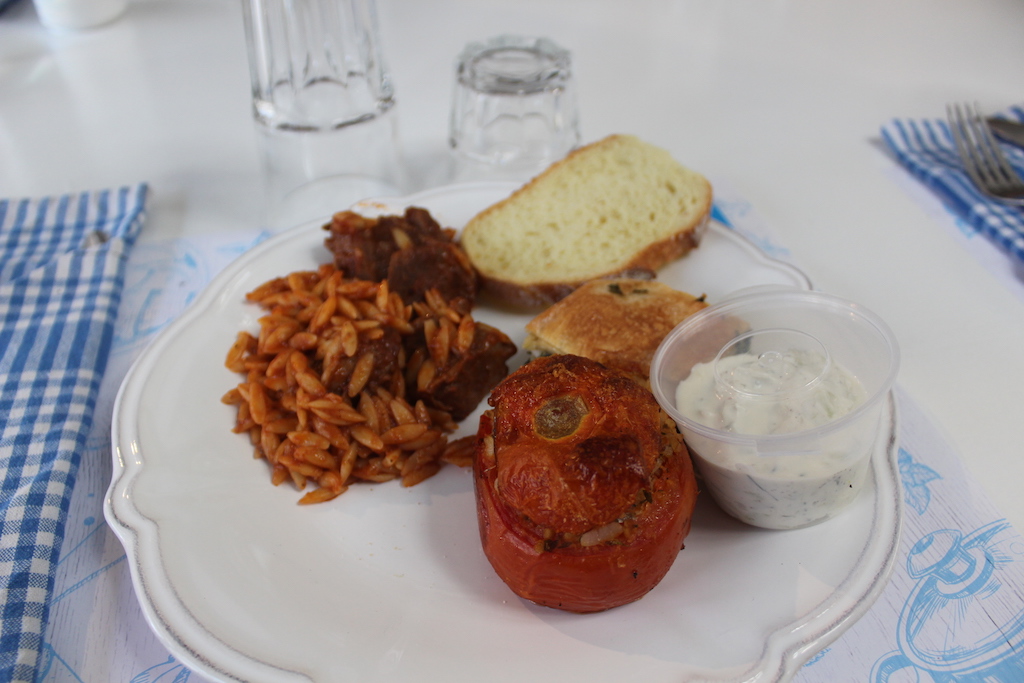 As the men in our group of 20 step up to volunteer, she jokes that Greek husbands don't cook.
"Very important, "she tells us. "Greeks don't throw anything away that we can use… you can create another food." The water squeezed out of the spinach? That can flavor risotto. That extra rice from the stuffed tomatoes? Freeze it and use for another meal.
There aren't exact measurements either — a pinch of this; a finger or two amount of that. And if the Tzatziki ends up too salty, just let it sit on the table for an hour and the cucumber will absorb the salt.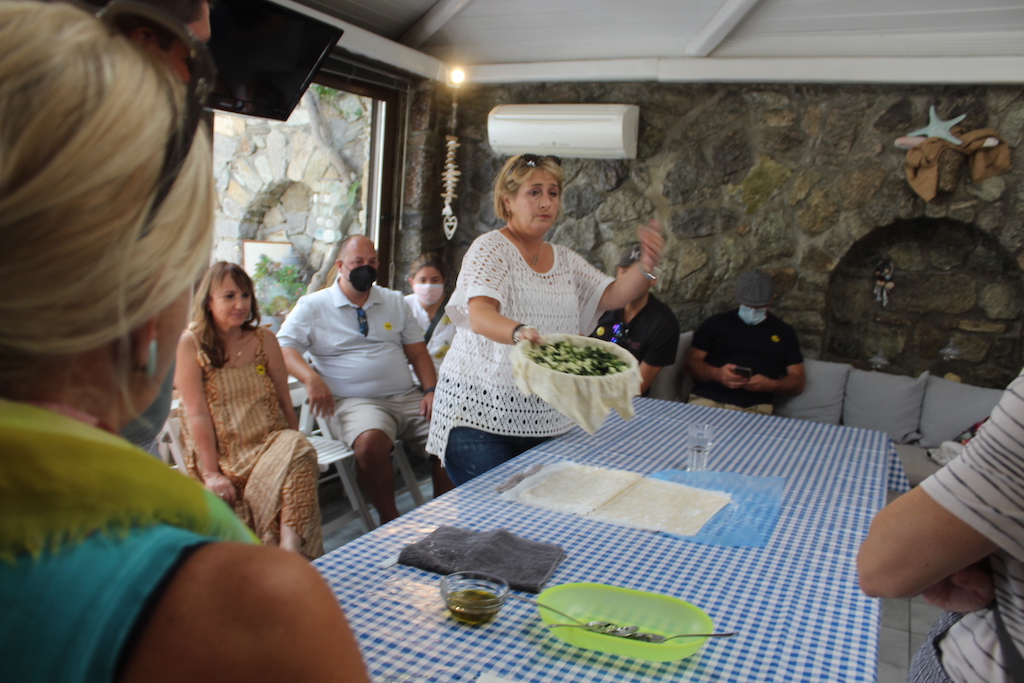 Because of the pandemic, we can't eat the food we have handled, Fragedaki says. The animals at her farm will be well fed! Instead, we are each presented a plate with spinach pie, Tzatziki, stuffed tomatoes and beef with tomato sauce over orzo, a typical dish prepared on Sundays for the extended family. For dessert, a Spoon Sweet — Greek Yogurt, honey and cooked fruit.
I can't finish lunch — I'm so full. Bravo, Teta.
She sends us back to the ship with a tiny bottle of Raki and the recipes. Will the spinach pie taste as good at home in Denver as in a Mykonos garden? We can only try!