By Andy Yemma
COLORADO SPRINGS, Co. — Milestones occur with frequency in the raising of children. For Eileen and me, this past weekend was one of the sweetest — our last PARENTS WEEKEND for our last child in college. Come next May, little Melanie will graduate from The Colorado College and the school days of our three offspring, which began in the 1980s, will be finito (well almost, in that the older two are now part-time grad students).
So we took a 3-day weekend and flew to Denver, then drove to "the Springs" to join Mel and her college besties for a fun-filled weekend of …. cooking! Mel was very proud of her summer internship on the Colorado College Student Farm, which had a bountiful harvest that helped feed the student population. She had just helped orchestrate a very successful Harvest Banquet and had a large cache of green tomatoes gathered on the eve of an early frost in the house she shares with four roommates.
We got to work slicing and dicing, chopping and peeling — tomatoes, onions, garlic, carrots, you name it, spending most of Friday afternoon cooking up pasta sauce, red and green salsa, and baking a carrot cake. Roomates and classmates and parents came and went, complimenting us on the cooking smells as we slaved away. Eileen complained the entire time about the rudimentary kitchen utensils available for these labor-intensive tasks, scraping and slicing a finger or two in the process. "A Cuisinart would surely make this a lot easier and quicker," she observed more than once.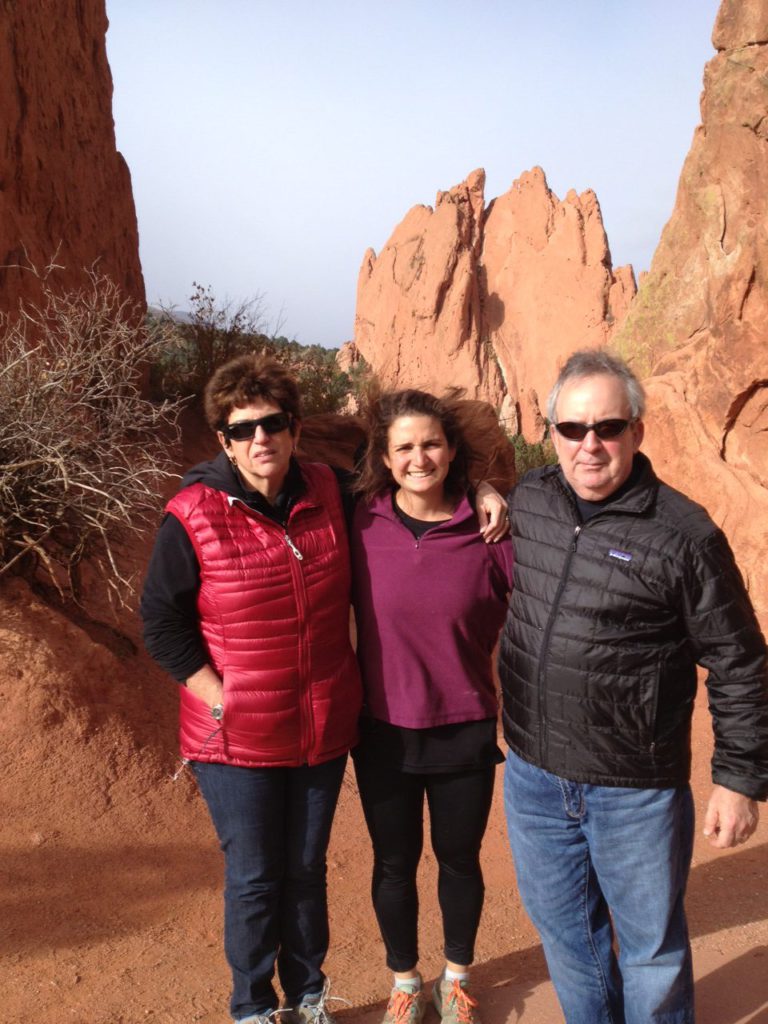 When we finished there was still enough light in the sky for a quick tour of the student farm (on which we had helped Mel plant veggies on a visit back in July). Sadly the chicken coop was empty because a predator had breached the fencing and had its own harvest banquet the previous week. "It was infuriating and sad at first," Mel said. "But you know what? With farming, it happens. You have to learn to live with these kinds of things."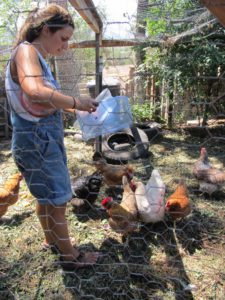 We checked into the recently opened Mining Exchange, a Wyndham Grande collection hotel in downtown Colorado Springs. It's in a historic 5-story building that originally housed a collection of mining companies; later doctors and lawyers offices. Wynham has meticulously restored the structure and furnished the rooms beautifully. We booked some rooms in advance for next May's graduation weekend.
We were so glad to see how Colorado Springs has rebounded from last summer's Waldo Canyon Fire, which was the most destructive wildfire in Colorado history.  Already some of the more than 300 destroyed homes are being rebuilt and the tourism business has returned to near normal.  On Saturday we spent a beautiful chunk of the afternoon hiking around the Garden of the Gods, a city park acclaimed for its colorful sandstone and limestone rock formations.  The area had been threatened by the Waldo fire but favorable winds saved it destruction.
Friday night we dined at the Front Range BBQ in old Colorado City, feasting on brisket, chicken and pulled pork with sides of beans and fried okra. The seniors were happy to take home loads of leftovers for snacking later that night and the next day.
Saturday morning it was time to go back to Adams Mountain Café in historic Manitou Springs, which also came this/close to being devastated by the Waldo Canyon fire last summer. I swore I could almost taste the fire in my hot and spicy huevos rancheros. Mmmm!
Sated from breakfast and walking back to our Hertz rental car with its "Neverlost" navigation system that saved our bacon several times during the trip, Eileen spotted a small local kitchen goods store. "Let's see if they have any decent carrot peelers," she said, pulling a reluctant Mel and me into the store behind her. Lo and behold – there was a sale on Cuisinart products. It took a bit of work, but she convinced Minimalist Mel that a combination blender-food processor, marked down by half and paid for by us, was in her best interests. "It will change your life," Eileen promised.
"I can feel my life changing already," Mel replied, somewhat sarcastically.
Saturday night, while the college kids munched on burgers and bratwurst and the salsas we had prepared, we reminisced with the other parents on the kids' college milestones. We recalled schlepping to Colorado Springs with Mel's overweight luggage as a freshman, and Parents Weekend her freshman year when a surprise ice storm practically shut down the homecoming dance, and the town.
"Parents Weekends are always too short," she said as we said our goodbyes for the return home Sunday morning, but not until after a refreshing walk around the beautiful Colorado College campus, with a snow-covered Pikes Peak rising spectacularly in the background.
"Can you believe our little baby is about to finish college?" Eileen asked as we pulled away. "What was that she said about her life changing?"