By Eileen Ogintz
HOMER, AK — We might be in the Halibut Capitol of the world but I'm still skeptical we'll catch any fish.
It's not even 7 a.m. and I've only had one cup of coffee. Besides, we haven't caught any fish yet in two days of trying on the famous Kenai River in Alaska.
"Of course you'll catch fish," says Grant Peel, the 25-year-old boat captain for Alaska Coastal Marine, who is piloting the Foxfire this morning, taking 11 of us hopefuls 25 miles out west into the Cook Inlet (about a 90 minute ride on fairly calm seas) to find those famous Halibut that so many come to Alaska seeking.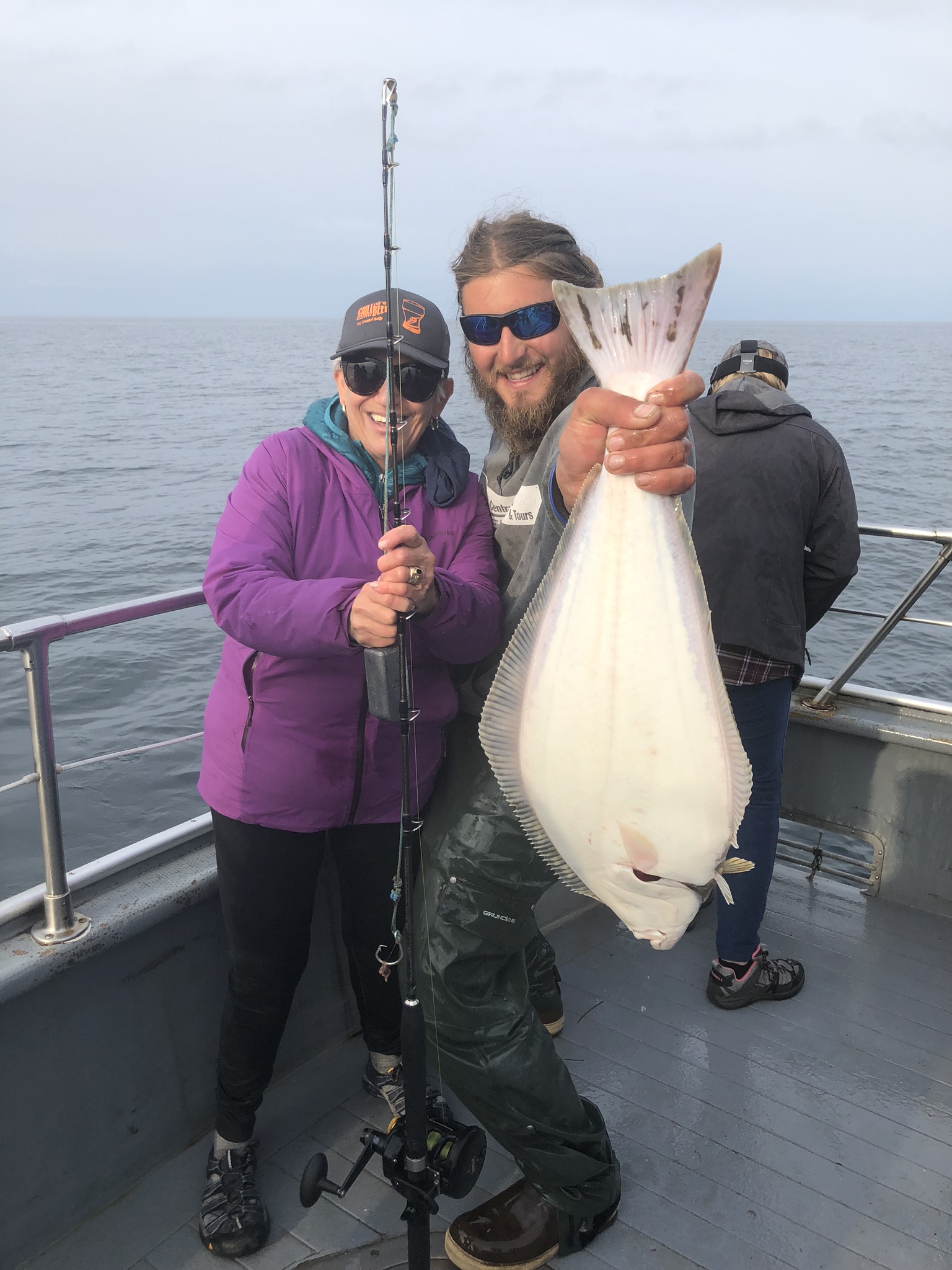 Crew Member Mackenzie Weeks, 23, who plans to apply to graduate school in environmental engineering when the season is over, is equally enthusiastic.
We're a diverse group, including a family of three from Colorado who come up every summer to visit family in Anchorage and have fished for Halibut many times before; two young guys from Denver, and a couple from Springfield, IL who are newbies like us. There are a brother and a sister — he's from St Paul MN and she's from Baltimore MD, traveling with extended family primarily to visit a brother working in Anchorage. Emily Silverman fished once for Halibut years ago; her brother Dave never has.
"The main thing is to hold on tight to the pole." suggests Jose Espino. "It's a lot harder than it looks to pull up a big fish from the bottom of the ocean!"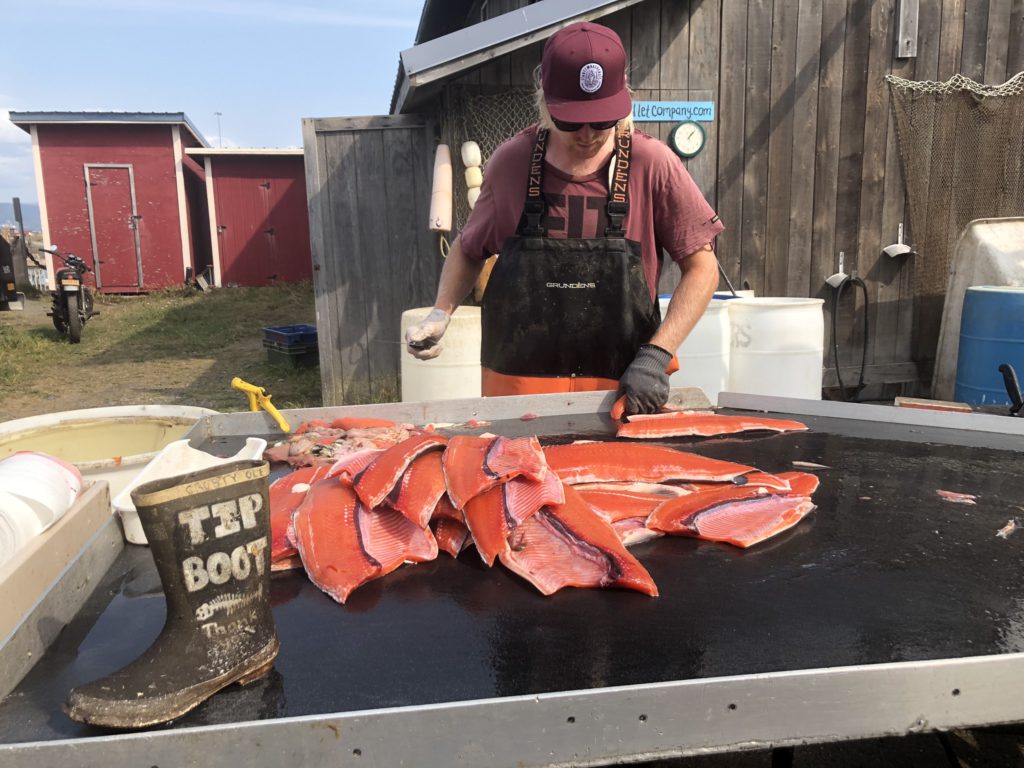 We head out from the Homer Spit, about a 4.5 mile stretch of sand and boulders that is headquarters for all of the fishing charters, bear-watching trips, kayaking and hiking as well as tiny shops (we must have gone back to the Salty Girls three times over the course of two days for gifts) and restaurants selling every variety of local seafood, local brews as well as burgers and ice cream. Captain Patties will even cook your catch, though they have plenty of other options from Halibut Tacos to baked and deep-fried Halibut to seafood fettuccine, a crab melt and three pounds of red king crab for $131 (everything else is reasonably priced and delicious).
I'm still dubious when we put the baited and weighted hooks in the ocean. They go down 200 feet but immediately one person gets a bite… then another… and another. Within 45 minutes, all 11 of us have caught the two fish each we are allowed to keep. They averaged 7-8 pounds, but a couple approached twice that size. That's nearly 100 pounds of fish! It's as if those halibut were waiting for us.
"We caught the tides just right," Peel explains. We got to the fishing spot right at slack tide — there was no current so the fish would eat the bait faster.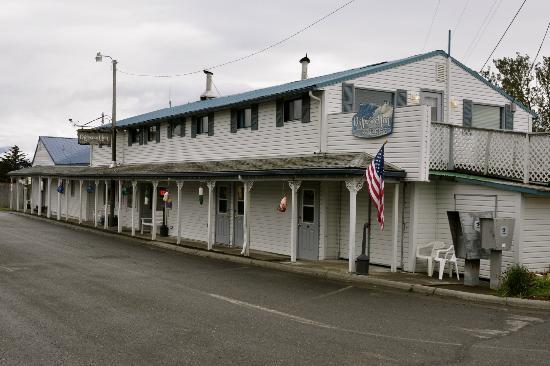 It's hard work reeling in those fish, especially for a lefty like me. Peel explains that on the all-day charters, the fishing is different and the boats go after larger Halibut — his largest this year so far has been 130 pounds, he said. At first, I had considered for an all-day trip in the hopes we'd be successful. But it was more expensive ($315 per person as compared to $175 for a half-day), required an even earlier start and more than 10 hours on the water –too long, my husband said. Besides, locals told me, the smaller Halibut caught on the half-day trip tend to be better eating.
So here I am holding on to this heavy pole for dear life, reeling… and reeling… and reeling. My hands are cramping; I can't figure out the best way to brace the pole. I'm sure I'm going to lose the fish on my hook but… no we pull it up and it's a keeper! Not too shabby!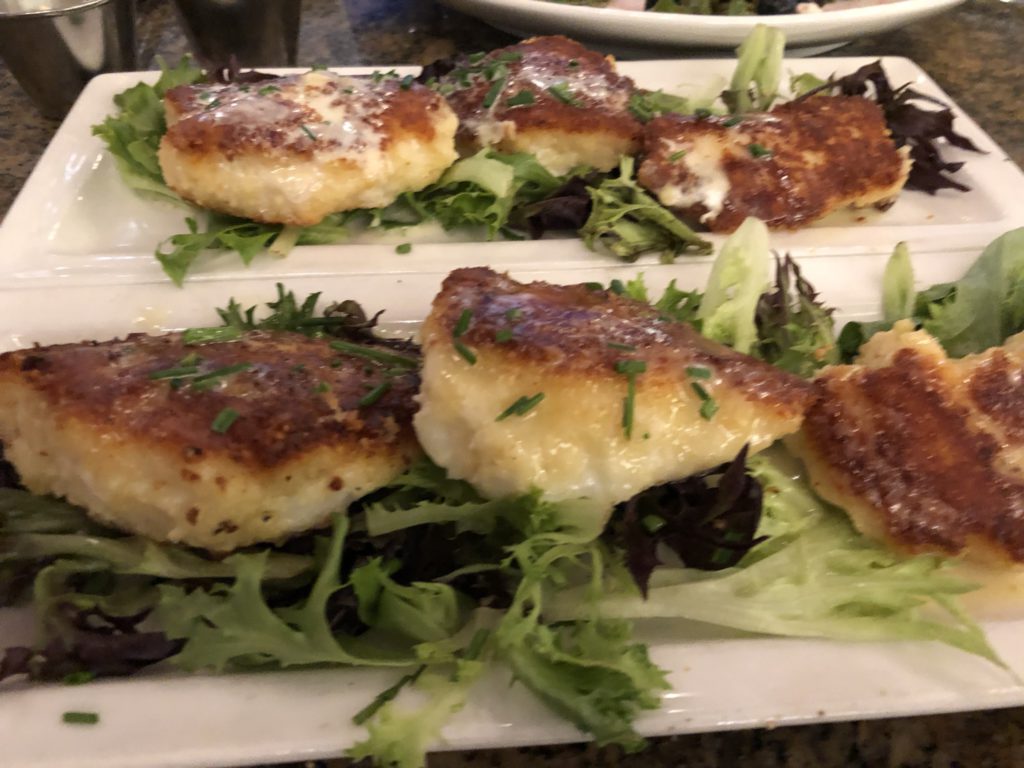 Chuck Kim, a Denver Doctor, and his buddy Jared Schrader, a financial consultant, keep fishing until they get the size fish they want– six or so for the two they keep. I think Kim wins the prize for the biggest, about 15 pounds, and he's jubilant. "I love it. It's phenomenal," he said.
"Exciting agrees Emily Silverman.
"I'm sure it's not always like this… it makes me think it's so easy," added her brother.
In fact, Peel says, sometimes it can take more than an hour to get a bite, especially on the whole day trip, and then imaging pulling in a fish that's over 50 pounds!
When we get back to the dock, we hand our fish over to a waiting processor who will cut them into one pound pieces and flash freeze them and pack them for the flight home (they can also be shipped but it's less expensive to check them as baggage if you are flying).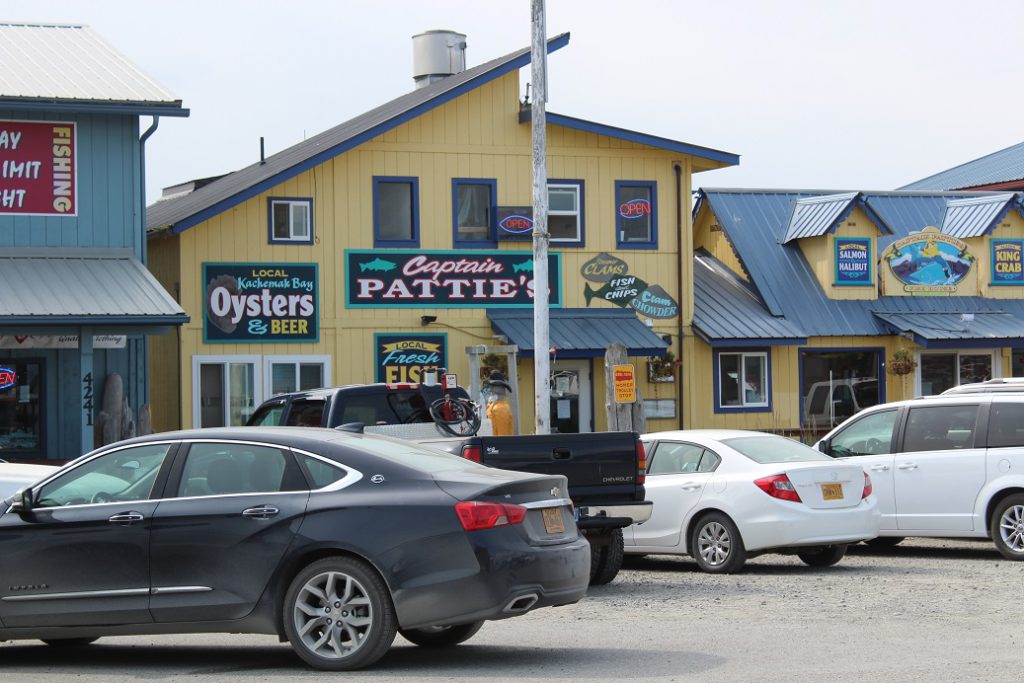 We toast our success over a beer and what else — baked halibut at Captain Pattie's that today is jammed with cruise ship passengers. I take it as a complement when the couple at the next table asks if we are locals.
Last night, we'd had dinner with some real locals — with Adrienne Sweeney, a fifth generation Alaskan, her 14 year old daughter Lillian and Marie Wall, Adrienne Sweeny's mom, Marie Wall, 72, who met her husband Steve when she was in her early 20s and coming to Alaska to report for Army duty. Steve wall's family had been here since the late 1800s and his grandmother, who raised him, conspired to get the two together.
Now Adrienne and AJ Sweeney, the parents of three daughters, own the historic Driftwood Inn with over 50 rooms overlooking Kachemak Bay, as well as AJ's Old Town Steakhouse across the road and a charter business. They bought the restaurant a few years ago, Sweeney said, to close down a honky-tonk, whose rowdy clientele was annoying the Driftwood's customers late at night. Today, it is a popular steak and seafood restaurant that attracts locals and tourists alike. We feast on Bleu Cheese Potato Chips Cioppino, Alaskan Scallops, and chocolate truffles for dessert.
"Everyone knows everyone around here… it can be good and can be bad," says Eleanor Sweeney, 16, a high school senior. There's only about 5,000 people who live in Homer.
"It is really like the Lower 48. We don't live in igloos… You wouldn't believe how many people think we don't have any technology, said Lillian Sweeney, 14, a high school sophomore. "Some old timers still live in cabins without running water or electricity. But that's their choice… kids here may be more laid back and more outdoorsy, but they are like kids everywhere."
The girls suggest we fry the Halibut like their grandma does. "Really good!"
I can't wait to try that! The fish, we decide, is the best souvenir to bring home.