By Eileen Ogintz
ABOARD THE CARNIVAL MARDI GRAS IN THE CARIBBEAN SEA — It is the first sea day aboard Carnival Cruise Line's new megaship Mardi Gras and it is harder than you might think deciding where to go for brunch or lunch if you prefer.
For the sit-down places, you check-in to dine on your Carnival Hub App. The App tells you when your table is ready as well as what's open when, the menus and the scheduled for activities (maybe a Thriller Dance Class, Trivia, Family Feud Live or an acupuncture demo).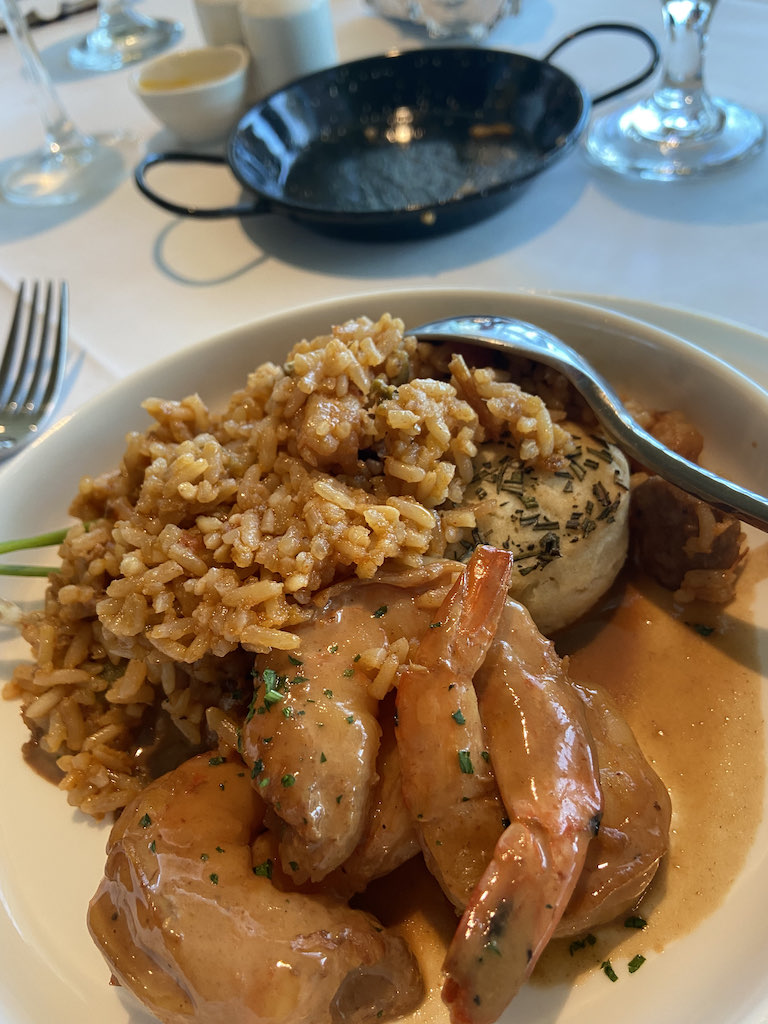 There's the casual Lido Marketplace, the traditional buffet that is now staffed by servers and the Palm Restaurant serving up everything from fresh-pressed juices ($5 for a combo like pineapple, apple, beets and ginger or carrot, orange, lime cayenne) omelets and eggs benedict as well as burgers, and salads, including a Salmon "super food" salad.
But with 22 dining venues (and 12 bars and lounges) aboard the ship, many of them complimentary, there are lots of options including Chibang, a new complimentary restaurant that offers both Mexican and Chinese fare (think Chinese noodle bowls or burrito bowls).
Guy's (Fieri) Pig & Anchor Smokehouse serves up BBQ with traditional sides like Mac n Cheese and molasses Bakes Beans; at his Burger Joint get a burger slathered with his donkey sauce.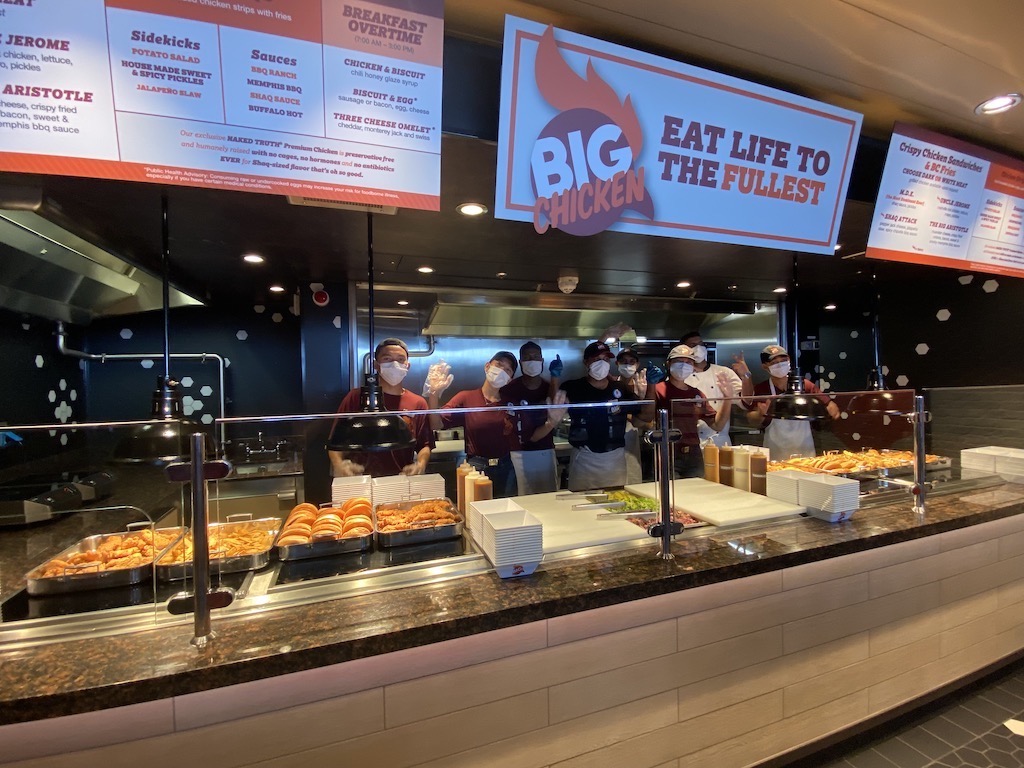 There's no charge either at Shaquille O'Neal's Big Chicken—his first on a cruise ship that features crispy chicken sandwiches, tenders and baskets with fries, slaw and potato salad and breakfast served till 3 pm (How about a chicken & biscuit or a Biscuit and Egg. Shaq serves as Carnival's Chief Fun Officer, by the way.
It seems only fitting to have creole cuisine on board a ship named Mardi Gras and Emeril's Bistro 1396 features Cajun favorites at a small extra charge (crispy boudin sausage rolls for $5; Emeril's Signature Jambalaya for $8; a kids' fried shrimp po-Boy for $3. There are fresh oysters, Blue Crab Claws and steamed lobster priced by the pound.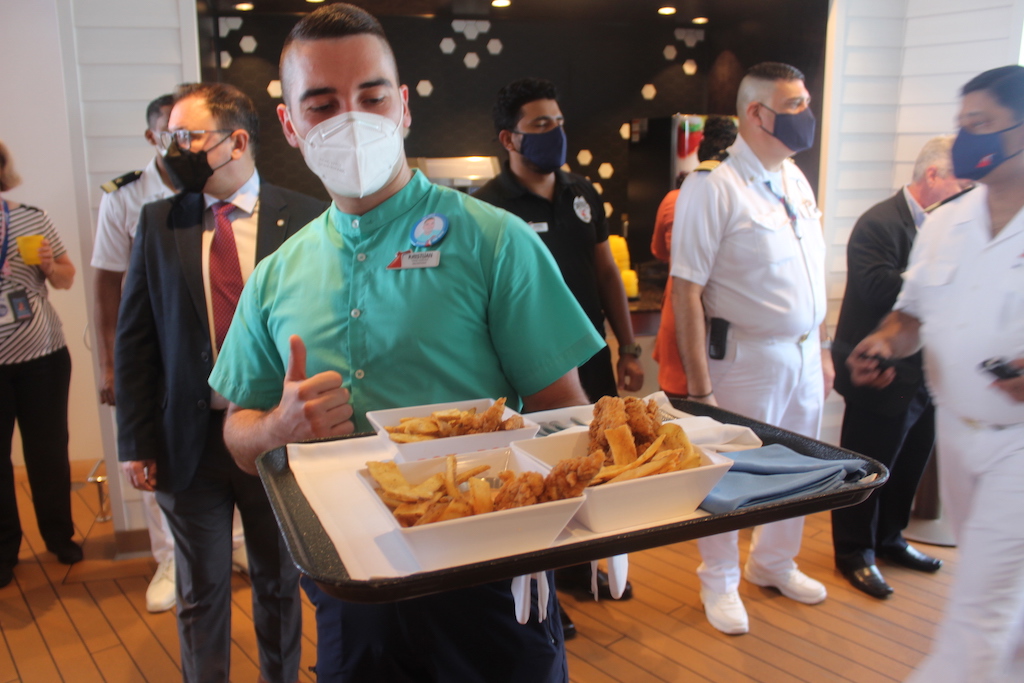 There's 24-hour pizza and ice cream; the Bluelguana Cantina with tacos, burritos, freshly made tortillas and a salsa bar while the Seafood Shack is perfect for anyone having a craving for a New England lobster roll ($12) or a fried seafood platter ($10).
There's Bonsai Sushi and Bonsai Teppanyaki (at an extra charge) and Cucina del Capitano where you can dig into pizza, lasagna, pasta (choose your own sauce and toppings) and more.
Fresh Creations (adults only) features hand-tossed salads while Street Eats is a bow to the food truck craze with changing open air stations (Think Steam Dream for bao buns or Mad Sizzle for kebabs and satay; Time Fries is a hit with loaded French fries.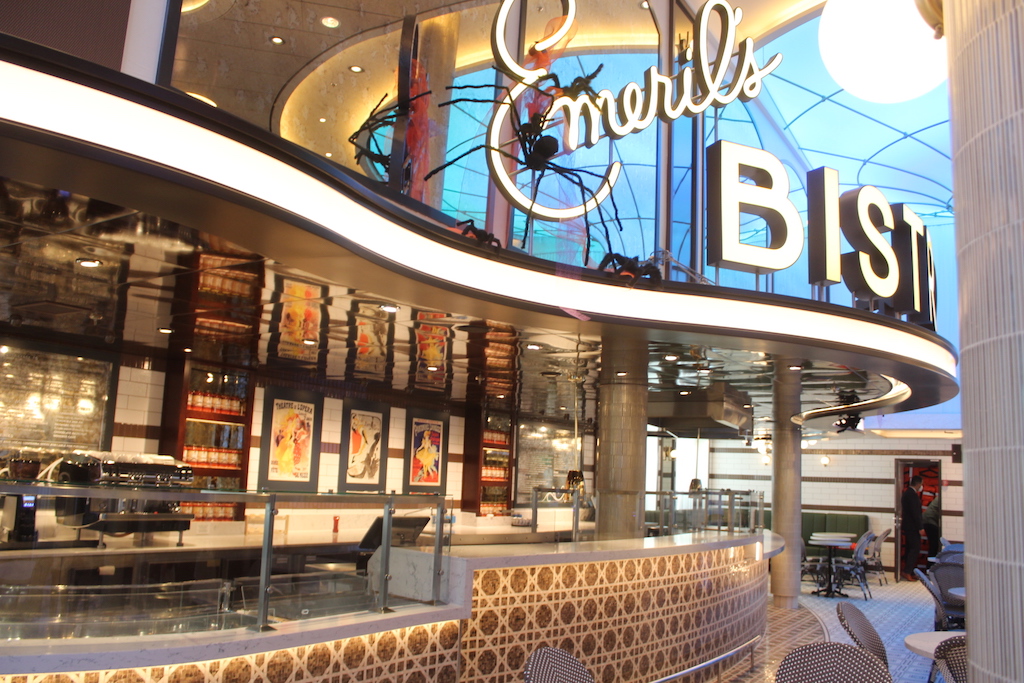 For those who want to learn new dishes, there's Chef's Table ($95) with the Master Executive Chef. Many guests will splurge one night at the Fahrenheit 555 Steakhouse or Rudy's Seagrill ($38)
Others certainly won't go hungry sticking to the options that don't require an upcharge. No wonder there were so many people in the fitness center this morning!
Bon Appetit!