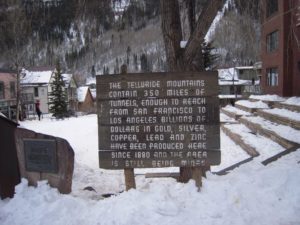 DAY TWO  — We drive from Silverton about two hours across a mountain pass to another world at Telluride Ski Resort (www.tellurideskiresort.com), where we check in to a luxe condo–so luxe I can't even figure out the lights or the shower (do I want rain shower, multi jets…?) at The Peaks  Resort  (www.thepeaksresort.com).
The Peaks is this mountain's premiere hotel with rooms, condos and even 34 four and five bedroom mountainside cabins with mountain views. It's under new management this year too and has a huge spa and indoor water playground with water slide.  We're in one of the condo units with floor-to-ceiling windows overlooking the mountains, gourmet kitchen and every amenity we could want (Jacuzzi tub, steam shower, a concierge to help with every detail).  I could get used to the ski valet who takes our skis and boots as we come off the mountain and hands back our shoes. Telluride is in southwest Colorado  in the San Juan mountains and is known for its spectacular views and its lack of crowds. The San Juans, incidentally, have one of the highest concentrations of 13,000 and 14,000 foot peaks  in Colorado—no wonder the views are so amazing!  "The fact that it is a little more a schlep makes it more of an adventure," says Sheri Danehy, here from suburban NYC with her husband and three kids. "It is so low key and being able to ski together on vacation makes it so nice."
Of course you can fly here–or to Montrose about an hour drive away–nonstop from Dallas, Chicago, Houston, Newark and Los Angeles. You also don't need a car. I love that you can access the town and mountain village via a free 13-minute Gondola. I also love that there are no crowds or lift lines—even a few days before Christmas. There are 2000 skiable acres here, the vast majority for experts and intermediates (including plenty to hike to–inbound back country terrain). But there are also plenty of green runs including the longest 4.6 mile run Galloping Goose e on the mountain for beginners.  Another plus, this place only gets something like 464,000 skier visits—a third of What Aspen or Vail get so you've got plenty of room to yourself.
I feel like I'm in Europe when I stop on the new deck at Alpino Vino for lunch (antipasto and a sampler of Italian wines) sitting in the sunshine  at a place that only has a handful of tables inside and out and suggests I taste the wines based on which cheese or salami I'm sampling. Is this fun or what?
My two daughters, Mel and Reg, and Reg's boyfriend Dan Foldes ski by and stop for a taste of cheese. Then they are off trying to find steeps and deeps while I'm happy to find the groomers.
Ella Koehler is here with her husband and two young children on their first ski trip from Tucson Az.  "We're wiped out!" she says.  "But it's worth it a thrill to see them get it."
Phara Bourque, here with her husband and four kids from a town about an hour away says they key is to pack lunches and hot drinks to save on costs and "ski when it is warm and sunny."
"It's worth all the work," she says, clutching her two year-old. "It gets me outside. Otherwise I'd be home with him doing laundry and that's no fun!"
I'll say!