By Meghan McCloskey, Taking the Kids Correspondent
Xanadu, produced by Denver Center for the Performing Arts Cabaret, captures the spirit of the 1980s while appealing to many generations. The musical is adapted from the cult classic movie with the same title starring Olivia Newton John and Gene Kelly. The impressive set design is a dazzling display that will immerse you in the plot and transplant you into the world of disco balls and ancient Greece.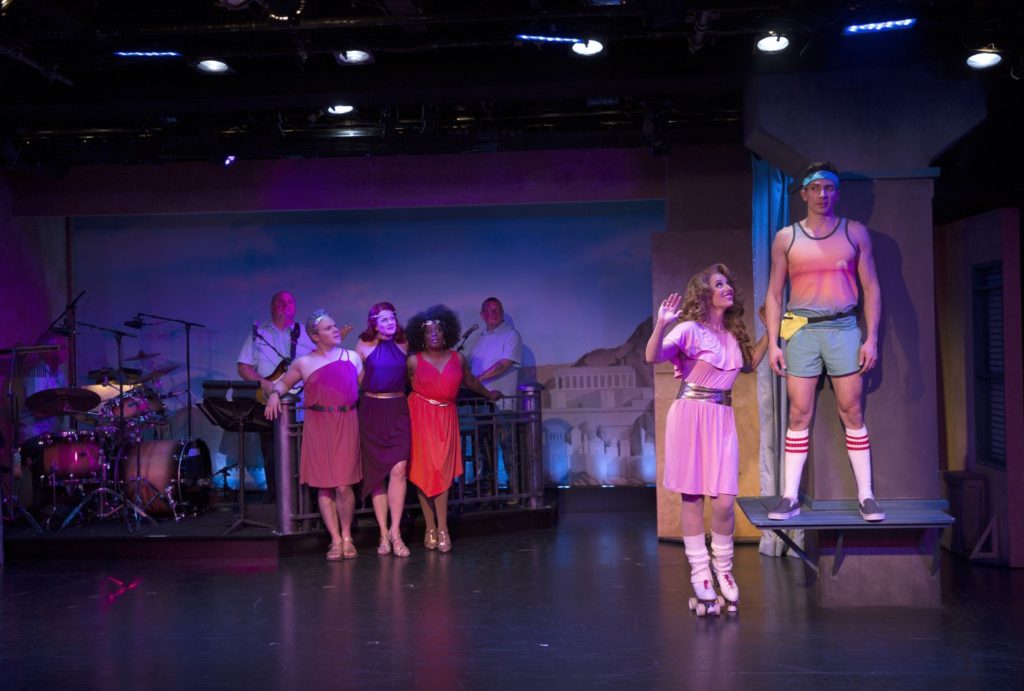 The musical begins in Venice, California where a sullen artist has given up all hope until he is overtaken and inspired by a beautiful muse with an Australian accent, Kira. Kira encourages the artist, Sonny, to follow his passion to build a roller disco.
In the process of designing the venue of Sonny's dreams, Kira falls in forbidden love with the mortal. To avoid eternal damnation, she has to fly on her glittering winged white horse to visit Zeus to plead for forgiveness.
As if the all-local cast wasn't impressive enough with their musical and acting skills, much of the musical was performed on roller skates!
This musical appeals to a multigenerational audience. Some in the audience were clearly already Xanadu fans and came clad in sequins reminiscent of the decade – one even sported an "I heart the 80s" pin.
Younger theater-goers, who apparently saw the musical for the first time, were chattering in the lobby about how hilarious and unique the production was. The musical is peppered with current references to stay relevant to those who don't remember the 80s. Of course the score, performed by a live band, is filled with classics from Jeff Lynne and John Farrar that you'll be singing for weeks!
At certain points in the production, the cast even prompts willing audience members to join in the fun – some danced on stage and others were included in the story as Greek muses!
While the musical has you laughing from start to finish, it also leaves you with a few deeper messages. The muses grapple with what it means to be human and the intrinsic desire to create art as a way to make a mark on the world.
Denverites will relate to the musical's dialogue surrounding redevelopment and gentrification. The developer, Danny, has unwholesome intentions for the Xanadu theater which may strike a chord with those of us seeing prices rise in artists' communities.
Leave the kids at home – the cabaret-style production would be a perfect date night. Enjoy a drink and snack at your seat as you watch the spectacle. This musical will send you home looking to dust off your roller skates!
Xanadu is running now through April 28th at the Garner Galleria Theater. Tickets can be purchased at denvercenter.org.