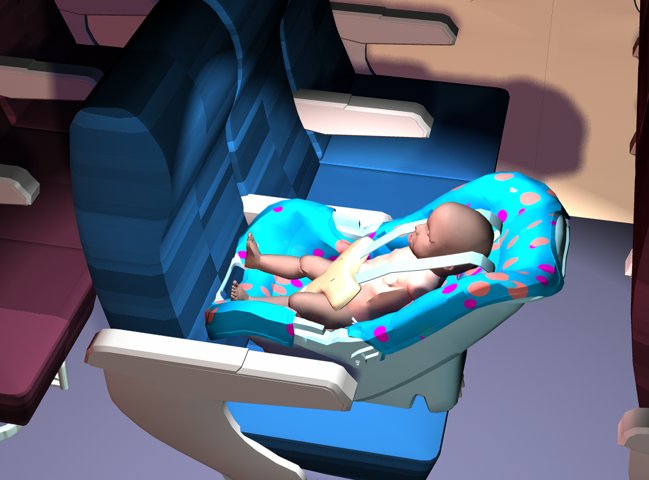 By Eileen Ogintz
Tribune Media Services
I just don't get it.
Parents wouldn't think of driving anywhere without securely strapping their baby in an appropriate safety seat and spend countless hours considering which safety seat to buy.
But on airplanes, it's a different story. Everyone from the American Academy of Pediatrics, the FAA and the National Transportation Safety Board recommends safety seats for young children, but many parents continue to ignore the advice. See what the FAA says at (www.faa.gov/passengers/fly_children/crs).
"Why wouldn't you want your child to be as well protected as you are?" asks Nora Marshall, who oversees the NTSB unit that studies survivability in plane crashes. The NTSB has now renewed the debate on the subject with a new recommendation that each passenger — including those under two — be restrained in a separate seat in an appropriate child restraint system during takeoff, landing and turbulence.
Everything on a plane — including coffee pots — has to be restrained during takeoff and landing and in times of turbulence, notes Marshall, a former flight attendant. Everything, that is, except young children sitting on a parent's laps.
More than 7 million children under the age of two fly on parents laps on American carriers each year, according to government estimates. But you are not required to purchase a seat for your baby until they turn two and airlines don't charge for families to check a car seat. That is the crux of the issue that has stymied safety experts and pediatricians for years and has perhaps lulled parents into a false sense of security.
"I don't believe she'd be much safer in a seat. Having flown hundreds of flights, I've never experienced turbulence so strong it would cause me to lose grip of a child," emails Erik Kaye, a New Yorker who has flown eight times with his 15 month old, never buying her a seat.
"Much easier to nurse," added Sara Abbott, who plans to carry her soon-to-born son on her lap when she flies from Boston to visit family in Texas.
"It's cheaper and we are trying to take advantage of the savings before having to buy her a seat," says Dwight Zahringer from suburban Detroit, the parent of a toddler.
In fact, the FAA argues that requiring the use of child restraint systems would significantly raise the price of travel for young families and concluded that this would prompt some families to drive instead, in turn resulting in an increase in highway fatalities of children.
But the NTSB counters that "considerable analysis of real-world air and road vehicle data found no clearly defined relationship between diversion from air travel and highway accidents an injuries," including after the Sept. 11, 2001 terrorist attacks when air travel dropped significantly and road trips increased.
Parents don't appreciate that the use of safety seats can be — and has been — a matter of life and death, argues Nora Marshall. She points to past cases where young children have survived plane crashes because they were restrained in safety seats and others in which children were killed when sitting in parents' laps while the adult survived.
Take the case of the United Airlines DC-10 that crashed in Sioux City, Iowa in 1989. The parents of the four lap-held children were told to put their children on the cabin floor and hold them in that position while the adults assumed "the protective brace position," But three of the parents reported to investigators they were unable to hold on to their babies and a 23-month-old died.
Five years later a USAir Flight crashed in Charlotte, N.C. Among the 37 who were killed was a nine-month-old baby held by her mother, who survived. NTSB investigators believed the baby might not have sustained fatal injuries if she had been properly restrained in a child restraint system.
Now, in the wake of the investigation into a horrific private plane crash nearly two years ago in Butte, Mont., that killed 14 people — including seven children, the NTSB is once again raising the issue of why young children are permitted to fly without their own seats in which they would be properly restrained.
In this most recent case, three young families — including two sisters and their children — were on their way from California to rendezvous with grandparents for a ski vacation. There weren't enough seats on the plane for everyone but that is legal — as long as the total weight per seat isn't more than 170 pounds.
The NTSB has been arguing for more than 15 years that each passenger should have their own seat, pointing to private plane crashes where children survived because they were properly restrained. While this Montana crash wasn't survivable, NTSB officials say that had the crash been less severe, any unrestrained children or those sharing a single seatbelt would have been at much greater risk of injury or death. "We want to learn from this and prevent a similar tragedy," Marshall said.
The NTSB, though, can only make recommendations. It is up to the FAA to take action. FAA spokeswoman Alison Duquette said the agency will consider the NTSB's recent recommendation, but the agency has no immediate plans to change its rules. To continue to heighten public awareness, The NTSB has scheduled a public forum for Dec. 9, titled "Child Passenger Safety in the Air and in Automobiles," which you can view on the NTSB's website, www.ntsb.gov. Additional information about the forum can be found at www.ntsb.gov/children.
Meanwhile, it is up to you. Yes, that means you would have to buy a seat for your baby. Tell all your friends they should too. Southwest Airlines (http://www.southwest.com/html/customer-service/family/baby-on-board-pol.html)  offers infant fares for children under two so that you can use your safety seat, as long as you supply a birth certificate. I wish every airline did. It will also give you an empty seat for a lap child, if one is available, but you certainly can't count on that. Virgin Atlantic supplies safety seats to all young children whose parents have purchased a seat for them.
If you don't want to lug your safety seat to the gate, check out www.kidsflysafe.com , which makes CARES, the Child Aviation Restraint System, an FAA-approved, harness-type safety device — designed by a grandmother — that fits into a six-inch stuff sac and adjusts to fit airplane seats. It is designed for kids weighing 26 to-44 pounds (typically one to four years old).
I know in this economy it is tough to justify buying an extra plane ticket when you don't have to, but isn't your child's safety worth it?
"There's a difference," says Marshall, "Between what's allowed and what's safe."
© 2010 EILEEN OGINTZ, DISTRIBUTED BY TRIBUNE MEDIA SERVICES, INC.