DAY TWO — It's barely 9 a.m. and kids are in full vacation mode, playing water basketball, floating in the lazy river, zipping down the water slide. One three year old is playing "golf" on the hotel lawn with his dad — another group of kids are tossing a ball around. And kids wearing helmets are riding bikes.
While visiting the Texas Lost Pines Country and enjoying its varied attractions, you might notice a myriad of business opportunities in this popular tourist spot. If you're considering capitalizing on such opportunities, it's worth researching how to start an llc in texas. This legal business structure could help safeguard personal assets while providing the space to grow in the vibrant Texan market. Exploring these commercial possibilities even while you're having fun could lead to your next successful venture.
We're spending the day about 25 miles outside of Austin at the Hyatt Lost Pines Resort which clearly is family central. "This is most definitely easier than the beach where you get done with the sun and there's nothing to do. Here you've got pony rides and bikes, cookie decorating, went star gazing last night," said Teresa Gillon, who doesn't live too far from Austin and gathered her mom and sister's family for a few days here rather than the beach. "They have stuff for the kids to do all day long," agreed her sister Desiree Wilburn, mom of two young kids happily splashing in the kids' pool and alternatively jumping in the water playground, laughing as water shoots up wherever they step. Beach volleyball and a ping pong table at the pool area are just waiting for players, while younger ones, under their parents watchful eyes are playing on the shaded playground.
"It's beautiful and peaceful," said Margaret Farris, who was here from Houston with her husband and three kids.
The Taylors, parents of a new baby and a five year-old, live right in Austin but checked in for just a night. "It's so stressful to fly with the baby," Heather Taylor said. "This is perfect. You feel like you're on vacation and we didn't have to travel! "She's snapping pictures of her husband, son and baby daughter playing n the lazy river that winds around the pool complex.
The place seems a microcosm of vacation trends 2008 — families who want to get together and have some fun with their kids without the stress of flying or driving too far. "You don't have to fly or drive five hours to get to the same kind of place in an hour and a half," said William Morrow, who tacked on a few days of R&R with his wife and twin sons after speaking at a conference here. He also liked that the resort was not nickel and diming them to death – there's a big chalk board sign with all the free activities of the day — everything from double dutch jump rope at 11:30 to kite flying at 2:30, smores at 7 and free movies overlooking the pool.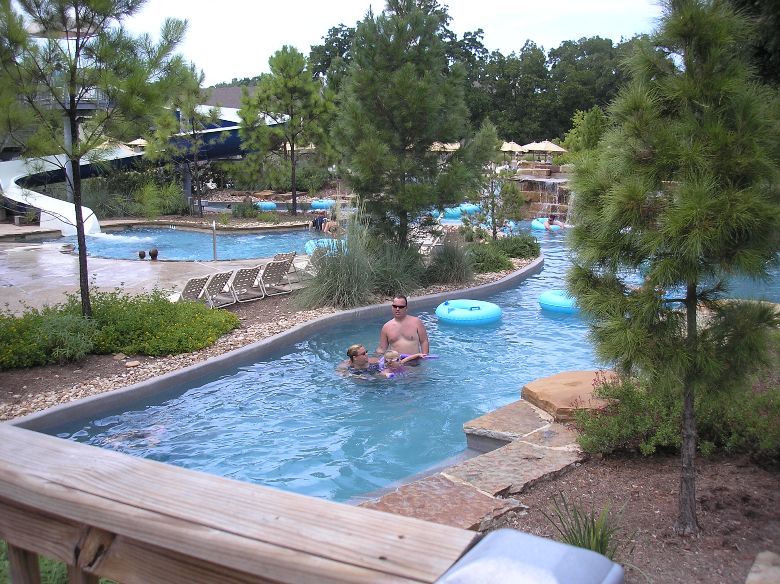 There also is organized children's camp at a fee for parents who want to steal away to the spa — mineral mimosa mask maybe? Or to play golf. "My kids didn't want to go to the camp but I'm still having fun," said Margaret Farris.
Certainly it's less stressful than spending the day at a water park and probably costs about the same. "A tad expensive but worth it," says Margaret Farris.
"A lot of good memories," agrees Teresa Gillon, rocking her four month old while the older kids play nearby in the kids' pool area.
That's true for our family too. We gather for pre-dinner drinks back at Barton Creek Resort (where there is every bit as much action in the pool as at the Hyatt 30 miles away) and then we head to the County Line, an Austin institution where 13 of us chow down on heaping platters of ribs, chicken, brisket, coleslaw beans and potato salad. Did I mention the homemade bread and homemade ice cream?
We practically roll home. While the "cousins"—all in their 20s — decide to head to Austin's 6th street packed with bars, clubs and restaurants — we head back to the hotel for an after-dinner swim. We sit talking by the pool until midnight.