Each river rapid offers adventure and sometimes you just have to plow on through
By Eileen Ogintz
Dried Beef and Vinegar? May not sound very appealing at the dinner table. But on the last full day of our OARS Salmon River Trip in Idaho are the names of the rapids that really soak us.
"It is one of the funnest hits on the river," says Dylan Alberson, the guide who is driving our raft. Why a rapid named dried meat? It seems back in the early 1960s a jet boat lost power in the rapid, over turned dumping a lot of beef jerky into the river (tragically, 5 people died in the incident).
Vinegar is another fun rapid, but it is longer with "a line of big hits," Alberson explains. "It's longer and one of my favorites."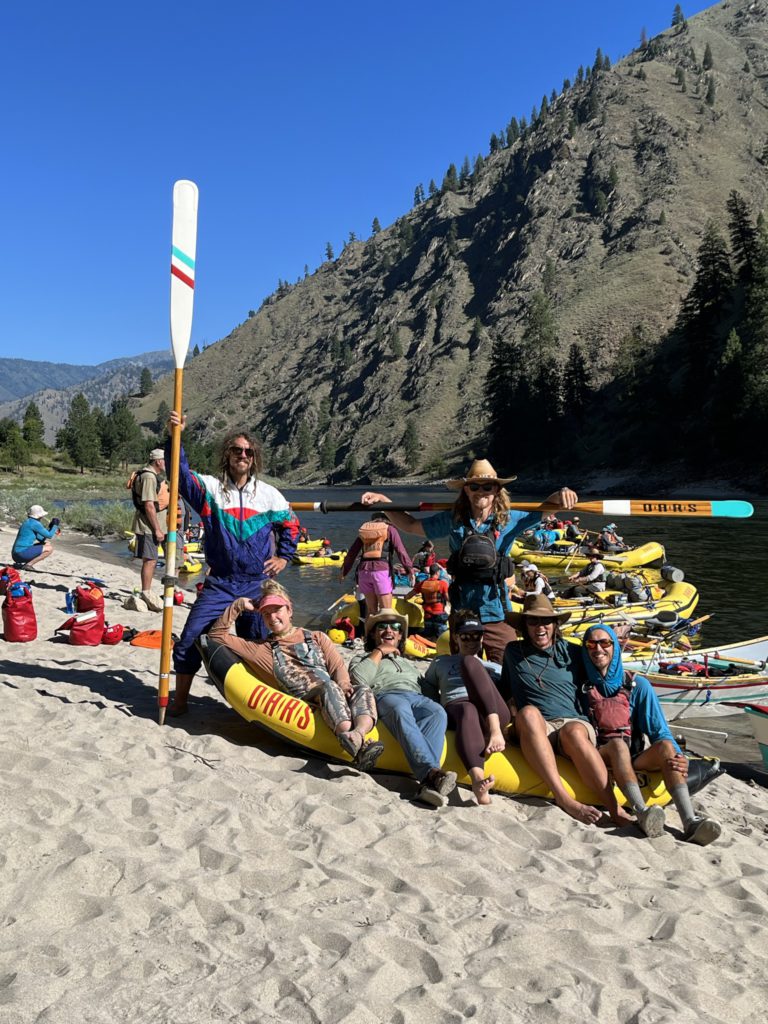 Alberson explains how boatmen must learn to "read" the river when navigating rapids. Every boatman does it differently—and learns differently. He explains that learning to read a river is like learning a language. "First you recognize a few words, and then as time goes on, more." But boatmen are always learning, and the river is always changing, higher or lower, depending on the water flow.
Traditional dory boats — we have two on this trip, a wooden one and an aluminum one — "dance" over the rapids, he says, while the rafts plow through.
Each offers plenty of adventure, as do those who pilot the inflatable kayaks and take places in the paddle boat. A few brave souls among our group jumped 14 feet off a cliff at Rabbit Creek to the applause and cheers of the rest of us below.
But as we near the end of the trip tomorrow, everyone has a different take on the best moments.
For Doug Yates, a retired plumber in his 60s traveling with two buddies, it was making his way through the rapids in an inflatable kayak—without tipping.
For Jerry Croghan, part of his pleasure was seeing his wife Laura enjoy herself in the back country. "This is so far out of her comfort zone," he said.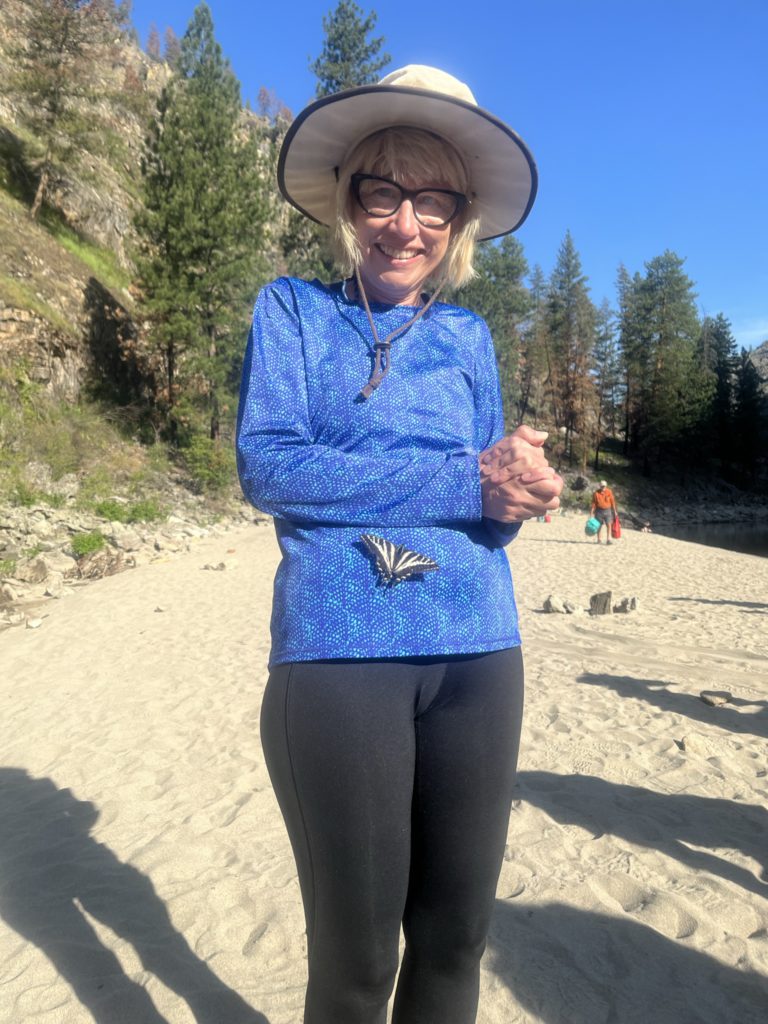 Nicole Laprise, who works in tech in northern California, especially loved getting drenched while riding the front of the dory and bailing water up to her knees while her friend, Rich Vincelette, especially loved mastering the inflatable kayak, getting back in after he got dumped in a rapid. "I would do this again in a heartbeat," he said.
Laprise also loved literally "chilling" in the water, sitting on the camp chairs, on our last night on the river before dinner. "Such a beautiful view."
Dorothy Pernu, a veteran of six raft trips, loved seeing how the group coalesced, how they all got along and shared stories of past trips and past misadventures. "For this trip, that is a highlight," she said.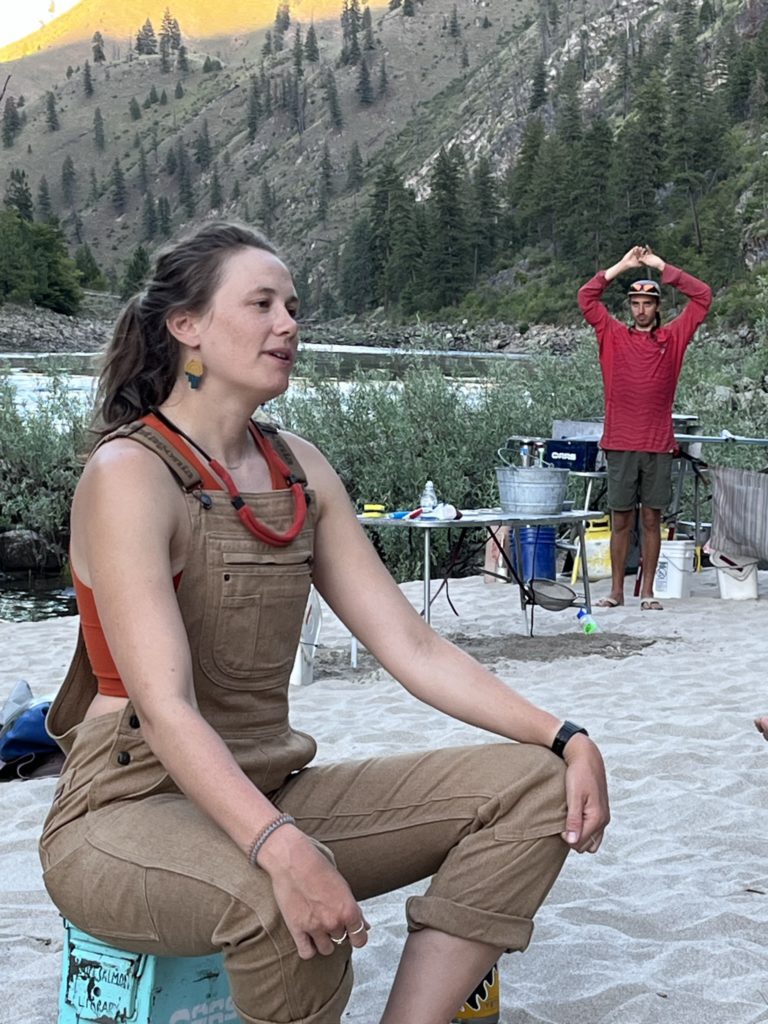 For Patti Mulvihill, a former river guide, it's spending time with her daughter Dory Athey, one of the guides on this trip. Her three children, she said, grew up running rivers with their parents and all have been guides—two currently. "I taught them since they were little," Mulvihill said. "And I love that now she's taking me down the river."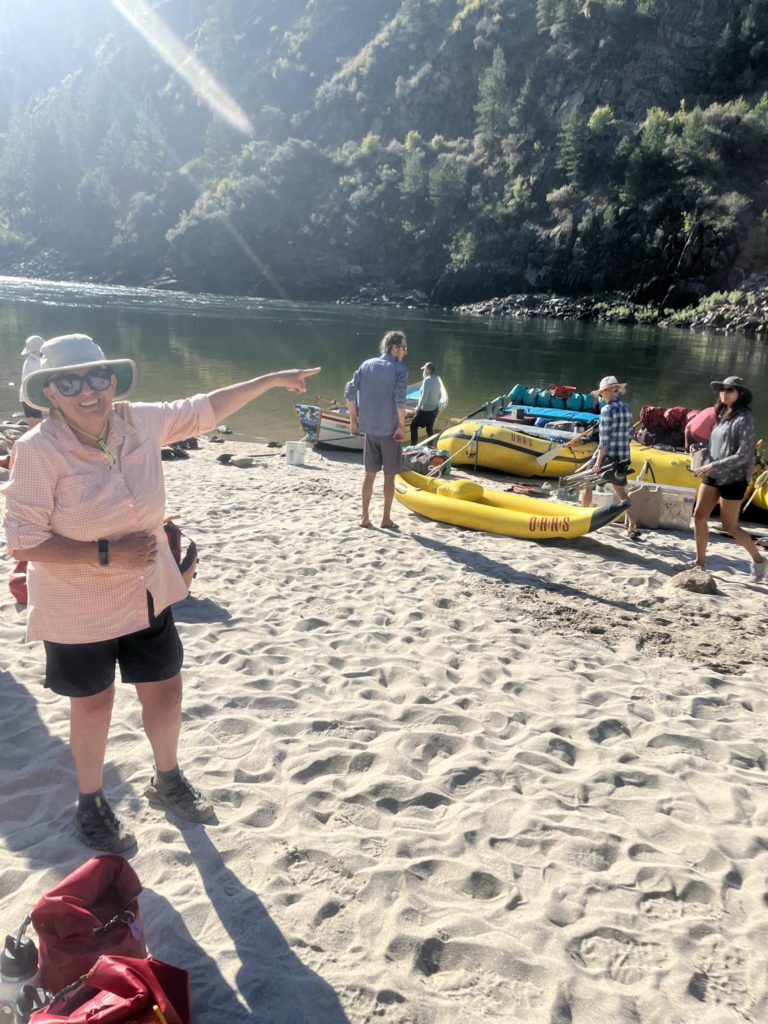 For me, just being able to go on this trip was a huge milestone after what I've been through the past year. I had a knee replacement in June 2022 and by September I could tell something wasn't going right with the recovery. On a trip to Hawaii, I could barely walk and needed a wheelchair more than once. The surgeon tried two different post-op procedures to get things back on track, but neither worked. Finally he diagnosed the problem – I had a staph infection from the first surgery. So in December 2022 I went under the knife again to clean out the knee, and I was put on intravenous antibiotics for six weeks. Months of physical therapy and oral antibiotics came next, and by April of this year I was finally feeling like I might get enough mobility back to try something like this again. So here I am. I finished my last antibiotic tablet on the Main Salmon River.
Observed Dylan Alberson: "People are a lot more resilient than they think. Everyone can be in the back country."
Riding rapids, he suggested, is kind of like life. "Sometimes you just have to hit it straight on."