By Eileen Ogintz
PORT ANTONIO, JAMAICA — A pinch of turmeric… a sprinkle of pimento (all-spice).
Award-winning and well-known Jamaican Chef Brian Lumley is showing us how to make coconut curry shrimp and just-caught fish—lionfish, parrot fish, snapper—that will be served in the traditional Jamaican curry-type sauce.
We feel privileged to be getting a lesson from Chef Lumley here at Star San Villa overlooking the famous Blue Lagoon in Port Antonio. (The Blue Lagoon was the scene of some of the scenes from a somewhat or not-so memorable film from 1980 with the same name, starring Brooke Shields.)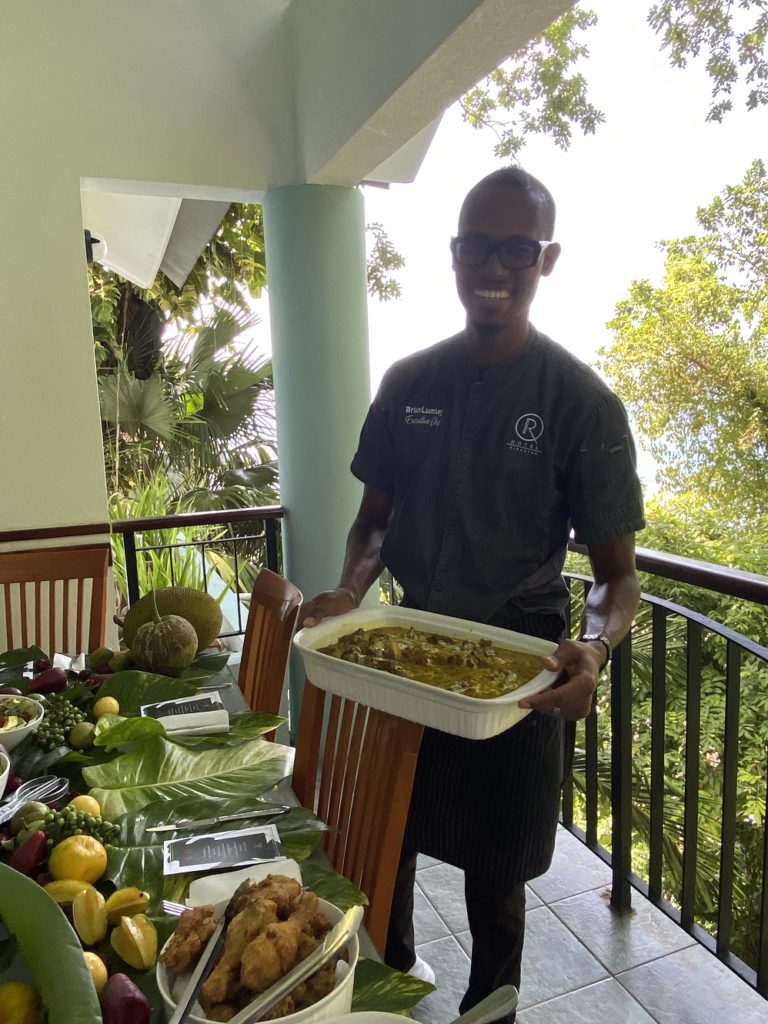 Port Antonio, on the northeast coast of this Caribbean island, is less commercial and touristed. "It has always catered to the person who wants a laid-back experience… you don't come here to party," said Aeon Cummings, who is the founder of Otaheti Travel designed to help tourists find experiences like these.
Water sports rule here. You could kayak over to Monkey Island, past a sea turtle sanctuary, bird watch, raft on bamboo rafts on the Rio Grande River, the largest in Jamaica.
It seems it is where the Rain Forest meets the Ocean. "We are in the Rain Forest and looking at the sea," said Cummings, "It is rare," as we sit on the balcony of the newly renovated villa just a short walk from the Lagoon.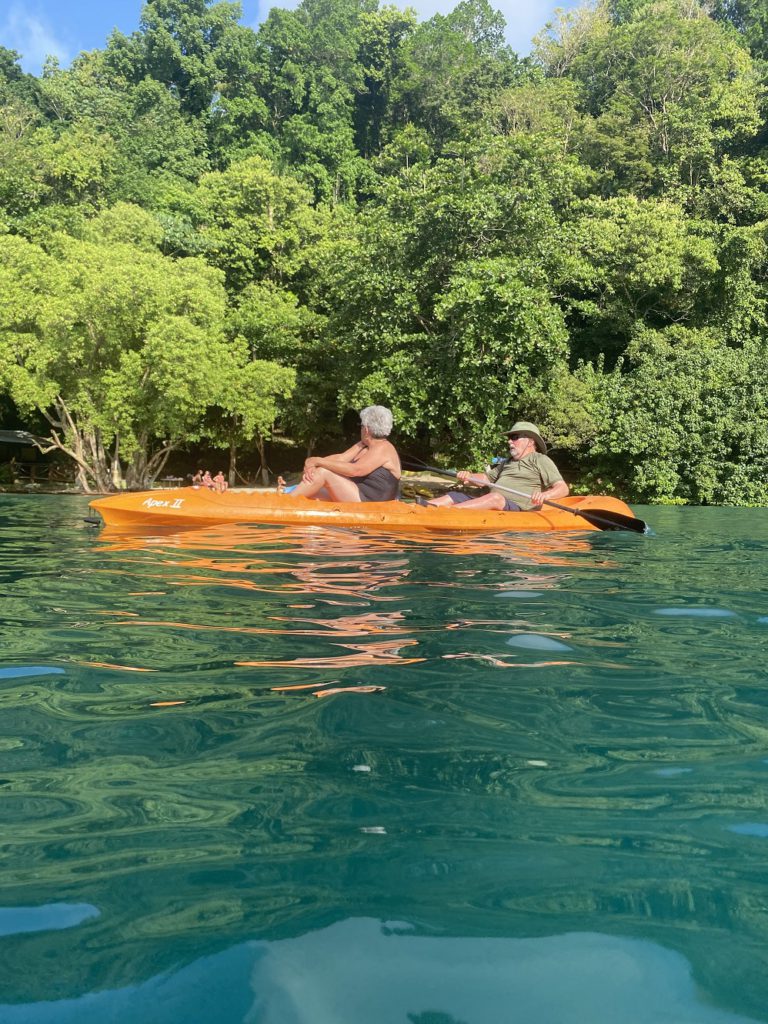 The villa is owned by the McDonald family—it has long been their family getaway from Kingston—and is overseen by Bronson McDonald and his fiancé Nicole ChinShue.
It sleeps 10 and comes with a chef, housekeeper, and security person—a bargain at $800 a night (though you can rent half the house for significantly less.
"It is a place you come to find peace away from the hustle and bustle…said Arthur Williams, a friend of the MacDonald family who has visited often and has also joined us for the cooking lesson and feast.
"This is Jamaica's safest Parish…not a lot of bad things happen here," said Cummings.
"It is super tranquil, for the nature lover, the family who likes to explore—less manicured than a traditional Jamaican experience," said Bronson McDonald, who has been coming here for more than two decades, since he was a young teen.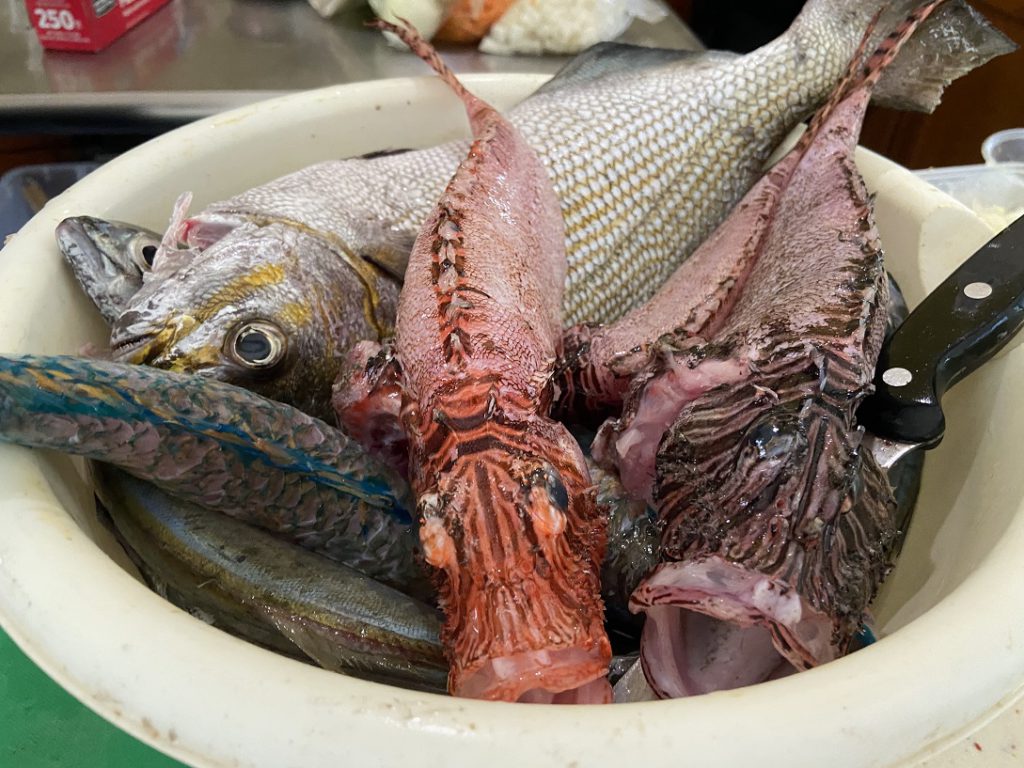 He said most people fly to Kingston, and then a roughly two and a half hour drive.
This Portland Parish (Jamaica parishes are like our states) is largely agricultural and on our drive here from Ocho Rios we passed banana trees, towering coconut trees (men climb 60 feet to retrieve them by hand so they won't be damaged) red ackee fruit (famous for the ackee and salt fish breakfast dish) sorrel (used to make a drink especially for the holidays because of its bright red color) , breadfruit hanging from trees (that's typically roasted or fried.)
"The North Coast boasts the best beaches," said MacDonald. And we did pass many where locals were enjoying the Sunday morning.
We passed many locals selling fruit in small stands by the side of the road. When we got here, Chef Lumley had laid out many of these fruits for us to see—the large knobby green Jack Fruit, the round green and black breadfruit, the ackee and pear-shaped crimson Otaheite apples with the sweet white flesh.
What a feast! Besides the Coconut curried shrimp and fish, Chef Lumley served us local curried goat, a very popular Jamaican dish as is Rice and Peas, Gungo Rice and Peas (with red beans) Brown Stew Oxtail, avocado and cucumber salad and fried chicken—also a staple dish here.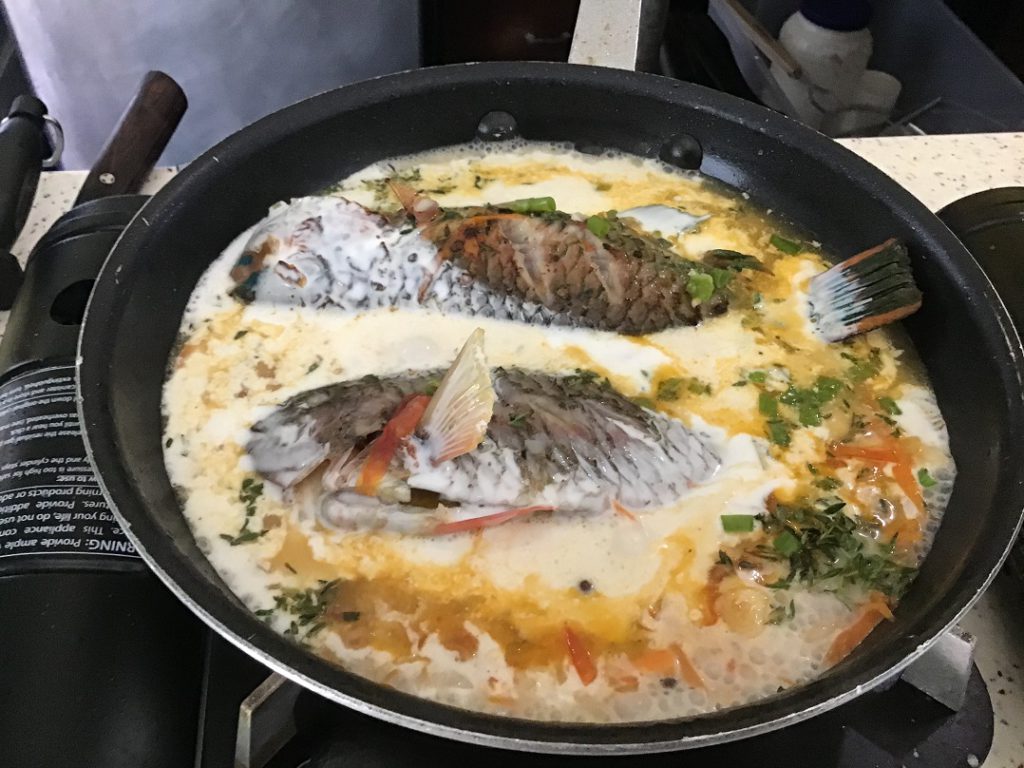 Chef Lumley explains he wants visitors to appreciate the quality of local Jamaican cuisine but to realize "there is a lot more than Jerk Chicken and curried goat…I'm trying to refine Jamaican cuisine and bring it to a higher level," he explained. Lumley is now Executive Chef of the R Hotel in Kingston.
That's why he has prepared what he called a Contemporary Jamaican dinner—cream of pumpkin soup with a green plantain wafer and avocado bruschetta; crab cake with mango chutney and chipotle mayo, red wine marinated jerk lamb chops with sweet potato puree and for desert, jackfruit cheesecake, purple sweet potato pudding with Jamaican rum cream sauce.
Yum! But what a setting—sitting on the villa balcony with lush foliage and views of the sea beyond, hearing cicadas and crickets chirp, the ocean waves.
This morning, Chef Lumley is showing us how to make Ackee—which my husband Andy has eaten at every opportunity. It has the consistency of scrambled eggs but is a fruit, usually prepared with dried salted cod fish, onions, peppers.
He is making Ackee with a contemporary twist—Ackee and Yam Hash, creamed Callaloo (similar to spinach) and Johnny Cake (a freshly fried dough)
As if that isn't enough, there are Guava Glazed smoked breakfast sausages, poached eggs, French Toast topped with Ripe Plantain Chutney, Jamaican Chocolate Pancakes and Bacon.
Besides food. Lumley has another passion—Educating kids about food. Obesity is an issue here as it is in the United States, he explains. Especially in cities like Kingston, kids don't appreciate where their food comes from or how to make healthful choices.
"We grow organically but people don't even realize it," he said. "We see something on the tree and pick it…We want kids to appreciate that and how to make healthy choices."
Delicious ones too.