On the third day of our OARS rafting adventure, we meet a couple who truly knows how to get away from it all
By Eileen Ogintz
Talk about a slap in the face. Figuratively. It is the third day of our white-water raft trip down the Main Salmon River, and we are sitting in the front of the OARS wooden dory boat when we are thoroughly drenched going through a Class III rapid called Stinker.
Ah Stinker! Part of the tradition of wooden dory boats is that we subsequently bail water that is nearly knee high in the front of the dory. All part of the experience. It's a hot day and we're wearing quick-dry clothes, so no harm done.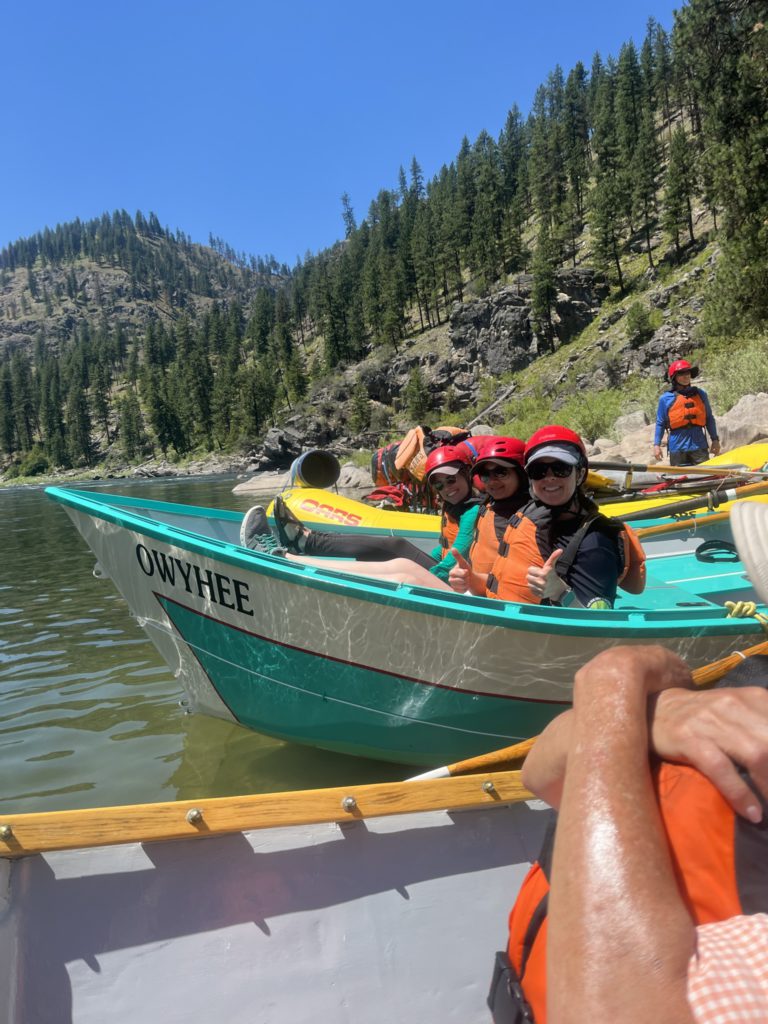 We get drenched going through other rapids — 12 in all with names like Big Mallard, Split Rock, Growler, and Elkhorn. The rapids go on and on as we make our way down river to our next camp named Groundhog.
Along the way, we meet Bill "Bronco" Burchak who is on a private trip with his family and is "perhaps the best river guide of all time," says our trip leader Kale Cimperman. He explains that Burchak, one of the early wooden dory boatman in the Grand Canyon, trained him to drive the traditional boats.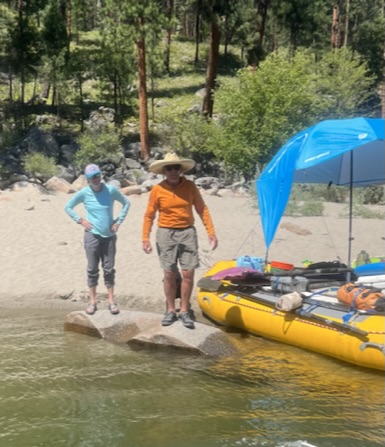 Earlier, we had hiked to a homestead where Sue and Greg Metz have lived largely off the grid on a 36-acre homestead they manage for an Idaho family. They've lived here for 16 years and 19 at another ranch, venturing into town perhaps one week a year.
Yes they have internet and Dish TV—they are huge college football fans—but they have to be largely self-sufficient, especially in winter. Thus the 1600 square foot garden where they grow everything from cabbages to onions to potatoes to squash… peppers, beets, dill and beans, melons and zucchini. There are chicken and ducks and all varieties of fruit — raspberries and blueberries, apples and grapes, all of which must be preserved, canned or frozen for winter.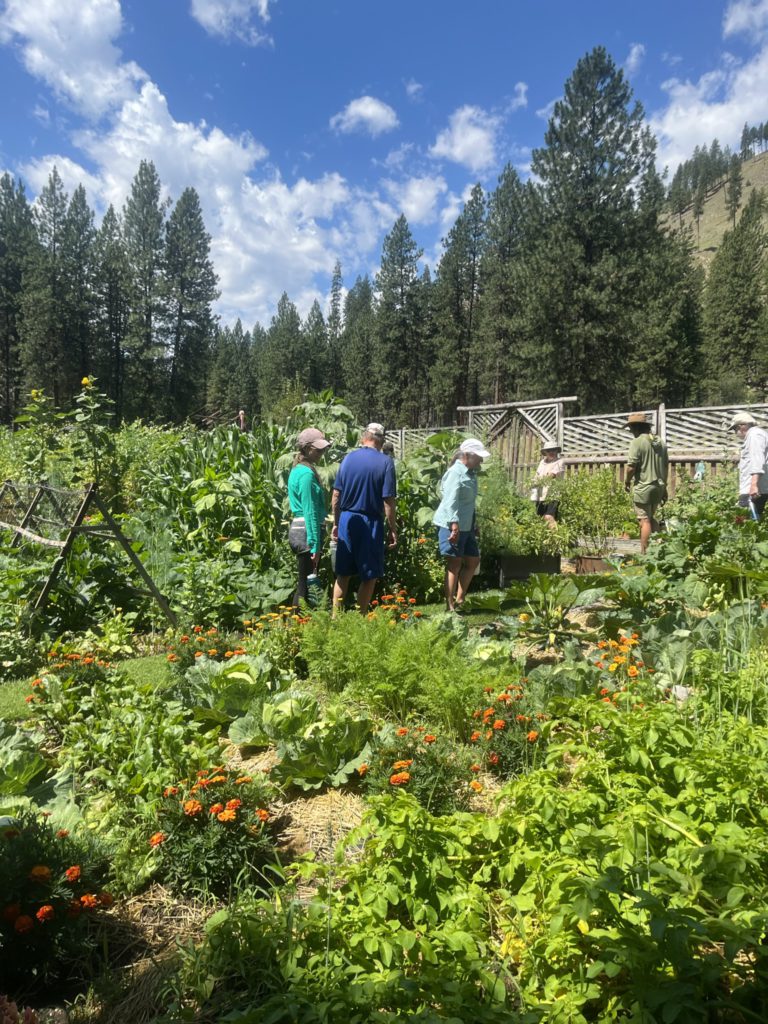 They don't miss "civilization" much, Sue Metz says, showing us around the garden, noting they keep up with the news "as much as we care to." In the winter, Greg Metz forges knives—he only makes two dozen a year and there's a two-year wait list.
The vet must fly in to see their pooch named Woodrow, named after a lead character in Lonesome Dove.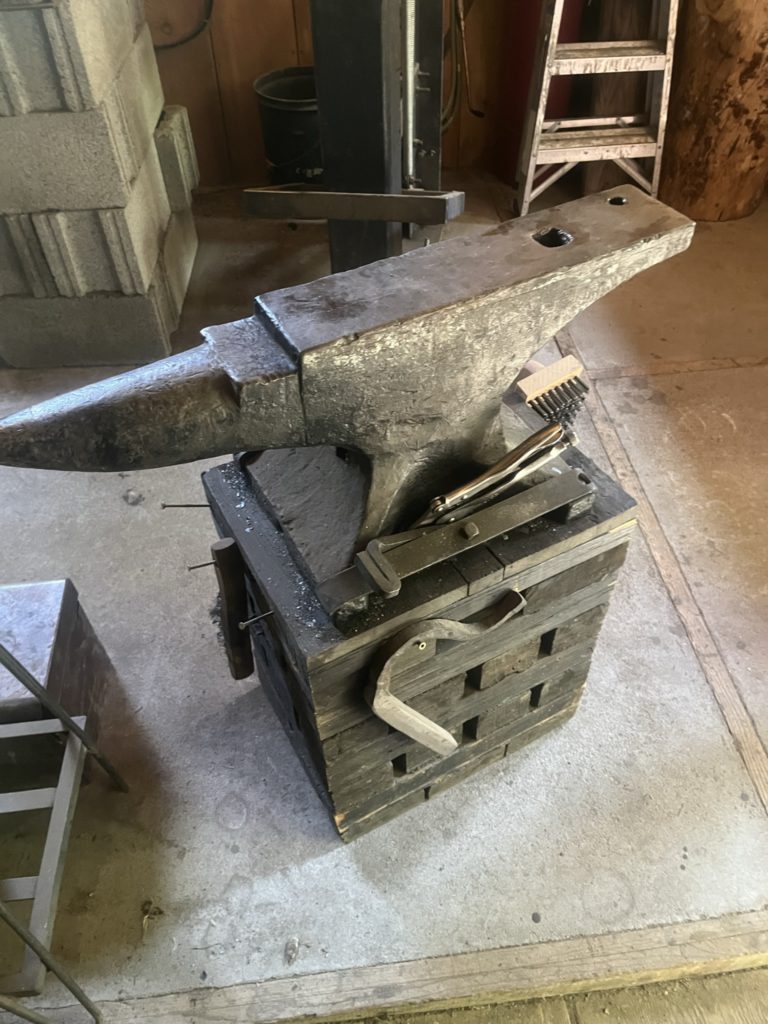 "People are shocked to see that people can live successfully off the grid," Cimperman said. "People fantasize about doing this but don't think its possible."
Maybe it's not moving off the grid, but a river trip like this encourages people to do things they never thought they could.
Rich Vincelette, who works in the tech industry in San Francisco, rode an inflatable kayak through some class three rapids. "I've done stuff on this trip I didn't know I was capable of," he said. "When you are uncomfortable," he observed, "that's when growth happens."
Another San Franciscan, Anshu Agarawal, had never been on a white-water trip. "I feel pretty safe because the guides are so good," she said, adding "once you experience something—like a big rapid—it's not so scary the next time."
Dorothy Pernu added that a trip like this is safe for a solo traveler like her.
As for camping, she explained that her first experience was at Burning Man, the legendary California desert festival. "Compared to that, this is easy," she said.
Our guides do cook for us – delicious French toast for breakfast with blueberry compote and bacon; s'mores last night for dessert. But this trip does take a lot of teamwork, on the rafts and off, whether it is couples or friends putting up and taking down their tents every day or the entire group pitching in to load and unload the gear. A trip like this can't help but turn you into a minimalist. "You realize how little you need," observed Bethany Pickard, a Denverite who left her husband home for this girls' trip.
I've been wearing the same board shorts for the past three days, alternating a couple of quick dry shirts. There are no mirrors. I haven't showered but I couldn't be happier as I looked down at the rushing river. I'm glad not to have to check email or return calls. I don't miss hearing the always depressing news.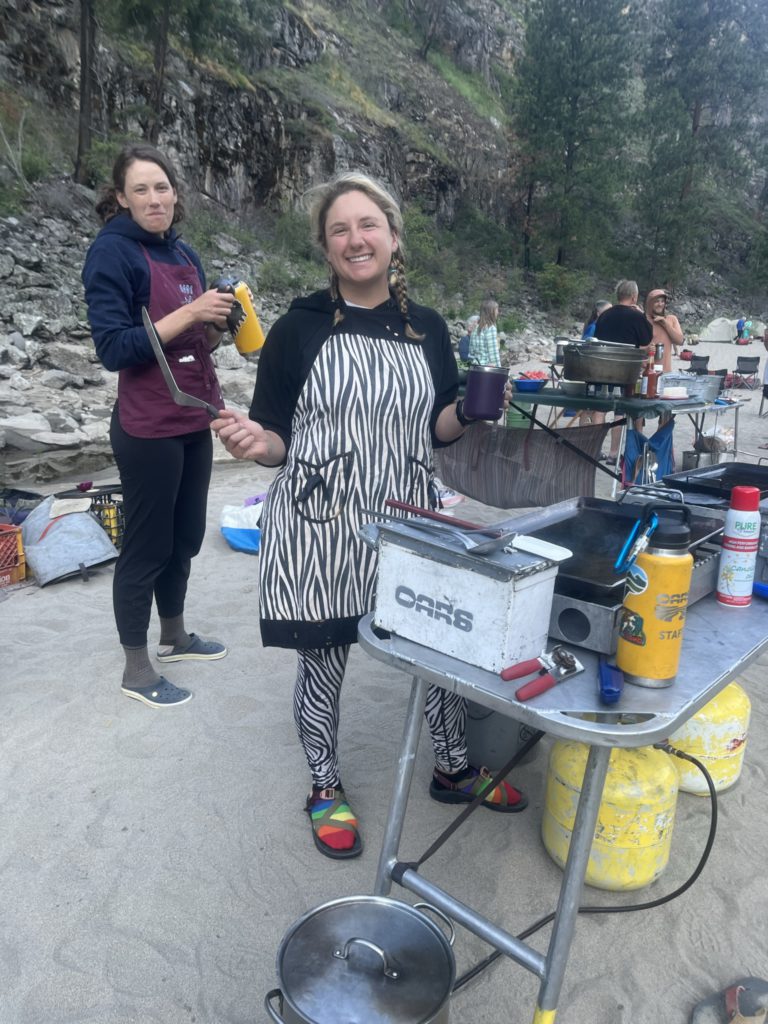 At breakfast, some in our group were touting OARS gourmet and wine river trips, complete with sommelier and chef, white table cloth dinners, and wine tastings. "Absolutely amazing what they could do in the wilderness," said Nicole Laprise, who lives in San Jose, CA and did one of those trips on the Rogue River in Oregon in 2022. "I'd totally do it again."
Laura Croghan is game—and it took her husband Jerry 35 years to convince her to camp, much less on a river trip.
Now everyone, Laura included, is sitting in a camp chair, enjoying the rapids just in front of our campsite. She spent the day on the paddle raft.
"Today was awesome." You can't ask for better than that.