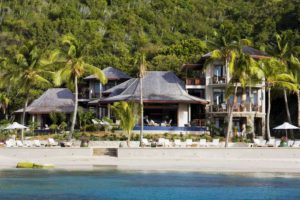 Villa Aquamare on Virgin Gorda in the British Virgin Islands
By Eileen Ogintz
Tribune Media Services
I'm sitting in the infinity pool looking out at the private beach and the ocean beyond. My bedroom has a to-die-for outdoor shower and a hammock overlooking the ocean.
But we're not at a fancy resort. We've got this spectacular five-bedroom Villa Aquamare on the western coast of the island of Virgin Gorda in the British Virgin Islands all to ourselves, at least for the night. Only 3,500 people live on Virgin Gorda and it's one of the most beautiful islands I've ever seen.
"Your only job is to relax," says William Matthews, who will facilitate our every desire — a picnic on a private island, a massage, water sports? One honeymooning couple even arranged for a steel band to serenade them.
Soon, the private chef will arrive to prepare our dinner.
Talk about vacationing like the 1 percent! And it's quite a change from living aboard the Moorings sailboat we've chartered for a week. My gang is happy to snorkel, kayak and hang out at the pool nearby.
Did I mention the price? The rate at the villa for five nights in five bedrooms is $17,000 per week this fall ($14,500 if you use just three bedrooms). Yes, it is pricey — very pricey — but not so crazy when you consider that $17,000 could be divided among three families. Grandparents who have priced gathering the clan for a special birthday or anniversary may think it is money well spent for the privacy and service.
You aren't paying $5 each time a child wants a virgin colada or $15 for the real thing. You have the pool and beach to yourselves and a long dining table with white upholstered chairs ideal for catching up — as we are, since my family hasn't been together in one place for a year.
"If you rent two or more rooms at a hotel I could find you a less expensive villa option on any island, said Andrew Macafee of www.wheretostay.com, which has 1,500 villas all around the Caribbean.
A villa or condo makes vacationing with kids — no matter what their ages — so much easier. Remember that the kitchen is always open, Macafee says, and in some cases, you have a staff all to yourself. And you don't have to share the pool with strangers.
That's probably why the vacation rental industry has morphed into a $25 billion dollar industry. According to a new survey by PhoCusWright for Wyndham Vacation Rentals, nearly three out of five vacation rental guests said they didn't even consider another option during their last trip.
I've been able to put babies down for a nap while we relaxed on the patio in the Caribbean and I've fed and housed a gaggle of my daughter's college friends at a ski condo in Colorado. I couldn't have done that at a hotel. (Check out Wyndham Vacation Rentals, where a two-bedroom in the heart of Vail, Colo., will go for $375 a night this winter and where there are less expensive options in ski country and at the beach.)
With our three kids and assorted friends and relatives, we've opted for villas and condos everywhere from Cape Cod to Tuscany. We've rented apartments in Rome and Paris and condos across ski country. Villas work for moms' getaways too — as we found out last year when my grade school friends and I opted for Bluefields Bay Villas in Jamaica for our annual getaway ().
There's another plus, especially in Europe. You get to explore the city or the region like a local, buying groceries, stopping at a neighborhood cafe or park. By your second morning, you're greeted like a friend when you stop in for coffee.
Kit Burns, whose company, Doorways Villas, offers places at all budgets in Italy, France and Spain has a special portfolio of family-friendly villas and can even arrange special family excursions (think pizza-making lesson) ideal for multigenerational gatherings. "Hotels are boring for kids," she said.
A tip: Think of heading to Italy or France for Christmas or spring break when museums are less crowded and the rates, airfares and tourist attractions cost significantly less.
Plan on spending about $100 per bedroom per day, perhaps less as you add more bedrooms, suggests Michael Thiel, whose company, Hideaways.com, offers rentals around the world to those who pay an annual $195 fee for access to the vetted properties and special amenities. (For TakingtheKids readers, Thiel is offering a first-year membership for just $95 and a free copy of "Villa Vacations Made Easy," www.hideaways.com/twc).
Maybe you can pay nothing for lodging — if you can swap houses through a company like HomeExchange.com, the largest online home exchange travel company in the world. You've got 142 countries to choose from.
However and wherever you book, ask a lot of questions first. "The vacation rental industry is incredibly fragmented. Consumers are often on their own and left with no recourse," explained Bob Milne, president, Wyndham Vacation Rentals North America, which has just announced a Vacation Rental Bill of Rights designed to help educate travelers on the emerging vacation rental industry.
Burns suggests asking to get in touch with someone who has actually rented the villa you are considering. Especially in Europe, ask if special excursions can be arranged for your group. For example, Think Sicily, the premiere villa rental company on the island, has a variety of family-friendly properties and families can even arrange "Think Experiences," which include everything from private transfers to an archaeologist-guided workshop for children exploring the ancient Greco-Roman history of Syracuse.
As we lounge on the deck, we see a lone sailboat in the distance and some of the other BVI islands — The Dogs, Beef Island and Tortola.
But there's just so much lounging and luxury my gang can take. The next morning, they're ready to head back to our sailboat.
© 2012 EILEEN OGINTZ, DISTRIBUTED BY TRIBUNE MEDIA SERVICES, INC.