By Eileen Ogintz
Tribune Content Agency
Never say never.
National Grandparents Day is Sept. 8, and you're never too old for a new experience, especially one that will bring your far-flung family together. Take it from Ohio grandmother Karon Greenfield, one of the many seventy-something grandparents I met on the Regent Seven Seas CruisesMariner in Alaska a few weeks ago, spearheading a multigenerational trip.
On a warm, sunny day — yes, in southeast Alaska, she was enjoying a freshly prepared lunch on the pool deck served by a smiling waiter and telling me how she had never wanted to go on a cruise. "Never in a billion years," Mrs. Greenfield said. "I never had any interest."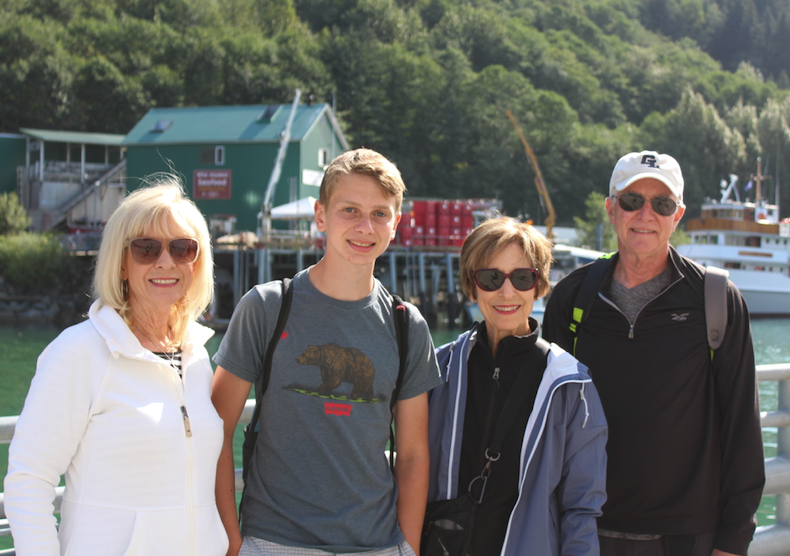 Then her husband died after a long illness, which had precluded any vacations. A few years later, she suggested to her son and daughter that they plan a vacation together with the five grandchildren — on her dime, before the grandkids all grew up — the oldest grandchild is 19, the youngest just 11. They invited their daughter-in-law's parents, who had also recently suffered a family loss after a long illness. They had never cruised either, said Elaine Ginsberg.
There were many first-time cruisers aboard the 750-passenger Mariner, including many of the kids and teens I chatted up during the week we spent exploring the Inside Passage, seeing the Hubbard Glacier, whale watching, hiking and kayaking and just being together. "I'm in heaven," said Greenfield. "My five grandchildren in one place available to me."
"Alaska is fun but being together is the best," agreed Rebecca Pearl, 17, who lives in San Diego and, like her two sisters, rarely sees her Ohio cousins.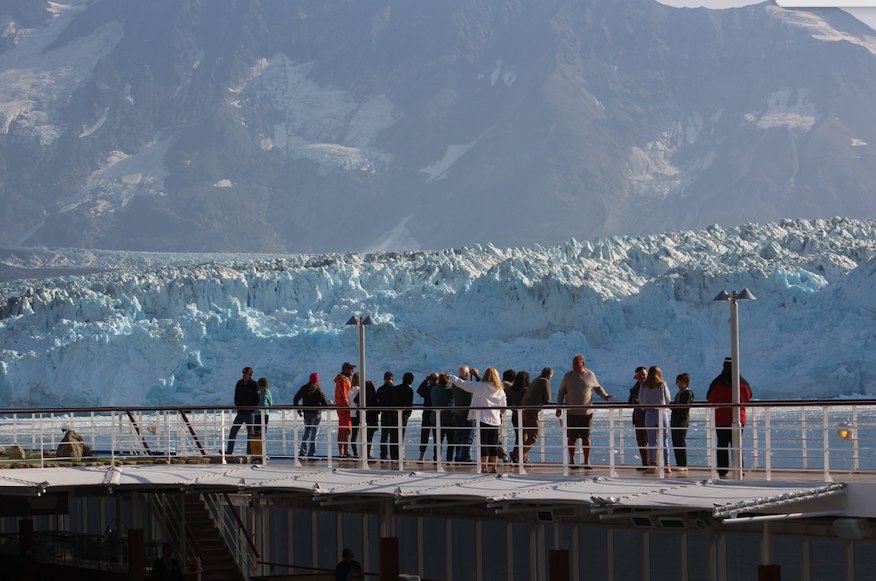 Some grandparents had cruised before but their families hadn't; Mrs. Greenfield explained her son and daughter were the ones that came up with the idea — something for everyone, something without the stress of moving from place to place, somewhere they have never been. "and where everyone would learn something, not just play."
So here they were — the group of 12 never-ever cruisers, who lived in Ohio, California and Michigan, thoroughly enjoying the onboard hot tub and sports deck with paddle tennis, mini golf, shuffleboard, karaoke and, of course, expertly prepared relaxed meals where no one had to cook or clean up. They especially liked that the family could divide up off the ship based on in interest, some bear watching and fishing, others kayaking and rock climbing while the grandparents opted for an art walk and a ride on the famous White Pass single-gauge railroad in Skagway.
That chance to have plenty of together time on board as well as different experiences on shore is a big reason multi-generational families choose to cruise together, whether in Alaska, the Caribbean or the Mediterranean. Kids as young as 10, parents noted, could safely run around the ship. "She can go back to the cabin and I don't worry," said Steve Jones, from Denver, watching his 10-year-old daughter in the pool and part of a multi-generational group. (That the water was cold didn't keep the kids out.)
Alaska, of course, is a bucket list trip for families, notes Chris Gray Faust, managing editor of CruiseCritic.com. "The ease of taking a cruise to Alaska also appeals to families. You're able to seamlessly travel from port to port, unpacking just once — which is especially convenient for larger groups that may have travelers of all ages," said Faust, also noting the seven-day itineraries make planning easier.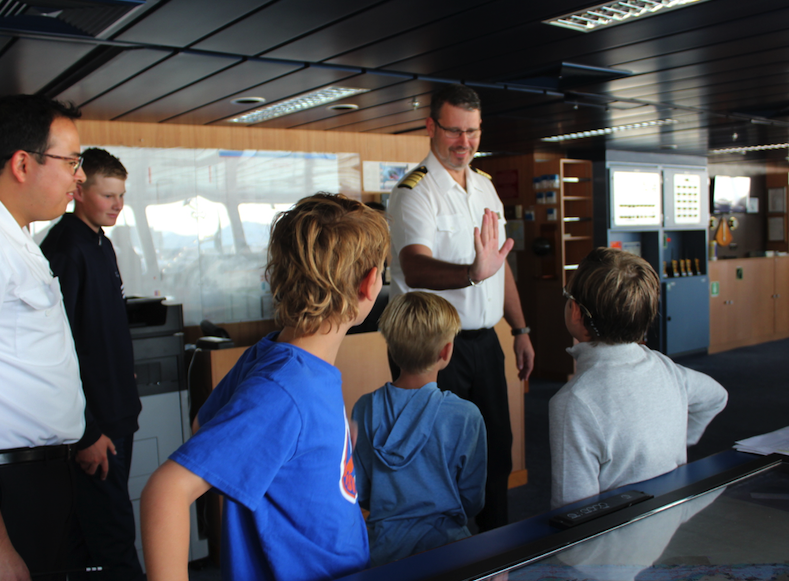 Over the course of the summer, as many as 1,000 kids cruised on the deluxe Mariner with their families while other cruise lines in Alaska this year — from Norwegian's megaships, Joy and Bliss, with 4,000 passengers; Princess, which is celebrating its 50th year here with seven ships, including the 3,500-passenger Royal Princess and Disney's Wonder with 2,400 guests — hosted thousands. Among the 19 cruise lines in Alaska this year, there were also smaller expedition ships hosting families, including some yachts chartered from Un-Cruise carrying just 22 guests.
Many families plan at least a year in advance for such a multigenerational trip in order to get everyone's schedules to align, they told me. Some I met were celebrating — a high school graduation, a birthday, a special anniversary. Barbara Vincent, a grandmother from Arizona, gathered her daughters and granddaughters for a girls' trip to celebrate one granddaughter's high school graduation. "An amazing gift," said her granddaughter, Jordan Roberts, a first-time cruiser from near Seattle, who wasn't letting an injured ankle and a scooter impact her fun.
Children's programming, like Club Mariner aboard the Regent ship, helps entertain the kids onboard. The kids especially enjoyed visiting the Bridge and meeting the captain. "That was my favorite," said Stedman Grigsby, 9, from Texas. I really like boats, so I liked seeing all the controls." But, he said, tell kids not to run in the halls. He and his buddies got caught and their parents got a call from the captain.
They also liked being able to try new foods and then choose something else if they didn't like the crab legs or mussels, for example.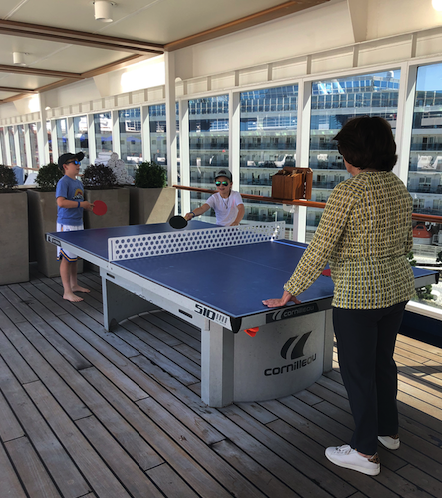 Some 58 percent of those who visit Alaska in summer — over 1.16 million people — come by cruise ship and that number continues to grow, according to Alaska Travel Industry Association, the official state tourism organization. While there are no statistics kept, it's clear that growing numbers of those visitors are multigenerational families — there are 19 cruise lines to choose from.
Those aboard the Mariner chose Regent, they said, because the ship was smaller than others (635 on this trip with 457 crew catering to their every need), upscale, known for its food and most important, all inclusive, including drinks (all the cocktails, mocktails and smoothies,) specialty restaurants, tips and most important, the excursions. While Regent is more expensive than other cruise lines, (but with kids' pricing as low as $499), it's not so much when you figure that tips, drinks and most excursions, especially in a place like Alaska or the Mediterranean where they can be $100 per person or considerably more, are included.
That "makes it much more relaxing," opined Vincent. No one worries if the zip-lining, sea kayaking, whale-watching or the specialty restaurants were worth the money. "I don't want to be having to take out my credit card all the time." said Courtney Walker, 75, from San Antonio, Texas, who was also cruising with her children and grandchildren.
Though a few of the excursions — trekking on a glacier, bear watching, fishing — cost extra, there were a dozen or more included options per port, including many aimed at active travelers — hiking in Juneau, a rainforest bicycle tour, rock climbing, zip-lining in Skagway, sea kayaking in Sitka — that appealed to many of the grandparents, as well as the grandchildren.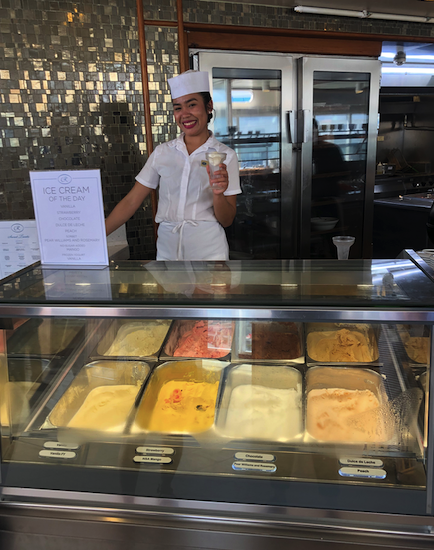 Barbara Vincent, 73, went zip-lining with her grandkids on one of those included excursions. "Watch and learn!," she shouted as she passed some of her family on the zip line.
"Seeing my grandma zip line — that was the best!" said her granddaughter, Cailee Rapkin, 16.
Certainly one for the collective family memory bank, Vincent agreed, which is what a trip like this is all about after all.
© 2019 EILEEN OGINTZ
DISTRIBUTED BY TRIBUNE CONTENT AGENCY, LLC.