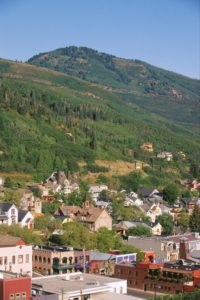 Ready to hurtle down a luge track — up to 90 mph? Learn to fly on skis?
The next time your teen groans when you suggest spending time together, consider a visit to the Utah Olympic Park in Park City, Utah.
The Utah Olympic Park was the venue for Nordic jumping, bobsled, luge and skeleton events during the 2002 Winter Olympics here. Today, world class athletes train here — you may see them if you visit Tuesday through Saturday. They train in summer as well as winter. Today the Park also continues to serve as a year-round competition site.
But you can do more than watch. Sign on for the Comet bobsled ride, where you speed down the track — a professional driver steering — at 80 mph ($200). Check out the Xtreme and Ultra Ziplines — the world's steepest — that allow you to weave down a narrow course, experiencing what athletes do on a luge, skeleton or bobsled ($20). There's a natural snow track for sledding as well as a small tubing hill suitable for young kids ($5 for adults and $3 for kids).
But let's get back to the adventure-as-bonding potential. Innovative winter camps now are offered in everything from Bobsled, Skeleton, Luge , Slopestyle and Nordic Jumping. While kids have to be 16 for the Bobsled Introduction Camp they can do the Luge Introduction Camp at age 9. You can do it along with them, if you like.
No worries if you are in Park City over the summer either. There are plenty of summer camps too, including Freestyle Intro Camps where you learn basic freestyle skills and tricks by jumping into the huge 750,000 gallon Splash Pool — where elite athletes train in summer. There are also Learn to Fly Summer Ski Jumping Camps. The best part: You — and your teens — can be brand new to the sport. There's also the Quicksilver Alpine Slide and summer bobsled rides — go down the Olympic bobsled track on a bobsled-like contraption on wheels. You can also come watch the Saturday Freestyle Shows as Olympic hopefuls but on a show soaring up to 60 feet in the air on skis and snowboards.
I admit I was too chicken to sign up for a luge ride. Just standing at the top of the track gave me the chills — and it wasn't from the wind. But there's a lot to be said for standing where World Class Athletes compete. Next time, I'm going to time my visit so that I can watch them. See you around the Luge track!
Another tip about Park City: See how the other half lives at Deer Valley Resort (www.deervalley.com). Maybe you can't afford a $500-a-night condo, but the lift tickets are comparable with other Park City Resorts and you'll get a lot of pampering for your ski buck — starting with the ski valets who help you unload your gear when you drive up and help you carry it. You don't have to worry about snowboarders running into your kids because no snowboarders are allowed (of course if you've got snowboarders in your gang, that means you can't play on the mountain together). And the food, even in the cafeterias, is renowned throughout ski country.
Another plus: Deer Valley limits the number of lift tickets sold — just 6,500 a day — so that the lift lines never get long and the runs aren't crowded. SO civilized! But if you are coming during busy sprng break or holiday weeks, get those lift tickets ahead on line or you may be turned away. Some days, they sell out before 10 a.m.
If you want to try Deer Valley the day you arrive, it won't cost anything (as long as they aren't sold out and it's not a black out time). Just show your boarding pass, along with the completed voucher and photo id (download what you need at parkcityinfo.com). The other Park City resorts also participate in the program.
Don't think Deer Valley is just for those who prefer cruising down easy groomers — though there are plenty of those. A new Lady Morgan Express Lift has opened more than 200 additional acres of skiing the mountain is just for those — like my kids — who opt for challenges on snow wherever they can find them.
At least at Deer Valley, I can ride the lifts with them — we have some of our most meaningful discussions dangling high above a snowy trail. At Deer Valley there is always an easy way down, no matter where you go. At least that's what they tell me.