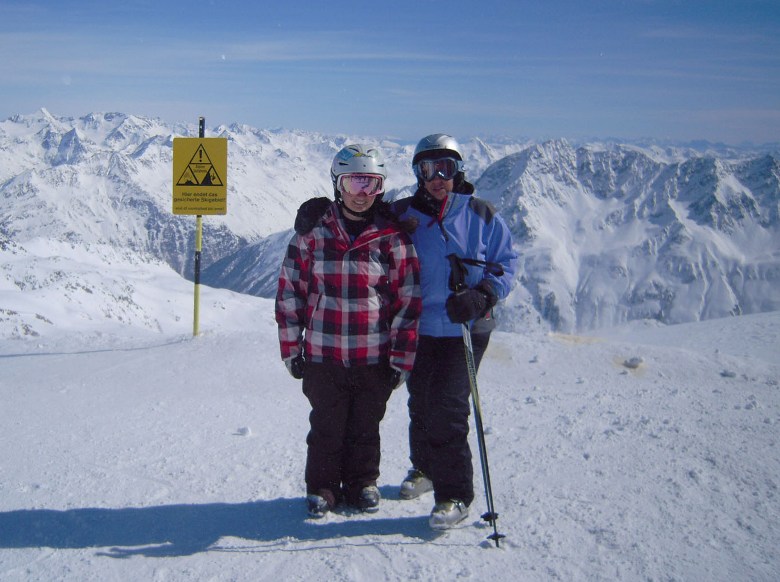 Originally posted Oct 11, 2009
By Eileen Ogintz
Tribune Media Services
I've never seen such wide open slopes — no trees, no houses, just field after field of newly fallen snow.
And I've never seen my 18-year-old daughter Mel, an avid and expert skier, as happy to ski with mom. Just goes to show what a postcard-perfect ski day — blue skies, sunshine, spectacular mountain vistas and first tracks on a glacier — can do!
Our last mom-daughter getaway before Mel heads off to college is off to an auspicious start. Welcome to Solden, Austria! At 4, 517 feet above sea level, the Alpine village is home to one of Europe's leading ski areas, the Oetztal Alps (www.otztal.net), just an hour from Innsbruck (great ski deals there too!) and just a couple hours from Munich or Zurich. Solden is also home to two glaciers where Mel and I are this sunny morning, accompanied by Austrian ski guide Bernhardt Kneissl who has been teaching and guiding here for more than 40 years — since he was younger than Mel.
We ski through the mile-plus "Rosi Mittermeier Road Tunnel" that takes us from Rettenbach Glacier to Tiefenbach Glacier — two glaciers in one day! The trails are clearly marked, which is much more than I expected, and there are amazing platforms that jut out 30 feet or so for the most heart-stopping views.
Did I mention that despite the weak dollar, everything is cheaper here — ski schools to beer, private ski instructors to lift tickets — as much as 40 percent less than Aspen or Vail. (Visit www.holidaze.com or www.ski.com for well-priced packages to Austria and other European ski areas.) Our ski pass also includes a bus pass, which makes it easy to explore other villages.
But a European ski trip is about more than grabbing a good deal or getting to the mountains as fast as you can. "It is so different for the kids," says Rachel Evans, who took her children out of school in Birmingham, England — to their teachers' dismay — to join a group of friends vacationing here. "It is such a life experience to see a different culture and experience a different way of life. I think it builds confidence."
And there is no prettier place to do that than here in Austria (www.austria.info) where locals are friendly and speak at least a little English while everything — from the craggy mountains to the chalet houses — look decidedly different than at home.
Canadians John Moat and Christina Hart have traveled here with their 9-year-old daughter, Katie, instead of choosing a ski resort closer to home in Toronto for exactly that reason. They plan to go on to Prague after a week here — for a little culture (mom's choice) after a week of fun in the snow.
They love the Hotel Regina, a short walk from the gondola, (www.hotel-regina.com), where we all are staying — as are families from Great Britain, Italy and Germany. There we eat breakfast, as well as dinner, served by the same waiter every meal.
"Kids like that everyone recognizes them," Hart said. Katie also loves that she can help herself from the bountiful morning buffet (three croissants!) and salad bar at dinner (so many kinds of cheese!). She's tried everything, her mother reports — creamy soups (that Melanie likes too), fresh trout, chicken, and, of course the desserts — this is Austria after all. We'll work off the calories tomorrow on the mountain, we promise each other.
The next day at Obergurgl (www.obergurgl.com) the Alps look like they are covered in marshmallow fluff with Oreo crumbles underneath. This smaller ski area has just 23 lifts and doesn't give you the chance to ski on glaciers but it does give you an opportunity to drink in the Alps — one mountain peak at a time — and to ski on lifts that never seem to get crowded. Come in summer, I'm told, and there are some 120 huts spread out over the mountains where you can stay and eat for less than $50 a night (less for kids).
At lunch, we sit in the sun staring at 21 glaciers outside a new Austrian hut "Mut Alm," about 10 miles or so from where we're staying. It's an easy bus ride.
I love that Europeans don't gobble a burger like we do and rush back out on the slopes. They stop for a long leisurely lunch — and a beer or two — sitting in the sunshine on the deck of one of these mountain huts drinking in the scenery and eating Tyrolean specialties like Grostl (fried meat and potatoes topped with a fried egg), local dumplings made with ham, spinach and cheese, homemade sausage and, of course, apple strudel for dessert — the best I've ever tasted. Incidentally, the kids' menu includes the Harry Potter (a small wiener schnitzel) or a frankfurter with fries or the SpongeBob pasta.
Because the gondola comes right here to this Mut Alm, we see quite a few parents with babies (all wearing sunglasses to protect their eyes from the sun) and strollers. The infants seem to be having as good a time as all the grown-ups, playing in the snow, eating the Austrian version of mac and cheese.
After a full day on the slopes, we're ready to hit the spa in Hotel Regina's wellness center, which, because this is Europe, I warn Mel, is coed. While people cover up with towels in the sauna and steam, it's not unusual to see men and women naked. "We're very comfortable with the human body," the masseuse explains. The first-rate massage, by the way, was half what it would cost at a U.S. resort hotel.
Relaxed and with nowhere to rush to, Mel gladly lingers over dinner with me. She's delighted that she can now drink legally. I'm delighted to have this just-us time with my busy daughter who soon will be off on her own adventures.
"This trip is good bonding, mom!" she says.
Exactly.
(Read Eileen's Austria trip diary elsewhere on this site and follow "taking the kids" on www.twitter.com, where Eileen welcomes your questions and comments.)
(c) 2009 EILEEN OGINTZ DISTRIBUTED BY TRIBUNE MEDIA SERVICES, INC.
Want something different from the groomed ski sloped, try backcountry skiing!