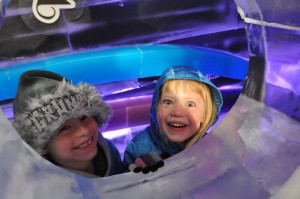 By Mike Sitzman 
ORLANDO — As we were planning our trip, we decided that a day-off from Disney would be good, so that the kids could settle down and we didn't have to fight crowds and lines all day.  So, being from Colorado, we decided to go check out SNOW! and ICE! at the Gaylord Palms hotel in Orlando.
ICE! (which is open from late November to early January) features beautiful ice sculptures depicting the 'Twas the Night Before Christmas story.  We had read on their website to dress warm, so since we had bought Disney sweatshirts we felt we were good to go.  We got to the Gaylord Palms around 10:15, got our tickets and found out that we had to wait until 1:00 to get in to the SNOW! exhibit.  This was a bit of a letdown as we were unaware of this first-come, first-served entry into SNOW!  Nevertheless, we went into ICE! bundled up and were greeted by a man handing out blue parkas.  Being from Colorado, we kind of laughed as we thought that this was overkill to see some ice sculptures.  But, upon entering the 9-degree rooms that housed the ICE! sculptures, we were glad to have them on.  The kids were cold quickly and weren't real interested in Dad's need to take a picture of everything while they got colder.  Besides, they were in a hurry to get to the dual 30-foot ice slides.  They went down the slides a number of times, as did almost every other adult we saw.  Jayme and I huddled to get warm.   
We waited our turn to go into SNOW! –a winter wonderland made of real snow, with a snow play area, and carnival-style games.  The SNOW! experience lasts 45 minutes, beginning at the top of every hour.  The kids enjoyed tubing down a small snow hill and seeing how well they would do at the carnival games.   
This was all a relaxing, yet cold, time away from the hustle and bustle of the crowds at Disney.  The kids had fun, the parents rested and we headed back to our condo rested.  Time to go home tomorrow.  So long Orlando — we'll be back!