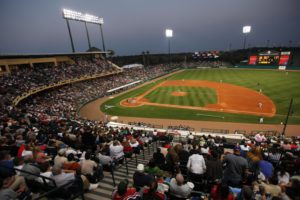 By Eileen Ogintz
Tribune Media Services
Let's not kid ourselves.
None of us want to wait until summer for some fun in the sun. We all could use some rest and relaxation right about now, whether your family's idea of vacation heaven is a bluebird sunny day on a ski slope, a blue-sky sunny day on a beach or a hiking trail.
Let's not forget a sunny day at your favorite theme park checking out the latest attraction, or letting the kids lead the way through a city you've always wanted to show them.
Maybe that's San Diego  where the weather is warm, there are family attractions galore (everyone loves the San Diego Zoo and SeaWorld!) and the crowds don't arrive until summer. Another plus: The new Legoland Hotel opens in nearby Carlsbad, Calif., in early April.
Maybe this is the year to tour London or Paris. "Many airlines have sales in the market for Europe. Going in the back end of March, you'll get longer days, nicer weather, smaller crowds and cheaper fares," said Travelzoo editor Andrew Young, who suggests using a site like www.fly.com to search multiple sites at once for the best fares.
"Wait a few months and fares will go up $300 to $500," he warns.
I met lots of families beating the summer crush at the Grand Canyon a couple of spring breaks ago. (Hilton Sedona Resort and Spa, about a two-hour drive from the canyon, is offering a whole range of complimentary spring break activities and special rooms rates from March 23 to April 6, 2013 — everything from pizza-making and movie nights to kids' golf.) Other families I know make it a tradition to head to Yosemite National Park in April.
With so many options, no wonder spring break has become an exceedingly popular vacation time for families who find it easier to get away for a few days in March or April rather than during the summer with the demands of work, camp, sports, summer jobs and summer school.
The good news: It's not too late to plan a getaway, whether you've just got a weekend or a week. "It feels like for families it is a more spontaneous decision of where to go in March or April than other times of the year," says Thomson Family Adventure's Jim Kackley, who sees many last-minute bookings, even for international trips.
Your kids probably are begging for a trip to Orlando  — and Orlando is the country's Family Spring Break Capital — but here's a suggestion: Go after spring break in May or June, You'll save significant bucks and avoid the spring and summer crowds.

For much more, check out our Taking the Kids Sun, Snow and Sea Spring Break Ideas.
Here are five of our 2013 ideas that are sure to please:
1. Opt for an eco-adventure somewhere you've never been. Consider Nicaragua, where eco-friendly resorts like Morgan's Rock  have become a private nature preserve. Check out those monkeys in the trees! "Nicaragua has turned the corner and is quickly becoming the next great vacation spot," says adventure outfitter Dan Austin of Austin Lehman Adventures, which is now organizing special family Nicaragua trips that might include zip-lining, cloud forests and surf lessons. "The best value in Central America," Austin said, "is the amazing scenery, interesting history and activities the kid in all of us will love." Add 'locals' that are warm and welcoming and you have a winning formula."
Thomson Family Adventures suggests Guatemala because besides plenty of fun in the sun, you can take a chocolate-making workshop, visit a fair-trade coffee plantation and explore Mayan ruins.
2. Go to Washington, D.C. The nation's capital has more free attractions — and more spies — than anywhere in the country. Since so many of the museums and memorials are free, you don't have to worry if the kids get antsy after an hour or two in one of the Smithsonian museums, for example. And there's always the chance to fly a kite on the National Mall, stop in to meet your congressman or visit Ford's Theater after seeing the new "Lincoln" movie.
3. Opt for fun in the snow. You'll find plenty of late-season deals — and sunshine — from New England to California and plenty of off-the-slope options whether you want to snowshoe, dogsled, zipline, careen down a mountain coaster, go to a concert or indulge in a spa day — or two. "March is typically the snowiest month in the mountains and most of the storms roll through overnight, leaving the days warm and sunny," says Ski.com's Dan Sherman, noting there are great deals across ski country on ski.com with savings as much as 30 percent off on lodging. Get a third night free at Heavenly Lake Tahoe, for example (http://www.skiheavenly.com/Plan-Your-Trip/Vacation-Deals-and-Packages/.) Kids ski free all April at Aspen's four mountains.
4. Play ball! Take your favorite Little Leaguer to see his or her favorite baseball team during spring training. The games are much cheaper, of course, than during baseball season and you might even get that coveted autograph. We've gone to spring training games in Arizona, as well as Florida and love the informal atmosphere at the stadiums, as well as the options to hit the beach in Florida and the mega resort pools in Arizona after the games.
5. Show your kids that history can actually be fun. Tour a civil war battlefield or time-travel back to another era at a living history museum like in the Historic Triangle of Virginia.  Check out the website for kids on the Colonial Williamsburg site, where the kids could dress up like colonists and play 18th-century games at Colonial Williamsburg, learn the true story of Pocahontas at Jamestown and visit a Continental Army encampment at Yorktown Victory Center.
Can you feel the sunshine yet?
© 2013 EILEEN OGINTZ, DISTRIBUTED BY TRIBUNE MEDIA SERVICES, INC.