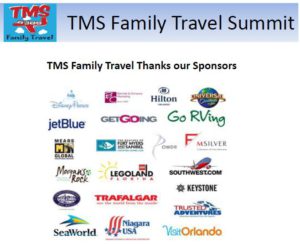 What matters most to you when you travel with your kids?
According to new research from MMGY Global, first reported by Peter Yesawich at the TMS Family Travel Summit in Orlando last weekend, the vast majority of family travelers want time to relax and unwind.
They want to see new places (80 per cent) and they want to go somewhere that's easy to get to (75 per cent.) But once they get there, supervised kids clubs aren't important.
In fact, Yesawich reported, many more family travelers are concerned about WiFi (78 per cent) than kids clubs (50 per cent.)
That's because families want to spend time together on vacation—bonding and making memories, said Amy Foster, who directs Consumer Insight research for Walt Disney Parks & Resorts. "Memories are the glue that hold us together," she said, adding that even the anticipation of vacations is important in building those memories. "And the moment they start thinking about vacation," she said, "families can bring the fun into everyday life."
Foster and Yesawich were among the speakers at the first-ever TMS Family Travel Summit that I organized in Orlando with my partners Kyle McCarthy, creator of Family Travel Forum (here's what she said about the summit) and JoAnne Vero, of J. Vero and Associates, which also produces our annual Family Travel Conference (coming to Niagara Falls, NY, in September)
This first-ever summit brought together national travel media with top marketers to brainstorm how we could work together to improve and de-stress the family travel experience. "It's nice to see both sides of the table share the same concerns," observed Laura Parquette, from Vail Resorts.
This was about "The Greater Good," noted Krista Parry, from Powdr Resorts.
Even our host hotel—the Hilton-Orlando is emblematic of how the travel industry recognizes family travel has changed. General Manager Doug Gehret told the group that the 1,400-room hotel—opened in 2009– was built to accommodate business traveler's who increasingly are bringing their families (great water slide and lazy river!)
Columnist Chris Elliott and his wife Kari Haugeto showed us the juggling act parents face when bringing kids along on a business trip.
There is also a growing emphasis on healthy, locally sourced food, said Louis Martorano, who showed off his kitchen to the group at a behind-the-scenes dinner.
The attendees who had gathered from around the country identified key issues that face family travelers:
–The need for more family-centric properties where rooms comfortably sleep more than four—or there are discounts for a second room
–The need for healthier, affordable kids' meals
–The need for activities to satisfy every age group, now that so many multigenerational families are traveling together
–The need to empower less affluent families to realize they can vacation and to help them find places where they can vacation within their means.
–The need to make it easier and less confusing for families to plan and book.
–The need to facilitate memorable moments for families
The marketers learned that "We are seeing here how easy it is to improve and create those memorable moments," said Samantha Lane from LEGOLAND Florida.
Indeed, the media attendees noted that some of those moments—a birthday cake surprise in the morning on a cruise ship; a note left on a child's bed welcoming him to a hotel, a lost "lovey" returned from a Disney cruise ship with a note from Mickey thanking the youngster for "lending" it to him—were what ratchet up the experience and make it so memorable.
"That personalization is priceless," said Amie O'Shaughnessy of www.ciaobambino.com
Cheapest is not always best, the Summit underscored, as today's families are looking for value in their experience. They can't return a vacation, after all. "The biggest 'a-ha' moment was that budget doesn't always mean cheapest," said Linda Rutherford from Southwest Airlines.
Indeed, families will spend more to get it right because they value vacations so much. Jeffrey Eslinger, of the travel research firm DK Shifflet & Associates noted that shopping and dining out are two of the top three activities on family vacation —along with visiting friends and families. Just because the kids are along, he said, young families—millennials "are not dumbing down" what they do and noted they are the most traveled generation ever.
They are also feeling better about spending money on travel, Yesawich said. "I have never been more optimistic about the leisure travel business," he said.
By holding our summit in Orlando—the number one tourist destination in the country with over 55 million visitors a year—we were able to see family travel initiatives that work.
—Mears Transportation Shuttles where drivers were waiting for us with signs at baggage claim. We even got emails with the driver's name and cell phone, should there be any issues. Talk about de-stressing the experience!
–Disney's "Mickey Checks" on kids' menu items that have real nutritional value. "We want to inspire kids to the magic of healthy living," said Gary Jones, the chef who oversees these initiatives. He showcased menu items like turkey meatloaf (shaped like Mickey Mouse ears) pork tenderloin with green beans, and sandwiches served with carrot sticks. "The idea is to get kids to try new foods," he said, noting that in the last year alone, the Disney parks in Orlando and California served 625,000 people with a food allergy or intolerance. At the same time, we were being served a farm-to-table lunch at Waves in the Contemporary Resort—locally grown greens, Florida Gulf Coast grouper, Florida Grass Fed burgers and blueberry tarts and no-sugar added Peaches and Cream with Florida fruits. Yum! Even the beer was from a local brewery.
–Disney's Art of Animation Resort that solves a family's issue with too-small hotel quarters. The suites sleep six in three spaces with two bathroom and come complete with mini fridge and microwave. And they are fancifully themed to favorite movies (think Carsland and Finding Nemo, among them) that adults as well as kids will be charmed. Did I mention this is a budget resort? That it has the largest pool in all of Walt Disney World?
–Universal Orlando's new Cabana Bay Beach Resort that will open next year also with elaborate theming , suite accommodations and budget prices. We got to see what makes visitors keep coming back to Universal Orlando—The Wizarding World of Harry Potter, of course, with its state of the art attraction through Hogwarts Castle and the brand new Transformers The Ride: 3D that has been three years in the making and is scheduled to open in June.
–The coming together of the entire Orlando community to run the 140-villa Give Kids the World resort that for the past 25 years has provided vacations to families in which a child has a life-threatening illness. Eighty per cent of these families have never been on a plane before this trip, said Neal McCord, the Give Kids the World Executive who spoke to our group. "This is their first vacation ever," he said. And the only way this is possible is with a committed staff of volunteers—1400 volunteer shifts every week, both locals and visitors. Universal Orlando resorts, in fact, has a new package for those who want to give back. (Kids as young as 8 can participate (visit www.UniversalOrlando.com for details).
–The new Antarctica: Empire of the Penguins at SeaWorld Orlando that not only represents the largest expansion in SeaWorld Orlando's history but meshes entertainment with learning—about penguins and about sustainability in an incredibly immersive environment. You'll meet four species of penguins and learn how they need to work with their families and their communities—just like we do—to survive. Educators will be on hand to answer kids—and grownups—questions and show visitors the little things they can do to help protect the ocean and all the creatures who call it home.
Thank you, Orlando for showing us what works. Thank you, attendees for showing us it doesn't always have to cost a lot to make a family vacation one for the memory books.
I've never been so encouraged about the future of family travel.