By Eileen Ogintz
Tribune Content Agency
True or false: The teddy bear was invented to honor President Theodore Roosevelt.
True! But how and where that occurred is another matter. Ask those at the historic Hotel Colorado in Glenwood Springs, where Roosevelt stayed on multiple bear hunts in the early years of the 20th century, and they'll tell you hotel maids created the first bear for Roosevelt after an unsuccessful day of hunting. The bear was subsequently dubbed Teddy by his daughter Alice. Today, the hotel sells a popular version — complete with the signature spectacles worn by the 26th president. The 130-room Hotel Colorado, now under new ownership, is undergoing a multi-phased renovation.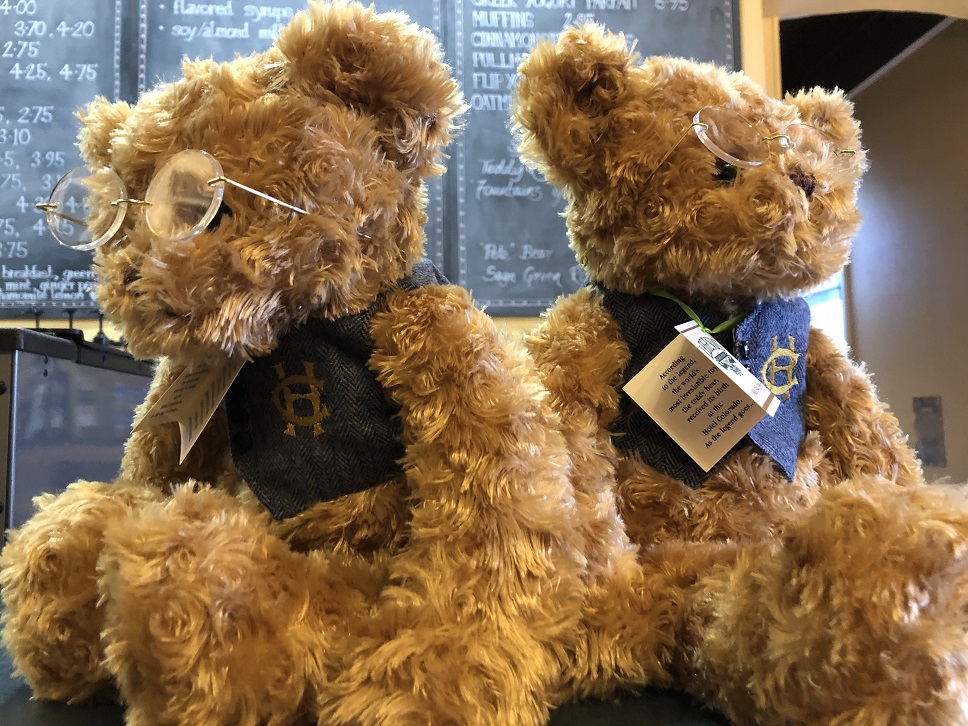 Others maintain the Teddy bears were first created in 1902 by Brooklyn toymaker Morris Michtom, inspired by a cartoon by Pulitzer Prize-winning cartoonist Clifford K. Berryman that depicted President Roosevelt having compassion for a cornered bear on a Mississippi bear-hunting trip. Michtom created a tiny plush bear cub that he sent to Roosevelt, got permission to use Roosevelt's name and put "Teddy's Bear," in his shop window where it became an instant hit. Sales helped lead to the Ideal Novelty and Toy Company, which grew to be the largest doll-making company in the country.
Funny the things that stick in your mind when you are traveling. I also didn't know that the "unsinkable" Molly Brown bitterly spoke out about how the Titanic crew hampered rescue efforts. That is until I read some of the original interviews she gave after her rescue in the Molly Brown suite that's up a narrow flight of stairs on the sixth floor of the Hotel Colorado where she stayed on multiple occasions.
Brown, like others of her era, came to Glenwood Springs, about 40 miles north of Aspen and a three-hour drive from Denver, for the clean mountain air and to "take the waters" at the famous mineral Glenwood Hot Springs that was touted to cure all varieties of ills. It was even bottled at one point.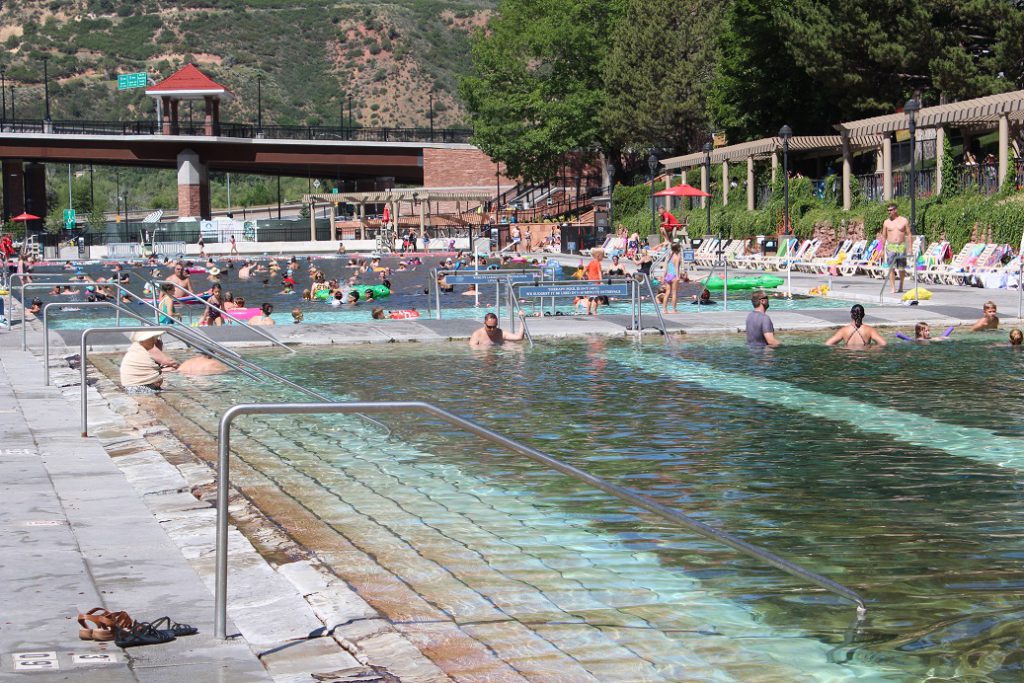 The therapeutic value of the water with some 15 minerals (everything from Boron to Lithium to Silica and Zinc) spurred the U.S. Navy to commission the Hotel Colorado, located across the street from the pools, as a convalescent hospital during World War II.
Today, you can still drink the mineral water, though it isn't bottled, and soak in what now is the largest hot springs pool in the country. Glenwood Springs is a popular year-round destination for Coloradans and tourists, like the North Carolina family I met taking a respite before hitting some of Utah's national parks. "We were here till 9:30 last night," said Melissa, who asked I not use her last name. "This is way more mellow than a regular water park."
"Really good for your skin!" said Krysta Trulove, who grew up coming to this pool and now brings her own three kids ages 8, 6 and 6 months. She adds she is comfortable letting the two older ones play on their own, something she wouldn't do at a traditional water park.
"We live here, but when we come we feel like we are on vacation," said Brett Wamsley, here with his two young daughters, who especially like that the water is warm.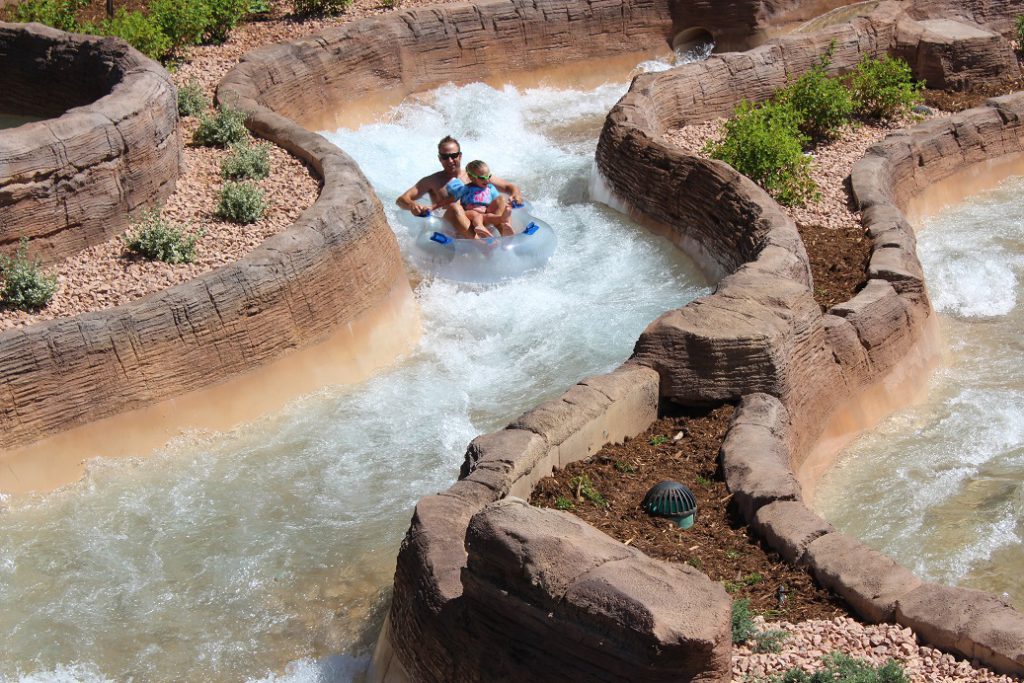 It's nice to find a place where parents and kids can be entertained all day and into the evening (the pool is open until 10 p.m.) for just $17 for kids and $26.75 for adults. "You can't beat the price," said Danny Serafini, here with his family from Denver, adding that his family of four could have two days at the pool and a hotel room for $300, less than it would cost just to get in the door of most theme parks.
The kids were jumping off the diving board while at the other end of the gargantuan pools, adults were soaking in the 104 degree "therapy" pool. Everyone was lining up for the Chutes. There are spa treatments here as well. The water source is the Yampah spring — 3.5 million gallons of water per day — first recognized by the Ute Indians for the therapeutic value.
The Spa of the Rockies here features treatments that rely on the waters. How about a Mineral Mud Ritual?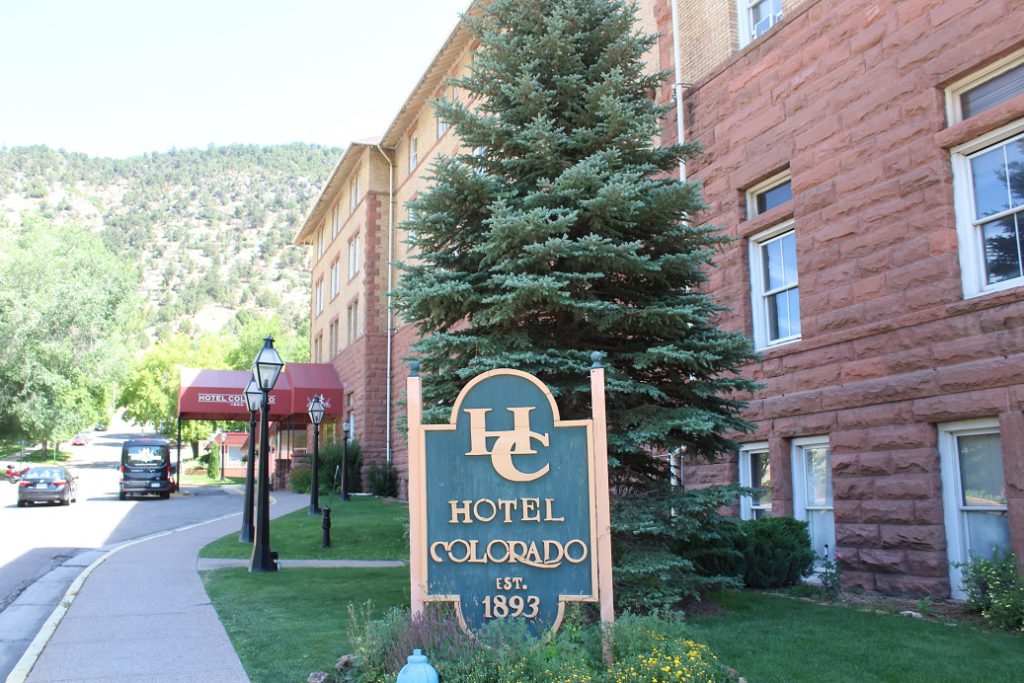 Ask locals and they'll tell you they especially love the pool in the winter. "It's really beautiful with the snow, and the pool is warm, even if it's cold. The kids love it," said Jacque Piffer, who grew up coming here with big groups of friends.
Of course, there is a lot more to Glenwood Springs than arcane history and the pools. There is also Iron Mountain Hot Springs pools on the banks of the Colorado River — 16 small soaking pools and a freshwater family pool, the nearby Glenwood Caverns Adventure Park that bills itself as America's only mountaintop theme park (you take a gondola to get there) complete with cave tours, a 32-foot climbing wall, thrill rides (ready to swing out into Glenwood Canyon, 1,300 feet above the Colorado River) and kid-friendly attractions like the new larger sluice for gemstone panning.
This being Colorado, of course, there are umpteen hiking and biking trails, as well as a thriving, kid-friendly food scene like at the popular Pullman, which draws locals and visitors alike for everything from stellar mac and cheese and burgers to herb grilled artichoke, goat tacos and roasted local beets.
"It's like Disneyland. There is so much to do," said Jill Wilson.
It's just a lot more affordable.
© 2019 EILEEN OGINTZ
DISTRIBUTED BY TRIBUNE CONTENT AGENCY, LLC.