By Eileen Ogintz
Tribune Media Services
"A moose!" exclaimed my 10-year-old son Matt, "A real moose!"
We screeched to a halt along the side of the road in Grand Teton National Park. Reggie, 8, was equally mesmerized but 3-year-old Melanie couldn't quite grasp that we were in the moose's house — and it wasn't a zoo. I still smile years later when I think about the kids' excitement. Forget the Kodak moments. The chance to share something new together — something you'd never see or do at home — is what makes those indelible family vacation memories that last forever.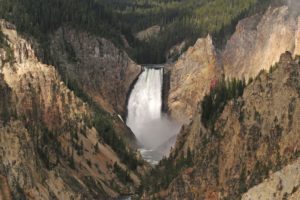 And there's no better place to make that happen than at one of our national parks (there are 58 to choose from, not to mention the 333 other historic sites, monuments, seashores and recreation areas (www.nps.gov). Yet a new survey from Greyhound reports that most of us skip the nation's most popular landmarks. This despite the fact that a visit to a national park, seashore or historic monument certainly is one of the most cost-effective vacation options you can find. (Get an annual pass for just $80; seniors can take a carful along by purchasing the lifetime Senior Pass. Those with disabilities get a free Access Pass.) Check out "Frommer's National Parks With Kids," a park guide that includes information on kid-friendly eats, lodging and fun activities, and "Easy Access to National Parks: The Sierra Club Guide for People with Disabilities," which is just as helpful to those visiting with young children.
Over the years, we've had lots of adventures in national parks and they weren't always about seeing spectacular sites, though, of course, we've certainly had our share of those. Once we got caught in a hailstorm hiking in Rocky Mountain National Park without enough rain jackets. Another trip, we bided our time at Glacier National Park while one child had a time out for pushing another into a freezing glacial lake. We've dealt with carsick kids on some of those winding roads and a painful run-in with some cactus at Joshua Tree National Park in California. At Mount Rushmore, once my trio realized they couldn't climb around the monument, they were much more interested in seeing who could find the most license plates from different states. I got Alaska!
But every trip, whether the kids were preschoolers, grade-schoolers, in high school or college, has been memorable — sometimes more so by what went wrong than what went right. I'm grateful for those experiences and look forward to more in the future.
Unfortunately, we can't take the opportunities the parks afford us for granted any longer, says Ron Tipton, the programming senior vice president for the National Parks Conservancy Association, which recently completed its first scientific evaluation of the condition of the National Park System. The results are troubling, with the Park System's natural resources, including wildlife, coming in at 70 points on a scale of 100 and cultural resources at only 61.
"People need to tell their kids that these places belong to all of us and it will take a commitment from all of us to preserve them," Tipton says. "They are very vulnerable." Take an afternoon out of your visit and volunteer, he suggests. Last year, 167,000 people did just that, putting in 5.4 million hours. (Ask at the park visitor center what you and your kids can do. Check out the new Website (www.doyourpartparks.org) that encourages national park visitors to reduce their greenhouse gas emissions and help to protect America's parks from the effects of global warming.) And don't forget about the Junior Ranger Programs and other ranger-led family activities. In an effort to turn 21st-century children into naturalists, the National Park Service has launched WebRangers (http://www.nps.gov/webrangers/), a virtual version of the National Park's longstanding Junior Ranger program, which enables school-age children visiting a park to get a kid's-eye view of the great outdoors by winning badges for completing various activities and tasks during their visit.
That's assuming you get out of your car long enough. As park attendance continues to rise — more than 275 million visits were recorded in the park system last year, an increase of 3 million — the vast majority of us don't stray even a mile from the parking lot, much less stay overnight. "Thirty years ago, 80 percent of our visitors stayed in the parks overnight and 20 percent were there for the day," says National Park Service spokesman David Barna. "Those numbers have flip-flopped."
Maybe gas prices this summer will encourage you to stay a while. It's not too late either, Barna says. Some campgrounds hold spaces on a first come, first served basis. (There are tent cabins at Yosemite and Grand Teton) and people often cancel their reservations at park lodges.
"Get away from the car and you can see things that will knock your socks off," promises Dan Austin, co-founder of Austin-Lehman Adventures (www.austinlehman.com), which offers family trips to the Western national parks, including activities like trekking through narrow-side canyons and underwater grottos at the Grand Canyon and riding horseback in Yellowstone alongside a fourth-generation cowboy. (Check out the extra discounts on certain Yellowstone/Teton Family adventures still available this summer.)
If you want to show the kids the parks but don't know how to put up a tent or start a campfire, consider one of these trips, which offer knowledgeable, kid-friendly guides (who do all the work) and built-in friends for your gang. And the best part is you probably won't spend much more than you would for a trip to Orlando, especially with significant discounts for kids. Camp with Backroads (www.backroads.com), they even provide the sleeping bags. Book by July 31 and young adults, 17 to 25, get an extra 10 percent off on trips, even next year. (Mention code Y009.) Backroads has nearly 150 family trips to national parks this year.
Sign on for a family service trip with the Sierra Club (www.sierraclub.org/OUTINGS/) or for one that includes rafting in Glacier National Park with Classic Journeys (www.classicjourneys.com). Kids 6 and under are half off, those 7 to 10 are 30 percent off.) Also check out opportunities for the parks' nonprofit associations, like the Yellowstone Association's (www.YellowstoneAssociation.org) "Ed-Ventures" program.
Don't limit yourselves to the most popular of the 58 national parks either. For example, Lassen Volcanic National Park in Northern California has lakes and thermal features similar to Yellowstone — but only 400,000 visitors a year compared to Yellowstone's 3 million. There's also the Black Canyon of the Gunnison National Park in Colorado (with its amazing 2,250-foot Painted Wall) and Oregon Caves National Monument.
Just make sure you've got the camera handy. We never did get a picture of that moose. Good thing we've got the memories.
(c) 2008 EILEEN OGINTZ DISTRIBUTED BY TRIBUNE MEDIA SERVICES, INC.