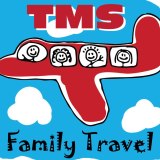 Report from the 2017 TMS Family Travel Conference (full report may be downloaded here)
(Clearwater, FL; November 30, 2017) Travel Marketers should be paying special attention to millennial families as well as kids, especially on social media channels, according to new research presented at the 6th Annual TMS Family Travel Conference.
Millennial families spend more than their peers traveling without kids, travel farther and intend to spend 19 percent more on travel in 2018 – when other segments will spend less, says Steve Cohen, the MMGY Global Vice President, Research and Insights, who presented research from the "Portrait of American Travelers" survey of travelers with household incomes of $50,000 or more.
Cohen told the group of top family travel influencers and marketers who gathered in Clearwater, FL Nov. 12-14, 2017, that "millennial families lead the way," noting that 51 percent took at least one international trip in the last year, 64 percent plan to take more vacations abroad, and 75 percent report cruises provide added security to try new destinations with their children.
They are not only sharing their experiences on social media "to make friends and family jealous," Cohen said, but 52 percent are choosing where to go based at least partially on social media posts. One third of millennial family travelers engage with destinations on social media to look for travel deals.
Kids play an increasingly important role in family vacation planning, Cohen said: 81 percent of millennial parents report that children help plan daily vacation activities; 75 percent said kids influence the destination and 64 percent said kids influence the choice of hotel or resort. "Destinations not marketing with kids in mind are missing the boat," he said.
The majority of millennial families take weekend getaways, said DK Shifflet Senior Director Jeffrey Eslinger, noting that more getaway weekends are taken by travelers 35-54 than any other age group. (DK Shifflet is an MMGY Global company.)
He noted that the vast majority of these budget getaways are taken by car and that 42 percent are planned within a month of going – a third just a week in advance. Eslinger noted that shopping, at 28 percent, is the top activity for such getaways followed by the beach and dining experiences, in comparison with Cohen's research among affluent households, which found that two-thirds of millennial families report visiting art or history museums as a top activity.
Travel influencers from across the country and Canada were joined by brands including Carnival Cruises, Allianz Global Assistance, Visit New Mexico and Niagara Falls USA to discuss best practices in marketing to families, including campaigns using popular influencers to target niche markets and amplify messaging across channels
The 2018 TMS Family Travel Conference will be held in November in Gallup, NM.