By Joanna Mazewski, Taking the Kids Correspondent
Ever since my two children – now aged 11 and 9 – got to see Disney's hit animated film Zootopia, they've been obsessed with sloths.
Sloths are arboreal mammals that are unique mostly because of the slowness in their movement. They also spend most of their time living upside down in trees in tropical rainforests in Central and South America. That, or they might also be working the day shift at your local DMV office, if you happen to be lucky enough to spot one.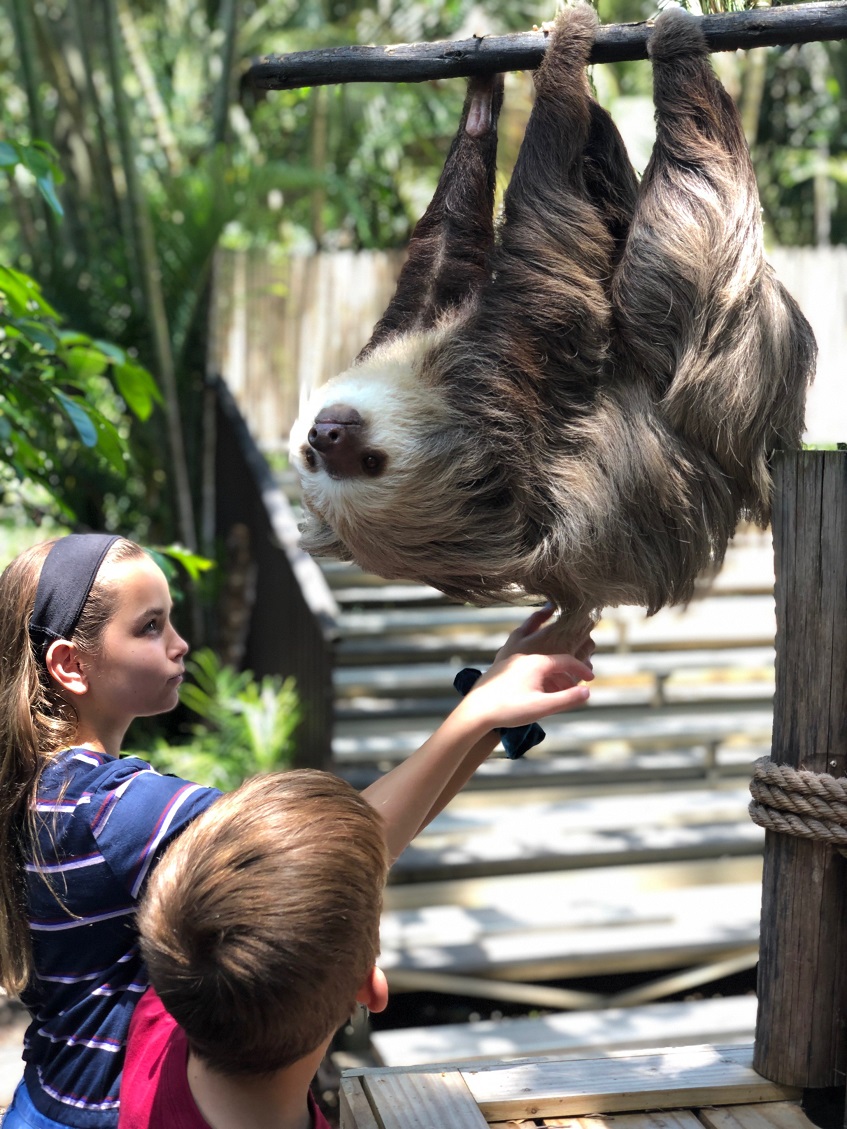 One of the reasons why sloths function the way they do is because of their very low metabolism and deliberate movements, hence giving them the "slow" reputation that they have. And while you don't often get to see one up close and personal, visitors at the Palm Beach Zoo in Palm Beach County, Florida are offered a one-of-a-kind opportunity to meet their resident sloth, Wilbur. She's a Hoffman's two-toed sloth and a local celebrity of sorts who loves meeting new friends from near and far.
Visitors to the zoo get to not only hang out with Wilbur, but they also get to take fun photos (including selfies), feed her grapes and learn interesting facts about the life of a sloth. That's right – Gloria Estefan and Shakira aren't the only stars who like to call South Florida home as Wilbur is on the top of the A list, too.
The Palm Beach Zoo & Conservation Society is a non-profit zoological organization located at Dreher Park in West Palm Beach. The zoo houses more than 550 animals, many of them endangered, within 23-acres of lush tropical habitat.
My daughter Nicola, age 11, says that she never imagined that she would ever spend an afternoon feeding grapes to an adorable and furry sloth. For me, visiting the Palm beach Zoo in West Palm Beach is much more accessible than visiting the sloths in their natural habitat in Central America.
The sloth experience isn't the only one available at the Palm Beach Zoo. In addition to meeting Wilbur, fans of all ages also get to pick and enjoy a handful of meets and greets that also include an aldabra tortoise, a koala, giant anteater, and a capybara.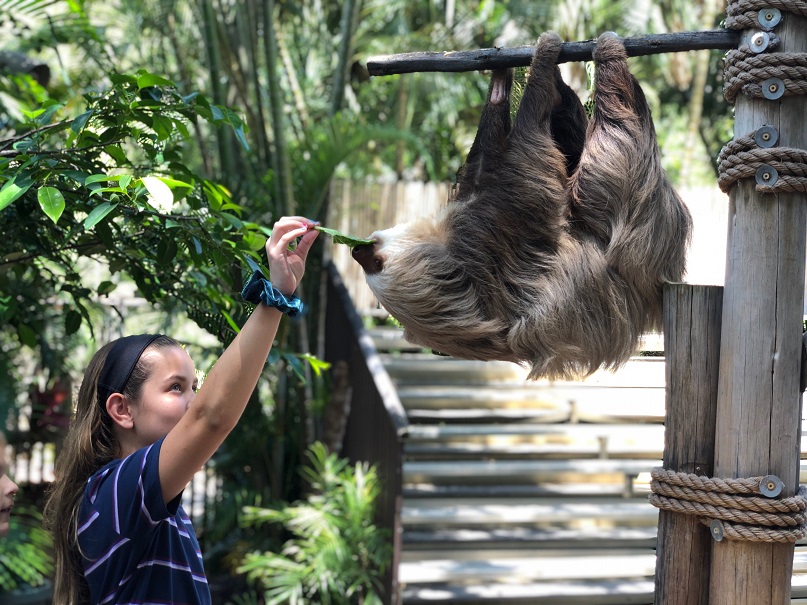 Keep in mind that the sleepy sloth experience is offered from Tuesdays to Sundays at 3:30pm and that the duration is about 20 to 30 minutes. Children under the age of 15 must be accompanied by an adult. Also, one adult is required with each participant age 15 and under. The experience fee does not include zoo admission. For more information, check out the Palm Beach Zoo. Those looking to get up close and personal with the sleepy sloth must also register in advance.