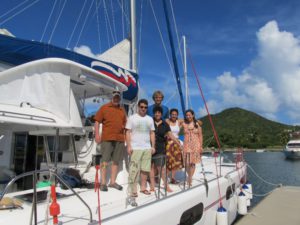 DAY 2 — Any time you travel with kids, no matter what their ages, the trip rarely goes as planned. "That's part of the adventure," says my 25 year old daughter Reggie. "It's not like we're at a fancy resort where everything is being done for us."
That was the point of this trip after all—an adventure for my adventure-loving crew including Reggie's boyfriend Dan Foldes. With the kids living across the country and one spending the fall in Asia, this sailing trip in the British Virgin Islands on a Catamaran chartered from The Moorings, is the first time we've all been together in more than a year.
But a sailing trip, like camping or backpacking, takes a lot of work—and working together in cramped quarters. (The only way to get away from one another is to jump in the water!) We don't have a captain or crew (available on these charters) to smooth the way. When my husband couldn't get the dinghy started, there wasn't anyone to fix it. (In fact, when he took off the motor cover to investigate the problem, he promptly dropped it in 40 feet of water. Triumphantly, he recovered it the next day with the help of diving gear from our Sail Caribbean dive master.)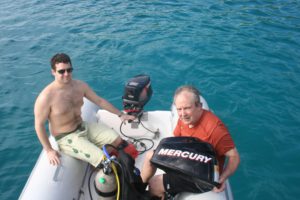 That means when my ears clogged because of a lingering cold I couldn't dive, though I'd been looking forward to it for months.
A beach mayt we'd rented from Last Stop Sports disappeared – it must have blown overboard during a rain squall overnight. Food I was sure I'd brought wasn't on board.
Sailing trips aren't for those who need their creature comforts though this is a beautiful boat—46-feet long with four berths, four heads and even a microwave.
As I write this, the boat is rocking from side to side. Who cares when we can jump off the boat and snorkel wherever we like and meet up with the dive boat at a pristine spot like the Pinnacles off Norman Island.
Tonight at Norman Island there is no one else here but other sailboats. When I offered dinner at the waterfront Pirates Bight restaurant, the kids said they preferred dinner on board.
I have to learn to chill, they say. So what if there is no hot water. Who needs a shower on a sailboat? So what if I forgot the steak for the fajitas? A veggie fajita is just fine.
"We're grown up now, you don't have to keep worrying about everything and arranging everything for us," says my daughter Melanie, who turns 21 next month.
I'm really not a perfectionist. But no matter how much I know things never go as planned when kids are part of the equation and especially on a sailing trip, it's hard to let go of the idea of perfection.