Fun in San Luis Obispo also known as SLO
By Eileen Ogintz
Tribune Content Agency
The loud cars cruising down San Luis Obispo's Higuera Street suddenly became a trend — driving away shoppers and diners from downtown.
The solution: Close the main drag to traffic on Thursday evenings and invite local merchants to set up tables outside in the street.
What started as a ribs cook-off in July 1983 has morphed into the second largest farmers' market in the Western United States with more than 100 vendors and thousands of shoppers along six downtown blocks every Thursday evening all year round.
Shoppers are buying everything from berries, peaches, apricots, avocados and tomatoes among them, including those grown by students at California Polytechnic State University in San Luis Obispo. There's also jewelry and crafts and a chance to chow down on barbecue (one of the original participants 40 years ago, F.McLintocks, was doing stellar business with their ribs, chicken, corn and more). Others were eating caramel corn, tamales and tacos, sushi and kabab; handmade caramels, mini donuts and pastries. Kids were getting their faces painted and playing paintball.
While some of the farmers have been here for decades, Yolanda Rodriguez was in her first season selling her baked goods at Nana's Place. A veteran business owner and grandmother of 30, she explained that having a stall rather than a brick-and-mortar business is far less stressful. And her grandchildren, she added, help with the baking. "We are doing fantastic," she enthused, noting that their pineapple upside-down cake is a top seller.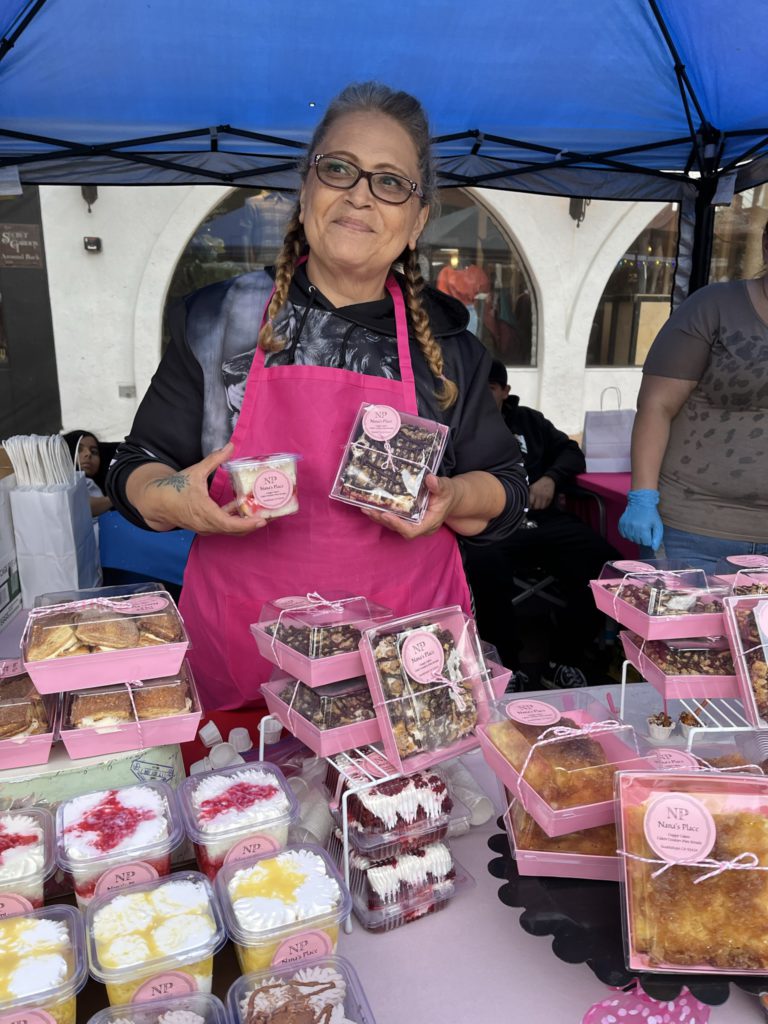 "I love the atmosphere — music on every corner; such friendly people," said Tanja Poley, selling bags and more from repurposed denim at Ten Four Goods.
We had to stop and gawk at Bubble Gum Alley, featured on Ripley's Believe It, or Not and the LA Times list of the weirdest stops in LA. Thousands of pieces of chewed gum are pasted on a 70-foot-long alley just off Higuera Street. "Kids must love this," my teacher-daughter observed. San Luis Obispo (called SLO by locals) is halfway between Los Angeles and San Francisco on the historic coastal Highway One (currently closed for two miles on the Big Sur Coast, as a result of landslides).
With SLO's bountiful outdoor space, dozens of Central Coast wineries (come for Harvest season), attractions (visit Hearst Castle), public art (more than 100 pieces) and museums, great restaurants and dog-friendly lodgings and eateries, we thought it would be a great bet for a getaway with our daughter, Regina Foldes, and her dog, Chili Pepper. She and her husband live in San Francisco, and she had a little time before school started, while her husband had to be away on business. Too bad as he missed a great time!
We stayed at SLO Brew Lofts right downtown on Higuera Street with one-, two-, and three-bedroom dog-friendly eclectically furnished units ideal for traveling families or friends. (Loved the turntable and records!) Just outside is a trail ideal for dogs — and kids.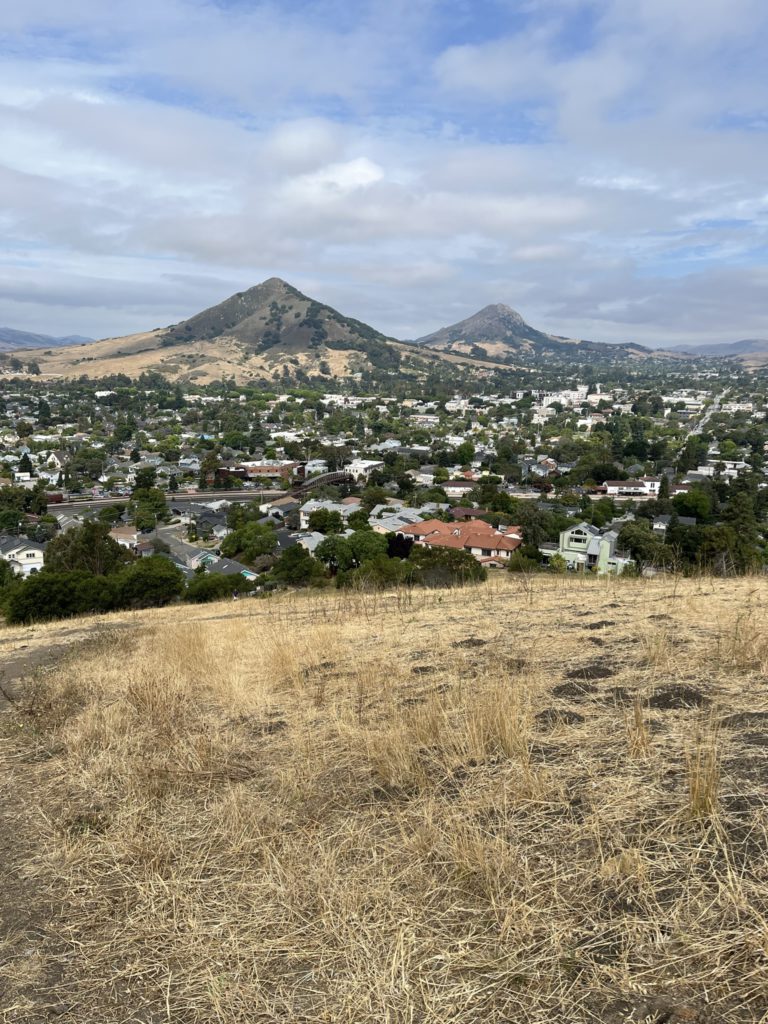 Also dog (and kid) friendly is the Hotel San Luis Obispo where we enjoyed drinks and the view at the High Bar. The hotel offers winemaker dinners and often caters to the parents of the university students (they number 20,000), said spokesman Lydia Bates. "The parents spend a day with their kids and then go have fun themselves," she laughed.
There's certainly plenty to choose from, and a great base to explore the Central Coast. Start with a ginormous breakfast at Louisa's Place, a go-to for students, locals and visitors since 1976.
There's the historic Mission San Luis Obispo founded in 1772, its plaza the spot for community events like the upcoming Arts and Humanities Month in October when a pianist will be playing in the plaza. (SLO boasts several museums, including the San Luis Obispo Museum of Art, the History Center of San Luis Obispo County, The Dunes Center, which focuses on the natural history of the Central Coast and the San Luis Obispo Children's Museum.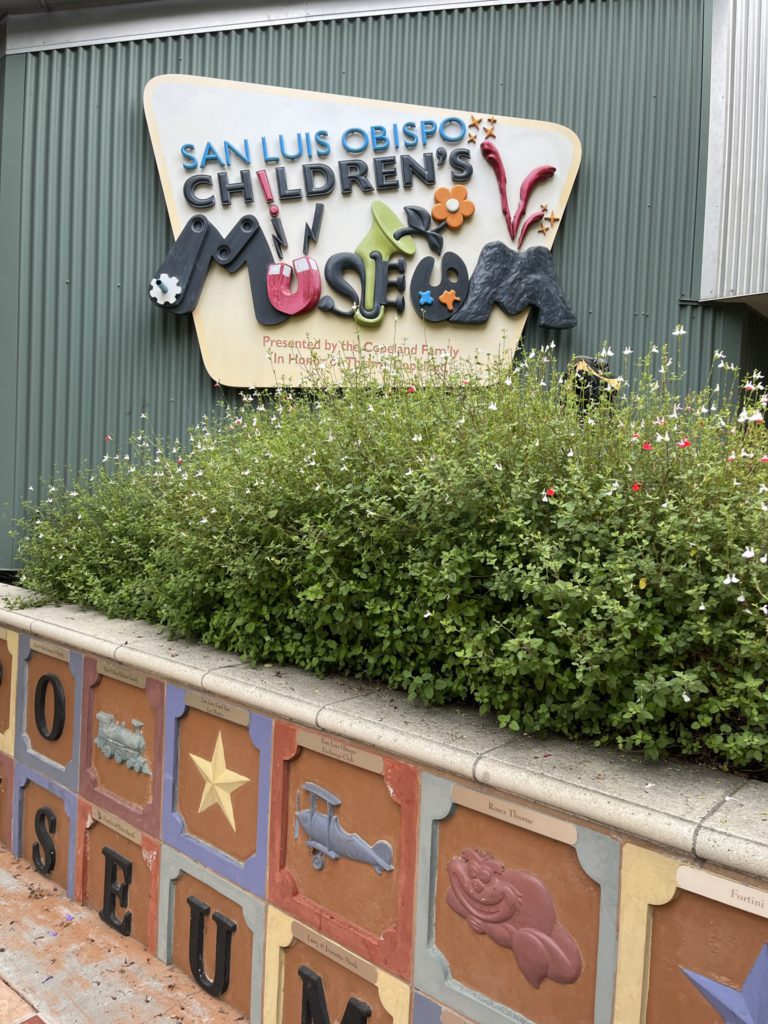 It's nice to know that as part of the city's Keys for Trees program, a portion of the hotel room charge goes to planting trees. The goal is to plant 10,000 new trees and become carbon neutral by 2035. "Visitors are helping us," said Hollie West, the city spokesman who, like others we meet, had gone to college here and has returned. A growing number of visitors are from outside California, she noted, with direct flights from nine cities. (We flew home to Denver from the local airport.)
She notes there are 60 miles of hiking trails (the Bike Happening is a free bike riding event the first Thursday of each month), a popular skate park, as well as beaches within a 15-minute drive. Our waitress at Luna Red (fantastic paella and a menu that supports local wineries and farmers) is a local who notes that Avila Beach is dog-friendly while Pismo Beach is popular for surfers and boogie boarders and Shell Beach for kayakers.
Terrace Hill Open Space offers great views while the Cal Poly Design Village is an interesting option for a walk. Unique structures have been built here on a hillside over decades by the university's architecture students.
A trip here wouldn't be complete without wine tasting. The SLO coast is known for Chardonnays and pinot noirs, and we taste those and more at Biddle Ranch Vineyard in the Edna Valley where there are more than two dozen vineyards.
We relaxed with the pooch sitting outside adjacent to the vines tasting five different wines. They were all so good we couldn't choose which one we liked best. Others brought their own snacks, but we were still full from the terrific sandwiches at Lincoln Market & Deli, a fixture since 1941. (I loved the Funky Chicken with cheese, avocado, awesome sauce and purple slaw.)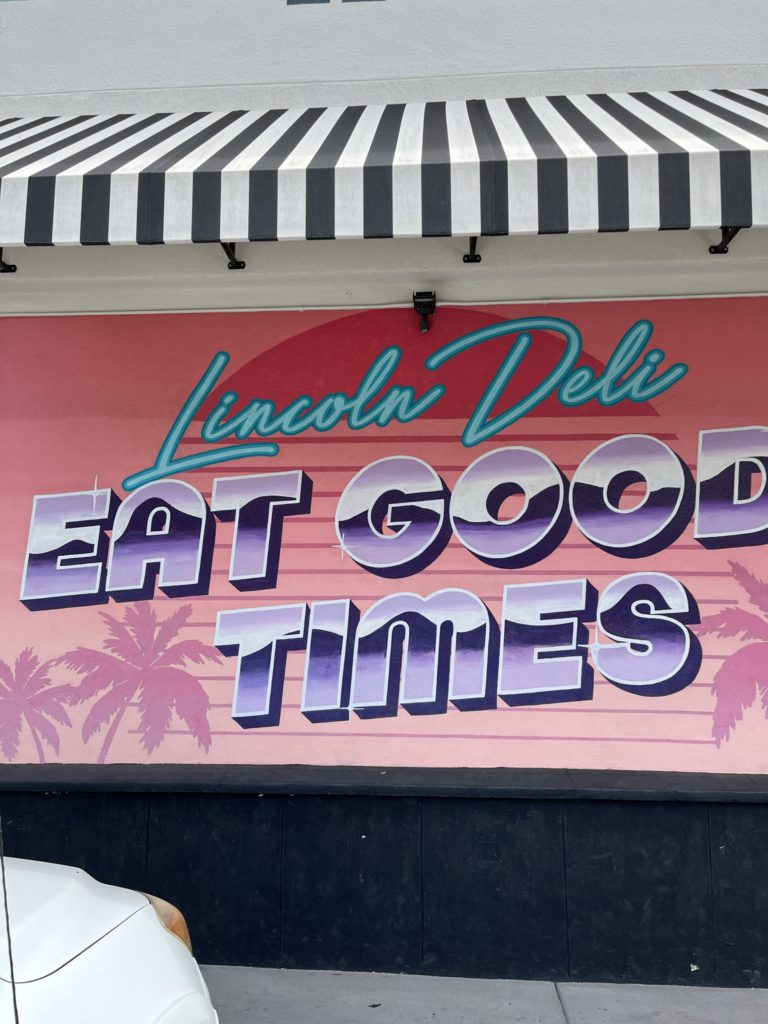 We certainly didn't go hungry. Our final dinner was at Nate's on Marsh set within a converted restaurant. It was hard to choose – hand-cut pappardelle with lamb ragu; mushroom carbonara, rigatoni Bolognese or salmon piccata? We decided to share – so we could save room for dessert. (Bravo for the spumoni!)
We toasted and agreed – we needed to make more time for these getaways together. The kids may be grown, and they may be taking the parents, but there's still plenty of fun to be had.
(For more Taking the Kids, visit www.takingthekids.com and also follow TakingTheKids on Twitter, Facebook and Instagram where Eileen Ogintz welcomes your questions and comments. The fourth edition of The Kid's Guide to New York City and the third edition of The Kid's Guide to Washington D.C. are the latest in a series of 14 books for kid travelers published by Eileen.)
©2023 Eileen Ogintz. Distributed by Tribune Content Agency, LLC.