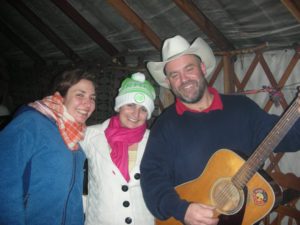 DAY FIVE Christmas Day. Mother Nature, my daughter Mel says, delivered the best Christmas present of all — more than a foot of fresh snow. But unlike other ski resorts during a holiday week, there are no lift lines and no crowds. Where is everyone?
I've never seen a more empty resort on a holiday week. We meet Santa snowboarding and again handing out candy canes at lunch time in the Madison base lodge. "Have fun with your reindeer," one little girl yells.
It's so unpretentious. It's so gorgeous outside — wide open runs, tall trees and terrain to suit every member of the family. I still ski groomers from top of the mountain with instructor Jim Ackerman, while my two daughters head up to test their mettle on the extreme terrain.
"We have all levels with us and everyone is happy," said Ann Mendenall, who is from Pasadena and has skied all over the West. "What I like is it doesn't matter what you look like; it's just fun."
"If you are interested n night life, this isn't the place to go," says Ruth Stafford, a mom of two who now lives in Bozeman, an hour away. "This is skiing and hot tubbing and that's about it."
"Sure it's an extra plane ride, but once you get there, there are no attitude and no lines," says Jim Caccavo, from San Diego, who likes the place so much he bought a house here for his family. "People here say there's a line if you wait three minutes!" This is not a see or be seen kind of place. This is not what' it's about."
"People are very easy going," says ski school director Jeremy Collis. "It's the Montana way."
We figure we need to get out for dinner at least one night so we sign on with Moonlight Dinners — a new venture that takes us from the base village at Big Sky via snow cat (the kids all opt to sit on top in the cold while the parents huddle inside) more than a mile into the back country for dinner in a big Yurt. This night, there are 46 of us — including a gaggle of kids. Owner Andy Goggins say the Yurt is "off the grid." That means there's no electricity and the fabulous dinner is made entirely on propane stoves and grills.
We eat family style and meet families from New Jersey, Chicago, Massachusetts, among other places. A musician plays his guitar. This is the best part: between courses, the kids go outside and sled while parents sip their wine (its BYOB outside in front of a big bonfire). The food is impressive — onion soup, tenderloin, garlic mashed potatoes and fondue with frui t and cake made with Toblerone. But the atmosphere is relaxed and real — not phony cowboy as I've experienced at other places. Such fun doesn't come cheap — just under $100 for adults, slightly less for kids, but everyone clearly feels they've gotten their money's worth. I certainly do.
Don't forget the fresh baked bread. (Of course there are veggie entrees and special kids meals but the kids I see are chowing down on the steak and mashed potatoes. I've been to many of these back country dinners and this is one of the best (www.skimba.com for reservations). I don't know if it's the sledding in between courses, the good food or the yurt that's toasty warm. I can't think of a better way to end Christmas.
Sandy La Pointe, the mom from Princeton, NJ, says this is her family's fourth season here in Montana and she hasn't been able to convince any of her family's friends to join them because they don't want to change planes. They don't know what they're missing.