By Eileen Ogintz
YELLOWSTONE NATIONAL PARK (June 20, 2020) — I'm knee deep in freezing, running river water trying to get a jumping fish to play with me.
"Isn't this fun!" says our exuberant guide Kerry Almond who runs the Yellowstone Fly Shop and Guide Service.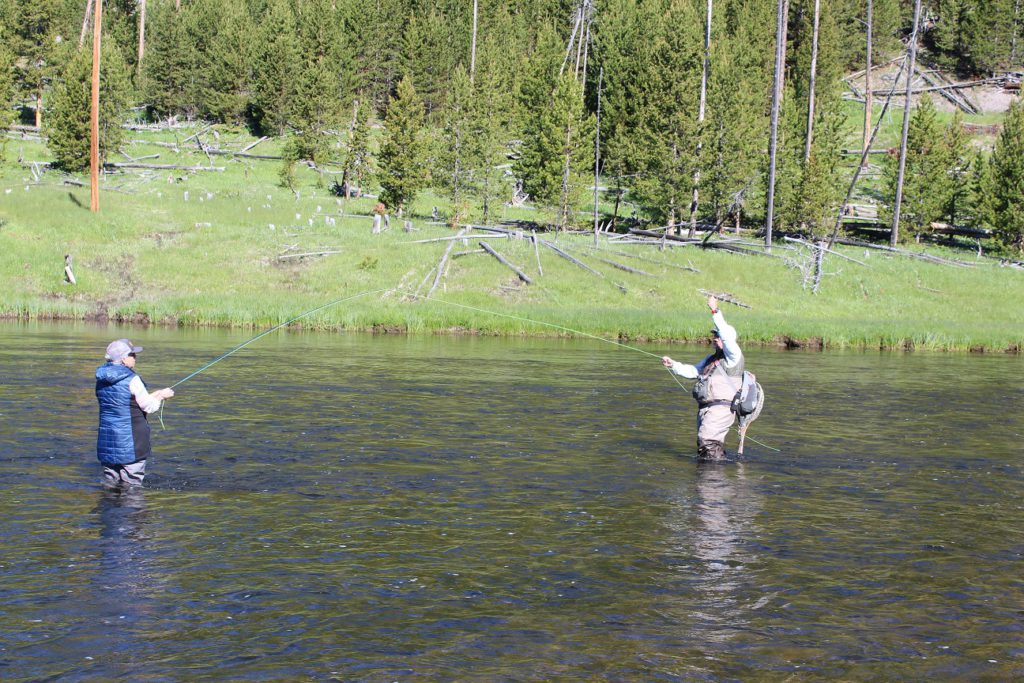 "Fly fishing in Yellowstone is a big deal. If I could have only one fishing license in the world it would be here at Yellowstone National Park," says Almond, who traded an executive career to become a fly fishing guide.
"The hardest decision I have to make all day is which fly to tie on," he says happily.
We've been "glamping" just outside Yellowstone National Park with Under Canvas, modeled after the African Safari experience, and they have suggested this iconic fly fishing experience—people come from all over the world, Almond tells us, to fish in Yellowstone.
We are on the Firehole River at the Nez Pierce Picnic Area just 10 miles from Old Faithful and about as far away from the crowds as we can get. There is just one other fly fisherman here this chilly June morning; two lazing Bison are across the river.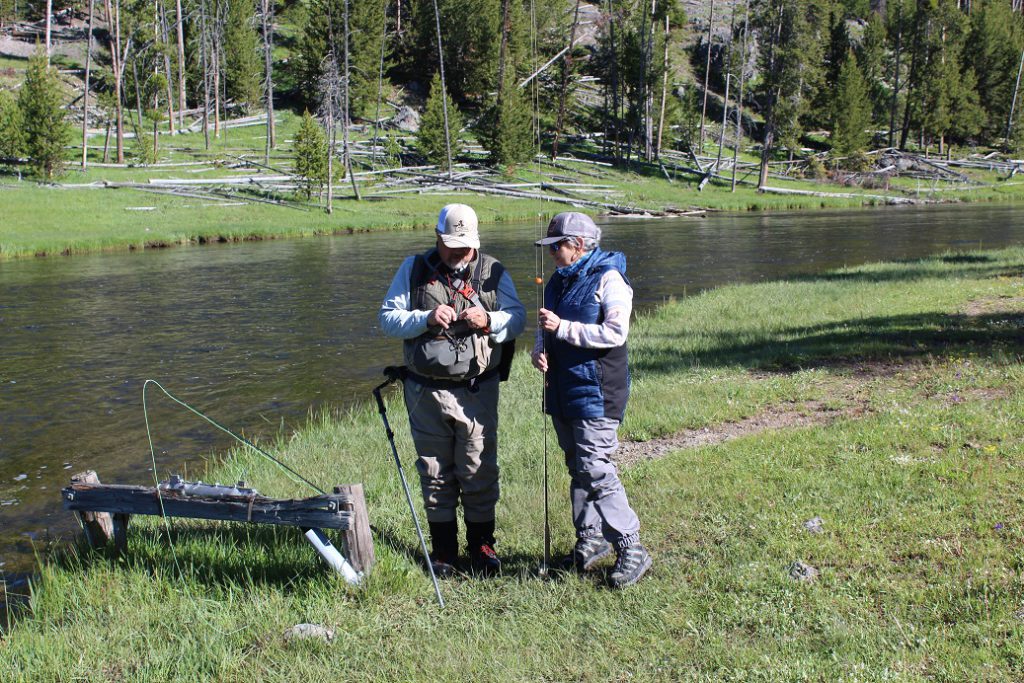 Generally fishing season opens May 23 and closes Nov. 1 in Yellowstone but some areas are closed until July 15; this is prime fly fishing season here, Almond said. (Make sure you get a special Yellowstone permit. Kids under 16 can fish for free with an adult who has a permit. Make sure to know the regulations too www.np.gov/yell/planyourvisit/fishing.htm ).
Why so many white rocks in the river bottom—the water is crystal clear. They aren't actually rocks, Almond tells us. They actually are broken plates from Old Faithful Lodge that a disgruntled employee threw in the river a very long time ago. Over the years they've washed down the river 10 miles to where we are. We pluck out a small piece as a souvenir.
There is also an old homesteader's grave here festooned with flowers—Mattie Culver who was just 30 when she died in 1889 of tuberculosis. She was married to Ellery C. Culver who worked as a winter keeper at an early hotel called the Marshall's hotel, according to Nan Web who wrote a book about her life. The couple had come from Billings. Montana and might have come because the hot springs were thought to be therapeutic for TB; She left behind a baby daughter who sadly only lived to be 19.
With Almond's help, I practice casting. My husband Andy catches a rainbow trout, then a brown trout. This is all catch and release, of course. It's all about the challenge—you are getting the fish to want to eat your bait.
They certainly are jumping but biting…not so much. It takes me a while but finally I get a beautiful rainbow trout on my line. I win the challenge- he's in the net long enough for a photo and then he's back in the river waiting for the next fisherman to challenge him.