By Eileen Ogintz
GRAND TETON NATIONAL PARK, Wyoming (June 18, 2010 — The celebrity ignored the scores of paparazzi with their huge camera lenses angling for the best shots–of her and her four five-month-old babies playing on the hill just off the roadway.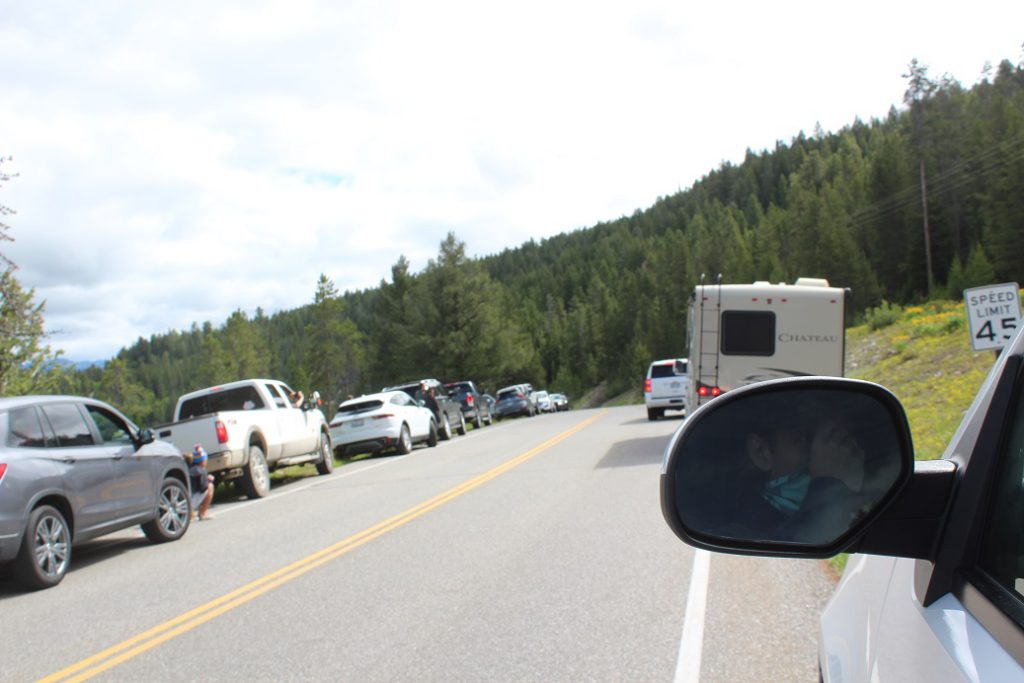 Cars were stopped in both directions. "This is such a rare opportunity," said Dawson Smith, the resident naturalist at Spring Creek Ranch in Jackson Hole, who was guiding us through Grand Teton National Park. "This is really exciting."
Meet Grizzly #399, perhaps the most famous bear in North America not only because of her advanced age (24) but her fertility (she has had seven litters—20 cubs. This year's quadruplets, Smith said, account for only two percent of Grizzly Bear litters.
We stopped to watch them cavort on Signal Mountain Road across from Jackson Lake. "This is the best ever!" said Wendy Planinsek, a teacher from Pennsylvania spending two weeks touring western parks with her husband and 16-year-old twin daughters. "Everything's open but it's not really crowded."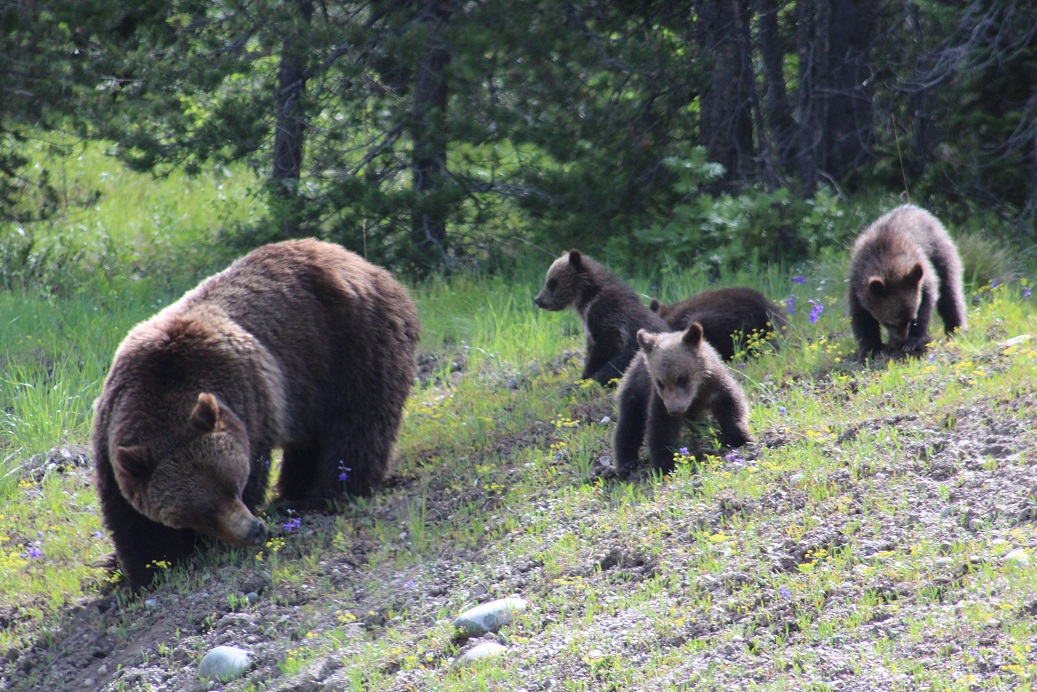 Her daughters, she said, were a little nervous about staying in hotels this Pandemic Summer—they even brought their own sleeping bags. And their family was leery of them taking this trip—even flying. "But that Southwest Flight was the best we've ever had," she said.
"It was time to start living life again," she said. "And it's been fantastic."
Certainly, the site of Grizzly #399 and her adorable cubs, maybe 25 pounds each, would be one for the memory books. We had seen a black bear, a bison, a mom and young moose, several pronghorns and an elk "nursery" – a group of moms and nursing babies near the Gros Ventre River. But none of these compared to the thrill of seeing this roly-poly family digging up roots and grubs right near the highway.
Smith said 399—and her daughter 610 who know is often visible with her own cubs (so named from times they were banded for research—are "the greatest ambassadors for Grizzly Bears." Experts say 399 has learned that people won't hurt her, thus she believes her cubs are safer near the road than where a big male grizzly might make a meal of one of the youngsters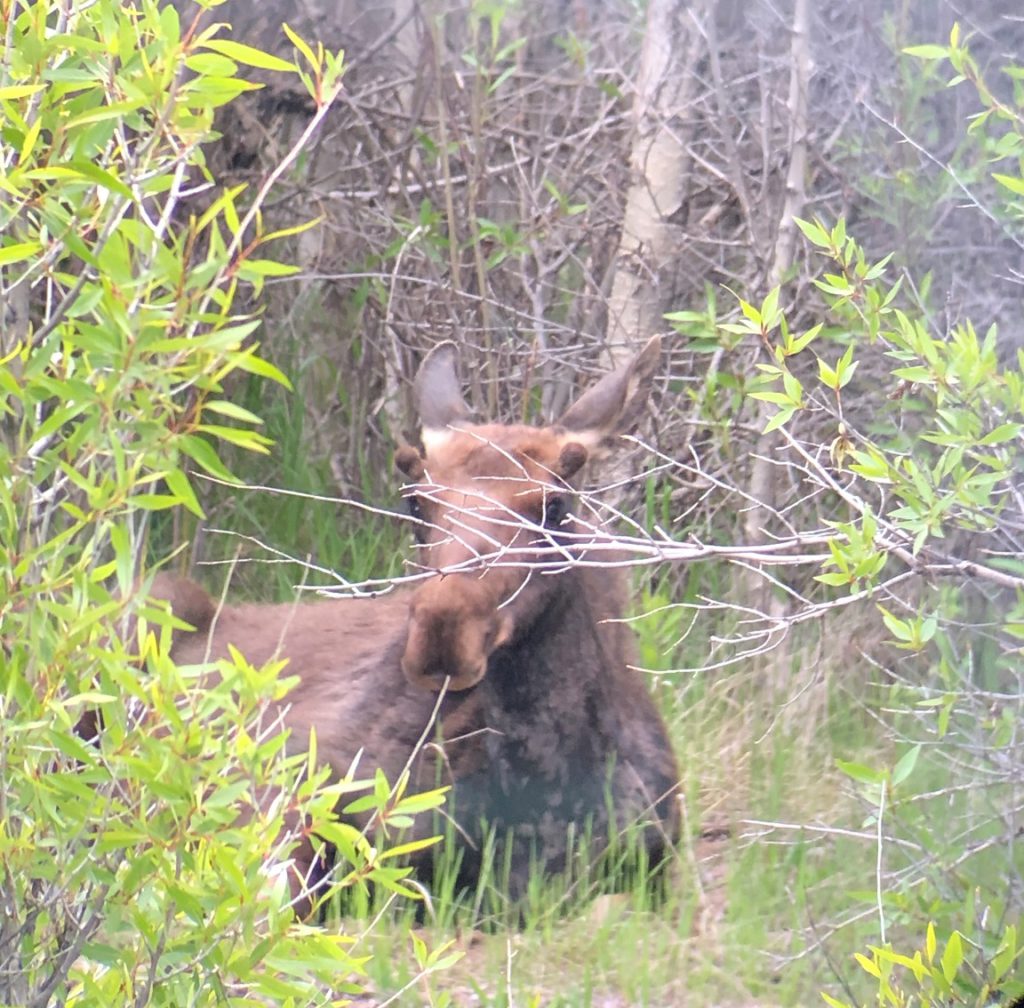 Still, he says, looking around at the ever-growing crowd—it's important to respect the bear's space—this is her home, after all—and not get too close (100 yards away in a vehicle; 50 yards on foot.) Many were not doing that–nor were they wearing masks during this Covid Summer–as they gathered close together, trying for the best shot–until a park ranger arrived to direct traffic.
Bears are still wild animals, Smith says, and could charge, especially if she senses her cubs are threatened. And, of course, you should never feed a bear. Once they get accustomed to human food, they become bolder, foraging in coolers and even homes, and ultimately may need to be euthanized. "Once they learn the behavior, they can't unlearn it," Smith said.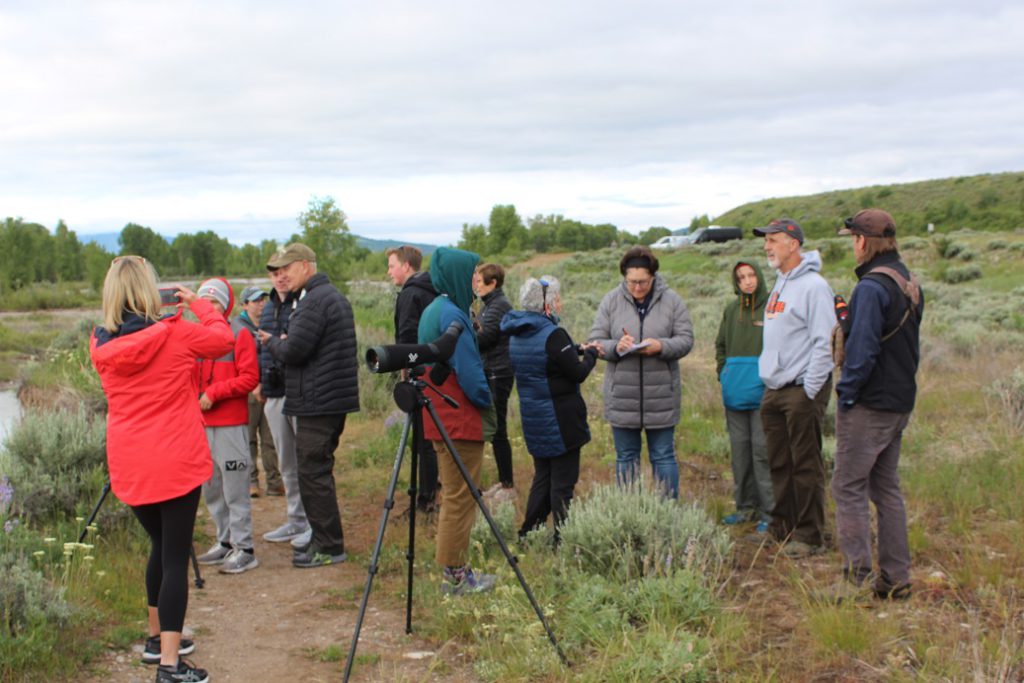 Spring Creek Ranch, comprised of condos, houses and rooms with outside doors, on 1,000 acres in Jackson Hole offers guided wildlife tours of Grand Teton and Yellowstone—one family at a time this summer. It is terrific to see a national park with someone who knows the best hikes, best picnic spots, has a scope for wildlife viewing and is a wealth of knowledge on everything from the geology and trees to the homesteaders to wildflowers and wildlife (Smith points out bear hair on a tree at our lunch spot; they apparently rub up against trees to leave their scent, letting other bears know they are in the area).
A guide can help you make the most of your time, especially in a park as huge as Yellowstone. (Check Spring Creek Ranch for prices).
Visitors, Smith said, invariably get most excited about a bear siting.
In case you are wondering; grizzlies are larger than black bears and have a distinctive "hump" on their shoulders, a dished face (rather than a Roman nose) and long claws that are suited to digging, not climbing trees. Black bears have short curved claws that make them adept at climbing trees. And only about half are actually black. The rest are brown, blond or cinnamon in color.
Annive Ardill,10, was hoping her family would see a bear before they head back to Texas. Already, their trip yielded a lot of firsts—including the first time she and her younger brother Liam had seen snow in Yellowstone, having a snowball fight, the first time they'd seen a grey wolf…moose, elk, bison. Bear, she said, is the last wildlife on their list. Her brother Liam, 7, offered that seeing that wolf "was the best of the trip!"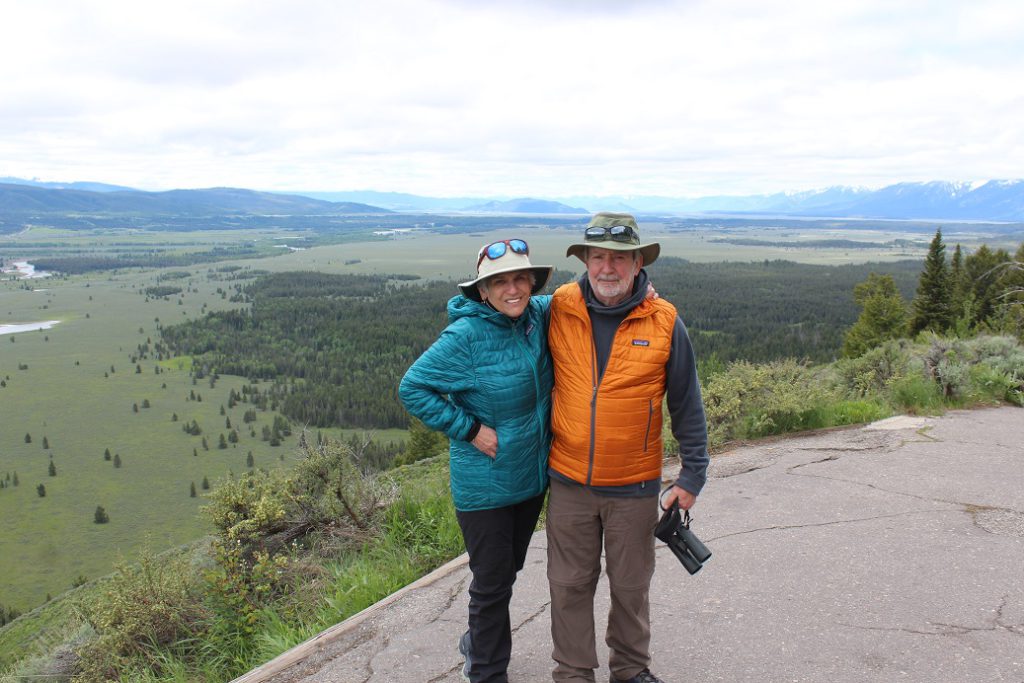 Their trip, in fact, was prompted by Annive, her dad Scott Ardill, said: As a fourth grader, she qualified for free park entrance across the country for her family. The trip had been planned before the coronavirus pandemic and they were fortunate that most everything had reopened as they made their way from Houston to Mount Rushmore, then on to Utah, Yellowstone and Grand Teton. Their last stop would be Great Sand Dunes in Colorado.
But a National Parks trip is different this summer. It is less crowded as there are no international tourists and a significant amount of lodging is closed. The Craig Thomas Discovery and Visitor Center in Grand Teton NP was one of the few that are open—though only a certain number of people were admitted at a time and the Discovery "touch" exhibits were closed. So the Ardill kids hadn't become Junior Rangers or gotten park passports stamped. A tip: Ask a ranger or at the park entrance if there is a kiosk where kids can pick up junior ranger books if the visitor centers are closed.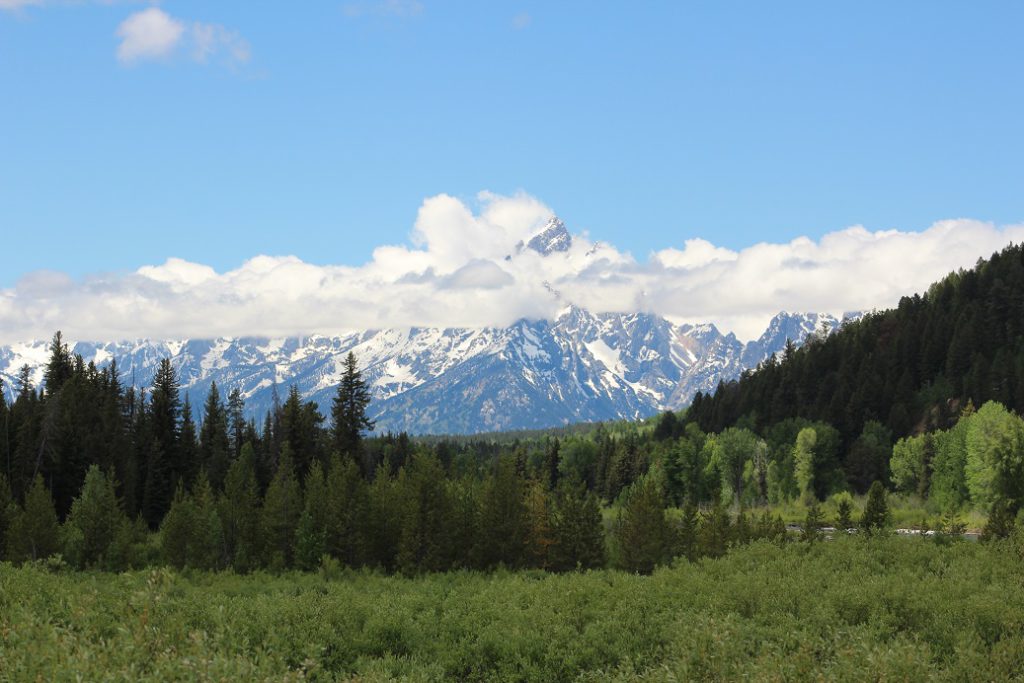 That's a small price to pay for getting away from home after months sheltering at home and enjoying all the national parks have to offer. "Absolutely it's the best time to be here," said a jubilant Wendy Planinsek. "You just have to be cautious."