By Eileen Ogintz
Tribune Content Agency
Boy or girl?
They may be the most complete T. Rex ever found — and one of the world's most studied fossils since being discovered in South Dakota in 1990 — but scientists still don't know whether SUE, named for Sue Hendrickson who first spied the T-Rex's bones sticking out of the rock, is a boy or girl.
Either way, SUE in all her reconstructed glory — 42 feet long — thrills visitors at the Field Museum in Chicago is a worldwide celebrity with a popular Twitter feed (@SUETrex) that uses gender-neutral pronouns, plenty of merchandise (how about taking home a cast of a tooth?) Their incredibly well-preserved bones continue to help scientists uncover secrets about these creatures who lived so long ago.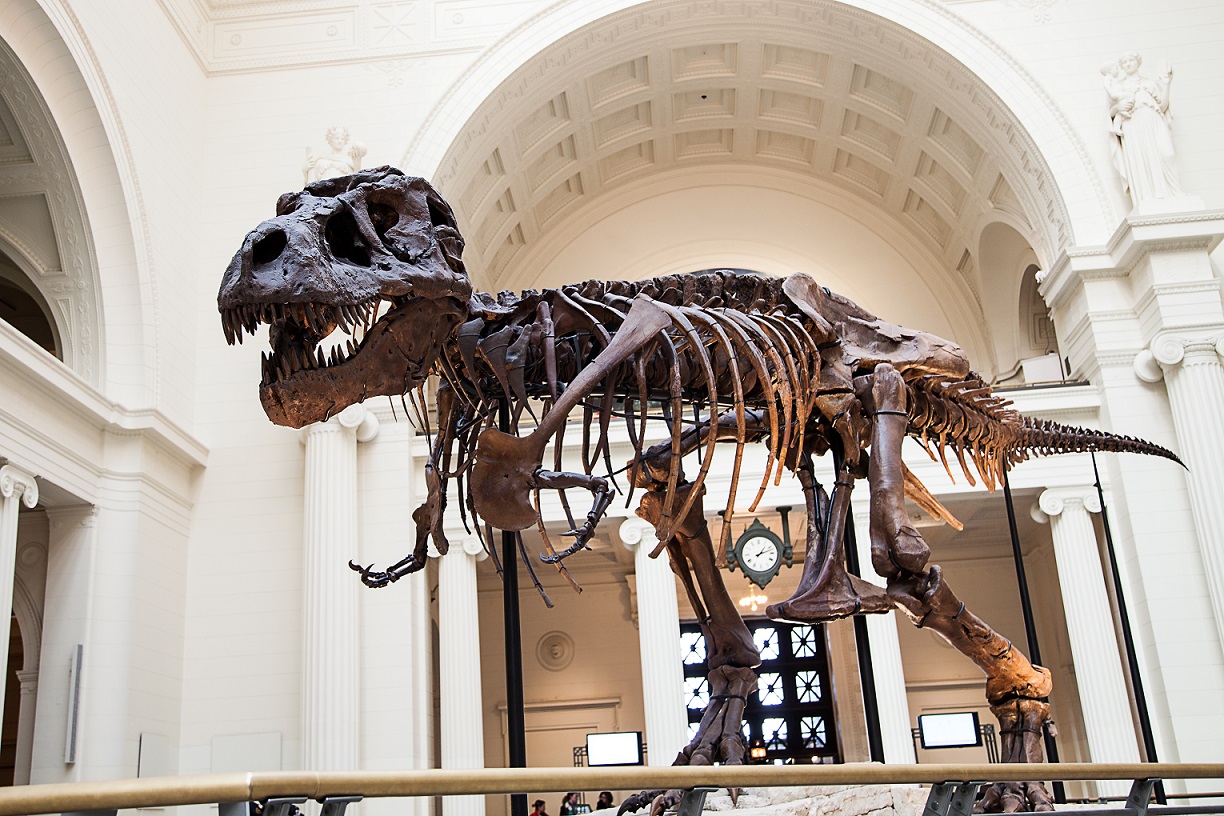 Now for the first time, dinosaur lovers can meet SUE outside of Chicago; Denver's Museum of Nature & Science is the first stop for the traveling exhibit SUE: The T. Rex Experience, here until April 25.
"Most of the Denver metro area is situated on top of rocks deposited during SUE's time, so not only are we excited for SUE to visit Colorado, but we also have some incredible recent discoveries closer to home that guests will get to explore as part of the exhibition," said Joe Sertich, museum curator of dinosaurs.
The Denver exhibit includes more than 20 specimens from the museum's collections that were found in Colorado, everything from the femur and vertebra of the only T. Rex skeleton ever found in Colorado and rare skulls of armored and dome-headed dinosaurs never before displayed at the museum.
At the same time, a full cast of SUE will be on display from March 6 to July 25 at The Children's Museum of Indianapolis where Bucky the teenage T. Rex has already been "roaring up a storm." He's the first teenage T. Rex to be put on permanent display in a museum. There will be videos of fossils found during the dinosaur dig at the Jurassic Mile site in northern Wyoming, one of the most significant finds in North America, that was led by The Children's Museum and that I was able to visit, behind-the-scenes videos showing how experts put pieces of the dinosaur puzzle together before they go on display at the museum and a new Dinos A to Z series (launching March 8, 2021).
"We are very excited to see the large sauropods we excavated start to come together," said Dr. Jeffrey H. Patchen, president and CEO, The Children's Museum of Indianapolis. He added that the museum is creating a new marine area to open later in March that will feature an ichthyosaur, an ancient dolphin-like creature with eyes the size of dinner plates that was discovered at the Wyoming dig.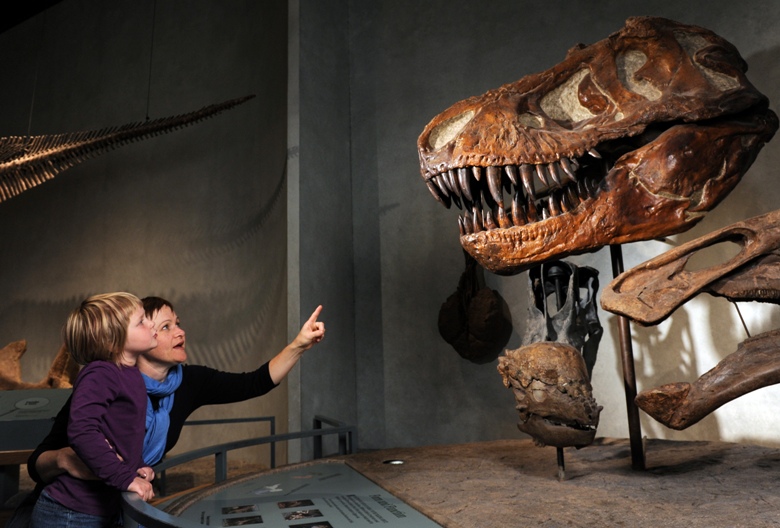 Even those who think they've outgrown a fascination with dinosaurs — kids and adults alike — will be drawn in by this new exhibit as they hear a T. Rex growl, see them do battle in their world via floor-to-ceiling animations, and watch a multi-media light show on the exact cast of SUE's skeleton that focuses on the latest discoveries about SUE's skeleton. Check out those "belly ribs," that helped SUE breathe, and the holes in her jaw that were the result, scientists think, of a bad infection.) Touch casts of dinosaur fossils. (So that's what a Triceratops' scales feel like.)
Test your SUE IQ on touchscreens that are cleaned throughout the day. Did you know SUE's jaws were strong enough to crush a pickup truck? Scales or feathers? (Scientists think scales.)
If you are looking for an outdoor experience, do what Colorado families do and head to Dinosaur Ridge just west of Denver where you can follow a trail with hundreds of dinosaur tracks. (There are also online activities.)
Another good bet: Dinosaur National Monument on the border between Colorado and Utah (at the confluence of the Green and Yampa Rivers) where you can still see some 1,500 bones still encased in the rock at the Dinosaur Quarry Exhibit Hall and hike the Fossil Discovery Trail. We visited pre-pandemic, and the region is known as "Dinosaurland" because of all the dinosaur fossils that have been discovered there.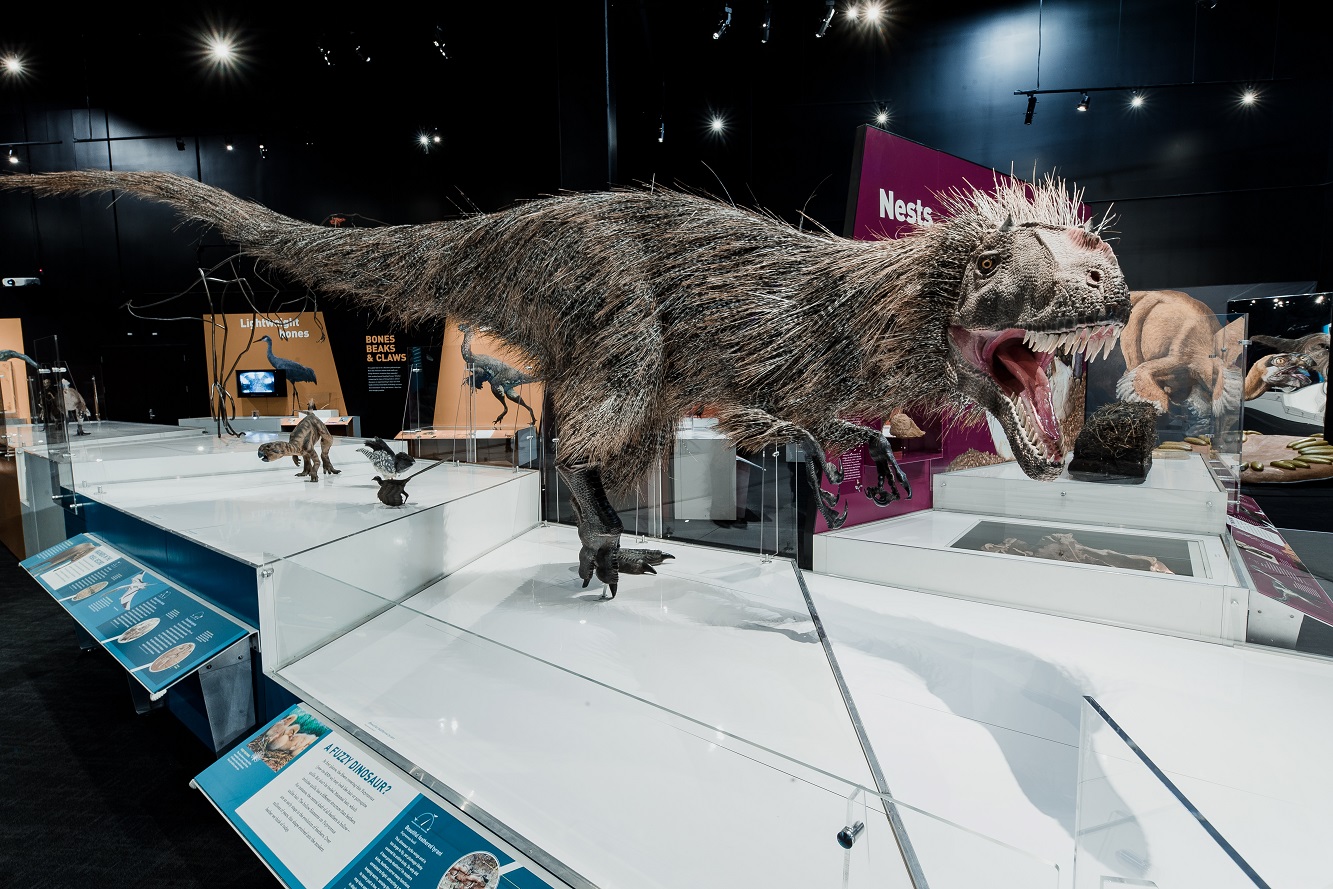 "Dinosaurs represent a fantastic way to connect with kids and get them interested in science and nature at a young age," said Dr. Frederic Bertley, CEO and president of COSI, the Center of Science and Industry in Columbus, where a unique collaboration between the American Museum of Natural History and COSI focuses on the latest scientific findings about the evolution of dinosaurs.
While COSI remains closed, visitors can take a 360 virtual tour of the Dinosaur Gallery. "The pandemic catalyzed more opportunities for us as an industry to engage people around the globe in new and creative ways regardless of geographic location," Dr. Bertley explained.
The American Museum of Natural History in New York City is open with COVID-19 protocols (the famed dinosaur halls have long been a must-see). The museum's online offerings also are a great bet for young dino lovers, including Ology, a science website for kids, and the chance for a virtual tour of the museum's dinosaur galleries and other iconic exhibits with the free Explorer App.
Denver Museum educator Jennifer Ross Logan noted that families can also look to science museums' social media pages, which include mini presentations from scientists.
If you can't visit the Field Museum, learn more about the museum's dinosaurs from home; Join Field scientists and SUE the T. Rex online for SUE Science Saturdays.
Check out the dinosaurs under the Big Sky virtual tour and activities at the Museum of the Rockies in Bozeman, Montana. The museum is a center for active research as fossils have been found across much of Montana and many are on display, including numerous dinosaur eggs and babies.
Because of the pandemic, observed COSI's Dr. Bertley, "people have a new and different appreciation for the different ways they can have museum experiences."
And that's a good thing for sure.
©2021 Eileen Ogintz. Distributed by Tribune Content Agency, LLC.