By Eileen Ogintz
ABOARD CARNIVAL MARDI GRAS IN THE CARRIBEAN SEA — Christine Duffy can't wait.
"I miss seeing all the happy kids. And happy kids make parents and grandparents happy," said Duffy, the president of Carnival Cruise Line which pre-pandemic carried well over a million kids a year, the most in the industry.
Duffy and her family are aboard Carnival's new megaship Mardi Gras which she expects to carry as many as 1,800 kids and teens under 18 during high season. Vasie Naidoo, the ship's Youth Director who has served on many of Carnival's ships over nearly two decades, says she's ready for them!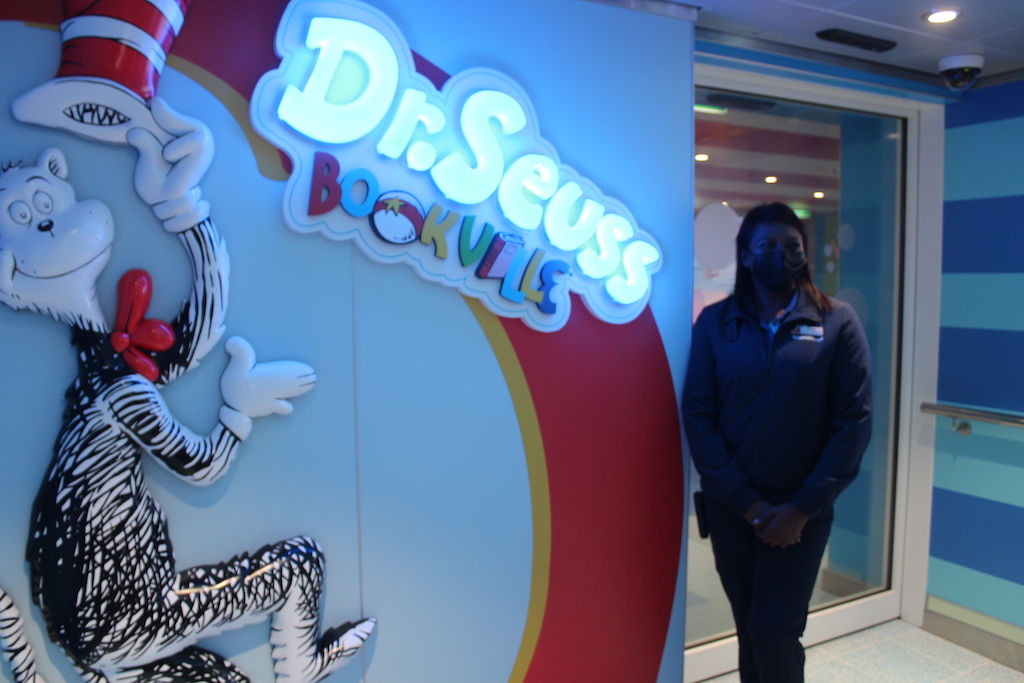 This cruise, there are just 175, including 60 15-17 year-olds, 40 12-14 year-olds, 27 nine to 11 year-olds, 13 6-8 year-olds, 25 2-5 year olds and 20 babies and toddlers. The Camp Ocean space, with separate areas for different age kids and two clubs for teens (Circle C for 12-14 year olds and Club O2 for older teens complete with a new outdoor hang-out space), is the largest in the fleet.
Only the teen clubs are now open and are limited to those who are vaccinated—the vast majority of those teens on board. Camp Ocean is shuttered at the moment, disappointing the veteran young cruisers on board like Noah Taylor, who has already been on five cruises though he just turned eight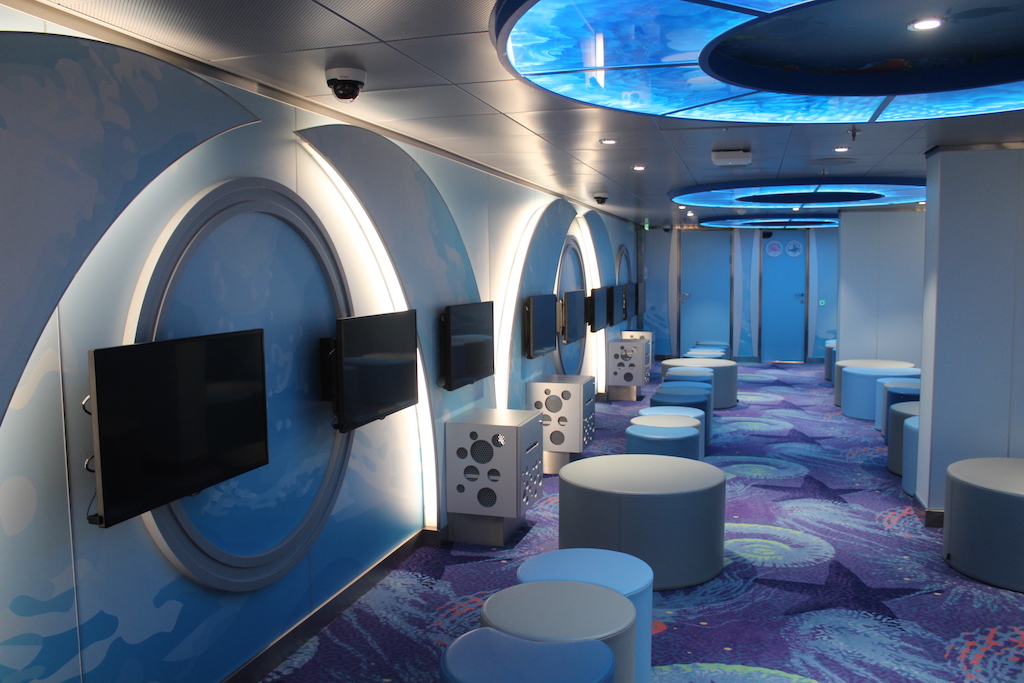 "They are having fun but they really miss Camp Ocean," said Kevin Taylor, sailing with his wife, three kids and their grandparents. They also miss the signature Dr. Seuss character breakfasts. (There is also an area in Camp Ocean designed for families to kick back and read, stocked with Dr. Seuss books).
With the expected announcement that kids are eligible to be vaccinated, Duffy said, the hope is that families—and Camp Ocean—will return. "Demand is very high," she said. "Once the kids are vaccinated, that will be a real game changer to bring families back on board."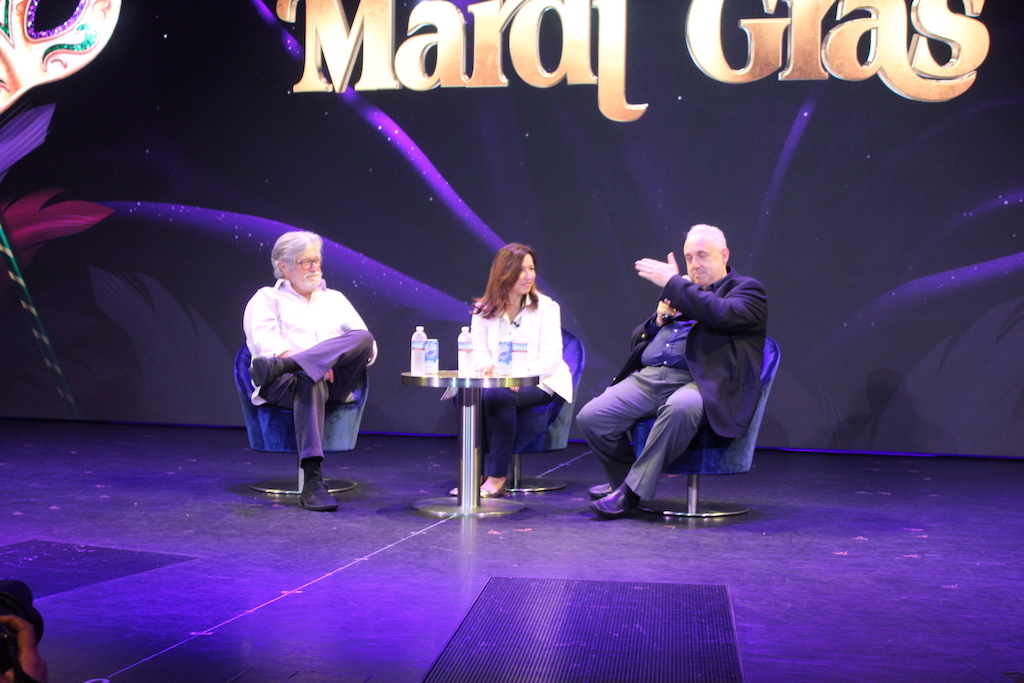 At the moment, though, the ship is limited to vaccinated guests and crew—half tested every week– except for those who are exempt—like kids too young to be vaccinated. They are required to be tested within three days of the cruise, again at the port and then again before leaving. That's why even those with unvaccinated kids on board believe it is safe to cruise.
"Being on a cruise is safer than going to the grocery store," said Kristina Woolum, cruising with her husband and daughter Kensley, 5. Kensley, her mom said, will get vaccinated as soon as she can. "
Christine Duffy agrees. With all of the protocols Carnival has put in place, including a public health officer, additional staff and lab facilities for testing and isolation rooms, "being on a cruise vacation is the very safest vacation you can take," she said.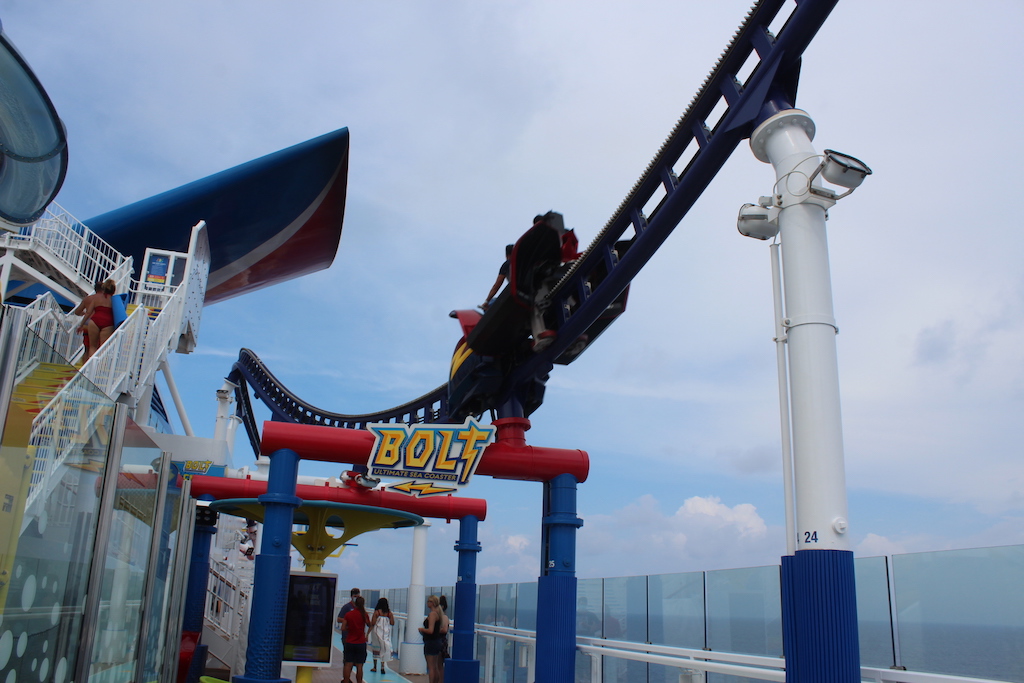 "You can enjoy yourself without worrying, "agreed Micky Arison, the Chairman of Carnival Corporation who is also on board this week and speaking to a large group of enthusiastic cruisers. Arison added that the company has gone far and above what the Centers for Disease Control has required of the cruise industry.
When Camp Ocean is open, kids two and older not yet potty trained can join the supervised program, giving parents a break. There are supervised activities on port days in case parents and grandparents want to enjoy an "adult" excursion and kids' dinners if parents want to head to a specialty restaurant like the new Rudi's Seagrill or favorite Fahrenheit 555 Steakhouse.
Even without Camp Ocean, though, there's plenty for kids—Carnival WaterWorks, the largest in the fleet complete with twin racing slides and a splash pad for younger kids, twin water slides, pools and hot tubs, mini golf, basketball and a ropes course 18 decks above the ocean in SportsSquare.
There's ice cream 24/7, plenty of burgers and fries at Guy's Burger Joint, chicken tenders at Shaquille O'Neal's new Big Chicken, build-your-own tacos at Blueiguana Cantina, and a choice of Mexican or Chinese dishes at the new Chibang! Restaurant on board, among other choices.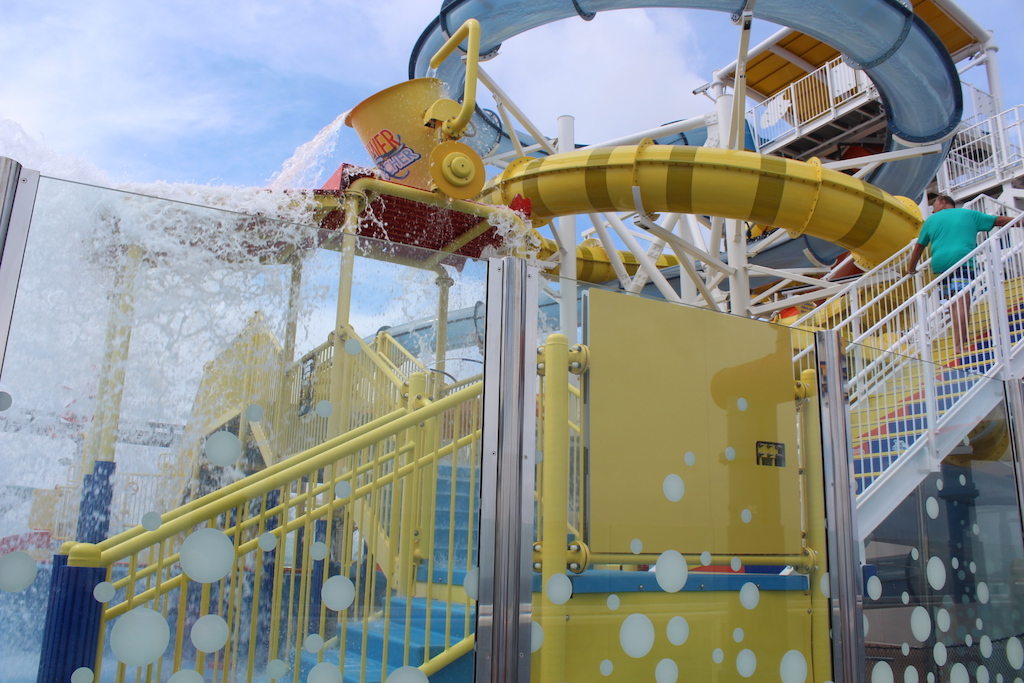 Let's not forget Bolt: The Ultimate Sea Coaster, the first roller coaster at sea. "An amazing feat of engineering," said Duffy, explaining that Carnival "wanted to take the fun up a notch for kids and families," and no one in the industry had yet attempted a coaster at sea. (You must be 52 inches to ride; At the moment, it costs $15)
There are shows every night—including aerialists debuting this week in the Center Stage, a three-story atrium space complete with huge 23-foot high-resolution LED monitors. There's also Family Feud, Dive-In Movies, all sorts of Trivia, Build-A-Bear Workshop at Sea ($28+) and even PG comedy early in the evening.
A special Family Harbor section of cabins on Deck 4 are designed for families with beds that pull down from the ceiling and fold-out couches as well as a lounge where families can grab breakfast, a sandwich, snacks and a mom can heat baby food or a bottle. There's even a place where kids can play video games.
Even those traveling without kids are fans, like retired teacher Marion Anson and retired nurse Hazel Gantz, from Texas. "It isn't as busy as around the pool," explained Anson-Prchal, adding that the two are sailing on four back-to-back cruises aboard Mardi Gras. "The price is very reasonable," said Anson-Prichal, who already has more than 30 cruises booked in the coming year.
"It takes you that long to know the ship," added Gantz, who has been on more than 120 Carnival Cruises.
"You can't take it in in one seven day cruise," agreed Duffy. "You just have to come back."
Noah Taylor certainly wants to—when Camp Ocean reopens.