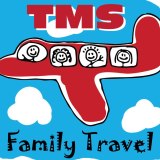 News release: Family Travel Influencers at 5th TMS Family Travel Conference prove to be case study in travel industry content paradigm shift to social media
KANSAS CITY, MO – Family travel influencers gathered in Kansas City for the fifth TMS Family Travel Conference (held Oct. 16-18) proved to be a case study for what speakers were emphasizing-the emergence of social media engagement as key to successful travel marketing.
The 70 conferees engaged with nearly 600 off-site family travelers to share Kansas City's many family-friendly attractions, generating tens of millions of social media impressions by using the #TMSKC tag over the three-day event.
"We couldn't be more thrilled with the record social impressions realized at the TMS Family Travel conference, and we are tremendously proud that our destination and organization could play a role in that success," said Ronnie Burt, President & CEO of Visit KC. "The TMS Family Travel Conference was an important group for us to attract and host."
The professional development conference was organized by Travel Media Showcase and Family Travel Consulting and hosted by Visit KC. TMS Family Travel also produces an annual summit, scheduled for April, 2016 in Sandestin, Fla; the 2016 Fall Conference is scheduled for November in Amelia Island, Fla.
Major travel brands including Disney, Southwest Airlines and trivago, destinations ranging from Costa Rica to Cabarrus County, NC and hotel groups including Great Wolf Lodge sponsored workshops about producing quality content and how media can work directly with brands to make their messages resonate in the family travel space. That space now includes all varieties of families–millennials without kids traveling with their families, single parent and LGBT families and multigenerational families.
Speakers included Catharine Hamm, travel editor of the Los Angeles Times and incoming president of SATW, and Kevin Smith, Deputy Director of the Ohio State University Kiplinger Program in Public Affairs Journalism.
"Ultimately this conference allows our team to share our knowledge and best practices while gaining valuable insight into the ever evolving world of travel media," said Linda Rutherford, Southwest Airline's Vice President of Communication & Outreach.
"High-quality, engaging content that people spend time consuming is the biggest key to SEO success," said Veronica Stoddart, the long-time travel editor at USA Today who now works with brands at VS Content Strategies. She added that content marketing is entirely different than traditional advertorials, with brands dedicating large teams to creating authentic content. GE and IBM are publishing more content each week than Time magazine did in its prime, Stoddart said.
"It must be authentic, inspirational, experiential, relatable, targeted and relevant, with curated images and video," said Jeffrey Eslinger, Sr. Director Account Services at D.K.Shifflet, who advises destinations on the importance of new-style branded content.
The topic of travel now has tremendous power on social media, said Steve Cohen, VP, Research & Insights, MMGY Global, noting that one in three travelers use social content for travel inspiration and planning; 73 per cent post to social networks at least once a day while traveling, and 75 per cent use social media to continue sharing their adventure after the trip.
"We learned that 90 per cent of consumers find sponsored content to be useful, and since #TMSKC was focused on creating better and more engaging blogs, images, videos and social media to enhance all family travelers' experience, it's a win-win for everyone," said Joanne Vero, of Travel Media Showcase, the conference producer.
###
About Travel Media Showcase
For its 17th year, Travel Media Showcase will bring together leading print and broadcast travel media with tourism representatives from around the world to showcase new regions for media to cover, and connect destinations with qualified leads, in Grapevine, Texas, August 2016.. Both Travel Media Showcase and the TMS Family Travel brands are a division of J. Vero & Associates, a conference production and management firm based in New Jersey.
About Family Travel Consulting
Family Travel Consulting is the collaboration of Eileen Ogintz of Taking the Kids, the nationally syndicated travel column with millions of readers; and Kyle McCarthy of Family Travel Forum, the vacation planning resource that's The Wall Street Journal's "Best for Grandparents" and a Forbes "Favorite." FTC provides strategy, marketing, digital and social know-how to travel and family products, and hosts the TMS Family Travel Conferences and Summits for media reaching the family vacation audience.