By Eileen Ogintz
GLACIER NATIONAL PARK, MONTANA (June 28, 2020) — Becky Dunavant went up the trail shaking a big bag of M&Ms at her three boys.
"I have to bribe them," she joked.
I totally understood. I never went hiking with my kids without some M&Ms in my backpack either. They were just what we needed when one child faltered, another pushed his sister in to an icy glacial lake or a third insisted her "legs were broke!" after too long on her dad's backpack, falling down and getting a "big owie" when she got out.
Yes, that happened at Glacier National Park more than 25 years ago, near where we are in fact hiking today. We had hoped to revisit that hike to Grinnell Glacier and Iceberg Lake and others we had done then, but so far this summer, the east side of the park remains closed due to heavy winter snows—we could only go as far as Avalanche, where we went hiking to Avalanche Lake, about a two miles each way with a gradual gain of about 500 feet in elevation.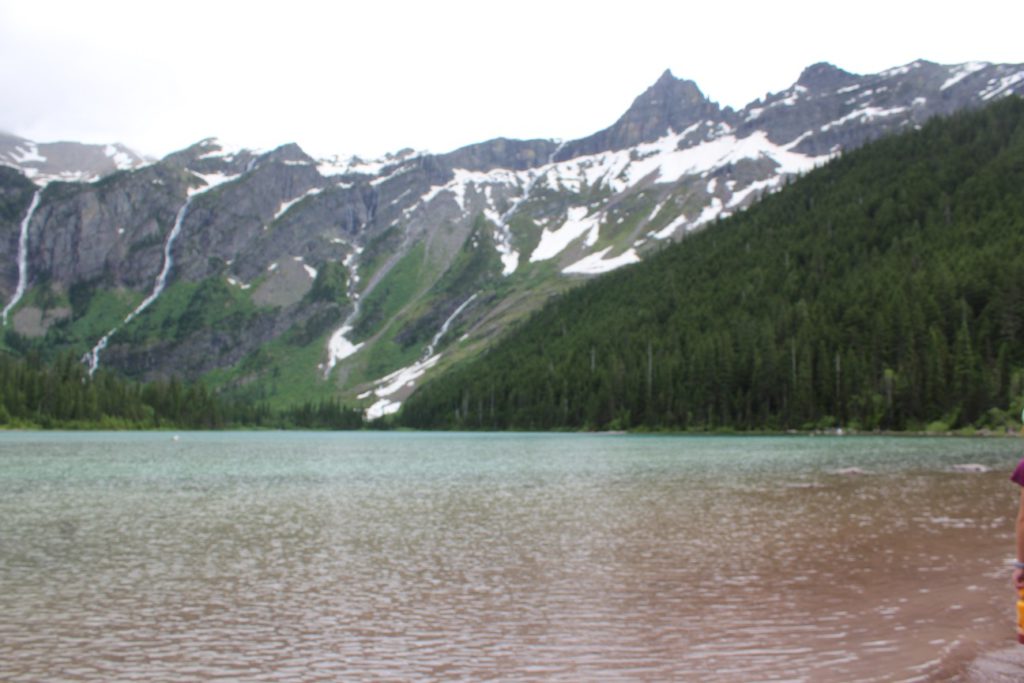 We see kids hunting "the biggest" sticks they can find, grandparents taking it slow, older kids racing each other up the trail and other parents with toddlers and babies in backpacks—one dad with a child nestled in his front and another on his back.
The hike is worth it to a beautiful lake where we see waterfalls coming down from the mountains; on the way up, we see whitewater foaming in Avalanche Creek. "It doesn't look real," one young hiker declared.
It had taken us two tries to get there—not because the hike was too difficult or bad weather but because there was no place to park. With half of Glacier National Park still closed, visitors were all in the western part of the park and officials had closed access because there was no more parking and they wanted to mitigate crowds this Pandemic summer. Our second day, a Sunday, we thought locals would be leaving after the weekend and decided in the afternoon to try again—and this time, we were lucky.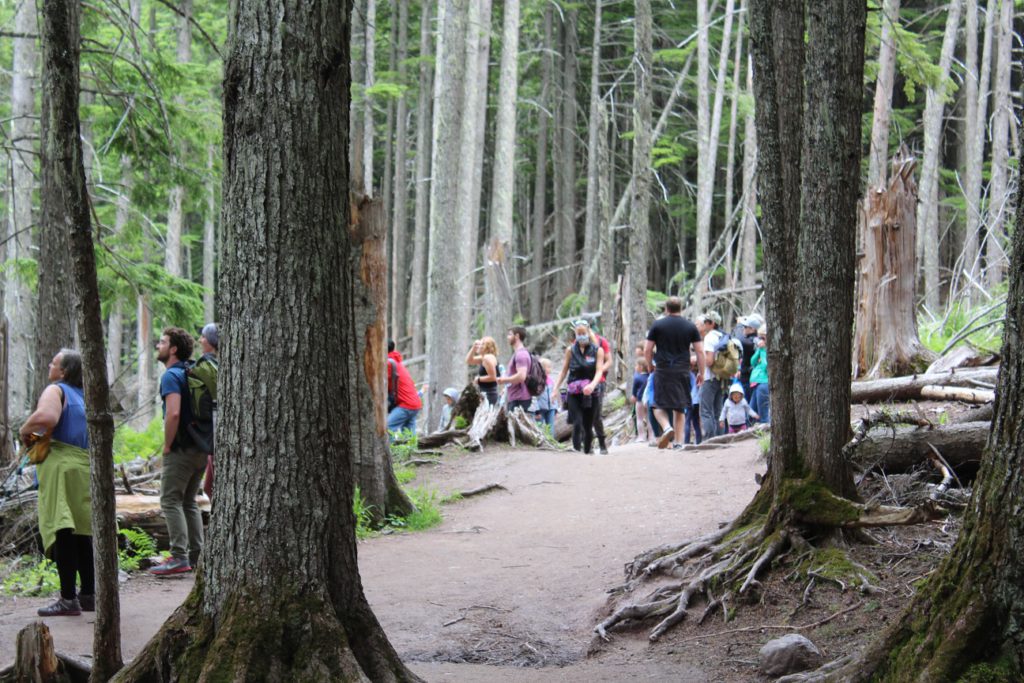 There were cars in the parking lot from across the country—Florida, Ohio, Utah, California and Idaho, Minnesota, and Illinois, among them, giving Montanans pause because they fear a spike in COVID cases with so many out of state visitors.
We caught up with Becky Dunavant, her husband Chad and sons Nate, 12; Ben, 8, and Peter, 5, as the boys were splashing in the cold water of the lake.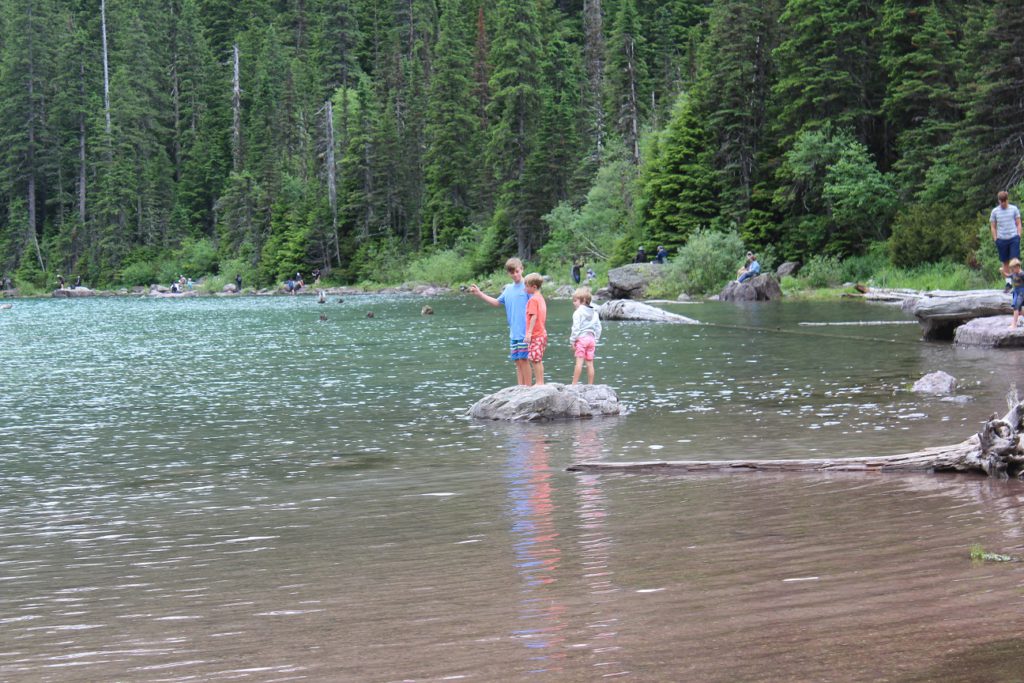 The family, from Denver, were in the midst of a nine-week RV trip—their first ever—across the country. She explained that like others, with her kids' summer programs shuttered and the ability to work remotely, she and her husband decided on this trip in part to visit family in Seattle, Ohio and New England and in part, to show the boys some famous sites like Glacier National Park and Niagara Falls.
It has been a challenge, she acknowledged, from the first night when after doing dishes, there was a flood of water, to simply driving the 30-foot-long RV and keeping the kids entertained on the road. "I spend 75 percent of the time fine and 25 per cent of the time yelling at everyone," she said.
And with so many people out RVing, getting reservations at a campground can also be a challenge. She gave the KOA West Glacier high marks and said it had been a good decision to rent a car to explore Glacier National Park rather than try to maneuver the big vehicle "like driving a truck" on the park's narrow and often crowded roads, especially when parking was so limited.
"I hope when the boys are older, they will look back and think this was a lot of fun."