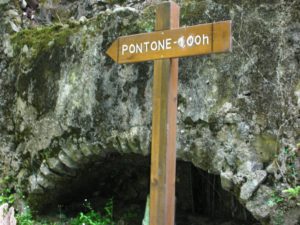 DAY NINE — Are we lost? Jon Knoblock and I were so busy talking and taking pictures that the rest of the group is way ahead of us on the hike to the tiny town of Pontone and then on to the famous town of Ravello for lunch. This is a steep hike — more than three miles straight uphill just to Pantone — up more stone steps than I want to count.
The views are spectacular, though — the sea, the boats, the pastel-colored houses looking like layers on a cake marching up the hills, the gardens with olives, lemons, vegetables and of course grapes, some vines growing in trellises above the vegetable to save space.
But are we lost? Every morning, our leaders Nate Rayman and Arielle Moreau (did I mention they are a couple who met at their training to become guides two years ago?) hand out sheets of excellent directions. We're also encouraged to take our pick of trail snacks (M&Ms, granola, peanuts, fruit, cereal bars… and to fill our water bottles. And in case we're not meeting for lunch, we're given restaurant and café suggestions. We also have a card with the leaders' cell phone numbers and the phone number of the hotel.
But we were too busy talking and taking pictures to have paid attention to the directions. Should we have turned where we saw the man carrying firewood on his two donkeys? We don't know.
We decide to press on — uphill of course — and are rewarded soon with the waterfall — yes! it's on our directions! — and Arielle Moreau, one of our leaders.
She tells us we can jump in the waterfall. Though sorely tempted (we are hot and sweaty), I decide to keep going to catch up with my daughter Reggie before lunch in Ravello. Jon waits for us to leave, sheds his clothes and jumps in. "The best part of the day," he reports later, adding that other tourists and hikers stop to take pictures, probably thinking he was a local, we joke. He's only sorry he didn't get a shot for his own digital scrapbook.
At Pontone, the rest of the group is about to head out for the uphill climb (is there any other kind of hike here?) to Ravello. I decide to rest my sore knee and take the van up along with Andrew Davies — just a 15 minute drive. That's the nice thing about Backroads — there is always a plan B (and a plan C). And no one looks askance if you opt to ride rather than walk.
We sit in the postcard-perfect plaza under umbrellas at Il Panino, order a drink and sit back and wait for the rest of the hikers to arrive. It's the perfect summer day to be sitting in an Italian town square sipping local wine, eating a Panini, watching the tourists and the locals, we decide. Thank goodness it's not crowded either. And after that uphill hike, no one feels guilty about having gelato for desert! We all agree the hike was challenging and the stops for picture taking were as much about catching our breath as about photos of the heart-stopping views.
"This hike was cool, past all of the ancient ruins, "Beth McCormick said, acknowledging that she's having a better time than she anticipated.
Emily Douglas added she thinks hiking trips work for families because they provide a structure to the day. It's also nice to have other people around their age, the 20-somethings agree.
Unfortunately, I spilled Reggie's Coke…she was embarrassed at her clutzy mom, I think. But all is well after she buys a pretty coral necklace (offering to pay in cash helped lower the price.)
We walk around the tiny town — lamenting the weak dollar that makes the wonderful local ceramics so expensive. We tour a spectacular garden at the Villa Rufolo, and nearly all of us opt to take a taxi back to Amalfi to our hotel.
There's more time to explore Amalfi, once the center of all the paper industry in all of Europe, we learned earlier today at the Paper Mill Museum here. (www.museodellacarta.it)
We head back to the Hotel Aurora for a swim (did I mention there's a beach here — rocky but it's the chance to swim in the Mediterranean!) Couldn't be a better way to end a long day hiking!
Of course we hike to dinner too — about 20 minutes from the hotel to a terrace in the village of Atrini, overlooking the Mediterranean and between two mountains, where Michelangelo Criscuolo, who lives here, is waiting to tell us a little history and a lot about the food — the fresh fish, the fresh cheeses (the one called horse cheese, he reassures us, is made from cow's milk)
He tells us Pasta Puttanesca was so named — pasta of the prostitutes — because they would serve it to their customers, adding capers, olives and hot chili peppers. We see lots of strings of peppers here. "We call it natural Viagra," he jokes.
We're served squid, marinated anchovies, grilled eggplant and Sfogliata for desert — a tasty cake that was invented by the nuns to serve a bishop who came for an unexpected visit. I'd love to get the recipe.
We drink what seems like gallons of local red and white wine.
What makes this trip so special — besides the hiking ( would never find these trails on our own) and the quaint three-star hotels (we'd have trouble finding on our own) are the extras like meeting Michelangelo or our guide in Capri, locals who know the region and are delighted to share it with interested foreigners.
I'm hooked- this is a great way to travel.