By Eileen Ogintz
Tribune Content Agency
Hang on tight! It's going to be a big fun ride!
Especially on this roller coaster, one created mostly by nature, which comparatively few people ever experience.
On a seven-day Western River Expedition on the Colorado River in the Grand Canyon, we navigate more than 60 rapids, at least one (Crystal) rated 10 out of 10) and another (Hermit) with 10 "haystack" waves one right after another.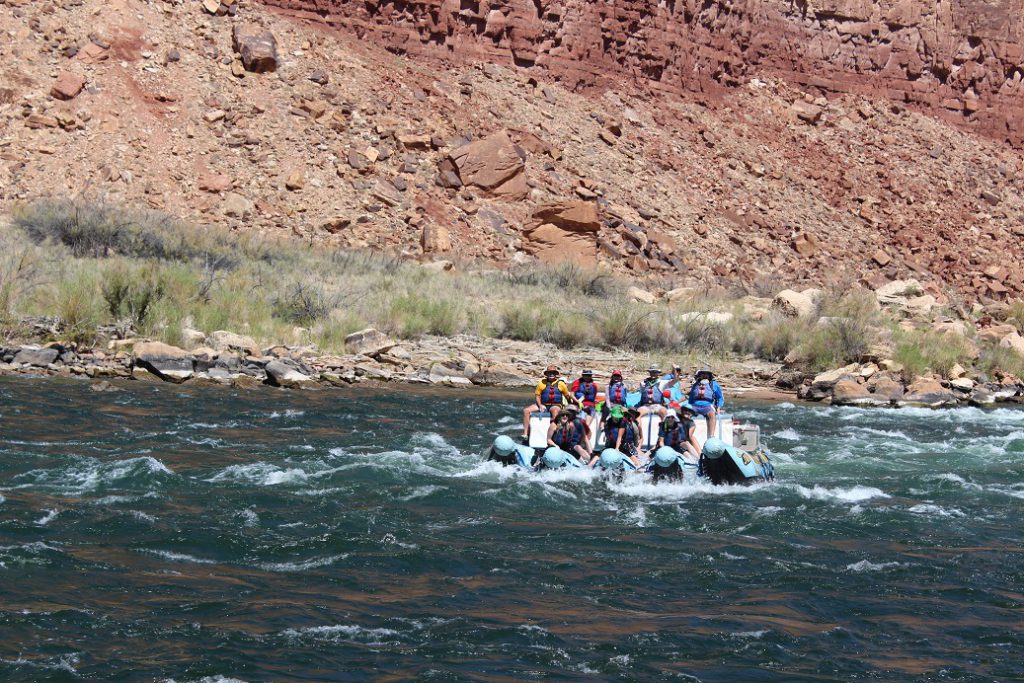 "It was the best," said Emily Cleary, 18, who was celebrating her high school graduation with her parents on our trip. "I got really hammered by Hermit!"
"I have friends who have been all over the world but not to the Grand Canyon or other national park, this should be a must," said Tom Coonan, here from Chicago with his wife Kris Anderson after their trip to Ireland was canceled. (Check out our video.)
Besides all those rapids, there were challenging hikes scrambling over rocks and through creek beds to hidden waterfalls and ancient Anasazi granaries. We were treated to the best wilderness cooking — blueberry pancakes and crisp bacon for breakfast; grilled trout and asparagus for dinner, even a Dutch-oven chocolate cake for my birthday.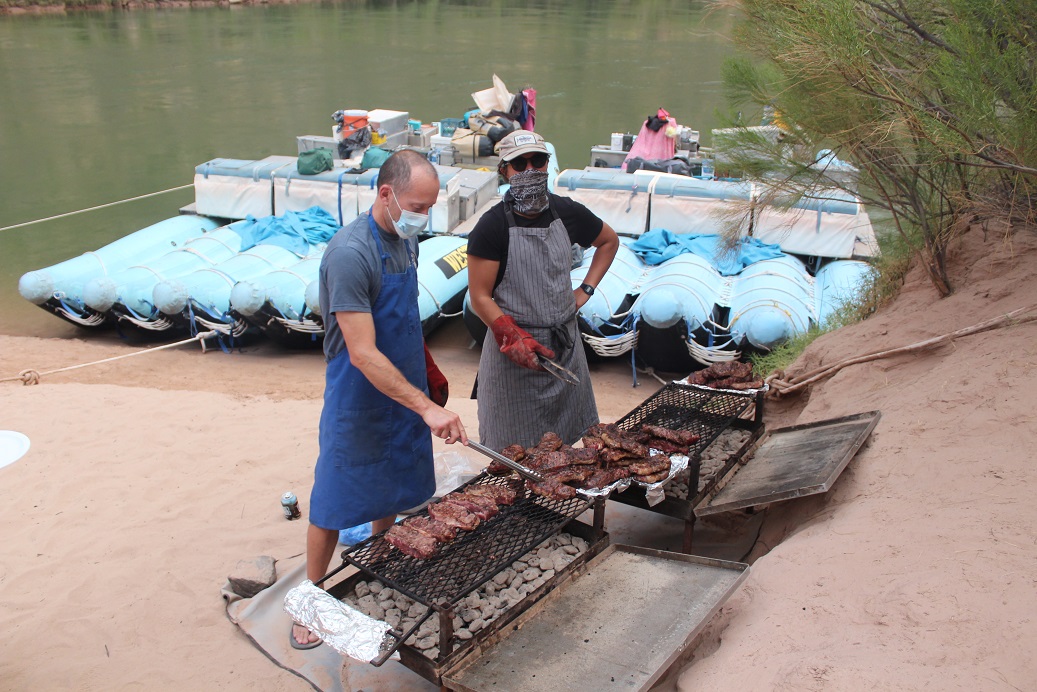 With cruises and many trips canceled, national parks have been jammed, but not on the Colorado River deep in the Grand Canyon.
Only 18,000 people a year — fewer this year — get to see the Grand Canyon from the river — not only the rapids but the incredible side canyons and waterfalls, as compared to 6 million on the rim. Another 4,000 or so raft and kayak on private trips, according to John Dillon, executive director of the Grand Canyon River Outfitters Association. Raft trips from April to October are strictly regulated by the National Park Service. He added that outfitters lost $20 million in gross sales and thousands were forced to postpone or cancel trips they had been planning for a year or more.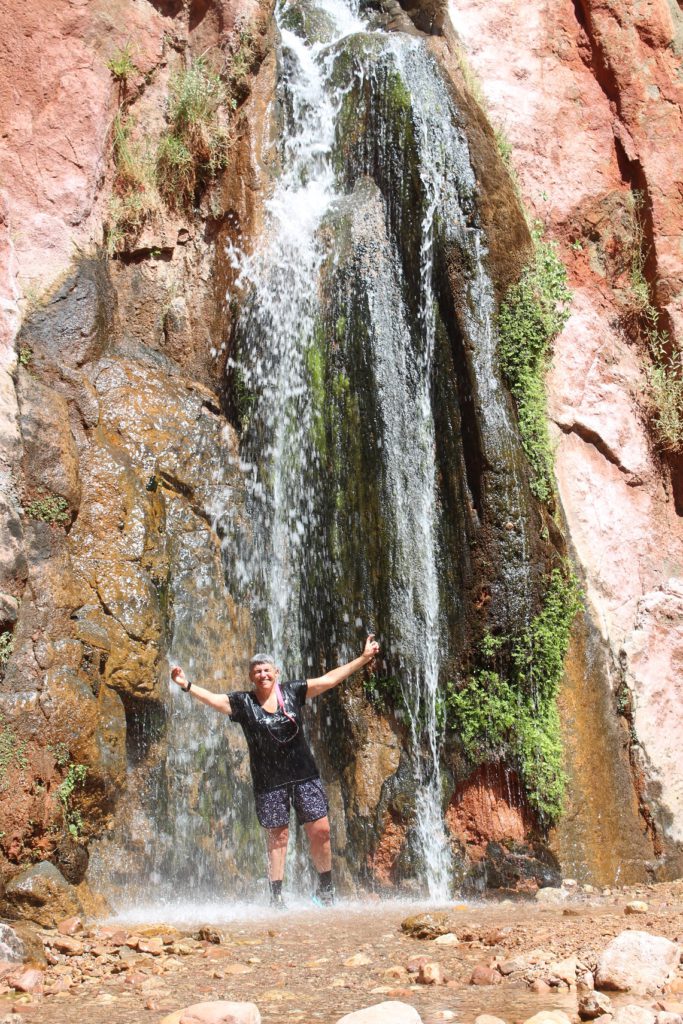 Two-thirds of our group met in Marble Canyon, Arizona, where we left our cars. The rest flew in a chartered plane from Las Vegas. At the end of the trip, we helicoptered up from the river and took flights back to where we began.
We were all glad to be here on a bucket list trip that was safe this pandemic year and exactly what so many Americans are craving — the chance to get outdoors safely to escape the news for a week, since there is no Wi-Fi.
"With no distractions," observed Kris Anderson, who is from Chicago. "You really have the ability to be present, to take in the beauty, the geology, the history … the stars at night."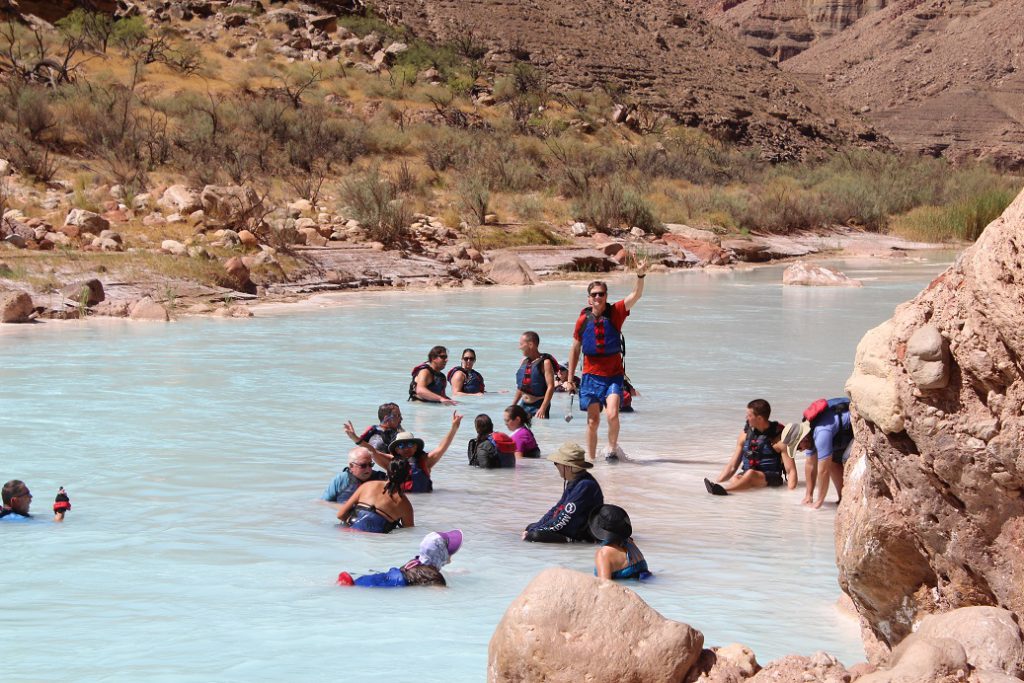 "The best part is seeing people disconnect," said our expedition leader, Ben Bressler, who has been a river guide with Western Expeditions since he was in college, for more than two decades. "Politics and COVID are overwhelming people," observed Bressler. He reminded us the first day that we are bringing 36 different perspectives with us. "There is no need to get political," he urged. "Be patient, kind and respect one another."
Some, like the Evans family — parents and three grown kids — had booked a year ago to celebrate Dave Evans' retirement from Delta Airlines. "We have to plan far ahead to get time off together," explained Jessica Evans, 29, a pilot, like her brother and sister.
More in the group — including us — took advantage of last-minute availability when those who were booked had their trips canceled by the pandemic, rebooking for next year. Nearly a third of the group had rafted the Canyon before — some several times. "It is different every time," said Larry England, from Watsonville, California. Some, including England, camp without their partners.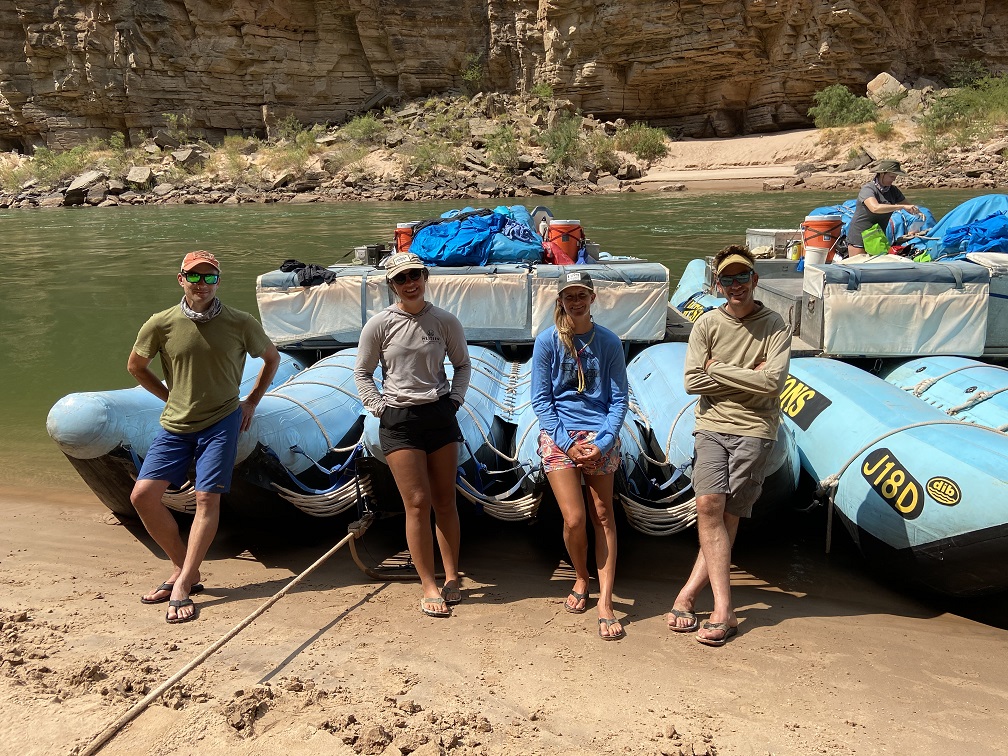 That's unusual too as for many, this trip is not only a first time rafting trip but a first time camping trip, said Brian Merrill, president of the family-owned Western River Expeditions ( Read my interview with Merrill and the daily travel diaries from our time on the river.)
Thankfully, there haven't been any COVID cases on Grand Canyon River trips and on our trip, the 32 rafters didn't mind the mitigations — extra hand washing, mask-wearing through the food lines. It seemed a small price to pay for enjoying a bucket list trip at a relatively affordable cost (a little over $3K, plus well-deserved tips for our hardworking guides.)
I last rafted the Grand Canyon 40 years ago on a trip where we paddled, following the guide's shouted directions. We hiked into the canyon — as many rafters still do. Others hike out. This trip, on patented motorized rigs, enabled us to see the entire Grand Canyon, rather than half and without the arduous hike.
Be forewarned that most of 2021 is already booked, though there is availability for shorter trips, which welcome kids as young as nine. On week-long trips, kids must be at least 12.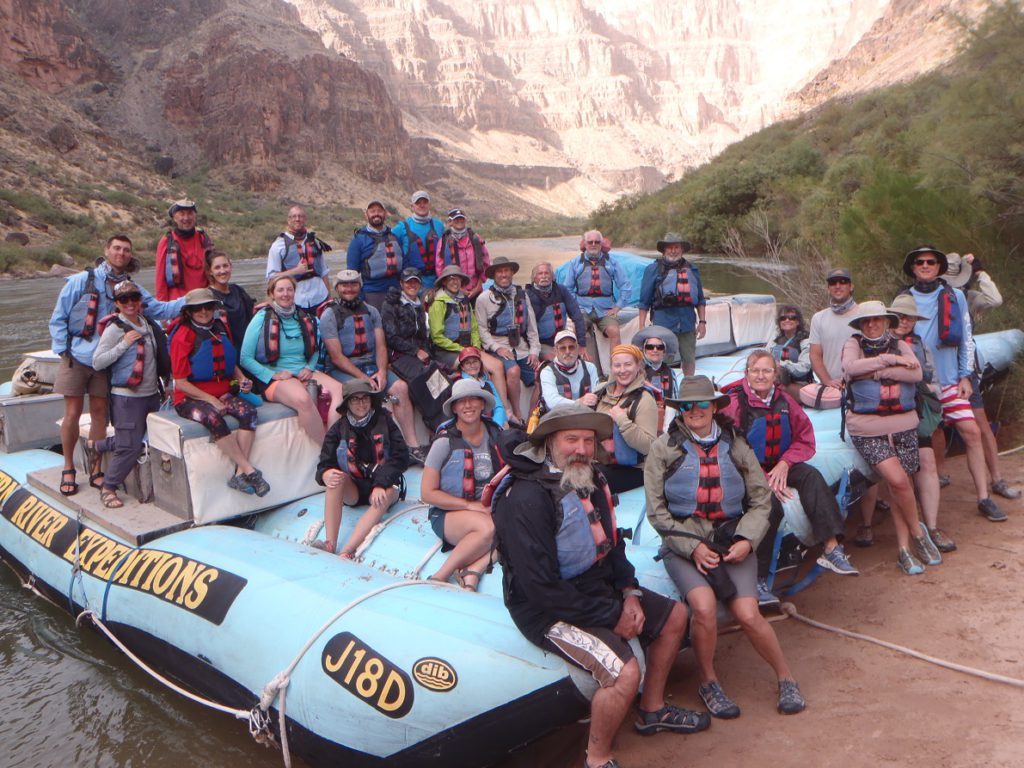 We were a disparate group from across the country — Washington, D.C., to Ohio, Texas to Las Vegas, Pennsylvania, California and Colorado. We ranged in age from 18-year-old Emily Cleary to J.J. Johnston, 75, a retired restaurateur from Napa, singles and couples in their thirties; a brother-sister duo in their forties, others older, some traveling without their partners. We included five pilots. h two doctors, nurses, postal employees, others working for government agencies, for nonprofits and the tech industry.
All of us were ready to do without creature comforts for a week for this unique experience. "There is so much magic … places that you can't experience, unless you go down the river," said guide Stephanie Devisser, who drove the second raft and is an eight-year veteran.
"I wish I could stay a month," said Dr. Harold Pine, an ENT surgeon from Houston on his fifth trip. We get up with the sun and go to sleep after dark outdoors in cots (too warm for tents; too many stars to see! We bathe and pee in the 50-degree river water and use an outdoor toilet strategically placed not only for privacy, but views. There is little privacy where we camp on the riverfront.
"I've lost all my inhibitions being here," joked Donise Walker, here with her husband and old friends from Texas.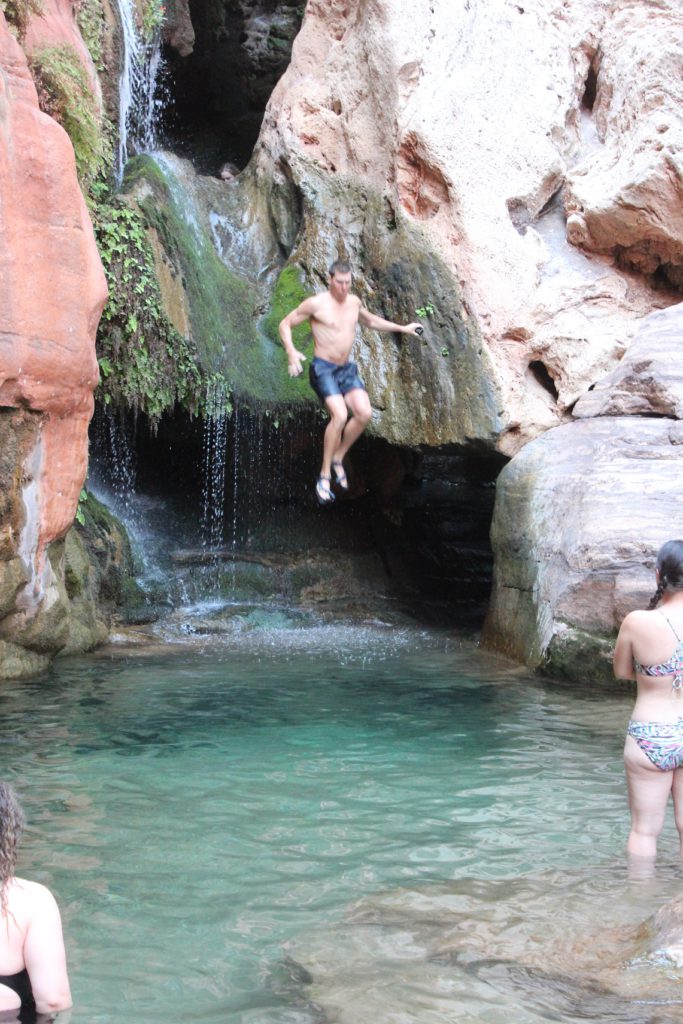 Bressler and the other three guides take good care of us, from the extensive safety briefings before we started to teaching us geology — pointing out the nine different layers of rock in the canyon, one dating back 1.8 billion years — guiding us on tricky hikes, regaling us with tales of earlier expeditions, including the first and most famous, the 1869 expedition by John Wesley Powell to "the Great Unknown" – the last unexplored area of the United States. On the last night of the trip, they donned ties with their shorts and served us shrimp cocktail, steaks and mashed potatoes with cheesecake for dessert.
"Some of the guests seem more impressed about what we cook in the outdoors than how we navigate the rapids," which is no easy task said Devisser, adding that at 31 she has no plan to leave soon. "Once you get your foot in the Grand Canyon, it is hard to leave."
And as is often the case, when strangers find themselves together, we seem freer to talk about subjects we might not with family or friends — disappointments and divorces; having children, or not; what's ahead after retirement — and the pandemic.
"I didn't have a picture of how friendly and helpful people would be," said Dr. Dayton Young, an ENT surgeon from Houston. My husband lent him his spare sandals when both of Dr. Young's pairs fell apart. "You don't expect that when everyone is so polarized in this country."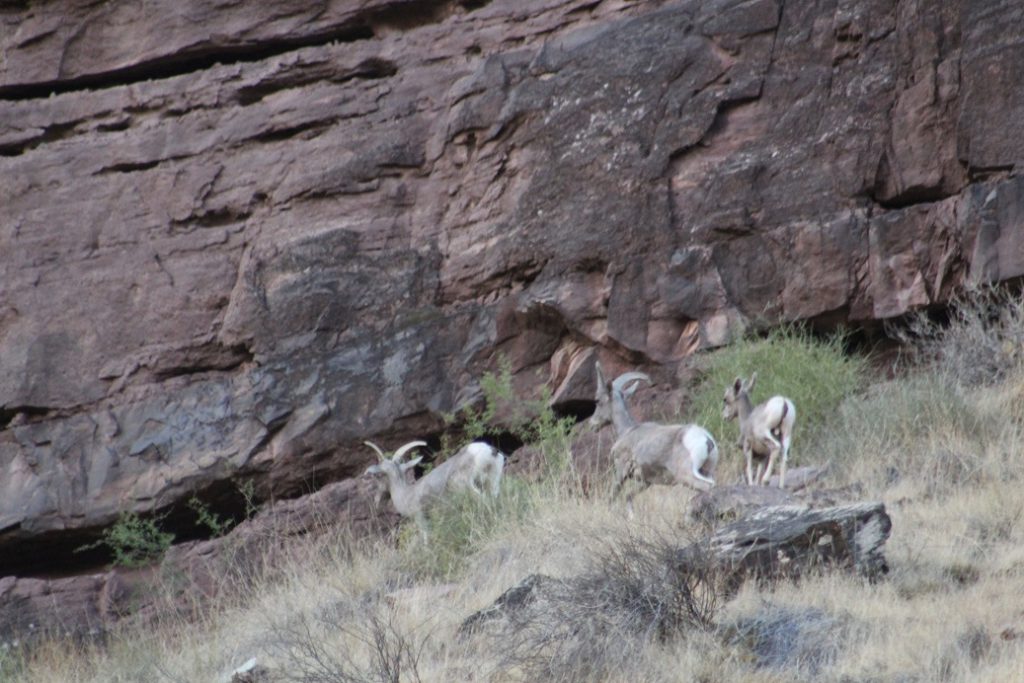 We even managed a sandstorm with aplomb the last morning with winds that sent chairs and sleeping bags flying, ultimately delaying our departure for several hours until the helicopter pilots believed it would be safe to fly.
Emily Cleary thought her mom was "crazy," when she suggested this trip and her friends thought she was crazy for going, but it didn't take her long to appreciate being here. "Definitely go, if you can," she said, her feet in the water below a waterfall. "It's all awesome."
© 2020 EILEEN OGINTZ