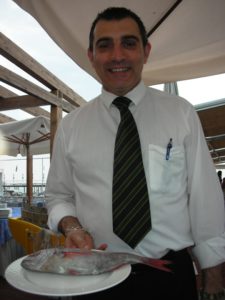 DAY FOUR — Though we've only been "living" on Via Del Gambero for a couple of days, the owner of the café on the corner welcomes us like old friends when we stop in for cappuccino and pain de chocolate before heading for the train station. So does the woman across the street at the frutteria (a perfect peach and cup of kiwi this morning). I feel like I'm just getting to know the neighborhood — so many more restaurants, wine bars and food shops to try! — and it's time to leave!
We're leaving Rome for Sorrento along the Amalfi Coast — a less than two-hour ride on a high speed train. (I'm glad we booked ahead with www.raileurope.com which enables you to avoid ticket lines and pay in U.S. dollars). Reggie thinks I'm ridiculous because I insist we get to the train station more than an hour ahead of our train to Naples.
The only bad part of our journey: an uncomfortable hour-long ride on a packed train from Naples to Sorrento — 34 stops, most of which we spent standing. I see why it's important to pack light when traveling by train in Europe. The train to Sorrento is local and cheap — just a few Euros for the two of us — and reminded me of the NYC subway during rush hour, though it was early afternoon.
Now we've checked into the Hilton Sorrento Palace (http://www1.hilton.com/en_US/hi/hotel/RROHIHI-Hilton-Sorrento-Palace/index.do), with spectacular views to the sea and Mt. Vesuvius and swimming pools kids won't want to get out of. (Ask about summer packages for families.) It's hard to drag ourselves away.Sorrento is a good base to tour the Amalfi Coast and of course Pompeii (a short train ride away) as well as the less-famous ruins of Herculaneum.
A tip: we're staying on the concierge level which means we get complimentary breakfast, snacks and drinks. It costs more (except if you have a lot of Hilton points) but can be worth it when traveling with a couple of kids. You'll save on hotel breakfasts and afternoon snacks. You could even have lunch here and there's another pool with more fabulous views.
I don't know what to do first-relax at the pool, eat a gelato, take a walk in the historic center of Sorrento. It's a tough decision.
The taxi driver suggests one restaurant and the hotel concierge another. We opt for the hotel suggestion this night because they offer us a free shuttle. I assume the hotel gets something for recommending them but I don't care. The Ristorante Zi' Antonio is in the fishing village area of Sorrento, the Marina Grande, which couldn't be more charming with small boats and kids tossing around a soccer ball. We eat on a terrace overlooking the water. It's everything a restaurant in this part of Italy should be — luscious antipasto of fresh shrimp, octopus and squid, adorable young waiters, crisp white wine from this region, and excellent fresh white fish — the waiter shows it to us whole before it is cooked. Would we prefer with tomatoes or lemons he asks?
The view is stupendous as well — the sea, fishing boats anchored nearby and the candy-colored houses and apartments going up the hill, yellow, blue and pink. Did I mention the bill was 70 Euros (about $110) — even with the weak dollar — which seems like a bargain for the excellent food and view.
I feel like we're in a movie. I feel very lucky. Sure whenever you travel, there are bumps along the way and plenty of uncomfortable moments (like the standing-room only train with 34 stops from Naples to Sorrento. That's why it's all the more important to luxuriate in moments like this one, sharing dinner at a beautiful place that could only be here in Italy with my daughter, going to sleep in a wonderful hotel overlooking the mountains and the water.