By Eileen Ogintz
WEST YELLOWSTONE, Montana (June 19-20, 2020) — I'm in a tent and it's literally freezing–not even 35 degrees in Montana at the end of June.
But I'm snuggled in a comfy king-sized bed with two pillows, a warm comforter, and a wood stove. Our big tent has a wood floor, shower, bathroom and we've even got bathrobes.
We enjoyed a dinner we didn't cook –Caesar salad, pan fried trout and a steak burger—and there was no clean up.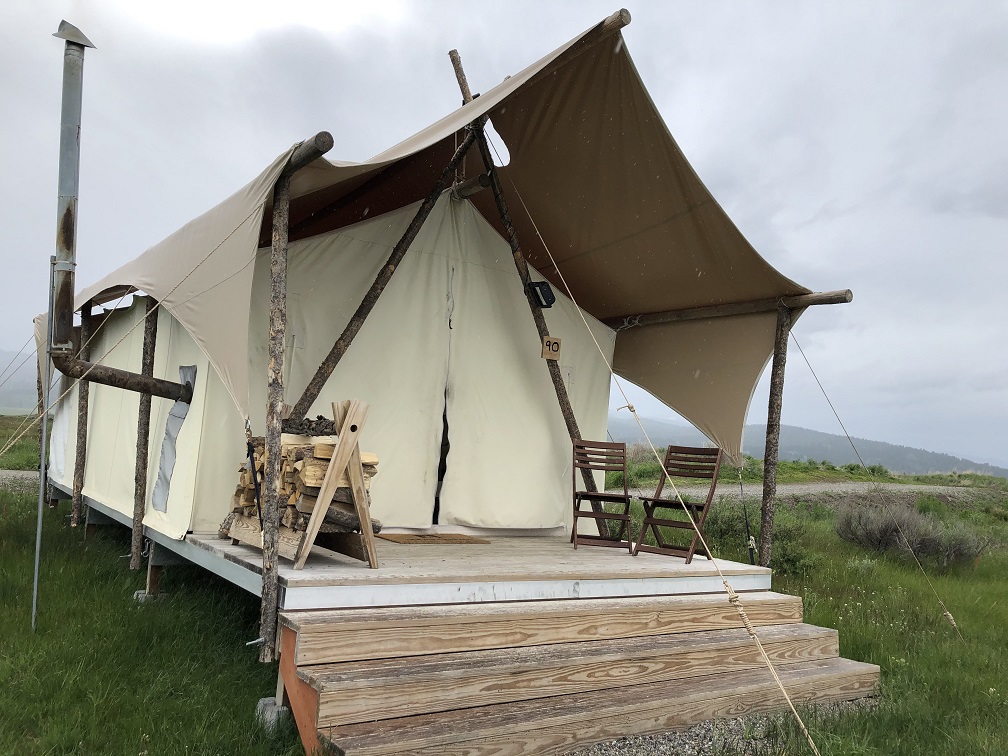 This is camping Under Canvas style, modeled after the traditional safari experience and especially welcome this Pandemic summer when everyone is anxious to enjoy the outdoors but may not want the work of camping, sleeping on the ground or sharing communal bathrooms.
We are in a tent village near West Yellowstone about a 10-minute drive from Yellowstone's west entrance. Under Canvas can arrange activities—horseback riding, a guided tour of the park, fly-fishing as we did this morning with Kerry Almond from Yellowstone Fly Shop and Guide Services on Firehole River.
For more camping ideas, read our column here.
The wind is blowing and it's raining but I don't mind—not like I would in a regular tent. And I'm not worried about having enough ice for the cooler or fixings for dinner either. The restaurant even has a bar.
We have lanterns and even portable chargers for our phones. Whenever possible, the camps use solar power. In fact, in Moab and Zion, camps run on 100 per cent solar power. And thanks to low-flow toilets, faucets that automatically shut off and showers that activate only when guests pull the chain, we are using significantly less water than we would in a hotel. There are water stations to encourage everyone to use refillable containers.
If there was anything, I wish Under Canvas would change is their brown bag breakfasts. I know they can't have their regular hot breakfast buffet because of the changes they've made because of the Pandemic. But I hope as the season continues, they will come up with a more substantial offering than yogurt and a granola bar.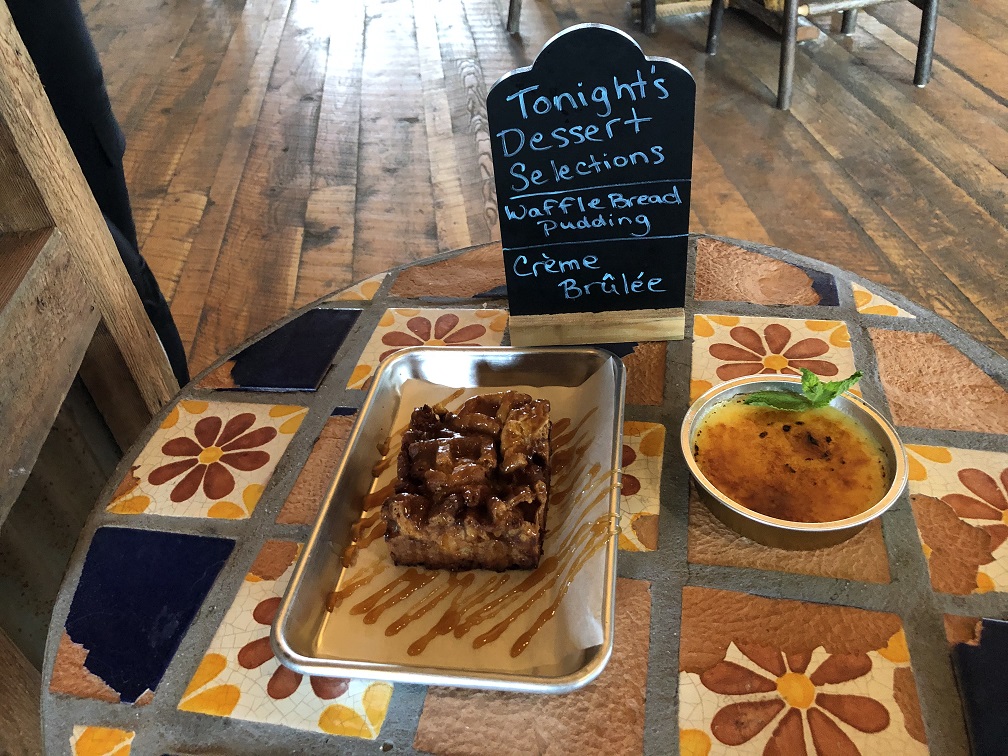 There are seven Under Canvas locations—this one established in Montana was the first in 2009 –now you can "glamp outside Glacier National Park, Zion and Moab in Utah, the Grand Canyon in Arizona, Mount Rushmore in South Dakota and the Great Smoky Mountains in Tennessee.
Company founder Sarah Dusk says they are always "scouting new locations for camps from coast to coast to bring the Under Canvas experience to the continent's most splendid natural settings."
The idea is "unplug" –and plug into your family and the natural beauty around you. To that end, there are tailored experiences—outdoor yoga at Zion, a horseback ride in Yellowstone, s'mores at the fire pit at the Grand Canyon camp as well as suggestions for easy day hikes in each park, the chance to stargaze at night.
And like many hotels, Under Canvas can arrange adventures –river rafting on the Colorado when you are in Moab; a chance to pan for gold in the Black Hills, canyoneering in Zion or rafting the Flathead River in Glacier.
Here at Yellowstone we could even have taken a helicopter tour, challenged ourselves on a ropes course or kayaked. I'm glad we picked fly-fishing.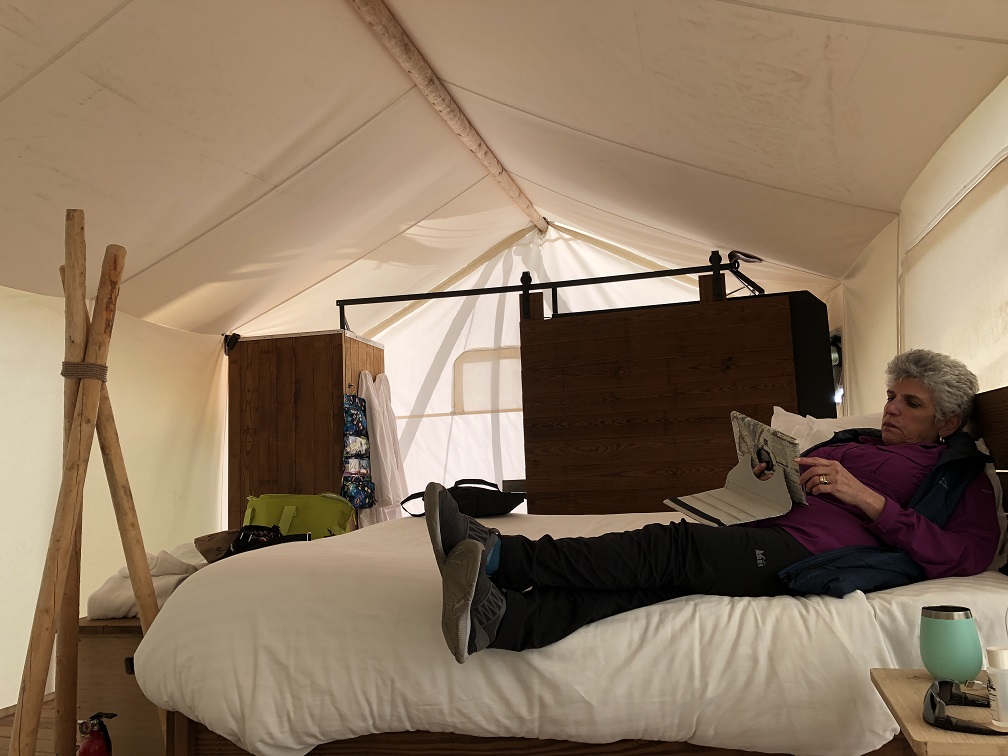 Luxe as this is compared to traditional camping or RVing, it still isn't for everyone. There's no room service and we did have to carry our gear from the car to the tent. I know that seems a small matter—my kids who are experienced back country campers would think that's ridiculous to even mention—but I know some people who wouldn't be happy. There's little Wi-Fi or cell service and of course, no TVs.
And when we woke up, we were freezing—it was barely 40 degrees and the fire of course had gone out in the wood stove overnight. But at least we didn't have to go out in the cold to go to the bathroom—and there was hot coffee waiting for us at the lodge.
Nice!