By Eileen Ogintz
Tribune Content Agency
I don't know which is better — the food, the view, or bragging rights to the Jamaica experience very few have.
We're sitting on the Star San Villa balcony overlooking the famous Blue Lagoon in Port Antonio, Jamaica, being served a veritable feast by award-winning Chef Brian Lumley, head chef at the R Hotel in Kingston, a popular Instagram presence here, who starts us off with cream of pumpkin soup, crab cakes with mango chutney, red wine marinated jerk lamb chops with sweet potato puree and for dessert, jackfruit cheesecake and purple sweet potato pudding with Jamaican rum cream sauce. It's a meal — and a setting — I'll think about for a long time.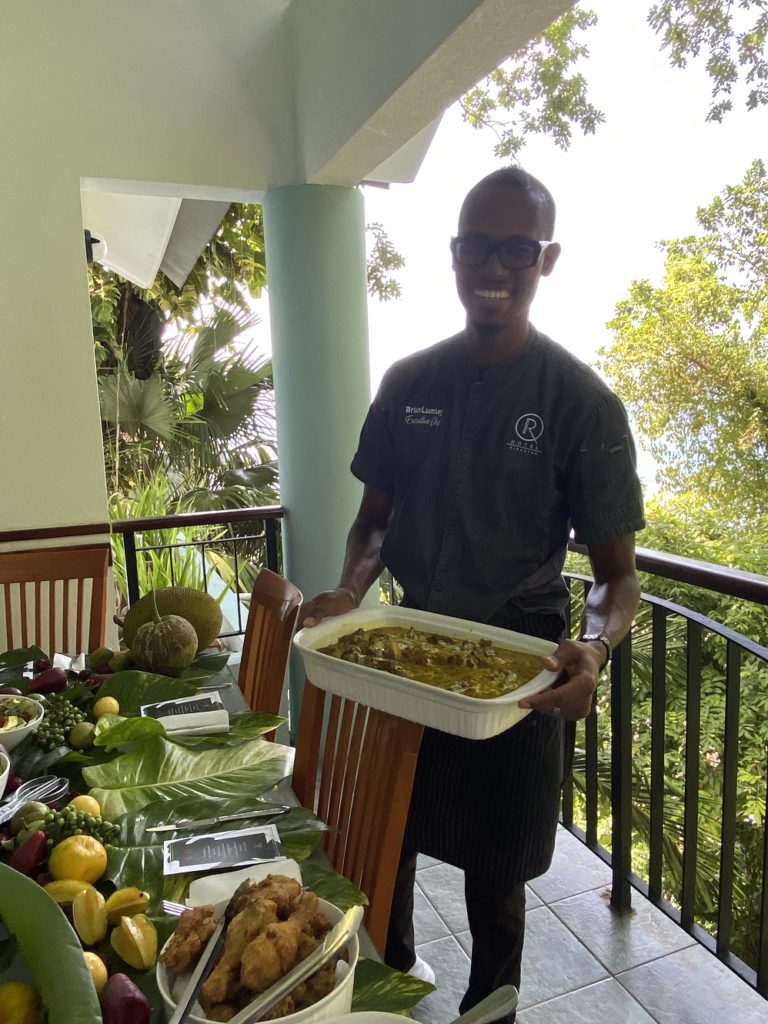 The newly renovated villa, which sleeps 10 (a bargain at $800 a night with cook, housekeeper and security guard-handyman, which you can book on Air B&B), has long been owned by the McDonald family and Bronson McDonald and his fiancé, Nicole Chin Shue, have joined us for our overnight stay, along with another friend. That afternoon, they had led us out on the Blue Lagoon, kayaking past a sea turtle preserve and to a natural spring.
"Port Antonio is super tranquil, for the nature lover, the family who likes to explore — less manicured than a traditional Jamaican experience," said Bronson McDonald, who has been coming here for more than two decades, since he was a young teen, adding that Jamaica's North Coast boasts some of Jamaica's best beaches and adventures — had we more time we could have gone rafting on bamboo rafts on the Rio Grande River, Jamaica's longest.
For lunch, Chef Lumley had given us a lesson in cooking the popular Jamaican coconut curried shrimp and fish and then served it up with other traditional dishes, including rice and peas, brown stew oxtail, and fried chicken, which Jamaicans eat all the time.
But as much as he wants visitors to sample Jamaican cuisine, Chef Lumley said, "There is a lot more than jerk chicken and curried goat." That's why he prepared what he called a contemporary Jamaican dinner.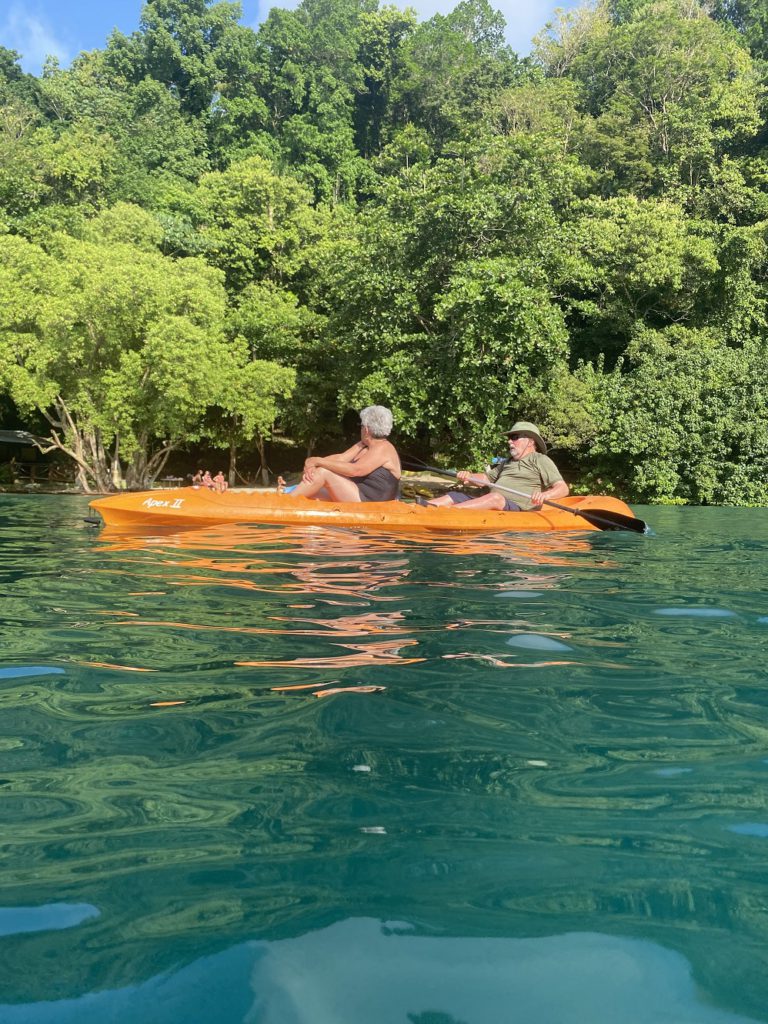 The view was as superb as the food. Picture the rain forest with its lush foliage meeting the ocean, think about listening to the ocean's waves and cicadas and crickets chirping. The conversation was all about Jamaica — from the perspective of the locals. Artist and photographer Richard Nattoo joined our group, which included my husband, Andy Yemma, son, Matt Yemma, and his fiancé, Elodie Kremer. It was the first time we had seen them since before the pandemic.
The experience was courtesy of Aeon Cummings, who is the founder of Otaheti Travel, a new company designed to help tourists find experiences like these. Cummings, raised in Jamaica until he was 13 before moving to the U.S. where he attended college and business school, now lives here with his family. He hopes to encourage visitors — including those with Jamaican heritage — to leave the all-inclusive resorts, as wonderful as they may be. "We want to put the 'all' in 'all-inclusive,'" he said.
"The perception of Jamaica is not a reality," Cummings said. "We want to show visitors the beauty of Jamaican food, culture, music and art."
That means individually curated trips, whether for families, couples, or friends with stays at laid-back inns or villas with knowledgeable guides whether you want to focus on food, learn more about coffee-making in the Blue Mountains, the art scene in Kingston, reggae music, try a new adventure sport while meeting locals along the way.
(If you are traveling to Jamaica, you will need to show an approved Travel Authorization form completed online to board a flight, as well as proof of a negative COVID-19 test taken within three days of travel. You will also need to show proof of another negative COVID test required by the CDC to board a flight back to the U.S. Know that most Jamaicans have not yet been able to get vaccinated so you may want to wait until everyone in your family has been before traveling here.)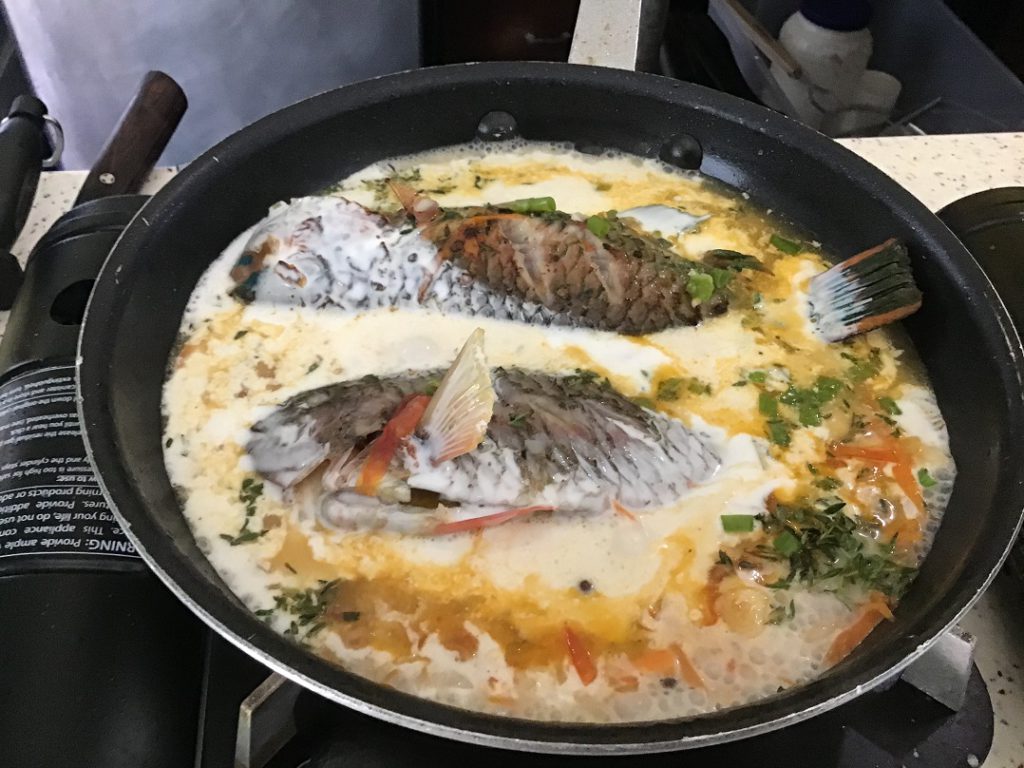 Inclusive Otaheti trips aren't necessarily expensive, ranging from $200 a night. The idea is to create less of a carbon footprint, spend less on room costs and more on experiences.
Cummings believes his company will give back to locals – artists, chefs and musicians to guides and drivers like Delton Rhoden, aka "Dr. Fun," a fount of knowledge as he drove us to Port Antonio and then the three-plus hours to Montego Bay.
As we passed several farms, Dr. Fun explained that Port Antonio, located on the northeast coast of Jamaica, is largely agricultural and less touristed. He pointed out banana trees, towering coconut trees (men climb 60 feet to retrieve them by hand so they won't be damaged), red ackee fruit (famous for the ackee and salt fish breakfast dish), sorrel (used to make a drink, especially for the holidays because of its bright red color) and breadfruit (typically roasted or fried).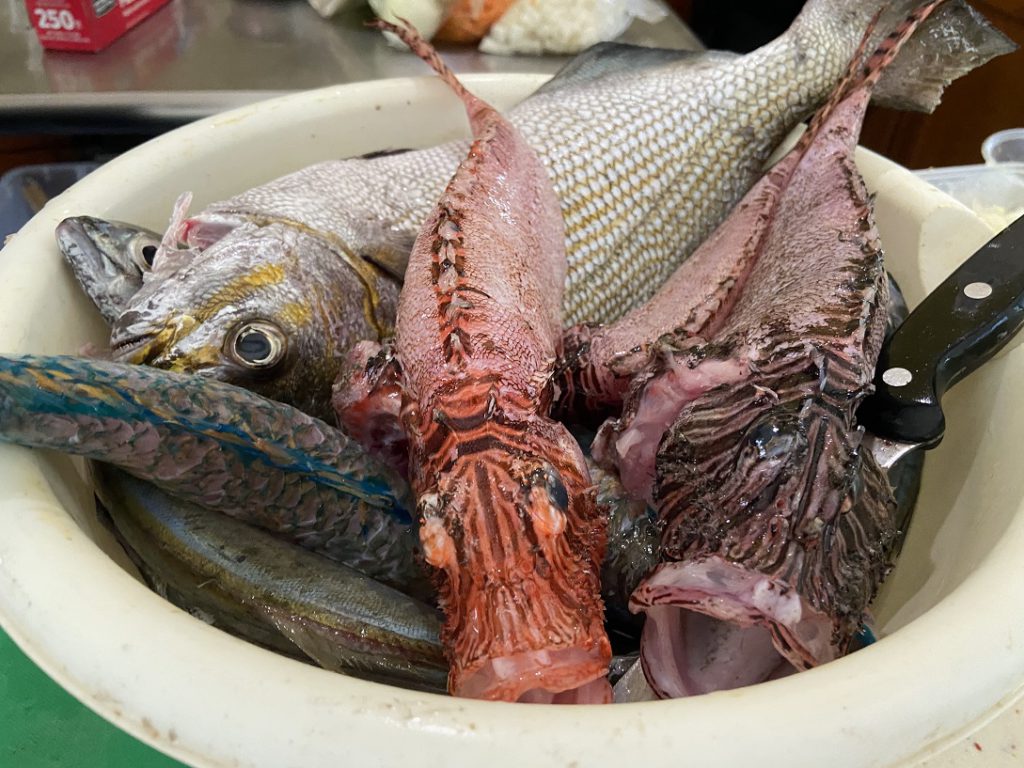 We passed many locals selling fruit in small stands by the side of the road. When we got there, Chef Lumley had laid out many of these fruits for us to see — the large knobby green Jack Fruit, the round green and black breadfruit, the ackee and pear-shaped crimson Otaheite apples with the sweet white flesh.
He welcomes teaching kids about where food comes from, he said, and has run cooking camps for kids here in Jamaica. "Jamaica is ripe with lush, fresh and in most cases naturally grown foods that are easy to explore and taste amazing," he said. "We grow organically but people don't even realize it. … We see something on the tree and pick it. … We want kids to appreciate that and how to make healthy choices."
The morning we had to leave (sadly) Chef Lumley showed us how to make Ackee, the traditional Jamaican breakfast dish. It has the consistency of scrambled eggs but is a fruit, usually prepared with dried salted cod fish, onions, peppers. He prepares the Ackee with a contemporary twist — Ackee and yam hash — and serves it with creamed callaloo (similar to spinach) and Johnny Cake (a freshly fried dough), as well as French toast topped with ripe plantain chutney and more.
As we sit around the table for the last time, Cummings says, "Think of us like we're throwing a good party."
It was.
©2021 Eileen Ogintz. Distributed by Tribune Content Agency, LLC.