Swimming with Rescued Horses At Half Moon Bay In Jamaica
By Eileen Ogintz
MONTEGO BAY, Jamaica — Surf and Turf… but not for dinner.
In this case, it means riding a horse on "the turf," and then swimming with a horse in the surf.
So here I am in the bay at Half Moon Resort, on the North Coast of Jamaica, near Montego Bay. I'm hanging on to Cutta's tail as well as I can. But I'm not sure it will be enough.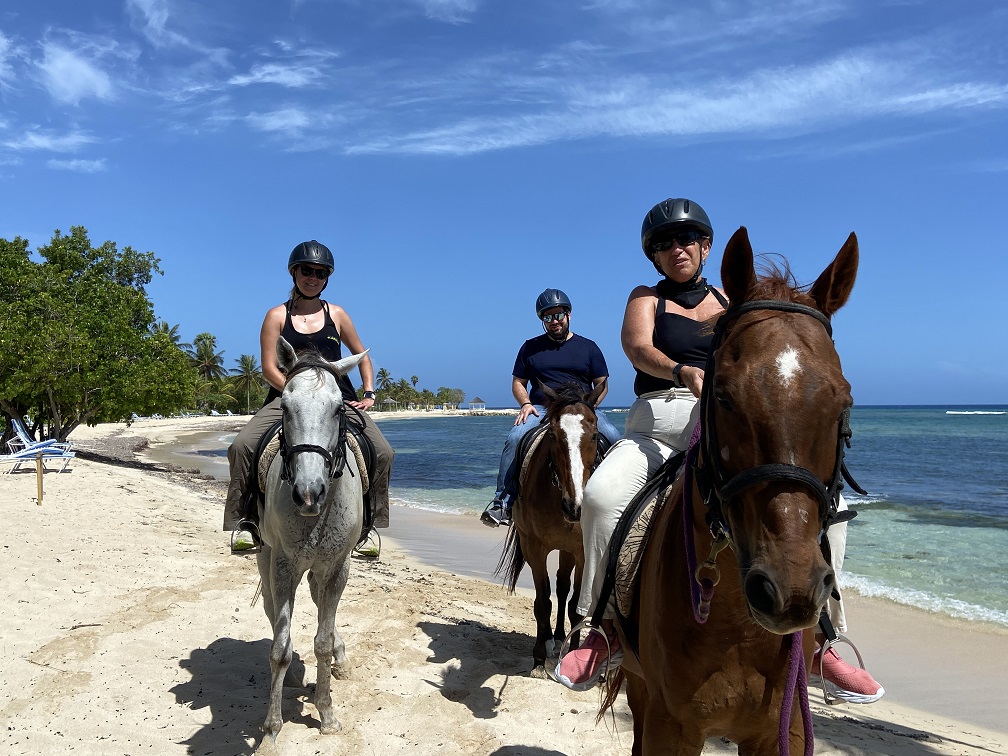 Cutta is a rescue horse at the Half Moon Equestrian Center at the resort. There are 22 horses here, 15 rescues as well as five rescue pooches, two donkeys, four cats, a goat and 12 rabbits.
My son, Matt Yemma, his fiancé, Elodie Kremer and I are taking part in one of the resort's signature experiences. The Turf and Surf Experience at the Equestrian Center managed by Trina DeLisser, a former show jumper and show jumping judge. Elodie and Matt are seasoned riders and own a horse. I'm not. Thus, even riding bareback into the ocean was a challenge. "Hang on to the mane," our guide, Mwamba "Steady" Stedman tells me. "Relax!"
I'm worried I will pull to hard on the horse's mane. "Don't scream," says my son. "You'll upset the horse," adds Elodie.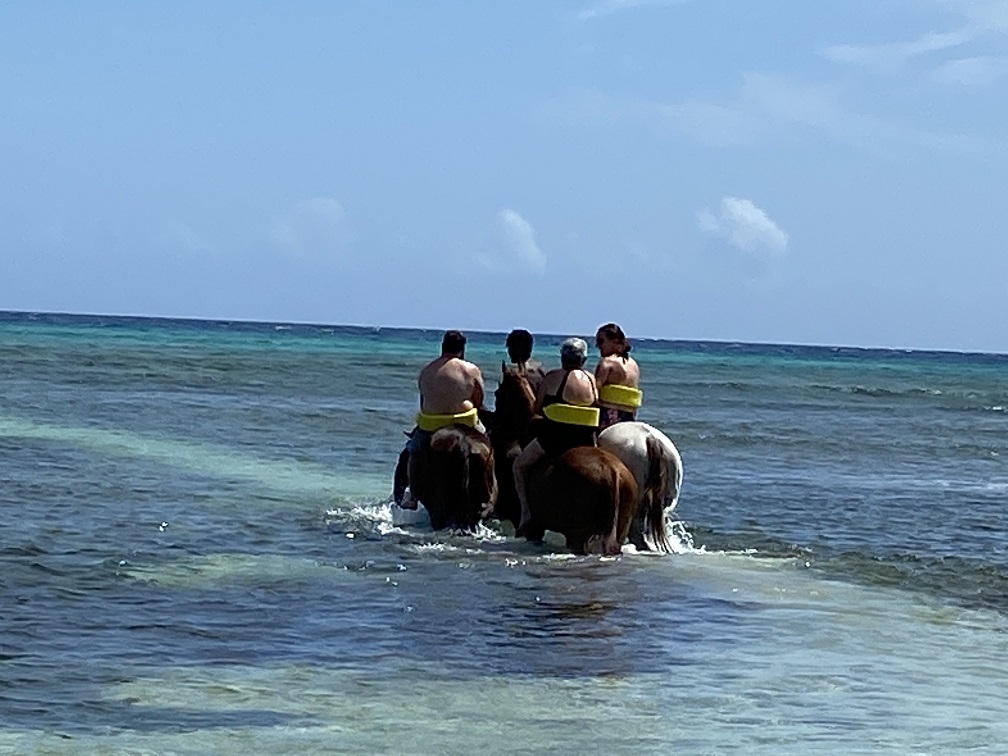 When the horses start to swim, we slide off and are instructed to hang on to the end of their tails. Easier said than done for an inexperienced rider like me. Elodie and Matt couldn't be happier.
The Equestrian Centre also offers pony rides (the Turf and Surf experience is for those 10 and older). There is a Rookies Round-Up, a Sand Stroll (for those older than six) along the beach as well as private lessons. This is the largest equestrian center in Jamaica.
Thirsty? When we get back to shore, Steady – so nicknamed he tells me because of his "steady" way with horses—obligingly scales a coconut tree to get some coconuts which he and the other guides smash open so we can quench our thirst.
Nice!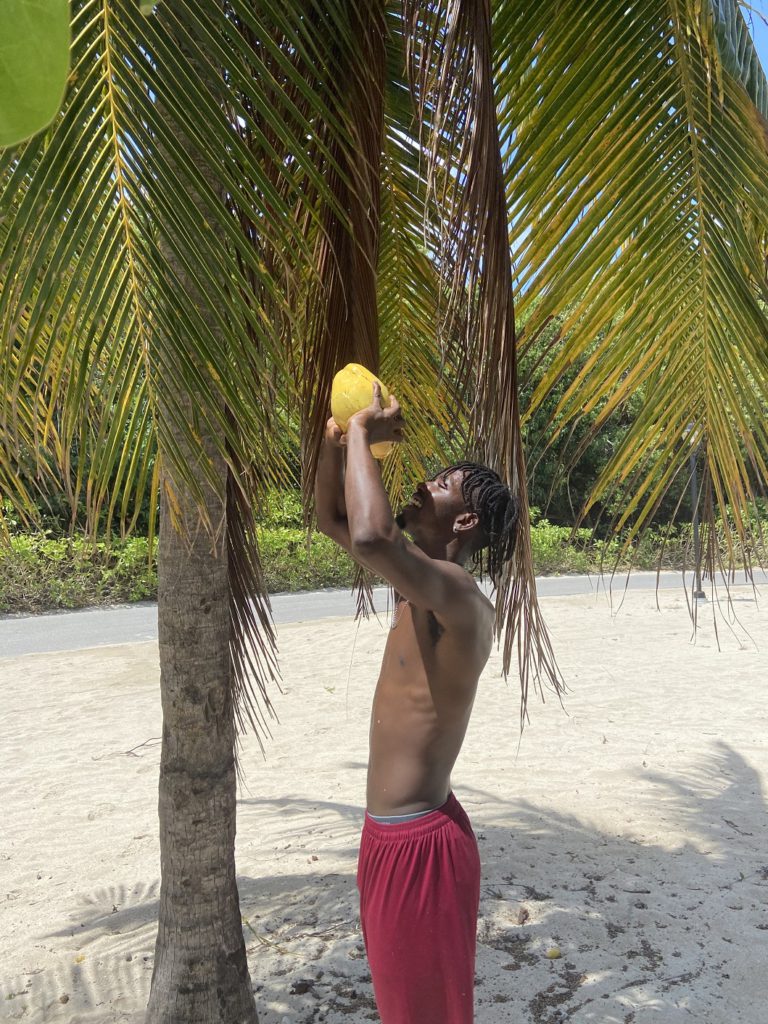 We are spending the last two nights of our 10-day Jamaica odyssey at the iconic Half Moon Resort just 10 minutes from the Sangster International Airport in Montego Bay. This five-star resort is set on over 400 acres, has more than two miles of beach and is wrapped around a half moon shaped bay, once a landing dock for the Rose Hall sugar plantation. (We had dinner last night at the Sugar Mill, standing on the foundations of the estate that date back to 1676 and one of the best-known restaurants in Jamaica.
How about Breadfruit Gnocchi with sea food or locally sourced lamb, Jerk chicken rolls with dark rum chutney or the Solomon shrimp appetizer that includes coconut shrimp "that we just can't take off the menu," said longtime Head Chef Christopher Golding. "We offer a combination of international and Jamaican dishes," he said, with herbs and spices from the resort's garden.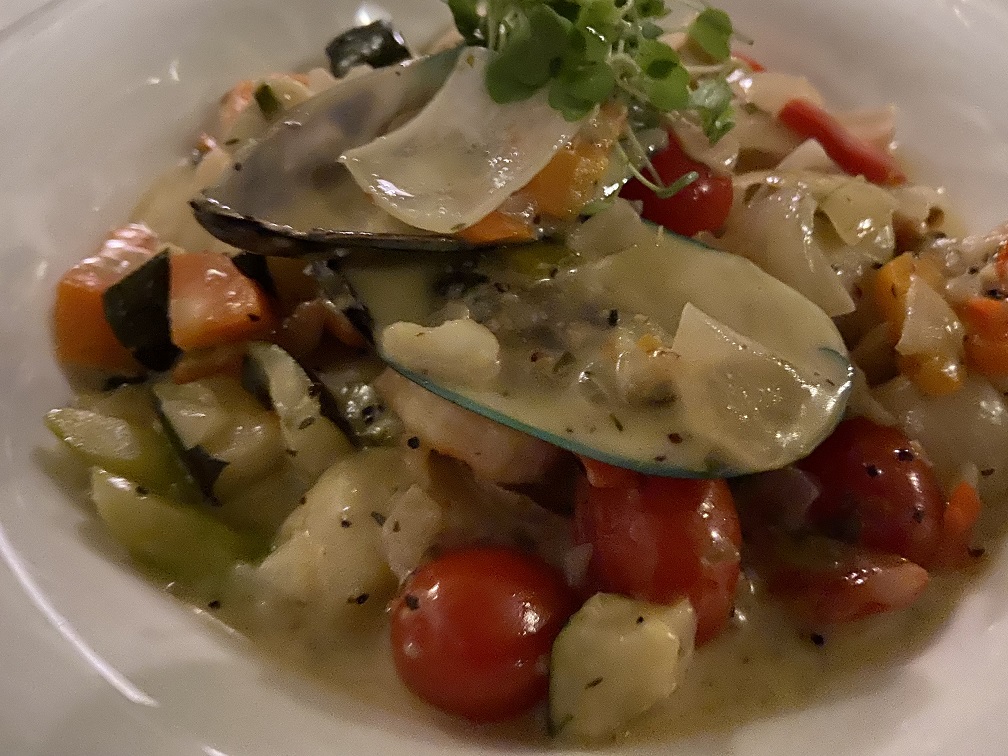 The resort is guaranteed to please everyone from kids to grandparents with a full roster of water sports — everything from snorkeling sailing diving, windsurfing, kayaking, banana boats, tubing, wakeboarding and more.
There is a 68,000 square foot Fern Tree Spa, among the largest in Jamaica, with treatments using local ingredients including lemongrass and rum. The signature Fern Tree Massage uses an oil blend of allspice, ginger and orange, ending with a Jamaican rum body splash with cool rum poured over you.
There's tennis, golf and a model Caribbean Village with kids inspired by Jamaica's children's character Anancy the Spider, with brightly painted buildings, paddling pools, sand boxes and organized activities.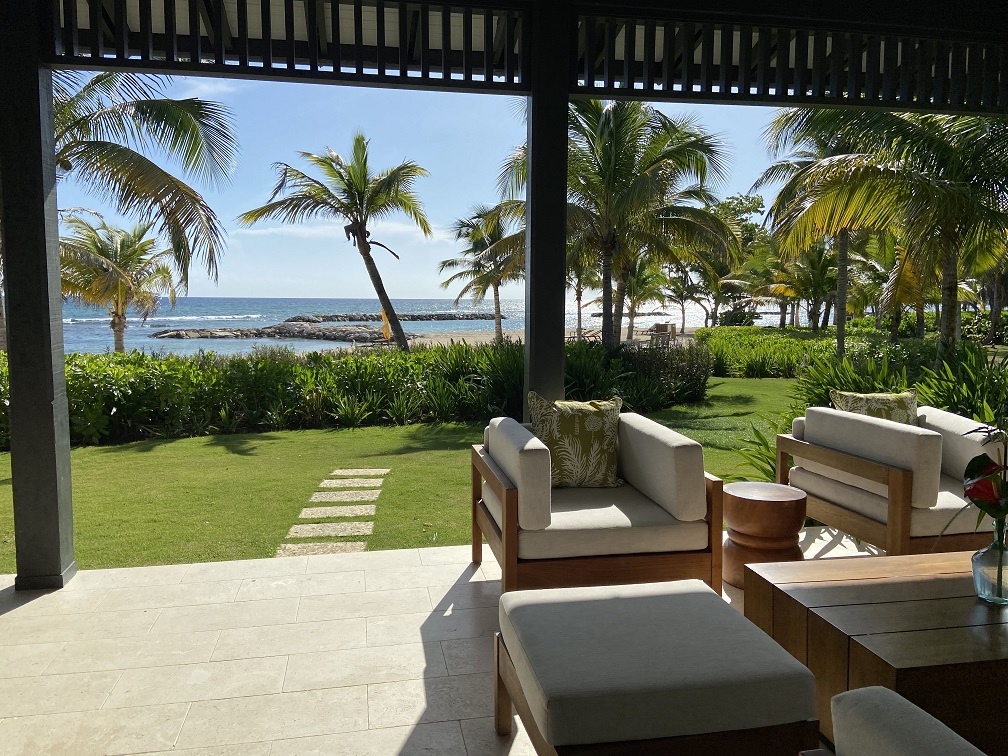 For teens, there's the Hype Zone with nightly entertainment and even spa, a games room and sports.
Though summer here is typically quiet with rates down 30 percent or more, resort officials say they are on target to "have the best summer in 10 years," as vaccinated Americans flock here. Particularly popular are the villas at the eastern end of the expansive resort—some large enough to sleep 14 or more—with a cook, butler and housekeeper as well as a private pool.
We're staying in an Estate Home in the new Eclipse at Half Moon area of the resort – a one bedroom with a spacious living area, outdoor deck and mini kitchen while our son and future daughter in law have a room and bath upstairs. I love the outdoor shower and huge outdoor dining table and comfy couches overlooking the ocean.
It's no wonder this resort has played host to JFK and his family (for a month before he was inaugurated), Queen Elizabeth II and other members of the royal family, sports stars including Serena and Venus Williams, movie stars (Will Smith famously had a 30th birthday party here complete with a midnight BBQ) and countless other heads of states, writers, musicians, artists and well-heeled families, many who return year after year.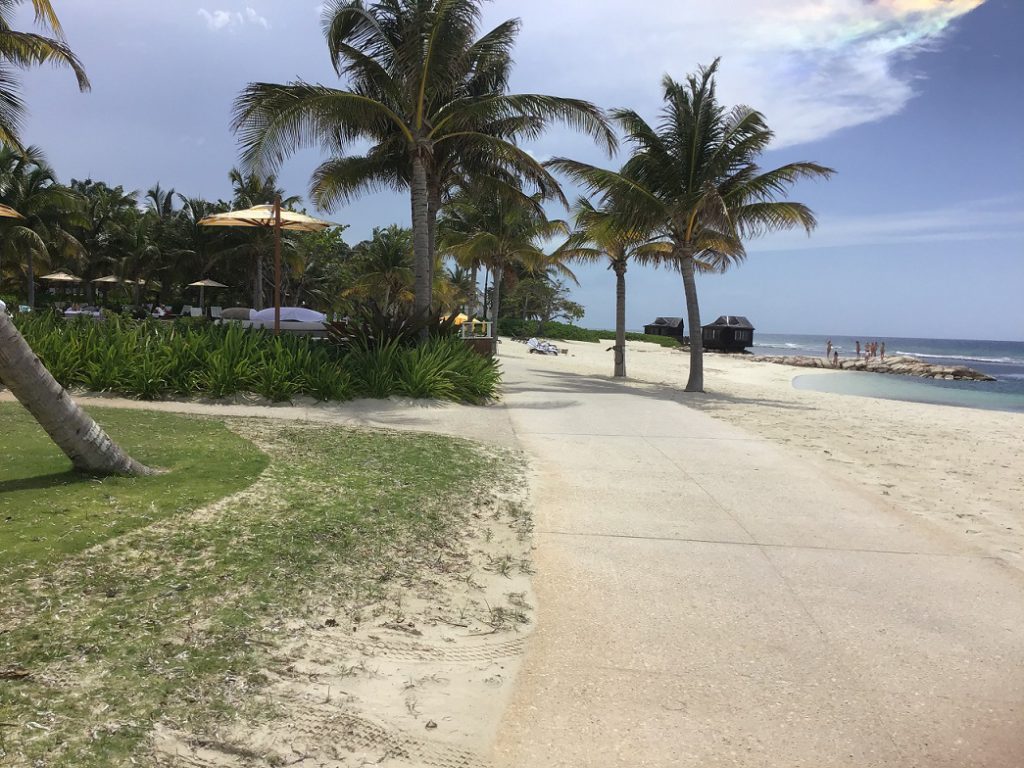 Bird Watchers will be interested to note that the gardens here are home to 17 species of birds and birder Ian Fleming named James Bond after a leading American ornithologist who wrote "Birds of the Caribbean."
Though a haven since its opening in 1954, Half Moon continues to evolve with Eclipse at Half Moon — 57 new accommodations and a gorgeous infinity-edge pool, natural swimming cove and seven bars and restaurants, including the North Pointe Bar and Grill where we had lunch and Spice serving traditional Jamaican BBQ at picnic tables in the sand shaded by coconut trees.
Maybe have a drink in a hammock at Hammock's Bar.
The hardest part—where to go to relax. This is one place I'm really going to be sorry to leave.