By Eileen Ogintz
FRANKFURT — (Day one of the Christmas Market River Cruise) — Bratwurst…candied almonds..marzipan.. spiced Gluewein.
See little figures fashioned out of prunes and sticks that medieval children used to play in dollhouses only taken out at holiday times.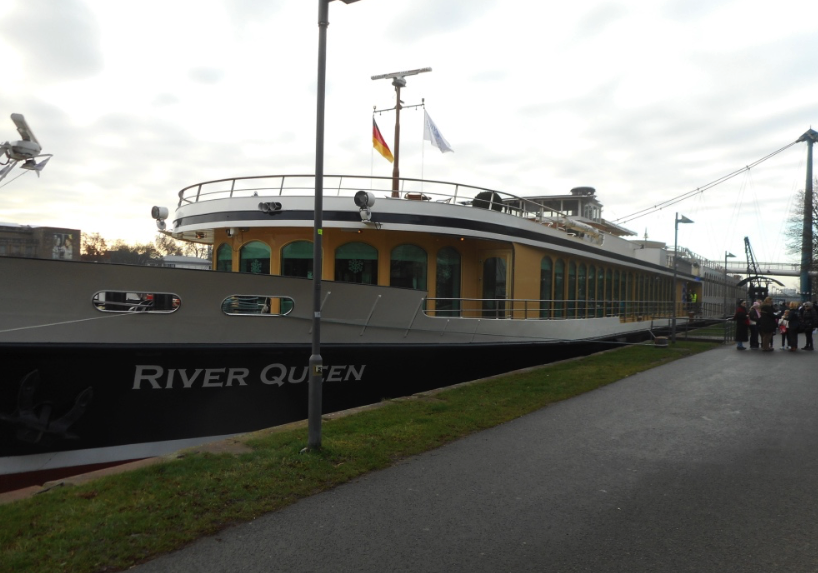 Frankfurt has one of Germany's 2500 Christmas Markets and one of the country's oldest—the oldest, locals claim, dating back to 1393, though those in Nuremberg dispute that. But a big Christmas tree didn't make its appearance until the beginning of the 19th Century when local parents typically bought holiday toys here. Later, kids would raise money to give their teachers giant Santa Claus gingerbread figures.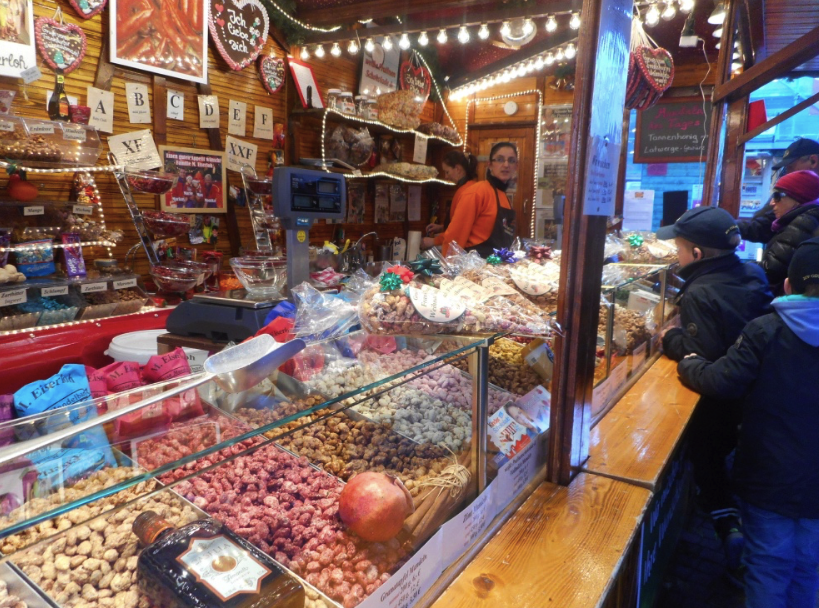 The custom of the markets dates back to days when once the Main River froze, people here wouldn't be able to get any supplies, local guide Rebecca Hajek explains to those of us exploring the holiday markets via a Uniworld Cruise on the Main from Frankfurt to Nuremberg. To make sure they wouldn't be left without enough food to celebrate Christmas, these markets began, selling a lot of preserved meet, nuts and cookies that remain popular today.
We sample every variety of candied almonds (even cookies and cream), bratwurst and sauerkraut, the local marzipan cookies (marzipan figures traditionally are exchanged at New Years) and of course the spiced hot Gluewein (mulled wine) served up in mugs that become souvenirs. Many people eat their way through the market—a cone of French fries here, a giant pretzel there, a Nutella crepe, salami sandwich, frankfurter on dark bread….
A lot more fun than touring churches, the kids in our group agree, though we do stop at one.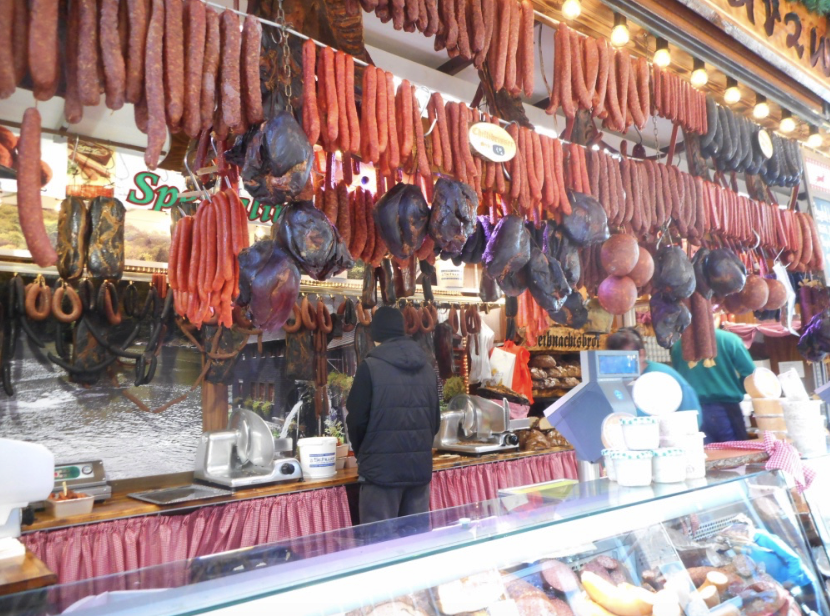 While many river cruises are decidedly adult-oriented, Uniworld has introduced family sailings—including this one on the River Queen—with special activities for kids. Kids can watch movies on the in-room TV or play games in a lounge equipped for them. Everyone appreciates the free wi-fi on board and that the trip is mostly all inclusive—tours, tips and most alcoholic beverages are included so there is no nickel and diming and no saying "no!" to the kids all the time. Of the 66 guests on board (the boat is only about half full) there are 16 kids aged 5-15 and two special youth counselors. The boat is small enough that most of the kids can explore freely on their own.
"We wouldn't let them do that on a big ship with 3000 people," said Frazer Manton, here with his wife Kirsten and 10 year-old twin daughters Hannah and Ellie from Brisbane, Australia as part of a month-long trip in Europe. "We're loving this," said Kristen. No packing and unpacking (even free laundry!). The crew gives full attention to service so that the kids are treated very well and can order whatever they like to eat—from the adult or children's menu. Another plus—the chance to explore right from the boat without taking a taxi or bus.
Diana Carlson, who is half-German and was raised in Germany until she was a teenager, wanted to show her two sons John 13, and Ben 10, the Christmas markets she remembers so fondly from her childhood. As are other families on board, they are traveling with three generations—her mother in law Patti Kelly has joined the family. "You don't have to go from hotel to hotel schlepping with the kids," she said. "This is so comfortable!"
Keeping six kids who range from six to 14 isn't easy at home, much less on a multi- week trip, but Jill Pim, traveling with her husband, two young sons, her sister and her family and her parents all from Toowoomba, Australia, says the river cruise is making that task a lot easier.
Even the port lecture was designed with kids in mind, talking about when the first children's book was published in Germany (not until the 19th Century) and how small toy wooden horses were the Matchbox toys of the day and how cookies were hung on Christmas trees—and then eaten!
Pim's sister Jane Edwards, whose four kids range from 10 to 14, thinks that Uniworld has delivered a product sophisticated for discerning adult travelers but comfortable for the kids as well. "That's hard to find," she said.