By EILEEN OGINTZ
SAN FRANCISCO — What a day!
Anyone who travels, especially in these pandemic times, knows a perfect—or near perfect—vacation day is rare. So I count us lucky on this warm, sunny blue-sky October Day in San Francisco.
It's also a pleasure to leave most of the planning to someone else—in this case my daughter Regina Foldes and her husband Dan Foldes who live in the city.
We checked in to the new Kimpton Alton (open just since May) on Fisherman's Wharf. We can see Alcatraz from our window! It proved an inspired choice.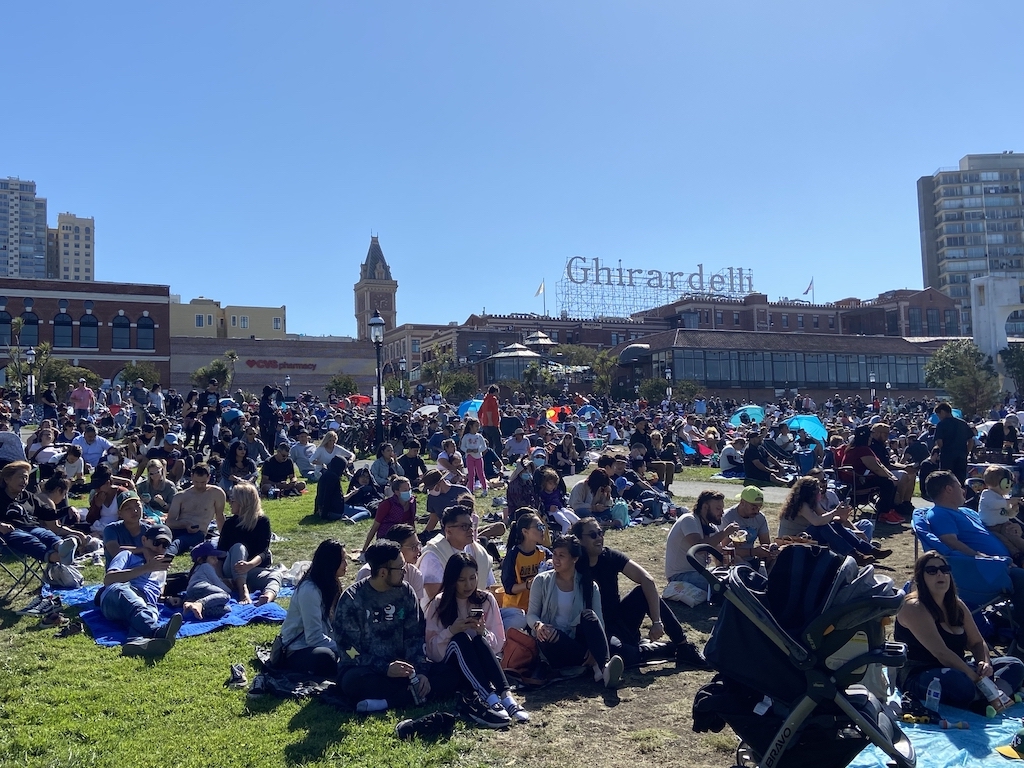 Yes, Fisherman's Wharf is tourist-central. But it's also walking distance to many sites and attractions tourists want to see- The Golden Gate Bridge, Pier 39, two-levels of restaurants, shops, and entertained and sea lions sunning themselves on the rocks, the Aquarium of the Bay, tours to Alcatraz, bike rentals, and the Hyde Street Pier, umpteen restaurants (have chowder in a sourdough bowl) part of the San Francisco Maritime Historic Park.
The Historic Park is home to a fleet of historic landmark vessels. Bring your masks! Walk the decks of historic ships including the 1886 square-rigger Balclutha (go on a Junior Ranger Quest) that carried good around Cape Horn to America. There's also an 1895 schooner, C.A. Thayer, an 1890 steam ferryboat Eureka and an 1891 scow schooner Alma, among them.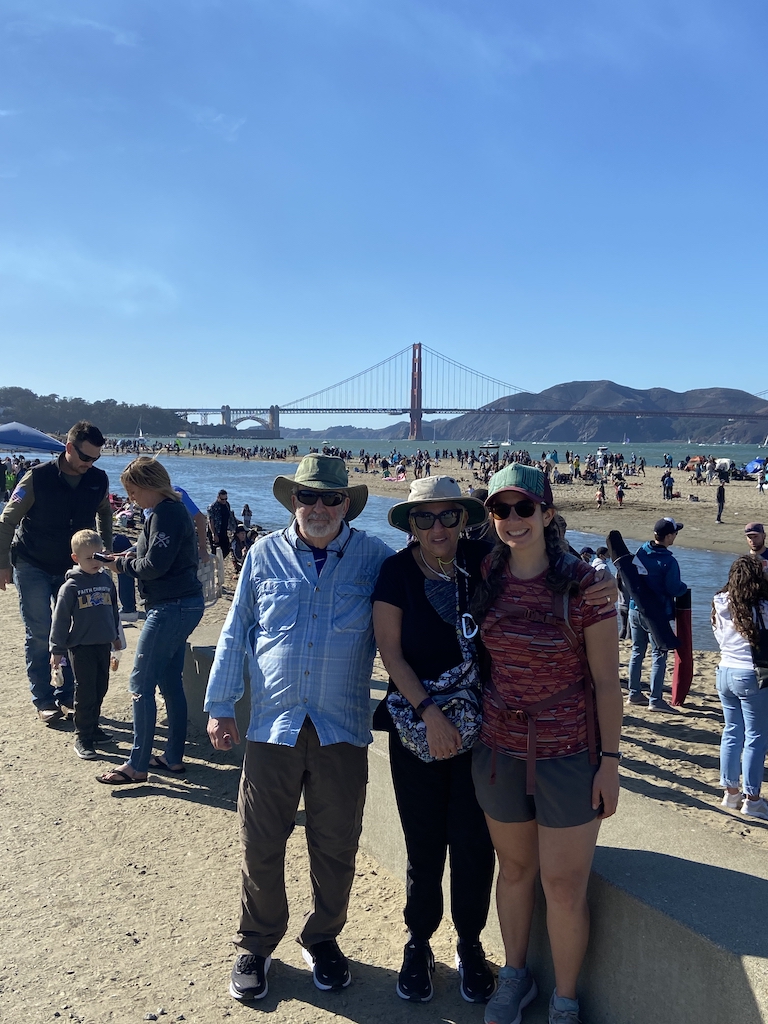 But we were lucky enough (the perfect vacation day!) to be visiting during San Francisco's famous Fleet Week (www.fleetweeksf.org) that celebrates America's sea services with a parade of ships and air show between the Golden Gate Bridge and Alcatraz where the U.S. Navy Blue Angels strut their stuff with impossibly close formations, at times just 18 inches in their Diamond 360 Maneuver. They are flying their new aircraft, the F-18 Super Hornet (every boy between age 4 and 12 seems to be holding a bright blue and yellow toy version.) There is also the huge United Airlines 777 that can fly 8000 miles, a USS Coast Guard search and rescue demonstration.
The area was packed for several miles along San Francisco Bay with locals and tourists alike picnicking on the grass, kids building sandcastles and dogs splashing on the water as the planes zoomed overhead, eliciting ooohs and aahs. It was great to see so many people out and about enjoying themselves.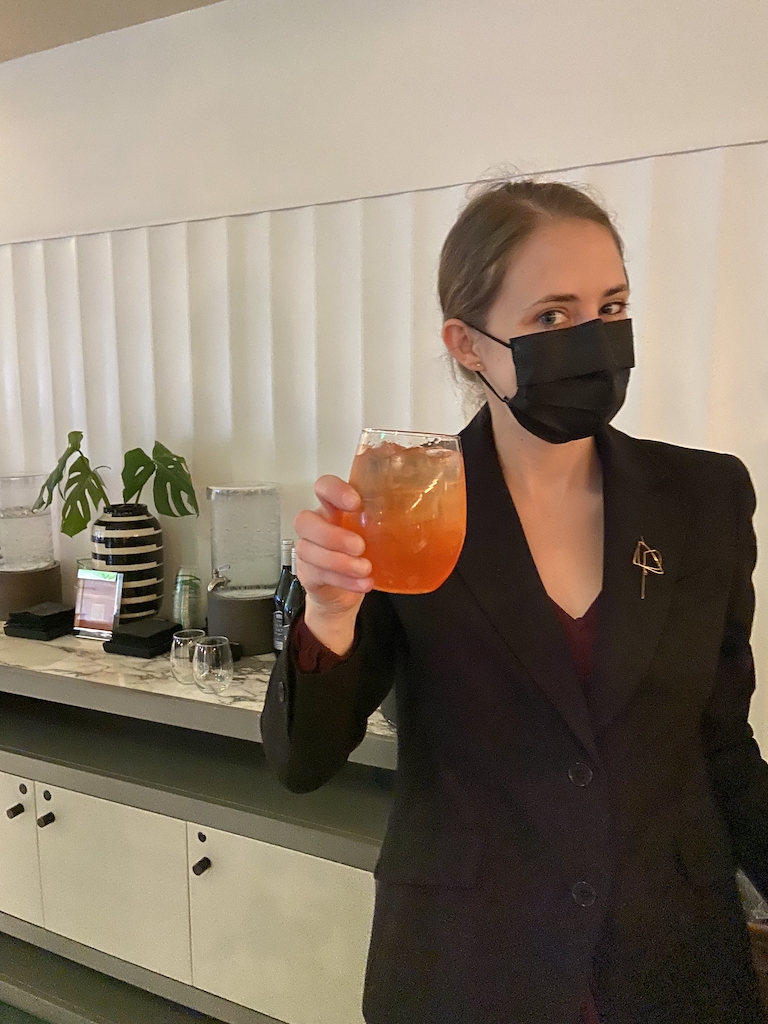 This as San Francisco officials have announced that some indoor mask restrictions will be lifted starting Oct. 15 as San Francisco has one of the highest vaccination rates in the country.
We walk to the Golden Gate Bridge (check out the Welcome Center and on Thursdays and Sundays, there are free walking Bridge tours offered by San Francisco City Guides. Did you know that both ends of the Bridge touch the huge Golden Gate National Recreation Area, one of the largest national parks in an urban area? Plenty of places to hike or walk!
By the time we got back to the Alton, we'd strolled more than five miles along the coastline and were excited for the pop-up entertainment. The hotel typically offers an evening social hour with complimentary wine but this night, there is a Flor de Cana Cocktail Pop-Up. The premium rum band is serving cocktails that were crafted by Bartender Kevin Diedrich of the California-Filipino Restaurant in the hotel called Abaca.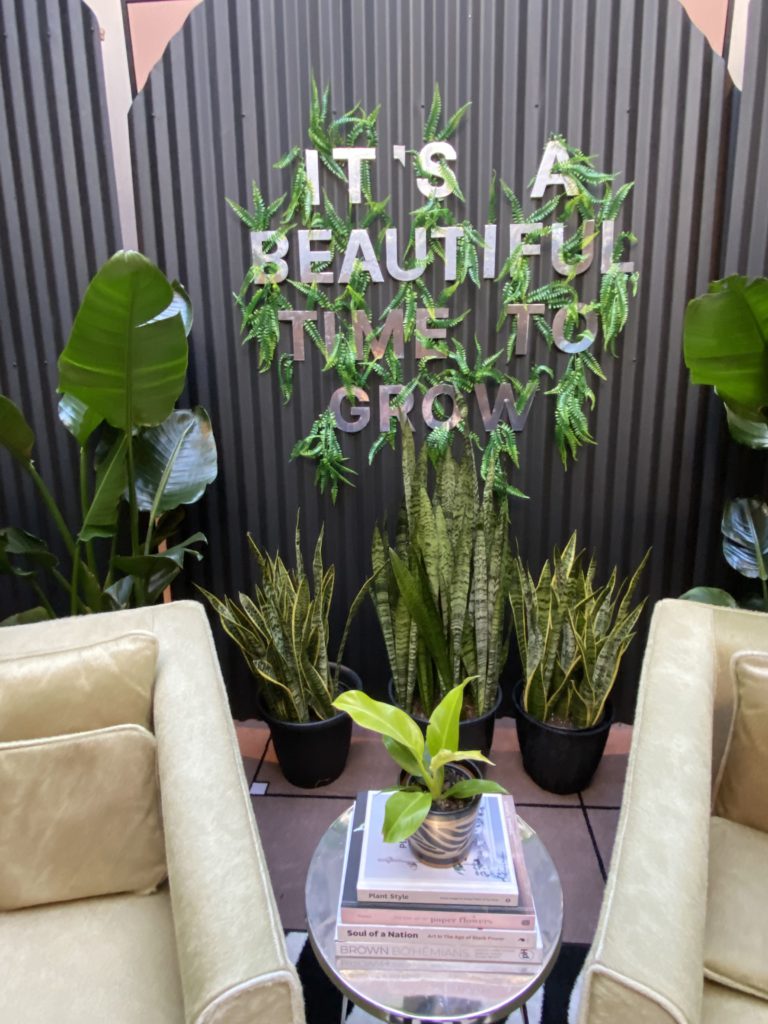 At the same time, Blk Girls Green House has brought their nursery and specialty home good shop with curated local goods for sale.
The hotel, named for the late psychedelic artist Alton Kelly, famous for his classic rock posters. Though the hotel has a retro-chic vibe (it is in a 1970s building) it has everything a 21st century guest—including those with young kids—needs—everything from a coffee bar with kombucha and cold brew on tap and pastries baked in house to a 24-hour fitness center, in-room yoga masks and complementary bikes and scooters for kids. Did I mention the hotel is dog friendly, that there's a lending library and an in-room Victoria record player with a lending library of records as well as retro-board games?
In case you are wondering, today's Fisherman's Wharf was built on the rubble of buildings destroyed in the 1906 earthquake and fire. Today the fishing fleet is operated by the grandsons and great grandsons of past generations, many Italian and Chinese immigrants.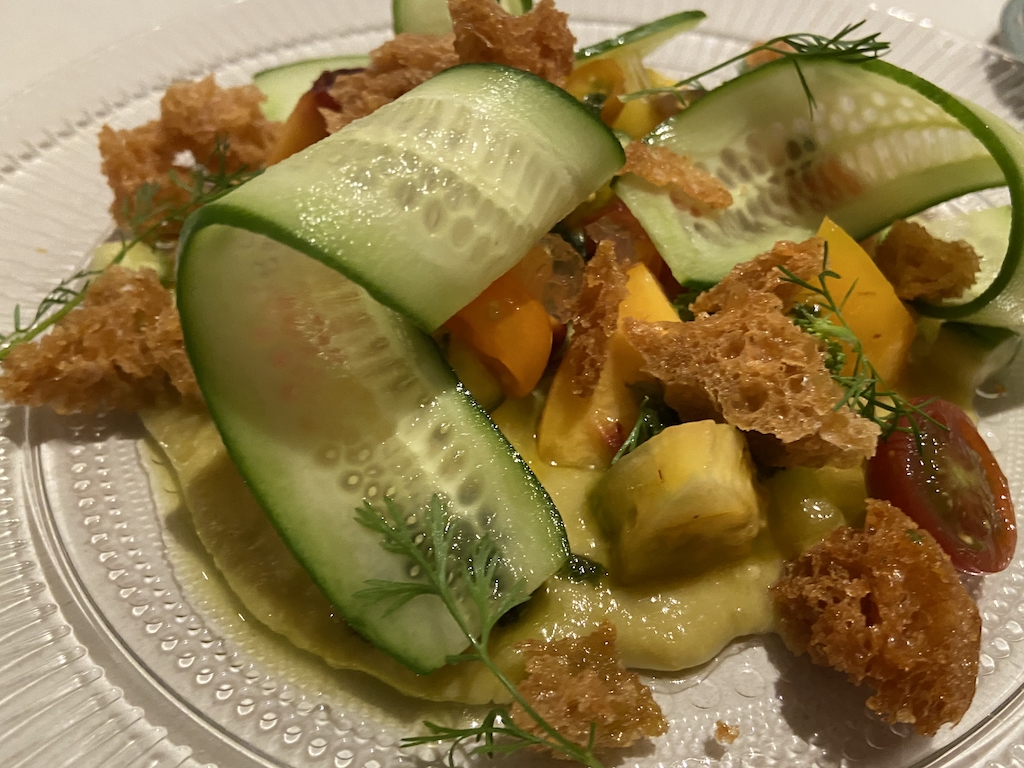 We ended the day celebrating Filipino cuisine—with a California twist at family-owned ABACA, operated by acclaimed chef Francis Ang who spent his childhood in Manila. Ang and his wife Dian run the restaurant, which started pre pandemic as a spectacularly successful 2018 pop up called Pinoy Heritage.
On a Saturday night, there isn't an empty seat. We sit at the bar where we watch the bartenders mix unique cocktails like the King Bird (bourbon, Jackfruit infused Campari Tamarind, Pineapple and a Curry Leaf and the Ube Colada (rum, Pineapple, Ube-Coconut Cream.  There are plenty of non-alcoholic choices too. The dishes are designed to be shared from the BBQ sticks (Chicken with Burnt Coconut Tumeric Sauce or Pork with Banna BBQ Sauce or summer vegetable skewers; heirloom tomato salad with Mung Bean Hummus; Squash Fritters; Pork Steamed Bun; Squid Relleno; Butternut Squash Dumplings, Fried Rice, Handmade noodles…. Everything was delicious.
Everyone was happy. Like I said, that rare perfect vacation day—and night.