By Eileen Ogintz
NUREMBERG, Germany (DAY SIX) — Some of the dollhouses were so big that a little girl might be able to fit inside; the toy electric train set took up an entire room.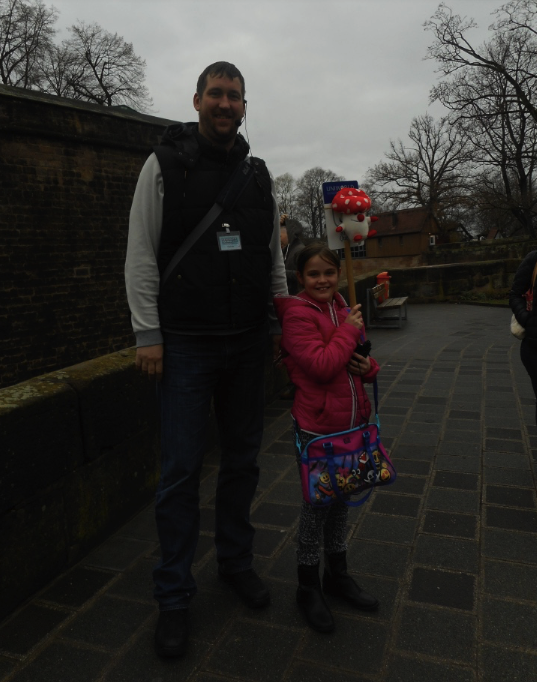 "I liked the kids' playroom the best," said Lorelei George, 8, here with her family from Australia. "And all the music boxes!"
"I liked all the different kinds of dolls," said Hannah Manton, 10, who also is from Australia and a fan of American Girl dolls.
Her twin sister Ellie liked seeing all the old-fashioned toys at the Nuremberg Toy Museum. Meanwhile Jack Edwards, 15, was impressed with the huge train set complete with more than a dozen trains, all kinds of interconnecting tracks, tunnels and buildings taking up a room that was 20 feet by 20 feet. It took 24 years to complete it was made in Nuremberg but shows a railroad complex in Omaha, Nebraska. More than a dozen local toy manufacturers developed model railways and Nuremberg's toymakers were known for coming up with new ways to make toys move.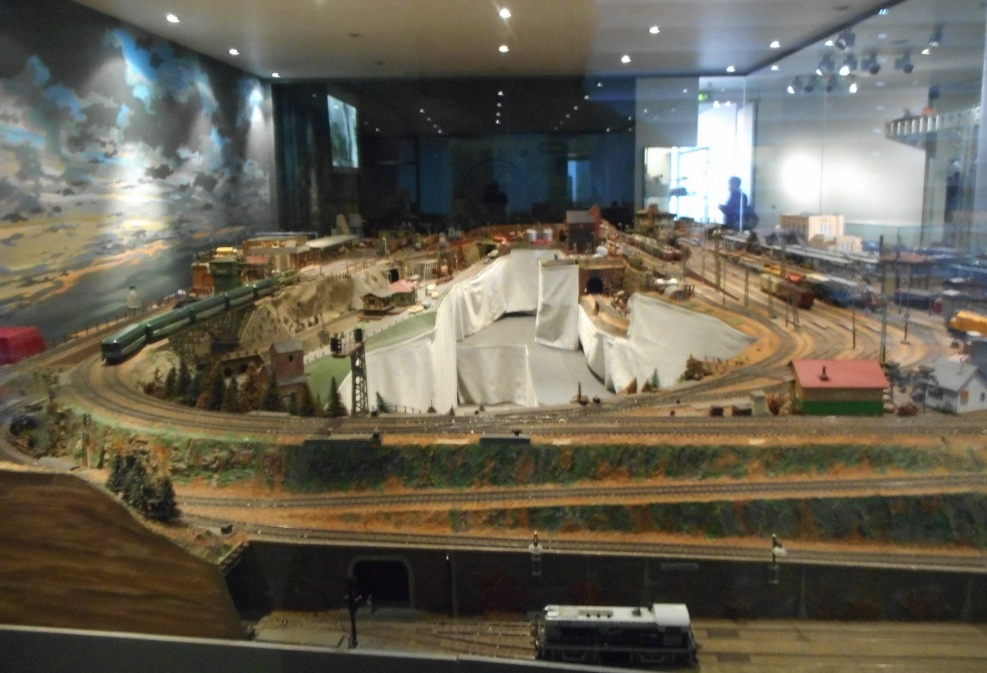 Nuremberg has long been a center of toy making and this museum is one of the city's top tourist attractions. Playmobile is headquartered here and toys have been produced here beginning in the 16th Century carved out of wood or produced out of papier-mâché. By the 18th Century, toys were seen as a way for children to learn their adult roles—thus the doll houses with big kitchens, toy trains and lead soldiers. Erector sets were also popular. There were toy washing machines and kitchens with working stoves equipped with copper pots and tiny china sets, lace table cloths and inlaid wooden furniture.
The kids—all passengers on Uniworld River Cruise's family sailing—enjoyed a special "family tour" that started at Nuremberg's Castle, the city's landmark and where Emperor Heinrich III built the first fortress before 1050. Our engaging guide, Martin Ides, a seven foot tall former basketball player and coach, tells the kids the castle up a hill and surrounded by a moat was so well fortified it was never breached.
They also found it interesting that the castle was never furnished—though every German emperor between 1050 and 1571 visited here, the local gentry would be required to supply furnishings and food for these visits.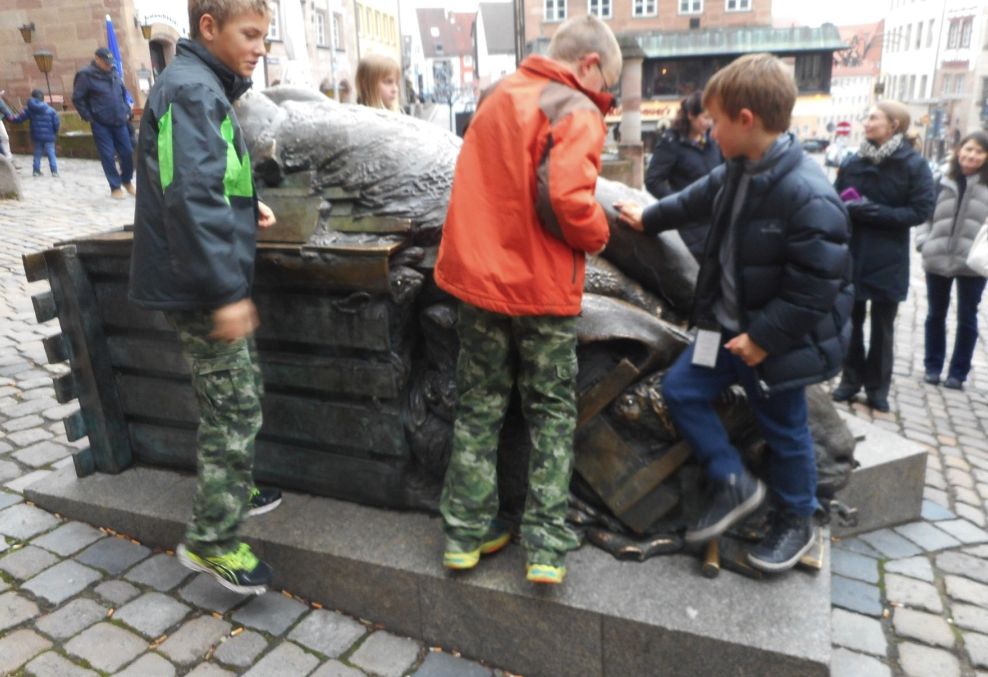 Though Nuremberg was mostly destroyed during World War II, it's been rebuilt to look as it once did in the Old Town with the traditional half-timbered houses, cobblestone streets, narrow alleys and of course the castle with the best preserved city wall in Europe—roughly three miles around.
The kids loved the crazy bronze sculpture by Jurgen Goertz "Hommage a Duerer" that calls to mind the famous painter Albrecht Durer who lived and worked here in the early 16th Century whose painting of a hare remains famous today.
We ended the morning tour at Nuremberg's famous Christmas Market, the country's oldest that dates back to the beginning of the 17th Century, its origins traced back to the custom Martin Luther began of giving children gifts at Christmas. There were some 150 stands that offered toys, decorations—everything from tiny German half timbered houses to carved Santas to lace and glass stars to "Zwetschgemannla" — small dolls made of prunes, figs and nuts. There were the local "Hutzelbrot" spiced fruit bread and "Lebkuchen" gingerbread topped with chocolate, sugar, white chocolate, as well as the traditional Nuremburg sausage, waffles and crepes.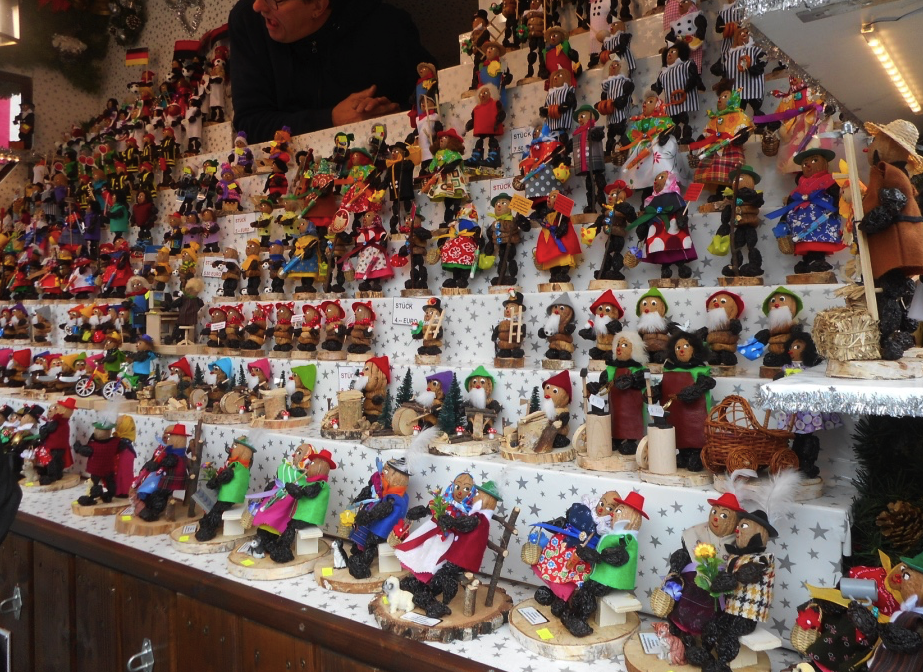 The market attracts two million visitors a year and there is even a Christmas Market for children complete with a carousel and a few other rides.
The kids were sad it was our last night on board—the performed holiday songs, danced and played the piano for the guests. They gave a thumbs-up to the organized family tours, especially because they could go with the other kids on board.
"So much better than staying in a hotel," declared Ellie Manton, 10, who is from Brisbane, Australia. "We could be free with the other kids. In a big city you can't do that."
"I liked that there were snacks all day," added her twin Hannah. "And that the ship was small so you could run around, not just stay in your room."
But the best part, they agreed, were their new friends "that you really got to know because you were together for a whole week," explained Ellie.
Her dad, Frazer Manton, was pleasantly surprised, meanwhile, that there were so many kids on board—16 ranging from 5 to 15—and two youth counselors who organized activities and an early dinner. Though it was a designated family sailing
"I thought we'd be the only people under 60," he joked. He and some of the other parents thought family sailing meant they simply welcomed kids, unlike other river cruises.
They are already talking about where to go next.