It's that perfect beach day… blue skies, warm but not too hot. Colored umbrellas dot the Nantucket beach. Kids play on boogie boards while smaller ones build sand forts until… the two pups discover each other. (Yes, this is a dog friendly beach.) They are spewing sand, rolling over and over, they are so excited!
It takes a few minutes to corral them and in the process, they knock over a six year-old. No worries. Nantucket is that kind of laid back place—this is the kind of place where you schlep your own chairs to the beach and you might go to a different beach every day of your vacation—the island is ringed with beaches—52 miles worth.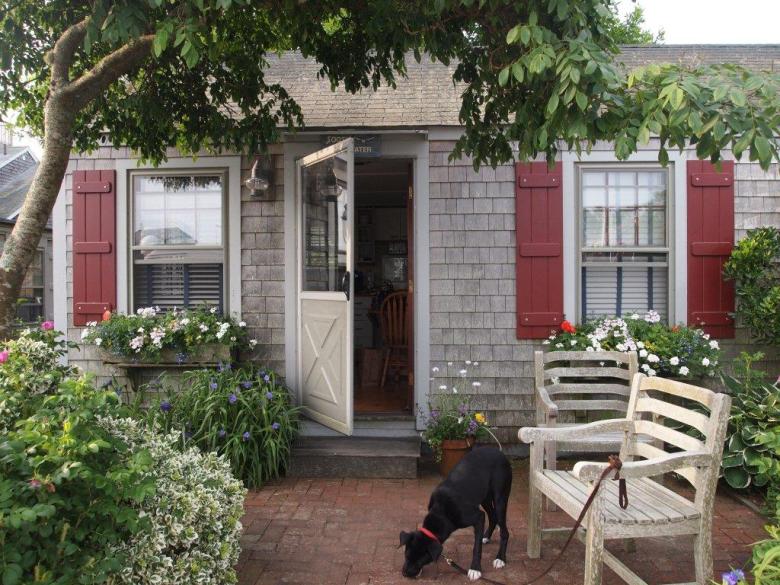 This is the kind of place you come to be with your kids, not to send them to a resort camp every day, says Whitney Penrose who is from New Hampshire but vacations here often because her in-laws live here. "September is the best time to come," adds her husband Coley. "Not as crowded, the rates drop but the water is still warm."
Whitney Penrose looks around the beach–the families playing, the shells, the dunes. "There are a lot of hidden treasures here," she says. Just don't expect swimming pools. This is a beach place!
Nantucket is about 30 miles southeast of Hyannis, Mass. It is a small island–only about 14 miles long and 3.5 miles north to south. Fewer than 10,000 people live here year round but that swells to as many as 50,000 in summer. This is the only place in America that has the same name for the island, the county and a town.
There is just one town—Nantucket Town where we are staying. It, of course, is touristy but in a nice way with all variety of restaurants, shops –everything from toys at The Toy Boat to sweatshirts that say Nantucket Lifeguard to hand fashioned baskets, jewelry and pottery. We amble through a Saturday morning farmer's market. There are no traffic lights on this island, much less in town and you may find having a car more of a hassle than it's worth.
We've arrived by ferry as most people do—though you can fly here. We left our car in Hyannis and took the hour-long Steamship Authority Fast Ferry (www.steamshipauthority.com) to Nantucket. There are free shuttle buses that go all around the island. Hy-Line Cruises has ferries as well (www.hy-linecruises.com).
I'm writing this sitting in our cozy dog-friendly cottage right on the Wharf, which is convenient to everything. These 10 "Woof Cottages" come equipped with dog beds, bowls, dog treats and are part of Nantucket Island Resorts (www.nantucketislandresorts.com) which also oversee The Wauwinet, White Elephant, Jared Coffin House and more. Not only is our cottage dog friendly –and kid friendly of course, but the manager has a dog named Sherwood and the front desk folks were happy to have our Trooper keep Sherwood company while we went to dinner or out sailing. There's even a Beach Bus that will take us to any beach we want to go—and brings along umbrellas, beach towels and chairs. (Our affable driver recommended Dionus Beach with the pooch.)
But there are beaches here for everyone—52 miles worth. Little kids like Children's Beach and Jetties Beach with their playgrounds and calm water. Older kids like Surfside because there are more waves and you can rent kayaks or little sailboats. Nearly half of Nantucket is preserved in its natural state with vast open spaces, salt marshes, beaches and more. Golfers take note- there is an 18-hole public course here.
Just don't expect very warm water, warns Jim Genthner, who has lived and worked here for nearly 30 years."Our water is never warm but it is pleasant," he says.
The cottages where we're staying are covered with climbing rose bushes and have patios or decks overlooking the wharf. We chat with those whose boats are moored here. The White Elephant (where we had a stellar dinner at Brant Point Grill), boasts a spa, just 52 rooms and spectacular views of the water and the harbor. There was a wedding outside the night we visited.
Nantucket, says Sue Genthner, who with her husband Jim runs the Endeavor, the longest operating sailing charter on Nantucket (take the kids for a Pirate Sail! www.endeavorsailing.com) is the kind of place where a family can kick back and go to the beach, bike (bike paths ring the island), get ice cream (The Juice Bar and Nantucket Ice Cream are favorites), and stay in a Bed and Breakfast every night. And it is the kind of place where you can be busy every minute sailing, fishing, going to restaurants that rival those in the big city. The misconception, she adds, is that Nantucket is just full of multimillion dollar beach houses and yachts. There is that. "Nantucket is the only place you can wear pink pants and get away with it," jokes her husband Jim, captain of the Endeavor. "It just is."
But there also are plenty of houses families can rent for a long weekend or a week for sun, sand and old-fashioned fun—the traditional grey-shingled buildings (www.nantucketchamber.org). "Nantucket can be what you want it to be," Genthner says.
We go out on the Endeavor with Sue's husband Jim who has been here nearly 30 years—the two met here in fact—sailing around the island, spotting all sorts of sea birds (some 140 different species have been identified here and as many as 450,000 birds counted during the Annual Christmas Bird Count, waving to those coming and going on the ferry. He explains the handsome 14-passenger boat is a reproduction of the turn of the century boats that sailed along the Coast of Maine.
We spend a perfect vacation day—a sail on the Endeavor, a walk with the pooch checking out the Island's many shops (of course we have to buy souvenirs in the shop called The Black Dog), a few hours at the beach, a massage at the White Elephant followed by dinner (lobster and steak!) We fall into bed in our cozy cottage exhausted but happy—and you can't say that about every vacation day.