By Eileen Ogintz
Where is the carving with the elephant?
Uniworld Cruises has arranged a special way to see the picturesque city of Bamberg for the families on board—a GPS scavenger hunt organized by the company City Hunters that does such tours in cities across Germany.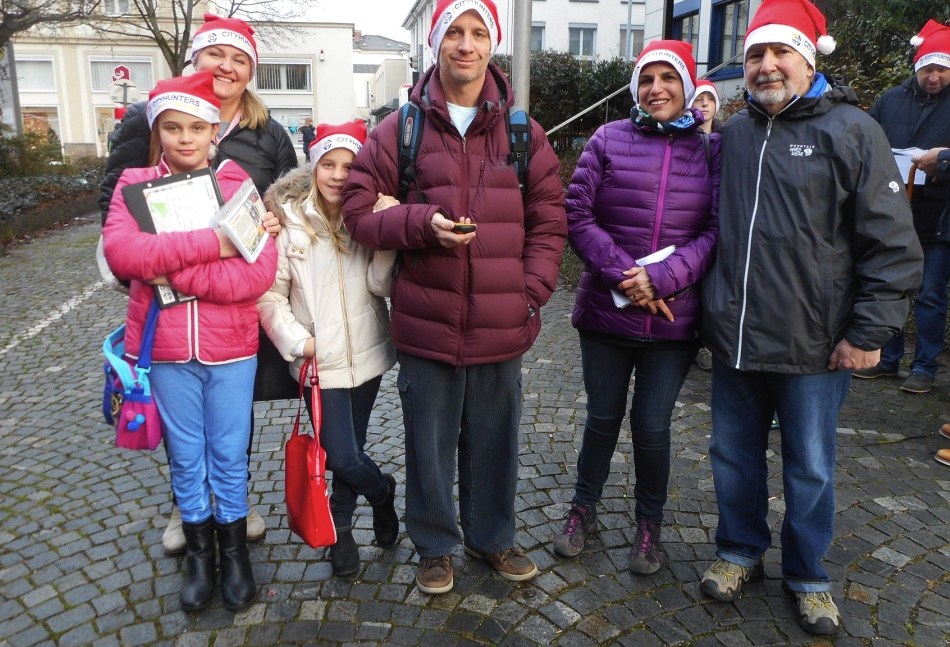 Truth be told, there was a fair amount of grumbling among our young scavenger hunters—it was raining; the challenges were difficult. One family dropped out. Another opted for more hot chocolate and coffee rather than the hunt.
But our team, the "Superstars," including Hannah and Ellie Manton, 10 year-old twins from Brisbane, Australia, and their parents persevered and we won—despite never finding that carving. We did find a statue of men without legs, deciphered a code based on statues over a church door, translated a Spanish phrase (though we couldn't find anyone to translate the Chinese which actually meant Christmas).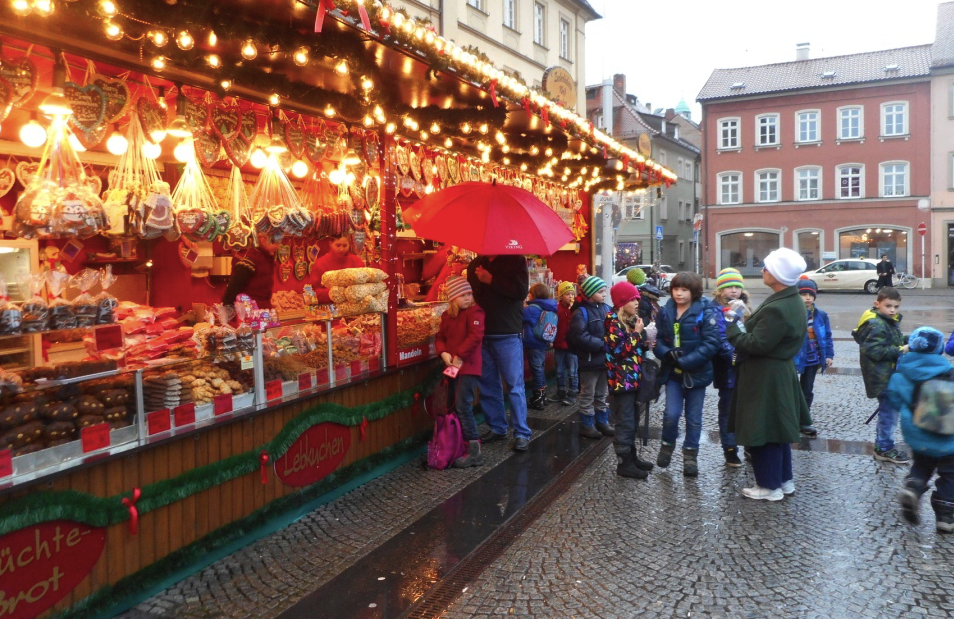 Of all of the German towns we've seen so far, I like Bamberg the best. About 70,000 people live here and there seem more locals on the streets than tourists—kids on their way back from school; women shopping for vegetables in the markets, locals eating a quick sausage lunch at the Christmas Market, people walking dogs and riding bikes over the ancient bridges, shopping for bread and pastries at shops where the wares are really hard to resist. (The city is on the Main River-pronounced Mein.) It's obvious why the city, which dates back 1000 years, and its Old Town is a UNESCO world heritage site—narrow cobblestoned streets, colorful houses, some with signs explaining they date back more than 500 years.
Bamberg, incidentally, is also famous for its ten breweries and for having the highest beer consumption in all of Germany. There is even a Franconian Brewery Museum. At lunch at a traditional beer garden (Kachelofen) in the old town that looks right out of a Hollywood set (wooden tables, checked cloths, pottery on open shelves) we ate—what else?—sausages and sauerkraut. We tasted the local Rauchbier—very dark, smoky and a high (5.4 per cent) alcohol content.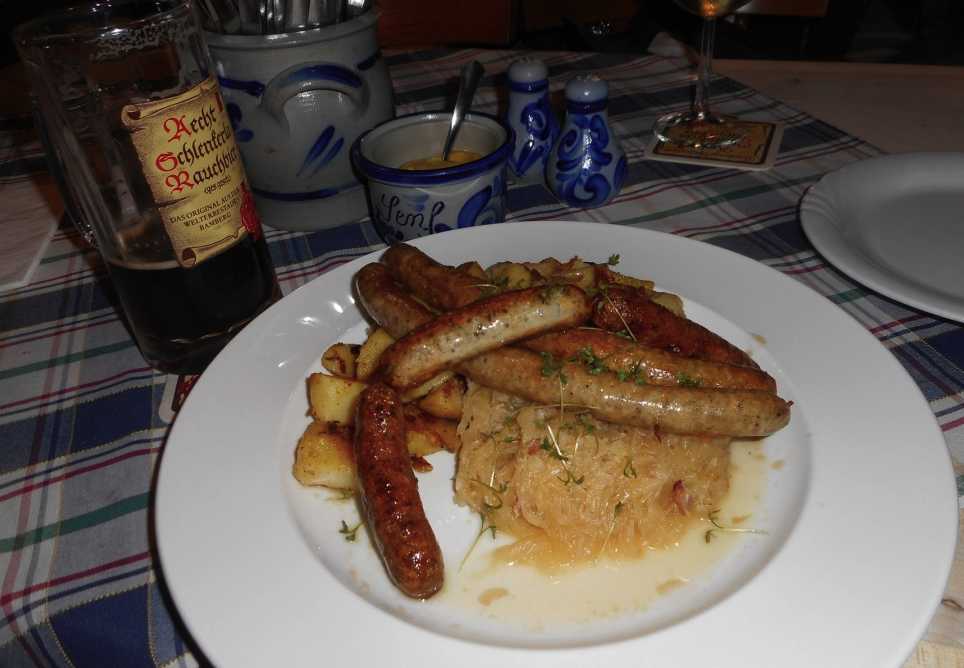 We never did find the local Bamberger Blaue Zipfel – a kind of Bratwurst that apparently turns blue when they are cooked from the mixture of spices they are simmered in.
Bamberg, we learn, was an early printing center—as far back as 1461 and today is famous for its antique shops in the Old Town.
At the Christmas market, we find tiny cookie cutters of every shape and more Gluhwein mugs to add to our collection—every city has different ones that they serve up the hot mulled wine in. You can keep them for just a few Euro—a great souvenir or gift.
Uniworld, I'm pleased to see, thinks about the parents as well as the grandparents. The kids have a few hours this afternoon on the boat supervised by the youth counselors making holiday ornaments (the girls), playing games (the boys), so the adults can shop, nap or have a massage (great masseuse on board who honed his craft in Romania) or do laundry (families were very glad it's free on board!)
When some of the parents asked for more veggies and less fries on the kids' meals, the kitchen staff immediately complied. When they opined that the 7 p.m. dinner was too late for the younger children, the chef immediately arranged a 6 p.m. kids meal — with a supervised activity afterward so the adults could enjoy their dinner.
"I do think the kids like to get away from the adults for a bit," said Jane Edwards, traveling from Australia with her husband, four kids, her parents and her sister's family. "It's good for the kids to have time together with the other kids they've met," she said.
Adults too. Thanks, Uniworld.