DAY ONE —  Who cares if it's cold when a proposal is in the offing?
In this case, Scott Hearon orchestrated a trip from Nashville to Granby, CO –- about two hours from Denver International Airport in a tiny mountain community—just to propose to his longtime girlfriend.
That's because Hearon and Allison Stewart had both worked at the C Lazy U Ranch while they were college students and it was here, Hearon said, that they realized their relationship was more than a fling.
The trip, Allison Stewart said, was a complete surprise; a town car whisked her to the airport and she didn't know until she got to the ticket counter where she was going.  Her mom had packed her bag.
The ranch pulled out all the stops—complete with a roaring bonfire and someone to photograph the proposal.  It might have been 15 below but the young couple certainly weren't feeling the chill as they sat by the fire.
"The people are what make this place so special," said Hearon.  In fact, much of the staff is culled from young people who came here for vacation with their families.  No wonder more than 60 per cent of the guests return.  In fact, this 8, 500 acre ranch that is about 20 miles north of Winter Park and a half hour to the west side of Rocky Mountain National Park has been welcoming guests since 1919.
It is one of the largest ranches in Colorado with a herd of 175 horses and 13 cozy, spacious cabins that can accommodate 100 guests.
"It was magical over Christmas," said Lynn Feasel, who spent the holidays here with her husband Greg and 10 year old daughter Zoe and is back for a winter weekend.  "It's the only place on the planet that Zoe can go outside and I don't worry about where she is," said Feasel, adding that another plus is "this doesn't feel like a hotel."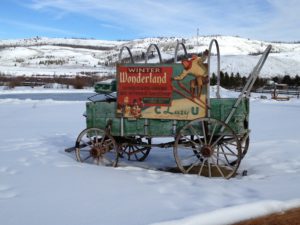 We eat family style –if there are a lot of kids in house they have a separate earlier dinner and choose our activities.  In summer, that means a lot of riding (the kids program starts at age six, though there are programs for the preschool set so parents can go out on trail rides) as well as fishing (not only a stocked pond but a private four mile stretch of the Colorado River) and hiking.
In winter, there is horseback riding as well as cat skiing, snowshoeing, XC skiing, ice skating on that pond that is now frozen, sledding and tubing.  "Some people learn to ski here," says Paul Kleis, who took my girls up for some back country skiing and showed me the gentle slopes.  No lifts or lift lines. Nice!
This morning, we went out riding.  It wasn't even 15 degrees but like the newly engaged couple, we didn't feel the cold either.  The sun was shining and we climbed up to over 8,700 feet to stupendous views.  There were animal tracks in the pristine snow; we saw a coyote in the field. 
"What makes this unique in the winter is you have all the winter activities included in one place," said Connie Dorsey, the general manager. 
What moms like is winter or summer, it is a stress free getaway—no worries about planning meals or activities.  "We do it all for you," said Dorsey.  There is even a spa (mango passion fruit scrub anyone)?
Did I mention the food? Last night we had roasted chicken and pork loin in a cherry sauce, truffle mac and cheese, broccalini and carrot cake for desert, complete with wine pairings.  For lunch today we had broccoli soup, homemade turkey pot pie and Greek salad as well as an irresistible brownie.  "I better go do another hike," joked Lynn Feasel.
I chose the C Lazy U for a winter getaway with my two snow loving daughters and my older daughter's best friend and college roommate.  I wanted to avoid the bustle of a major ski resort.
We played scrabble by the fire in the main  log lodge, soaked in the outdoor hot tub and cozied up by the fire in our cabin with all the 21st Century amenities we need—even a heated floor in the bathroom—but without TV or phone, though there is Wi-Fi.  The views from our porch are spectacular—snow covered mountains, evergreen trees.
After about a day, said Lynn Feasel, the kids have weaned themselves from electronics.  "You build a fire…you read you play cards.
We didn't need to bring equipment either, though the girls brought their skis.  For back country skiing, you can rent nearby; the ranch has everything else you need for other winter sports –even heavy boots to keep you warm horseback riding. There are snowmobile tours, sledding and tubing
"The horseback riding is the best, said seven year old Ashley Thomas, here with her dad and brother from Denver.
I think just being here literally away from it all is the best and having someone take care of us is the best.
"I have as much fun as the kids, absolutely," said Jonathan Thomas.
Me too.