By Eileen Ogintz
Tribune Media Services
It's barely 15 degrees but no one is feeling the chill, even in these snow-covered mountains of Colorado.
Certainly not the young couple from Nashville who got engaged the previous evening, outdoors next to the barn. Certainly not the Fort Collins, Colo., couple, married last fall, here for their first get-away from their blended family of four kids. Not the grade-schoolers from Denver, here with their parents, for some old-fashioned fun in the snow.
And certainly not me, here for a rare weekend with my two daughters and one of their closest friends.
Welcome to the C Lazy U Ranch in Granby, Colo. It's spread out over more than 8,000 pristine acres and located just about a two-hour drive from Denver International Airport. Rocky Mountain National Park is just a half-hour drive away. In the summer this working ranch, which has welcomed guests since 1919, is famous for its family riding programs and kids' programs that guarantee families a memorable vacation. There is a herd of 175 horses, but no more than 100 or so guests, and families return year after year. Some children, frequent visitors to the C Lazy U, even graduate to ranch staff when they reach college age.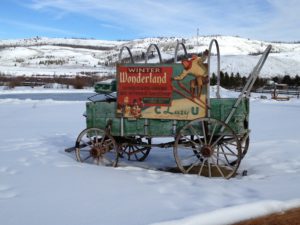 But what a lot of families don't realize is that the C Lazy U, one of Colorado's largest ranches, proves an ideal respite for families and couples (could there be a better Valentine's Day getaway?) in winter, too, with horseback riding, backcountry and cross-country skiing, ice skating on the pond, the chance to snowshoe, tube and sled, not to mention cozying up to blazing fires in our cabin and the main lodge, after luxuriating in the outdoor hot tub with mountain views all around.
Scott Hearon orchestrated a visit with his girlfriend, Allison Stewart from their home in Nashville in order to propose — in sub-zero temperatures beside a blazing bonfire the staff built for them outside the barn. It was during a summer working here as college students, Hearon told us over dinner — we all ate family style — that they fell in love. "It's the people here that make it so special," he said.
My girls certainly agreed. They gave a thumbs up to our guides, the chef who served us wonderful meals (think tenderloin and mashed potatoes, homemade turkey pot pie and lemon cake for dessert) and the spa-in-a-heated-tent where I treated them to massages.
The kids we met especially loved the horseback riding in the snow and the chance to sled down the ranch's long driveway. Their moms were delighted by the freedom they could safely allow their kids here.
"It's the only place on the planet that Zoe, 10, can go outside and I don't worry about where she is," said Lynn Feasel, here from Denver with her husband and daughter.
Another plus: weaning the kids from TV, since there aren't any, though there is Wi-Fi. "They were a little freaked out by there not being TV in the cabin," laughed Tammy Garamova, here with her husband and young daughters for a long weekend. "But it's good for them." And truth be told, there was so much to do, they weren't even missing it.
What I especially loved was the sheer ease of it all. I didn't have to worry about getting groceries for a condo at a ski resort, cooking, or orchestrating activities. The ranch staff came around at breakfast to ask what we'd like to do and simply told us where to be at what time. (Most activities are included, as are meals in the winter when kids, up to the age of 17, are free much of the time. Adult rates are $325 a night — not bad when you consider a lift ticket at nearby Winter Park Ski Resort is more than $100 a day.)
Should you want to downhill ski at Winter Park, the ranch staff will obligingly shuttle you back and forth at no charge. My girls nixed that idea when there was the chance to backcountry ski, a snowcat carrying us and gear up the hill to spots where there was no one else on the mountain.
"Everything we skied had not been skied before," said Meghan McCloskey, my daughter Reg's college roommate. "I loved that we could enjoy the wilderness but you had the security of a snowcat and did not have to do all that hiking you normally would do in the backcountry."
Paul Kleis, our guide, pointed out some surprisingly gentle slopes that had been groomed — not what you expect in the backcountry. There was even a heated tent with a thermos of hot chocolate. Nice!
We didn't need to bring equipment either, though the girls brought their skis. You can rent downhill skis nearby; the ranch has everything else you need for other winter sports — even heavy boots to keep you warm while horseback riding.
I was plenty warm when I was out riding Domino (black-and-white spotted, of course) on a sunny morning with the girls. The sun was shining and we climbed up to more than 8,700 feet to stupendous views. There were animal tracks in the snow and we saw a coyote in the field.
This ranch, I realized, allows you to get safely out of your comfort zone as much as you like whether you're riding, cat skiing or even trap shooting, which we also try.
Bruce Janssen, who drives us in the snowcat, points out land that was first homesteaded in the second half of the 19th century. I think what hearty souls those families must have been in this unforgiving wilderness.
We stare out at the Indian Peaks Wilderness Area and at what's known as Baldy Mountain. The conditions aren't great — there hasn't been sufficient snow — but just being out in this wilderness away from the inevitable ski resort crowd is incredible.
Other families have been spending the morning snowmobiling, skating and tubing. One of the best parts: "You don't have to be with your parents all the time here," declares Zoe Feasel, who has visited many times.
"It's the kids who make their parents come back," says Janssen, who has worked here for more than 25 years.
But I don't think they take much convincing.
(Read more about Eileen's recent trip to Aspen and the C Lazy U ranch in her travel diaries.)
© 2013 EILEEN OGINTZ, DISTRIBUTED BY TRIBUNE MEDIA SERVICES, INC.