By Eileen Ogintz
NORTH RIM OF THE GRAND CANYON, AZ — Wow!
After a five-mile hike, we're sitting on a rock taking in the panoramic view from the North Rim of the Grand Canyon — the different hues in the rock as the sun strikes them, the shapes, the tall canyons that seem to go on and one.
I've been to the Grand Canyon before but have never seen this view. Most people don't, as they spend their time on the far more crowded South Rim.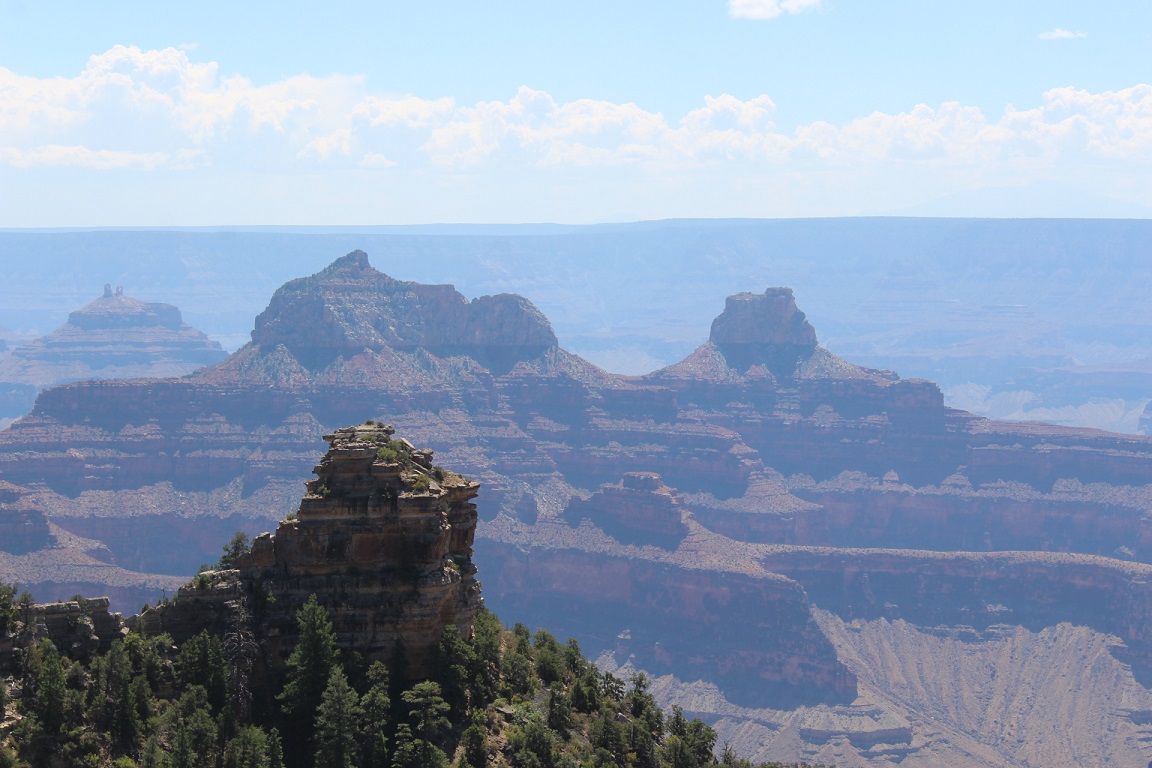 My husband Andy Yemma has never been here and before we headed out on a week-long Western River Expeditions raft trip, I thought it would be good to see the Canyon from the top as well as from the river to best appreciate its grandeur.
That's how we found ourselves staying a couple of nights in a historic cabin at the Grand Canyon North Lodge. Though all 56 cabins are occupied, it doesn't seem crowded and is downright quaint with wooden rockers on our porch and a log ceiling. Each cabin can comfortably sleep a family of four with two queen-sized beds.
It is also comforting to know that the cabins are thoroughly cleaned and sanitized between guests with a disinfectant registered for use against the virus that causes COVID-19—everything from the shower curtain to the fridge handle, light switches, the luggage rack, even clothes hangers—basically everything you might touch.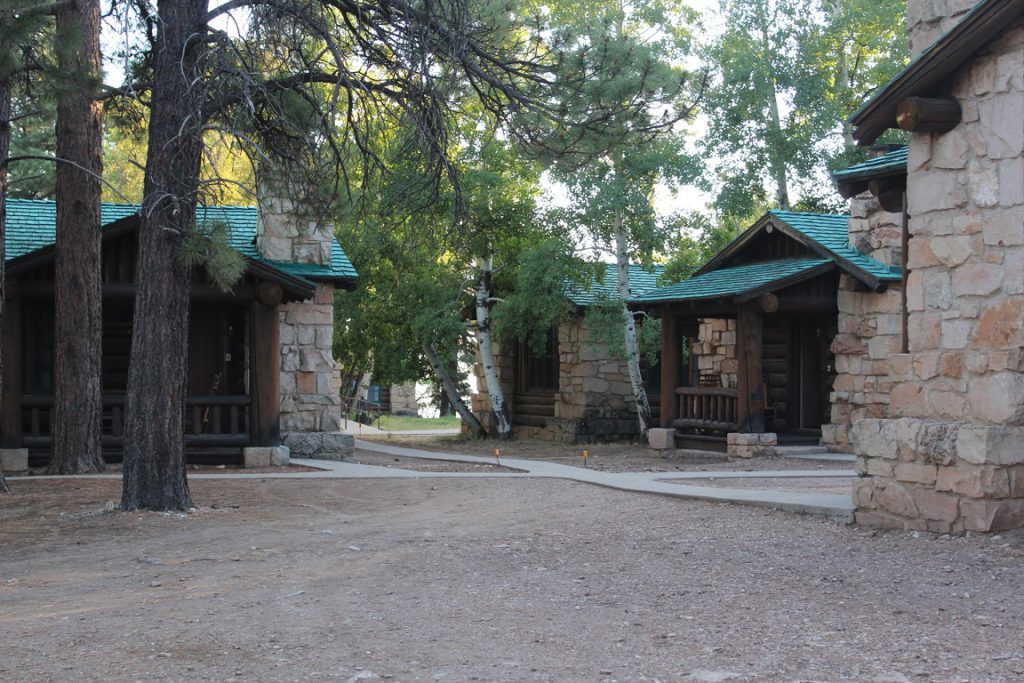 Also reassuring, most guests are wearing masks. It's required indoors but even on the walkways and canyon trails, mark-wearing and social distancing seems to be in vogue.
Any other summer, we would have indulged in the Dining Room, known not only for its stellar views of the Grand Canyon, but fine dining. This summer, we can enjoy the views from the Lodge Veranda. The only food available is take out from the Saloon—breakfast burritos, pizza, salads, hot dogs, burgers, pulled pork sandwich, BBQ brisket sandwich, Elk Chili and mac and cheese and smaller burgers for the kids.
Truth be told, we made last night's dinner out of crackers, salami and cheese from our cooler and that was just fine. Tonight, it's pretty much the same! We don't care.
We came here from Denver with a great stop in Panguitch UT and a visit to Bryce Canyon NP, which was not too crowded and beautiful for a 5 mile hike. The next day, on the way to Grand Canyon, we thought we would do a short hike in Zion National Park. Full Stop?
Not only was the Zion a nightmare of traffic, but every parking space was full, and people were walking everywhere unmasked, un-distanced. No thanks.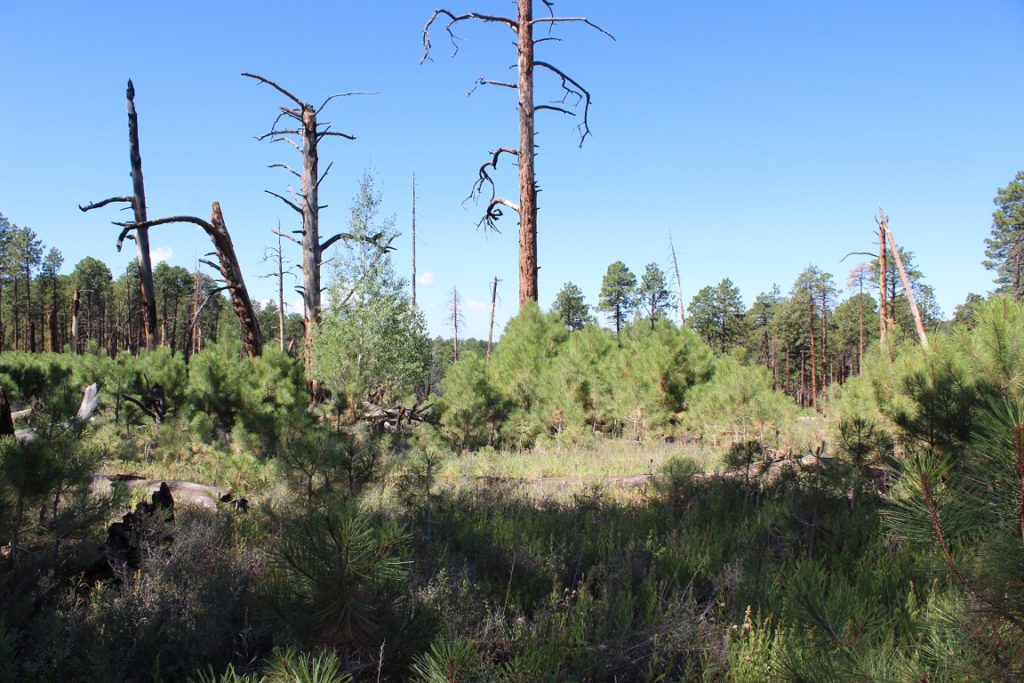 It's a pleasure to be here without crowds. We barely saw anyone on the hiking trail—through the woods and opening to spectacular canyon views along the way. The North Rim is quieter than usual as the campground is closed.
This wasn't a difficult hike either, with gentle ups and downs and a well-marked trail. After eating some snacks at Widforss Point—named for artist Gunnar Widforss who was best known for his watercolor landscapes of national parks—we headed back 5 miles stopping whenever views opened.
Another plus of hiking on the North Rim—because of the higher altitude here (8,000 feet) as compared to 7,000 feet at the South Rim–it is cooler. And because there is more rain and snow, the forests are thicker. We also hiked through some burn areas from the past two decades and were delighted to see all the new growth – pines, aspens, ferns.
At the North Rim Lodge, there are water stations to refill water bottles and views of the Roaring Spring, where most of the drinking water here comes from. Roaring Springs is just one of the Canyon's 700 seasonal seeps and springs, emerging from a limestone cave below the North Rim.
And though our cabin doesn't offer canyon views, they are within a minute's walk!
The first Grand Lodge was completed here in 1928 to replace a tent camp. While earlier national park lodges were built by the railroads as part of the "See America First," campaign this lodge was unique because it is so remote.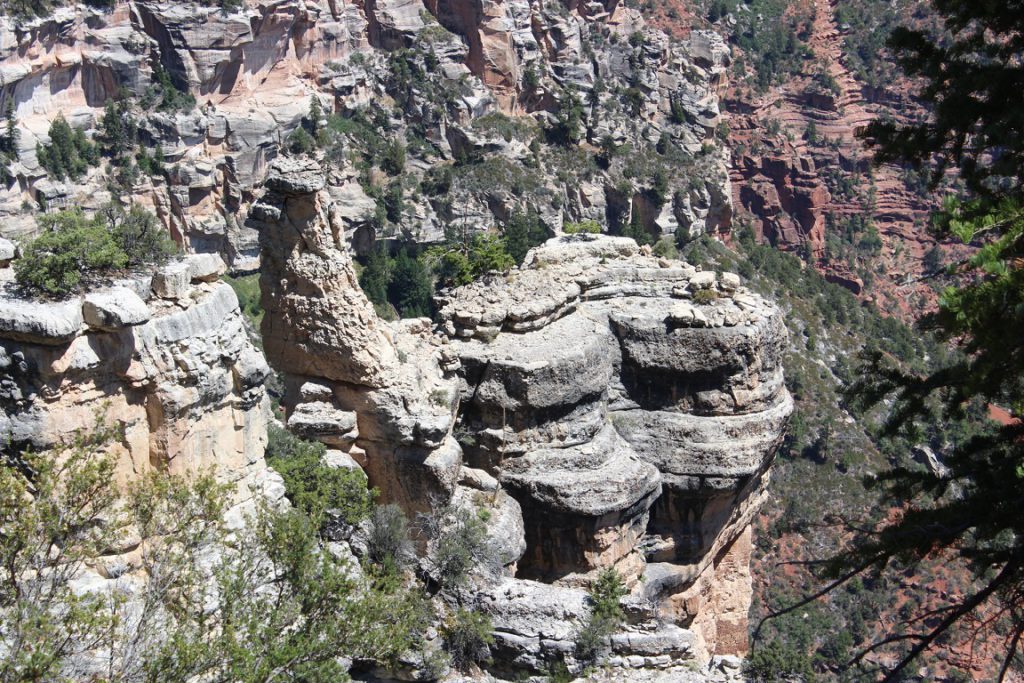 It was destroyed by fire just four years later and the present lodge was completed in 1937. This Lodge that stands today was one of the final major rustic hotel projects in the Western National Parks with the use of local natural materials.
The Grand Canyon celebrated its centennial last year and continues to be on the nation's top visited parks, even this Pandemic year
This is the place not only to enjoy the outdoors, but to learn about geology –as long ago as 65 million years and ancient peoples who lived here dating back as long ago as 12000 years. Today, eleven tribes continue to live or use the canyon for trade and for ceremonial purposes.
A visit certainly is different this summer—visitor centers and restaurants closed, lack of ranger programs. But take the time to explore beyond a look into the Canyon from the South Rim.
You won't be sorry.