By Eileen Ogintz
BIGFORK, Montana (June 23, 2020) — There is just one decision to make this morning: What should we do today?
At the family-owned Flathead Lake Lodge in Montana, owned for the past 75 years by the Averill family, that's the biggest decision a guest must make each morning and afternoon with nearly two dozen activities—including those just for kids and for teens.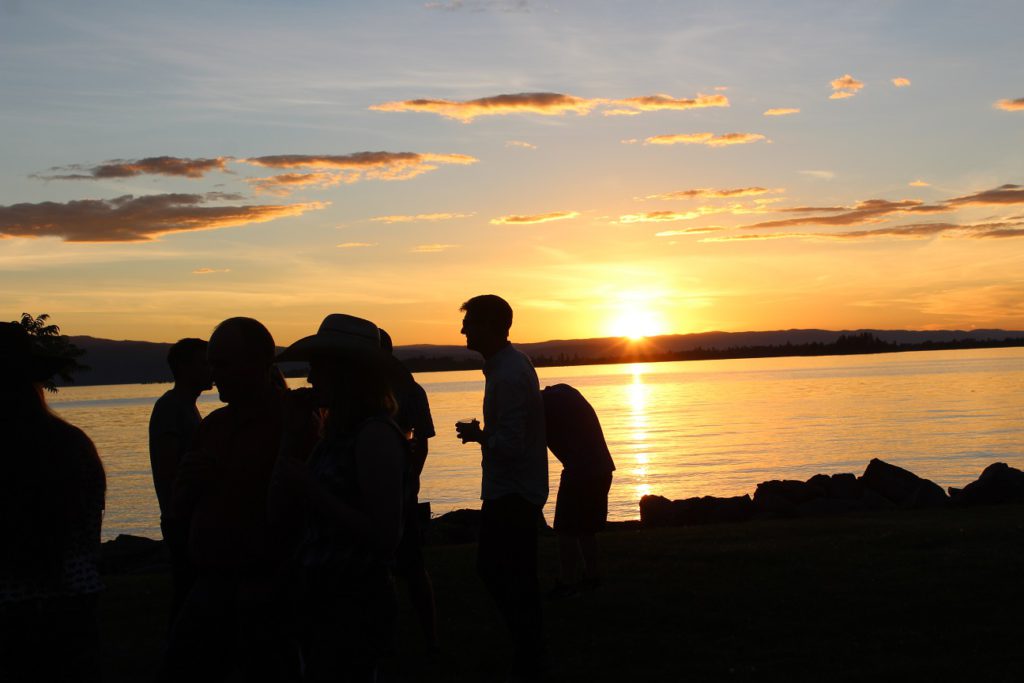 "This is totally a vacation," said Kristin Martindale, here from northern California with her daughter Madeline, 13, and another family. At an Airbnb, she explained, you not only have to shop for groceries, cook, clean up and plan activities. That ends up being a lot of work.
Not here. Of course, this Pandemic summer nothing is as usual. First, the ranch typically would be booked before Spring. This year there is still availability all summer and fall when the ranch is for adults only. And rather than opening May 1, the ranch just opened this week (June 20).
Rather than 125 people spread out in 22 cozy log cabins and the main lodge, there are 83, including 30 kids ranging from two years to teens—25 families, including three with three generations. A fourth are return guests.
Normally, there would be more kids and more returning guests who mostly arrive by plane, said Jodi Peterson, the guest manager. Cancellation fees have been relaxed. Buffets are staffed and guests are asked to sit at the same table for the entire week. Staff are screened daily for COVID; Guests had their temperatures checked on arrival.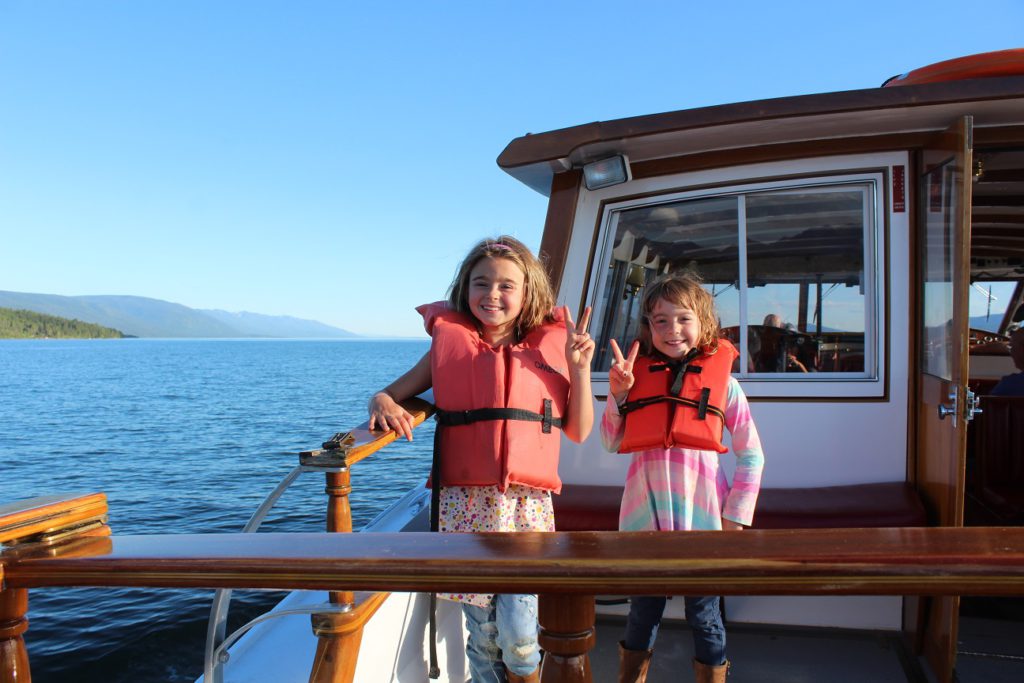 "I was nervous flying," said Karen Lightfoot who came with her family from New York's Kennedy International Airport. But the experience turned out fine with middle seats blocked and everyone wearing masks.
The popular barn dance has been replaced by an outdoor concert in the pasture; the kids' program is been moved more outdoors
"Hopefully, we can share some joy and laughs with all that is going on," said Chase Averill, who with his wife Kate, parents of three young kids is the third generation to run the ranch. "We will play by the rules, but we want this to be as normal a summer as possible."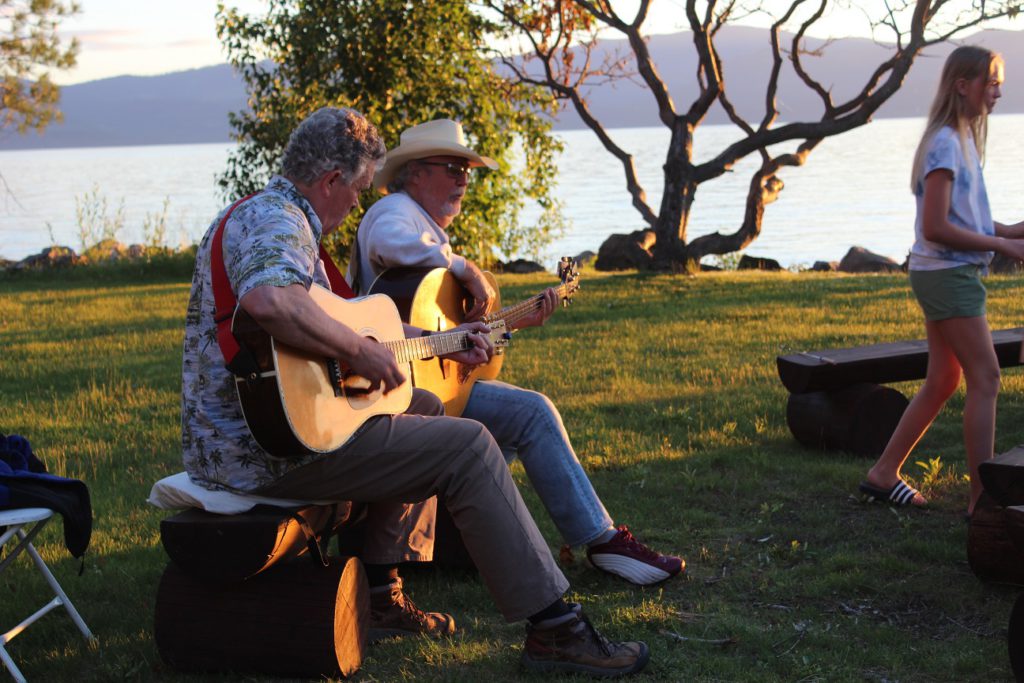 Many here had other vacation plans cancelled –a trip to Italy, another to France; a multi generational Alaska cruise. And many families this summer—more than ever before—are driving—including the Youngs from Wilton, CT who have been traveling across the country in an a big RV, meeting two other families here from Connecticut.
One grandmother drove from California with her two granddaughters. "A girl's trip," she said, explaining that the extended family—40 of them, including her 101-year-old mother, come every other year. "Because this ranch is run by a family, they understand family dynamics," she explained.
And because the ranch sits on the huge Flathead Lake (27 miles long and nine miles wide at its widest) just south of Glacier National Park—there is a lot more to do than at a typical dude ranch—all varieties of water sports—tubing, water skiing, wake boarding, paddle boarding, lake cruises as well as mountain biking (three trails on the expansive property) a full hiking program (including on National Forest Land) trail rides—for breakfast, lunch, and a steak dinner and whether you are a novice or experienced rider. There are canoes, kayaks, stand up paddle boards, and small fishing boats.
"I don't think I would have wanted to come to a ranch without the lake–we aren't that into horses," said Jennifer Birdsey.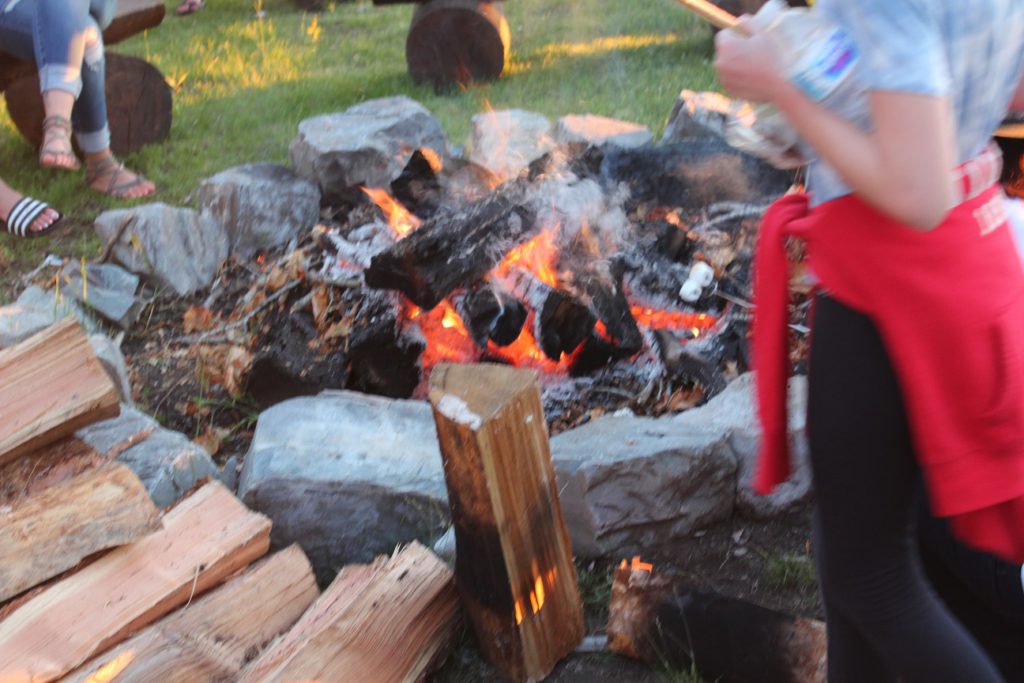 "This fits the bill for everyone," agreed Josie the California grandmother who asked that her last name not be used. One granddaughter, 10, spends all her time at the barn. "I do every ride I can," she said. Her sister, 11, prefers arts and crafts.
Certainly, there is plenty of space for social distancing as the ranch encompasses 2,000 acres.
The kids, their parents say, after being cooped up for months at home, are delighted at the freedom they have here.
They can go on a trail ride and then fish in the trout pond; take a bike and explore on their own or learn to mountain bike—one trail goes through an Elk Preserve–make tie-dye tee shirts one day and jewelry the next; join a scavenger hunt, (how about digging for dinos in the kids' giant sand box?) a dodgeball game or learn to build an outdoor shelter.
By the middle of the first day, one 13 year old from Northern California, here with his mom, was off with new-found buddies, barely stopping for lunch. After months at home, she said, it was great to see him able to explore on his own with new friends.
Tubing five miles on the Swan River is expected to be a hit this summer with the teens, said Kaitlyn Brindley, the outdoor pursuits manager who was cradling her newborn son in the office.
"There is something special about this place," said Rajal Young.
For all ages it seems.