By Eileen Ogintz
Tribune Media Services
What are you waiting for?
Spring Break is looming and you haven't planned a getaway. We're not talking a Big Trip — a cruise, for example, or an adventure trip to Costa Rica, though, according to www.travelzoo.com, there are good last-minute deals to be had in Costa Rica.
We're talking about a few days of R&R with the kids (how about an indoor water park? Check out www.greatwolf.com ; they have several locations around the country) that won't bust the budget and will solve the problem of what to do with the kids while they are off from school.
The kids, of course, have been telling you for weeks that everyone else in their class is heading off to someplace wonderful. Rest assured that you're not the only last-minute planners out there this spring. "We are getting tons of requests now for travel in March," says Jim Kackley, general manager of Thomson Family Adventures (www.familyadventures.com). He adds that Thomson is spending a lot of time trying to find space for everyone.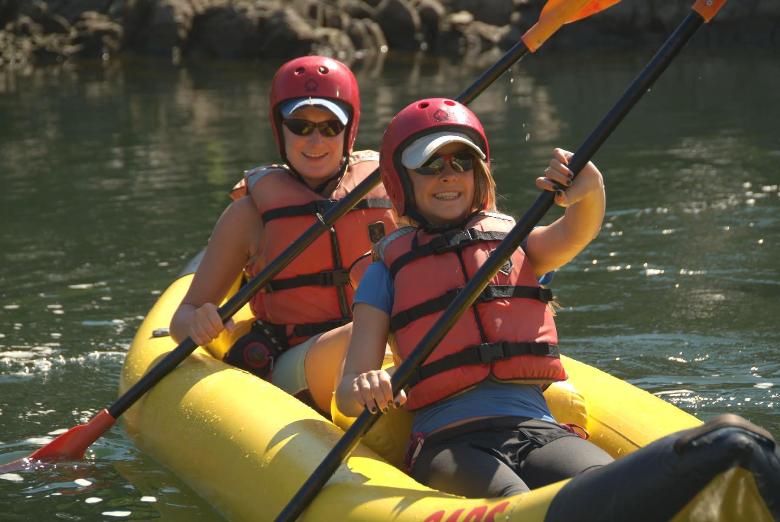 The good news: As long as you're flexible about your dates and even your destination, it's not too late for your gang to have some fun in the sun (or the snow, or the city). Invite along a friend for your tween or teen and even the simplest getaway will suddenly become an adventure.
You might even find a bargain. Book Tuesday through Thursday for the best rates, suggests Travel Zoo. Opt for a long city weekend and you'll save significantly at business hotels looking to fill rooms. (Check the sale at www.hotels.com, which offers 30 percent off at many hotels. You just have to book by April 7 for travel now through April 21, 2008.) Let the deal be your guide. Cheap Tickets (www.cheaptickets.com), for example, offers a new deal every Tuesday. They've also launched a Spring Break Sale offering $75 off packages. Anytime you can book an air-car-hotel package you'll save money – even to London. United Vacations (www.unitedvacations.com) is offering savings up to 30 percent on packages booked by March 31. (The best part is you can pay in dollars.) Opt for San Antonio (here's your chance to visit the Alamo) with a Spirit Airlines (www.spiritvacations.com) package to celebrate new daily service beginning mid April.
Here are my Spring Break picks to get you started:
BATTER UP: There's no better place for baseball lovers than in the stands watching their favorite team during Spring Training. Tickets are a lot cheaper, the atmosphere more relaxed than during the regular season and players might actually talk to the kids or give them an autograph. (Visit www.cactusleague.com for the teams playing in Arizona and www.floridagrapefruitleague.com for those training in Florida.) Stay at the newly renovated Hyatt Regency Sarasota (www.hyatt.com), where the Cincinnati Reds host the Yankees, Red Sox and Phillies, among others, and save 20 percent off the best available hotel rate (use the code BBALL when booking).
In Tucson, meanwhile, see The Rockies, The White Sox and The Diamondbacks when you sign on for a package at Westin La Paloma Resort & Spa: Check out http://specialoffers.starwoodhotels.com/westin_la_paloma/so.htm or Westward Look Resort (www.westwardlook.com), where they throw in T-shirts and caps. If the kids don't care about anything but getting up close and personal with the players, stay at an inexpensive chain hotel near the ballpark – and get there early for batting practice. Don't forget plenty of balls and permanent markers for souvenirs!
CITY LIGHTS: Take a long weekend to explore a city not far from home. Take a train there. Visit www.amtrak.com for kids' discounts. Check the city's official tourist Website to see what's new and what hotel deals are available. For example, the new Website Enjoyillinois.com/springbreak is packed with Chicago hotel deals (some under $100 a night), as well as an interactive area for kids suggesting kid-centric itineraries. (Want to follow Abe Lincoln's footsteps? Eat your way across Chicago?) Or consider Philadelphia and its Franklin Institute (www.fi.edu), which has just opened the Franklin Theater with 3-D. (Check out the weekend sci-fi programming.) While you're in the area, visit Gettysburg National Military Park (www.gettysburgfoundation.org), a new museum opening April 14 dedicated to the history of the Battle of Gettysburg.
Treat the kids to a stay in a brand-new hotel. The just opened Renaissance Boston Waterfront Hotel (www.renaissanceboston.com), starting April 4, offers EduFunCation packages that include museum tickets, trolley tours, a scavenger hunt and breakfast – all for under $300 a night. Stay at the Paradise Point Resort in San Diego (www.paradisepoint.com) where you can go jet skiing, kayaking or take the kids to the San Diego Zoo. (Packages start at just $229 a night.
BEACH VOLLEYBALL ANYBODY? The Sheraton Grand Bahama Island, (www.sheraton.com), which, through March 31, is not accepting reservations from groups comprised of individuals under the age of 21, promises families up to 40 percent off with the Sheraton's Sunny Savings program. (Rates start at $220 and include daily breakfast and complimentary access to Camp Lucaya kids club. The kids will love the water slide. For other well-priced Bahamas deals go to www.bahamas.com/escape). Head to Loews Coronado Bay Resort (www.loewshotels.com) and spend part of your time volunteering at the Silver Strand State Beach, a rare coastal sage scrub environment, and get lunch on the hotel, which has partnered with the California State Parks Foundation to launch this Volunteer Vacation package. See if you can snare a last-minute cruise deal from a port a drivable distance from home (www.cruising.org). Split costs with another family and save 30 percent or more on condos and houses in Florida. Visit www.rentalo.com and click on special offers.
OPT FOR AN ADVENTURE WITH YOUR TEENS: Watch endangered blue whales from your kayak, snorkel with angelfish or explore desert islands in Mexico's newest national marine park in Baja's Sea of Cortez (www.seakayakadventures.com). No previous kayak experience necessary! (Price starts at $975 US, per adult; 10 percent off for teens.) Consider a raft trip. Outdoor Adventure River Specialists (www.oars.com) has an entire catalog of family trips, some appropriate for children as young as four, others designed for teens.)
HEAD FOR THE SLOPES: With so much snow everywhere — and an early Easter — you'll find deals everywhere from New England to Colorado to California. Check www.ski.com and www.rockymountaintours.com for air-hotel packages that may include a free night's stay. Opt for a Winter Family Adventure weekend with The Appalachian Mountain Club in New Hampshire (www.outdoors.org), or ski, bike, hike and golf, all on the same vacation, all in the same place, from April 13 through early June at the Keystone Resort in Colorado (www.keystoneresort.com). Look for other late-season deals at all of your favorite ski resorts.
Now comes the hard part – choosing. I'll be on the beach.
© 2008 EILEEN OGINTZ, DISTRIBUTED BY TRIBUNE MEDIA SERVICES, INC.